Finding beautiful wedding guest dresses under $100 is an easy task with this guide! After all, a wedding invitation is a great excuse to get dressed up, but that doesn't mean you want to spend too much!
Shopping sources on this site use affiliate links. That means that this site may earn a commission if you make a purchase from our links.
WEDDING GUEST DRESSES UNDER $100
When I'm looking for a new dress, my top budget is usually somewhere around $100. Sometimes I'll splurge, but back when I had the several weddings to attend each year, $100 was pretty much all I could afford! Thankfully, there are so many places to find quality dresses for under $100, that you shouldn't have trouble finding an affordable dress that looks wonderful, without an exorbitant price tag. Here are my updated, shop-able picks for dresses for wedding guests that come in under $100. Prices are subject to change from the retailer.
DRESSES FOR WEDDING GUESTS UNDER $100

Dresses Under $100 to Wear to Weddings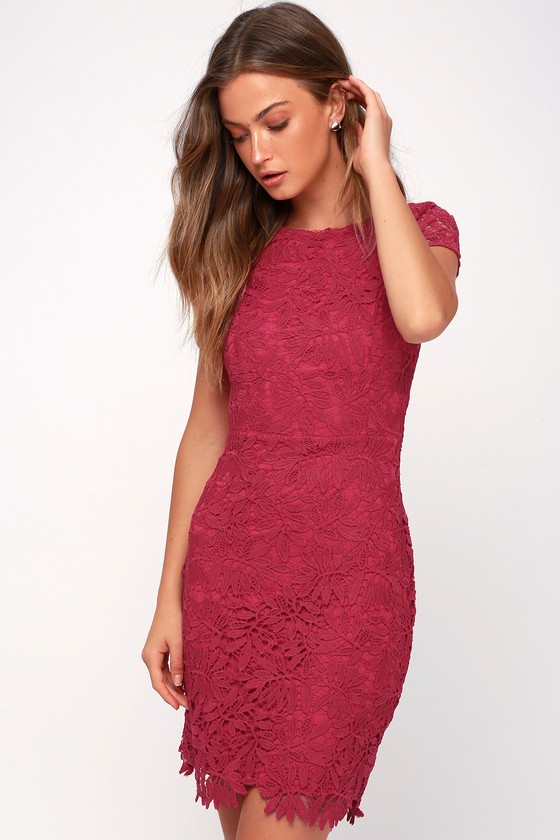 Right Sheer, Right Now Magenta Lace Bodycon Dress – Lulus
Finding a wedding guest dress under $100, is relatively easy if you know where to look. Here are some of my picks followed by a shopping guide below full of details on where to find dresses to wear to a wedding for under $100! If you have a little more budget, check out Wedding Guest Dresses Under $150, or if you want a bargain, see our post about Wedding Guest Dresses Under $50 for some amazing finds!
Best spots that often have wedding guest dresses under $100!
ASOS – has one of the best selections of wedding appropriate dresses for under $100.
Chicwish – Lots of cute dresses! A great place to find a trendy style or a classic dress that looks like you spent more than you did!
TJ MAXX – Great prices and selection on wedding attire! TJ Maxx just opened a wedding shop with picks for guest as well as wedding dresses, bridesmaid dresses and mother of the bride. I see dresses here all the time that I have featured in the past for deeply discounted prices! See what you can find for under $100 at TJ MAXX
Nasty Gal – While some of the dresses they stock are a little casual or more suited for party or club, they also have heaps of lovely dresses under $100! The most appropriate styles are the maxi and midi dress collection! See dresses from Nasty Gal
H&M– another great spot for affordable wedding guest dresses. Lots to choose from for under $100! They always mix trends with classic lines.
Nordstrom Rack – The awesome dresses I feature from Nordstrom go on super-sale at Nordstrom Rack! . They have so many designer dresses at 50 – 60% off. If a favorite dress has gone out of stock at Nordstrom, I always look here. Check out the selection at Nordstrom Rack
Missguided – Another great spot for dresses! They offering amazingly affordable wedding dresses and bridesmaid dresses, and the wedding guest dresses are fantastic too! Check out Missguided dresses!
Other Places to Check for Inexpensive Wedding Guest Dresses
Forever 21 – ok, to be honest, some of the dresses Forever 21 has categorized as wedding guest attire, are a little too much like fitted clubwear for my taste. However, you can find a few maxi dresses and cocktail dresses that are lovely. Their exclusive line, the Pretty by Rory Collection, is awesome for modern wedding guest dresses and affordable styles.
Rent the Runway – you can find hundreds of dresses to rent for under $100. While you may not get to wear it again, if you really need a formal gown and don't want to spend hundreds of dollars, this is the first place I look!
Amazon – has some amazing dress selections and deals! As always, just be sure to read the reviews. Sometimes you can find a deal, but you need to make sure you're not purchasing something cheaply made. Check out the dresses on Amazon
Current Favorites: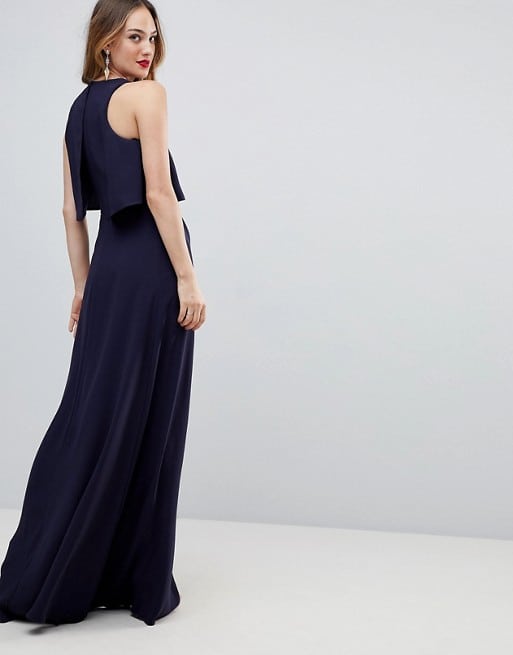 Asos Crop Top Maxi Dress from ASOS – $92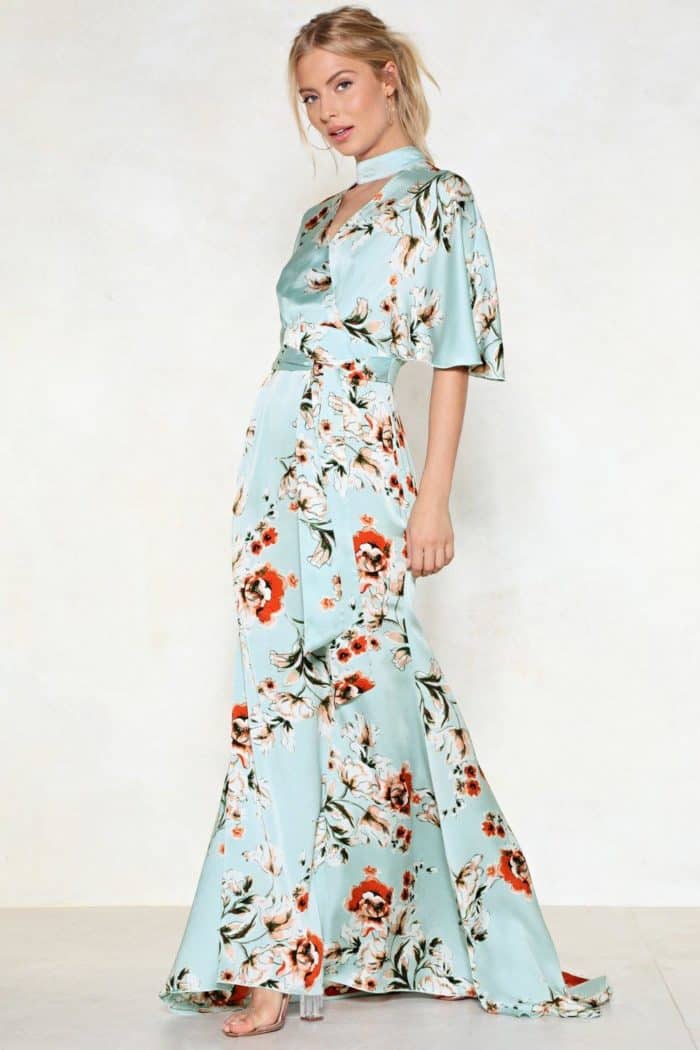 Queen of Peace Floral Dress Floral maxi Dress from Nasty Gal – $90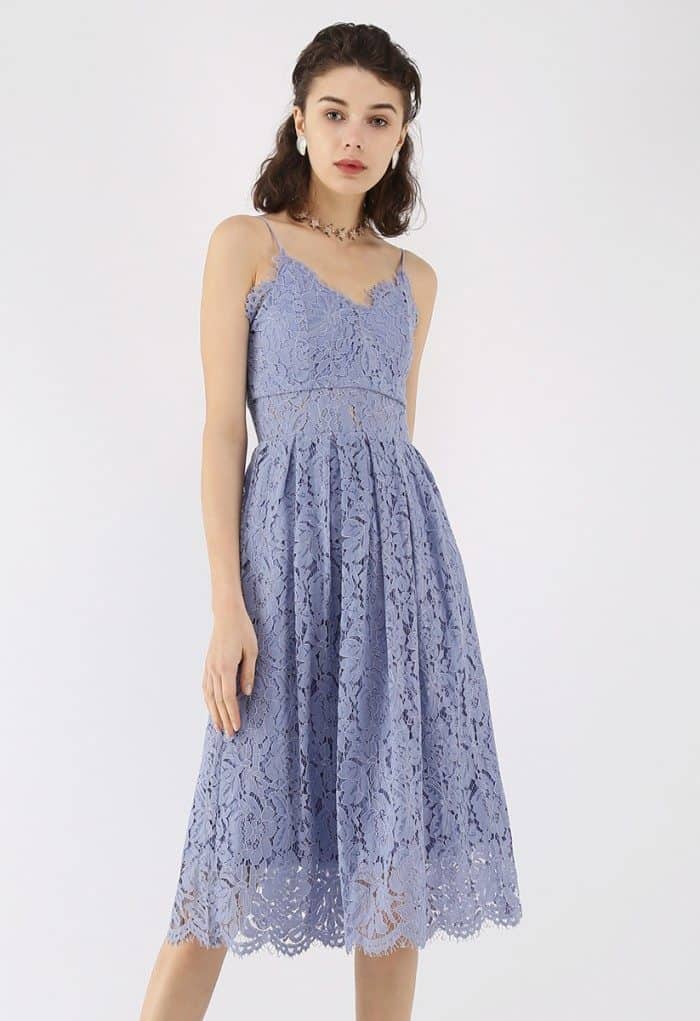 Cami Dress in Lavender Lace from Chicwish -$59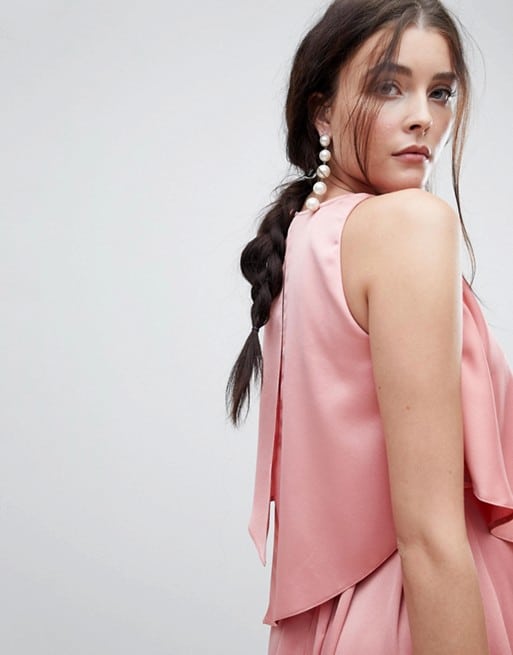 ASOS Design Split Satin Dress –$83
Shopping sources on this site use affiliate links, which means this site may earn a commission if you make a purchase from our links.