Light blue is a fantastic color to wear to a wedding. We love a fresh light blue dress for a wedding guest outfit. It also works well for members of the wedding party. We'll show you where to find the season's best light blue dresses for weddings in this post.
Light Blue Dresses for Wedding Guests
We'll admit it, a soft or pale blue is one of our absolute favorite colors for wedding guest dresses. Yours too? Well, then we hope you'll love this selection of light blue dresses that are ready to take you to your next wedding or special event. The dresses below are picked specifically for wedding guests to wear, although of course they can be worn by to other events and by members of the wedding party as well.
However, if you're a member of the wedding party looking for a light blue dress, see my page for Light Blue Bridesmaid Dresses and Light Blue Dresses for Mother-of-the-Bride or Mother of the Groom or Light Blue Ties for Weddings
Shopping sources on this site use affiliate links, which means this site may earn a commission if you make a purchase from our links.
Pale and Light Blue Dresses to Wear to a Wedding

These pale blue dresses will work for wearing to parties, for wedding guest attire, bridal shower attire, and some will work for bridesmaid dresses!

Still looking? Find more wedding guest dresses by color:
Red Wedding Guest Dresses | Pink Wedding Guest Dresses | Coral Dresses | Yellow Dresses | Green Wedding Guest Dresses | Light Blue Dresses | Dark Blue and Navy Blue Wedding Guest Dresses | Purple Wedding Guest Dresses | Floral Dresses | Gray or Silver Dresses | Black Dresses for a Guest of Wedding | Dresses for Wedding Guests Under $150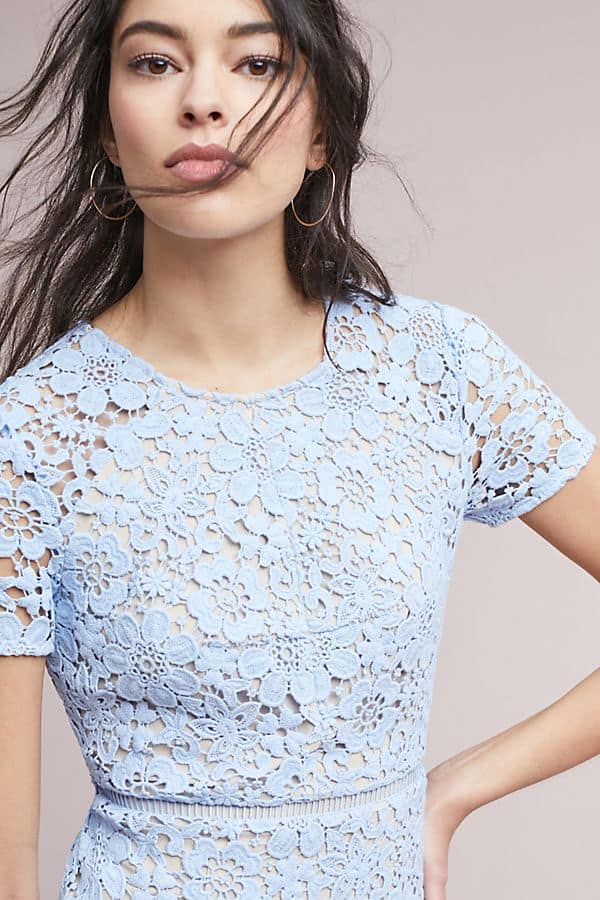 Featured Dress: Shoshanna Helena Trumpet Dress from Anthropologie
Or go back to the Wedding Guest Dress page, our check out Light Blue Wedding Outfit Ideas