The color coral can be hard to define - some looking for coral bridesmaid dresses might be seeking a vibrant, fiery orange-reddish pink, while others prefer a soft peachy, or a vibrant pink grapefruit or tangerine citrusy tone. No matter which end of the coral color spectrum you're on, this gorgeous shade brings in the best of red, orange, and pink hues and is a popular and flattering color on many.
It's a great look for a beach wedding, and boho desert weddings, it's also a great choice for a summer wedding or spring wedding. In this ultimate guide to coral bridesmaid dresses, we'll show you some of the best dresses in coral, peach, and orange for bridesmaids. We'll give you our best ideas for where to look for and shop for bridesmaid dresses online in this coral color palette.
The Best Orange, Peach, and Coral Bridesmaid Dresses for Summer
Shop sections and links are from affiliates and sponsors, meaning that this blog may earn a small referral commission from the retailer, at no cost to the purchaser, if a qualified sale is made.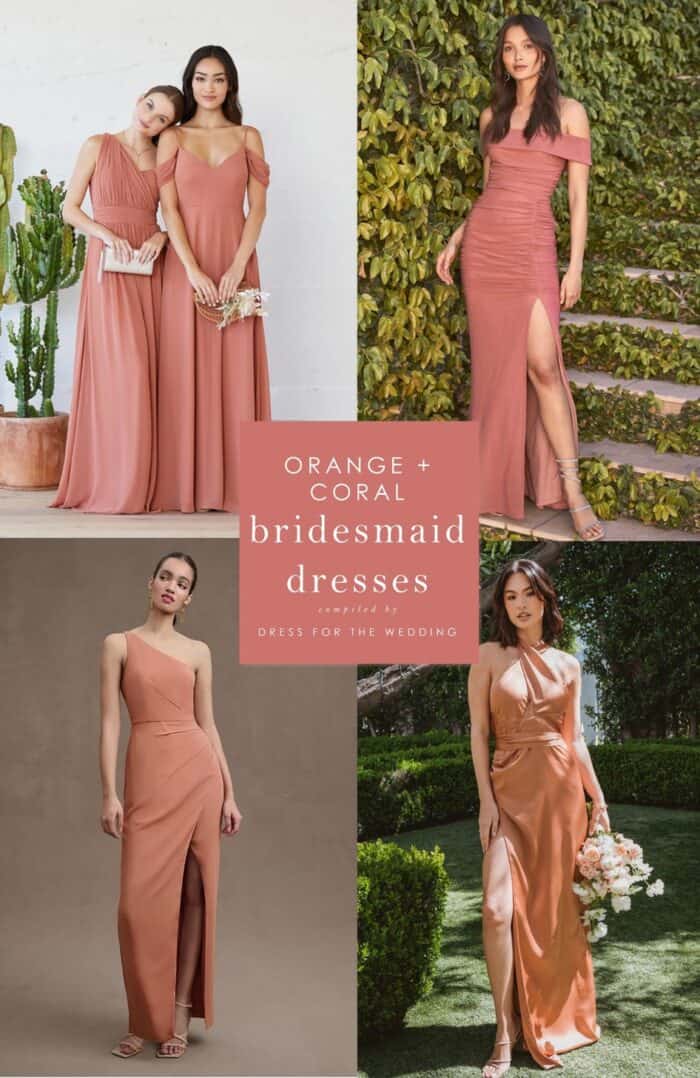 Shopping sources and image credits (The same dresses are in the thumbnail featured image of this article) 1. Birdy Grey Grace Convertible Bridesmaid Dresses 2. Lulus 3. Chloe One Shoulder Dress from Anthropologie 4. Adele Halter Dress in Copper Satin from Show Me Your Mumu
Bridesmaid Dresses in Shades of Coral, Peach, and Rusty Rose
Coral dresses for your bridesmaids look particularly gorgeous for a warm-weather wedding like a beach setting against a blue ocean and sandy seascapes or in a desert environment. Here are our picks for our different styles of coral bridesmaid dresses in short and long styles from our partners and affiliate retailers.
This site uses affiliate links and images, meaning that this blog may earn a small referral commission if a qualified sale is made from items pictured or linked here.


Floral Coral Print One-Shoulder Bridesmaid Dress

Floral bridesmaid dresses in summer colors and pretty prints are a great choice for spring and summer weddings, or for mix-and-match bridesmaid dresses. Sachin & Babi is one of our favorite sources for elegant and modern bridesmaid dresses. This print comes in a few other silhouettes and can be used with their solid color called Rouge to mix and match. Rouge appears to be a beautiful blush color color which we think is a beauty as well!
Coral Pink Bridesmaid Dresses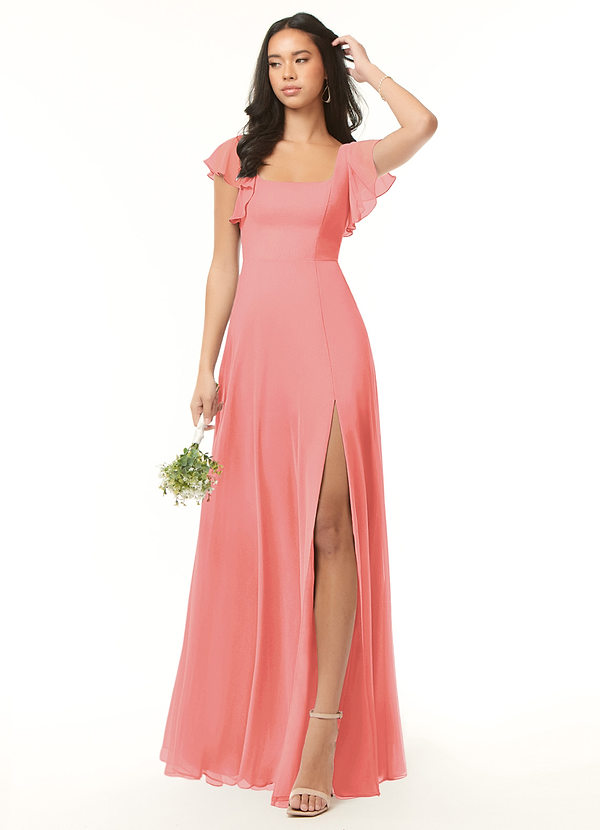 Bondi by Azazie in Coral
As we mentioned, coral seems to be a descriptive term that has come to encompass several shades or pink red and orange. That's why you'll often see swatch colors that distinguish between orange coral, pink coral, and red coral. If you're looking for a bright pink coral bridesmaid dress for your wedding party, Azazie offers this color that to us is the most traditional color. It has a pink hue like watermelon or grapefruit and is a top color of coral for summer bridesmaid dresses. You can get this coral pink in over 200 dress style at Azazie so that your bridesmaids can pick the style that suits them best.
More Coral Dresses from Azazie
Terracotta, Spice, and Burnt Orange Bridesmaid Dresses

Birdy Grey has three shades of bridesmaid dresses in orange. which are really in the reddish-orange color family. They are terracotta, spice, which is a burnt orange, rust or cinnamon color, and burnt orange. They are all good quality dresses in gorgeous shades that are worth considering because they are all under $100. Their shade Terracotta is the one that is closest to a true coral orange.
Bright Coral Bridesmaid Dress for a Summer Wedding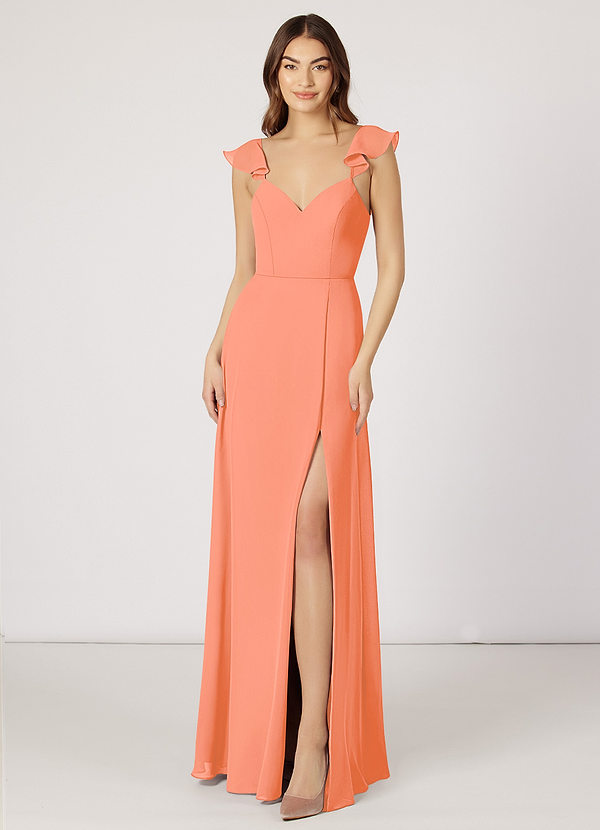 Everett by Azazie in Sunset
If you are looking for a bright and vibrant coral bridesmaid dress for summer weddings, Azazie has all sorts of different colors of coral at affordable prices. For warmer weather weddings, colors like tangerine and orange with a bit of pink are so popular right now. This color looks great in a mix of yellow bridesmaid dresses and pink bridesmaid dresses for a citrus color scheme. Try the color Sunset from Azazie which is available in over 200 different dress styles. Azazie also has more in the orange and coral color family with colors like a dusty desert rose color called Mai Tai. They even have styles for your flower girl!
Coral and Peach Bridesmaid Dresses

Dessy is a great place to look for peach bridesmaid dresses and all sorts of orange and coral dress colors for the big day. They have pink, peach, and coral options including their shades terracotta copper, apricot , rouge and sweet melon. Dessy offers a variety of price ranges from under $150, and under $200. There are a huge number of necklines, sleeve silhouettes, and dress size options
Plus Size Coral Bridesmaid Dresses

We're happy to report that most bridesmaid dress companies now offer plus sizes as well as petite and other size ranges. AW Bridal, Azazie, Kennedy Blue, Dessy and Birdy Grey are great options for inclusive sizing. This beautiful dress by AW Bridal is in a true bright coral. It's a vibrant hue that is the perfect choice for warmer weather. a summer wedding or beach destination wedding.
Dusty Coral Bridesmaid Dress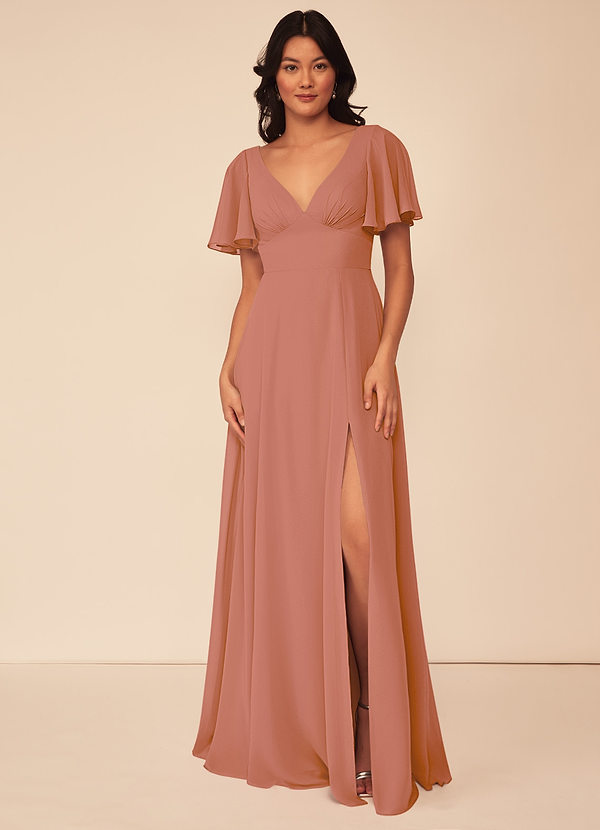 Kimber by Azazie in Mai Tai
This color is Mai Tai from Azazie, shown on the Kimber dress, it's sort of a rose gold and desert rose color. You can get this shade of dusty coral in over 200 different dresses. As you may know, Azazie offers dresses made to your custom size measurements to ensure a perfect fit. This color of coral is a great fall bridesmaid dress color, it's also a great color palette for a desert wedding theme as a color that pairs well with dusty sage as a contrast.

Jay in Cantaloupe from Kennedy Blue
Kennedy Blue offers a coral pink shade called Cantaloupe, as well as more orange dress colors called Spice, Terracotta, Copper and Burnt Orange. We think they have great styles, like this square neckline, fitted waist and A line skirt; it's a timeless silhouette in an on-trend color! This is an affordable option for your bridal party at under $120 at the time of publication.
Copper Satin Bridesmaid Dresses

Show Me Your Mumu has a whole collection in this gorgeous copper satin shade that is a burnt orange neutral. The satin gives it a metallic gleam. We think this is a beautiful take on the color orange!
Sedona Bridesmaid Dresses

Anthropologie Weddings is the new place to find their label of BHLDN Bridesmaid dresses, and the shade Sedona is their take on coral. We think this open sleeve satin style is particularly beautiful as is the twist neck dress in the slide above.
Designer Pink and Orange Bridesmaid Dresses for Formal Weddings

If you want a high-end designer style for your wedding day, and want vibrant and bold shades like tangerine, a firey color and a bright pink, Mac Duggal bridesmaid collection is a great place to look. It's full of gorgeous black tie and formal gowns in a rainbow of bright colors.
More Tips for Coral Dresses
While many of these dresses are ready to ship with a quick delivery time some of the custom dresses have a longer production time at places like Azazie, Kennedy Blue, and Dessy.
If you didn't find quite the right dress, here are quick links to pretty dresses for bridesmaids in similar colors. Keep in mind coral can be found in red and pink dresses and it's a close cousin to rose gold!
Red Bridesmaid Dresses | Pink Bridesmaid Dresses | Yellow Bridesmaid Dresses
The image below is from an older collage that was on this page and pinned on Pinterest. We have kept it here to give image credits to the dresses and brands pictured, however, these dresses are now likely to be out of stock.
This article was originally published June 24, 2015 and was updated most recently on October 21, 2023.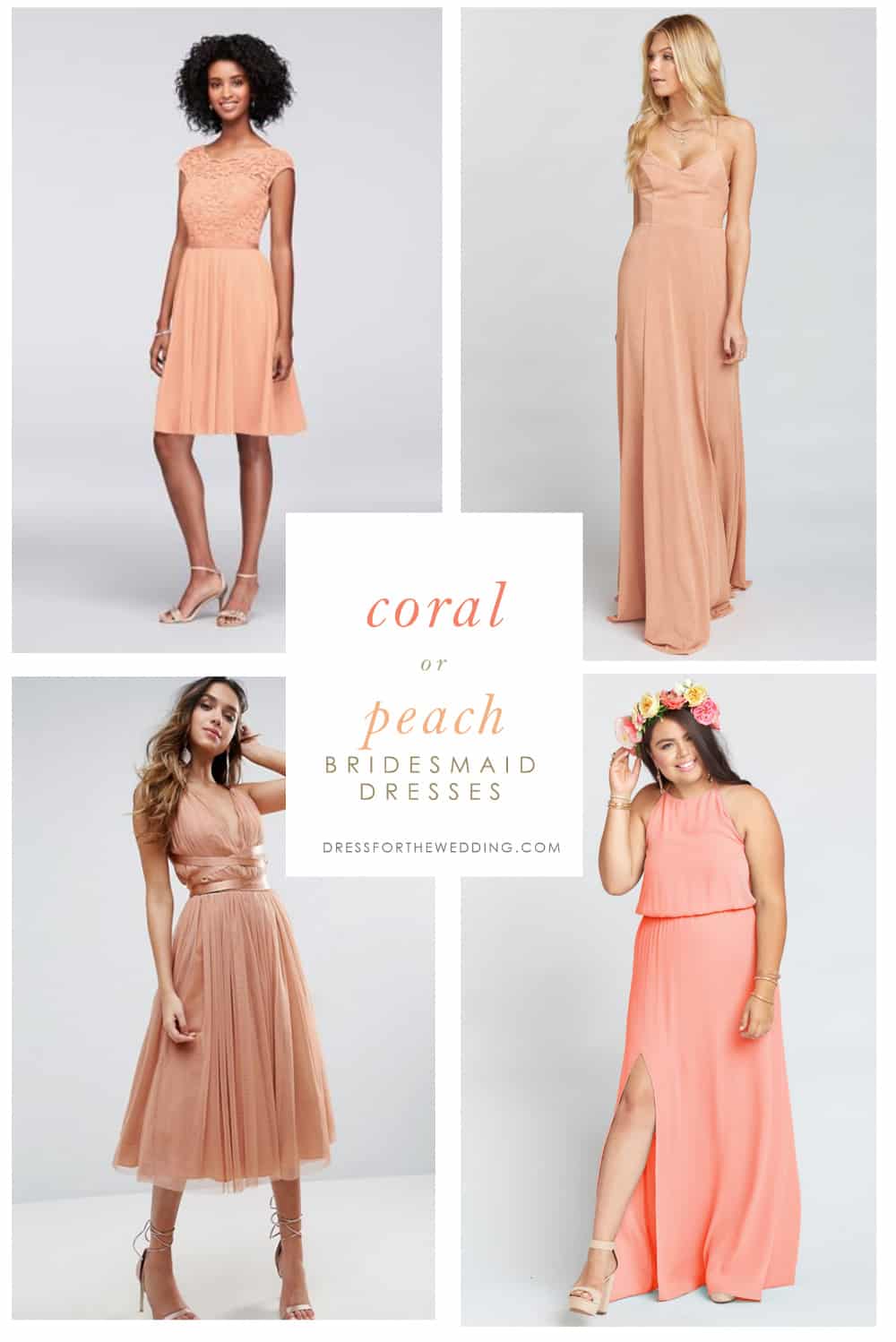 Sources 1 / David's Bridal 2 / Show Me Your Mumu 3/ ASOS 4/ Show Me Your Mumu