Looking for a great dress to wear to a wedding? We've selected some great wedding guest dresses, and organized them by the time of day, wedding dress code, and formality to make them easy to shop from the season's best looks and shops.
Links in the shop section are from affiliates and sponsors, meaning that this blog may earn a small referral commission from the retailer, at no cost to the purchaser, if a qualified sale is made.
Shop for Wedding Guest Dresses

Where to Shop For a Dress by Dress Code
Quickly find your perfect dress for the next wedding you're going to, check these links or scroll down for the latest picks:
Daytime & Casual Cocktail & Semi Formal Formal & Black Tie Long Sleeve
Find an Outfit or Dress by Season, Style, or Color
Dresses for the Wedding Party
Are you in the wedding? Check out the pages we have dedicated to Wedding Dresses , Mother of the Bride Dresses and Bridesmaid Dresses
If you have questions about what to wear to a wedding, check out our posts by every type of wedding dress code as well as our post on wedding attire guidelines. Finding a dress to wear to a wedding shouldn't be stressful!
This graphic appeared on Pinterest in an earlier iteration of this post. Most of these dresses are now sold out, however we have kept the graphic here in case you are visiting the site from this pin.

This super-affordable wedding guest look is from SHEIN. It's the Simplee Leopard Asymmetrical Ruffle Hem Wrap Belted Satin Dress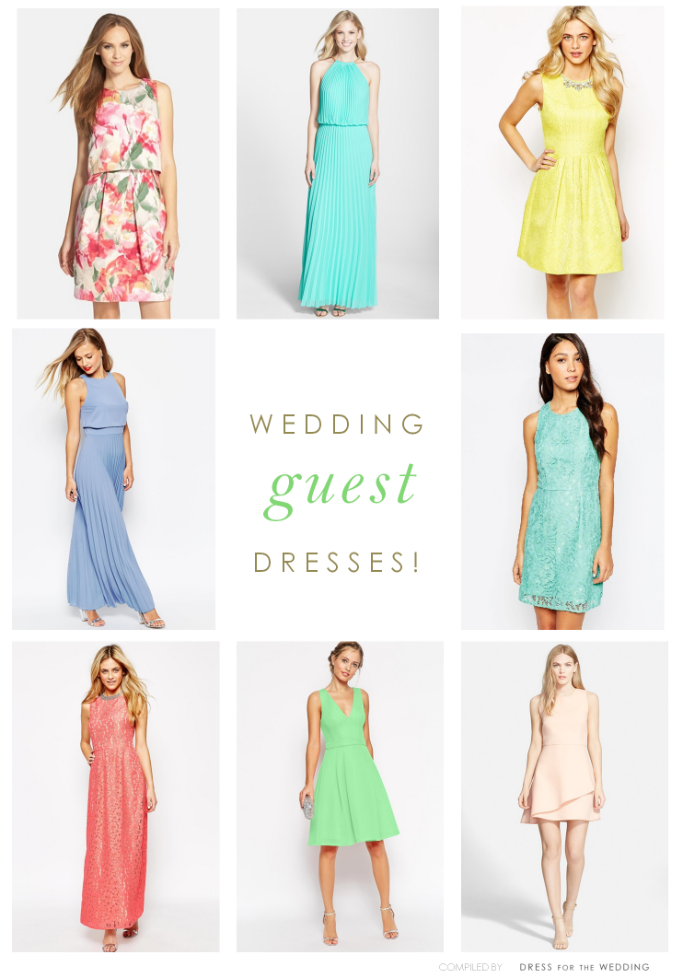 Wedding guest dress sources from sponsors - clockwise from top:
1. Floral Dress Nordstrom ( See more floral dresses) 2. Turquoise Pleated Dress, Nordstrom ( See more Long Gowns) 3. Oasis yellow party dress from ASOS . See more yellow guest dresses 4. Aqua Lace Layer dress from ASOS See more light blue dresses 5. Halston Heritage Peach Fit & Flare Dress from Nordstrom 6. Green ASOS Debutante Dress 7. Coral Dress, Asos 8. Light Blue Dress, ASOS