If you're looking for a great dress to wear to a wedding, you're in the right place! We've browsed so many of the dresses top retailers have offered for the current wedding season and selected some of the best wedding guest dresses.
Links in the shop section are from affiliates and sponsors, meaning that this blog may earn a referral commission from the retailer, at no cost to the purchaser, if a qualified sale is made.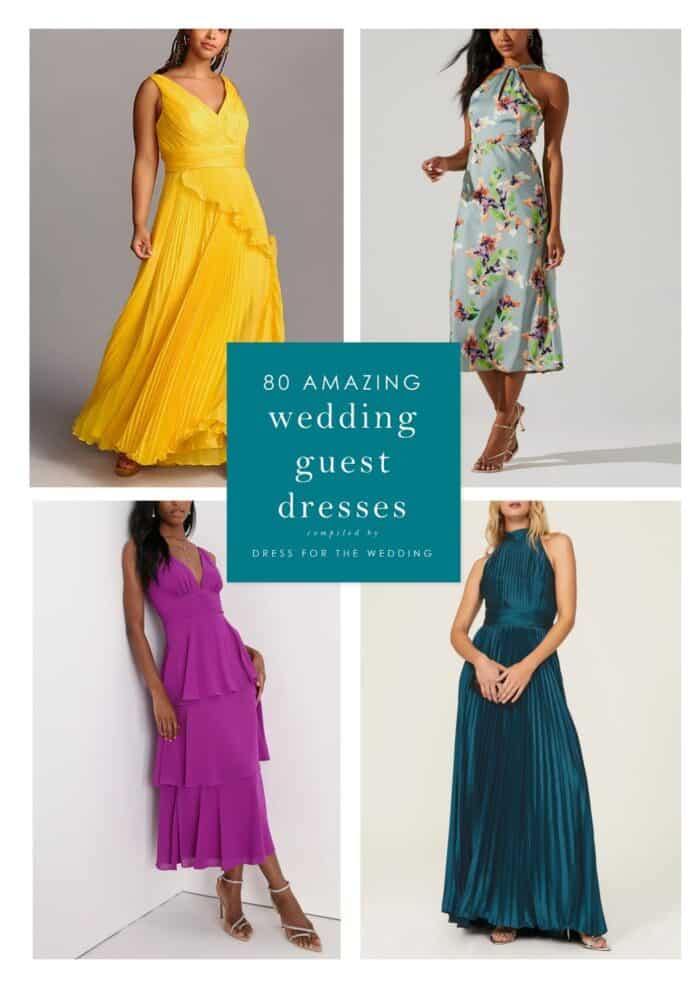 Image credits and shopping sources: 1.MacDuggal Pleated Gown from Anthropologie 2. Floral Halter Midi Dress from Astr the Label 3. Celebration Time Dress from Lulus (available in Multiple Colors) 4. Navy Pleated Gown from Rent the Runway
The Best Wedding Guest Dresses for 2023
When searching for the prettiest dresses to wear to weddings, our editors know where to look! We browse our favorite shops and curate the top wedding style ideas according to those we feel best fit specific dress codes, seasons, and colors. We try to take the guesswork out of picking the perfect dress. Each dress we select is because we believe it embodies the aesthetic elegance and style that is perfect for wedding attire.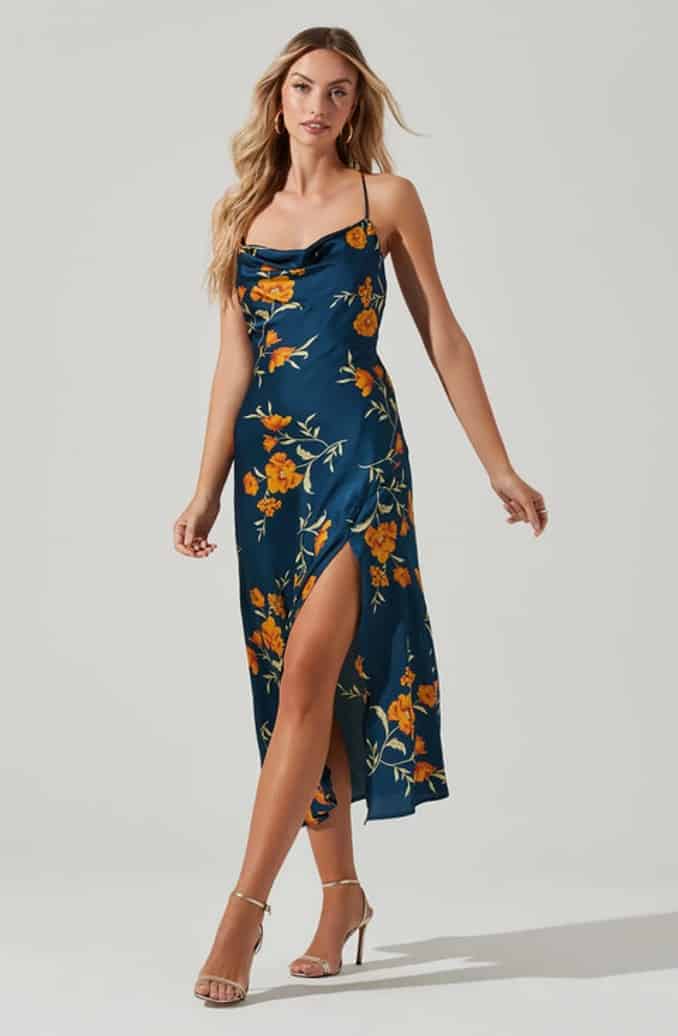 Featured Dress: Gaia Floral Midi Dress From Astr the Label
Finding The Perfect Wedding Guest Dress By Dress Code
It's important to find a wedding guest attire that is your own personal style and is appropriate for the dress code, weather, and time of year. To help, we've organized our favorite dresses by the time of day and by extension wedding dress code, and formality to make them easy to shop from the season's best looks and shops. So, no matter what dress code you need a dress for, we think we've made finding the best wedding guest dresses a breeze.

From Emine Dress from Astr the Label
Morning or daytime weddings with ceremonies and receptions starting before 3 pm are usually more casual than other afternoon and evening wedding counterparts. However, this only holds true if you've received an invitation and the dress code hasn't been defined. If there has been a dress code request, then, by all means, adhere to that code as your guideline.
Even casual attire for a wedding should be slightly elevated. We think pretty day dresses or dressy casual separates, along with some tasteful and festive accessories are the best things to wear to this sort of wedding.
For more detailed ideas see our full dressy casual dress code guidelines along with over 70 more ideas for dresses to wear to a casual or daytime wedding.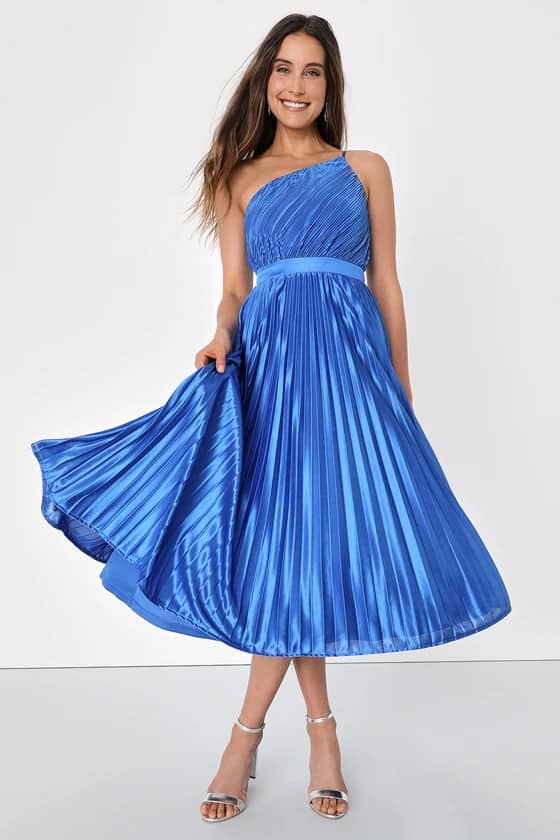 From Pleated Satin One Shoulder Dress from Lulus
We find the majority of weddings usually call for semi-formal or cocktail attire. This is especially true if the wedding is held past 4 pm and in a semi-formal venue like a hotel ballroom, beautiful resort, historic mansion, or club. Semi-formal attire usually means a cocktail dress, midi wedding guest dress, to slightly more formal dress or outfit in a special occasion fabric that is appropriate for the season. You'll want to pair this style with dressy accessories, and elegant hair and makeup styling. If your upcoming wedding has a semi-formal dress code. We think a dress like this is the way to go.
See more than 70 more dresses that are selected for semi-formal weddings, along with more detailed guidance on a semi-formal dress code.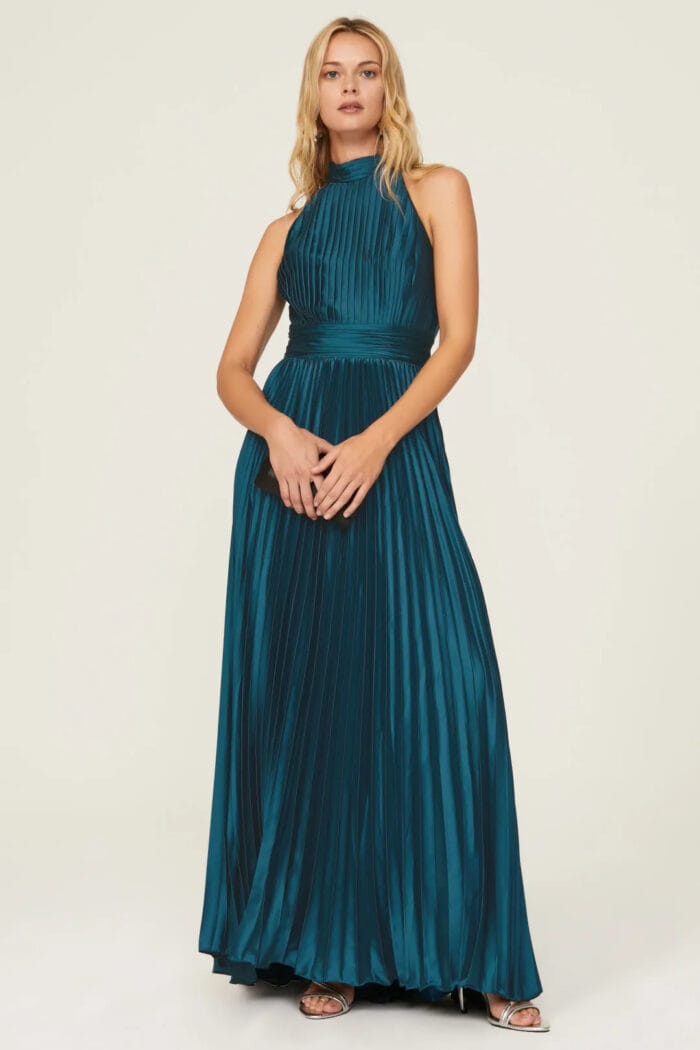 Featured Dress: Navy Pleated Gown from Rent the Runway
Formal or black tie attire is usually the most formal of all the wedding invitations, superseded in formality only by white tie dress codes, which we rarely see! Black tie and formal weddings call for the most elegant long gowns and dresses, however, the exact style, color, and formality might vary a bit depending on the time of year, venue, and nuances of the general style of the wedding.
We love a classic gown like this one that covers all the bases of classic black tie dressing. For more detailed dress code advice and ideas see all of the dresses we've picked for formal and black tie weddings.
Our Top 80 Dress Picks to Wear to Weddings
Here are our top dresses for the 2023-2024 wedding season. Each image is linked to the retailer who sells the dress for your shopping convenience. These dresses change frequently, so check back often for this week's finds!
Each image is a commissionable link to the retailer who sells the dress.

Dresses for Wedding Guests by Season
Season is an important factor in picking the best combination of fabric, style and colors for your wedding guest attire. Each season we look for the best dresses and organize them by season. If you'd prefer to browse that way these posts are for you! Scroll down for more ways to find the best dresses to wear to weddings by color and style.

Summer wedding season is when so many weddings and the outdoor receptions that go along with them are in full swing. To help, we have picked 80 of the best summer wedding guest dresses that reflect the chic summer style and will be both comfortable in warmer weather and will still suit a special event style. We also have picks specific for each summer month. See what we pick for our top guest dresses to wear to June weddings, and the top dresses for August weddings.

Fall is becoming one of the busiest seasons we see for weddings. Fortunately, retailers offer some fantastic fall styles for everything from an outdoor countryside wedding, to fall formal and black tie in at an elegant hotel. See all the top wedding guest dresses for the fall season.

Winter weddings have a special magic about them! Often they are tied in with holiday celebrations or intimate weddings. We love jewel-tone dresses and sparkling metallic looks and plenty of long-sleeve styles for this special season. Explore all of the guest dresses we love for winter weddings.

This fun season kicks off the wedding season. In our region, the springtime weather can be cold and rainy one weekend, and hot and sunny the next. With that in mind, see the dresses we've picked our favorite spring dresses for weddings for every weather and style scenario!
Wedding Guest Dresses by Color

This dress is the Contrary to some advice out there, we think you can absolutely wear red to a wedding if you know which dress to go with. See all of our wedding guest picks for red and burgundy dresses.
Pink

Pink is a fantastic color for wedding guests. Just steer clear of the palest pinks and super-pale creamy blush colors, as they can read as cream or white. See more of the pink dresses we recommend for guests.

Coral and other orange hues can be a fun color to wear to summer events, beach, or destination weddings. It's also the perfect shade to select when you want a color a little brighter than pink, but not as bold as bright red. See all of our coral wedding guest dress picks here.

Nothing says cheerful wedding attire like a pretty yellow dress! Whether you choose a muted mustard color for fall, a vibrant gold, or a sunny yellow for spring or summer, a yellow dress can be an excellent choice for a wedding guest. If this dress isn't the one, we have a full page of many more yellow dresses for wedding guests.

Whether you favor a soft sage or mint green, or love the deeper tones of kelly, emerald, or hunter green, we think green is a wonderful choice for many wedding events. We love this dress by Mac Duggal from Anthropologie. Take a glimpse at all green dresses for wedding guests we have selected here.

Light blue is a classic color for weddings and wedding guests. We love a soft blue tone for spring and summer weddings with more dusty blues for fall and winter. Don't miss all 60 light blue dresses we've selected for wedding guest attire.

Nothing says tasteful and understated wedding style like a dark sapphire blue or navy blue dress, gown, or jumpsuit. In addition to this beautiful dress, please check out 60 more picks we have for dark blue dresses for wedding guests.

From soft lavender shades for spring and summer to vibrant tones of plum for fall and winter, purple can be a regal choice for wedding guest attire. Check out the full assortment of purple dresses think are gorgeous for wedding guests.

Fun bright florals always come to mind for daytime weddings, spring weddings, and outdoor summer events. For fall we love an autumnal floral maxi dress, and for black tie weddings, a formal gown in a bold print always looks fantastic. To see more gowns and dresses like this, be sure to browse through these floral wedding guest dress picks!

Black dresses are wonderful choices for evening weddings or black-tie weddings. We go to great care to find black dresses that are chic formal and festive, but never somber. Be sure to see more of our collected favorites for black dresses for wedding guests.
Wedding Guest Dresses by Wedding Style or Venue
We also have wedding guest dress picks by each style of wedding venue-based dress code we see (and we're working on more!
Dresses By Style
Plus Size Wedding Guest Dresses
Maternity Dresses for Wedding Guests
HERE
Wedding Guest Dresses by Price
Where To Shop For a Wedding Guest Dress
As you can see from our suggestions. We've looked through our favorite wedding guest dresses at places like Nordstrom, Lulus, Anthropologie, Astr the Label, and Revolve to find the best wedding guest styles available this season.
Dresses for the Wedding Party
Are you in the wedding? Check out the pages we have dedicated to Wedding Dresses, Mother of the Bride Dresses, and Bridesmaid Dresses
If you have questions about what to wear to a wedding, check out our posts by every type of wedding dress code as well as our post on wedding attire guidelines. Finding a dress to wear to a wedding shouldn't be stressful!
What Accessories Should You Wear With a Wedding Guest Dress?
Accessories like jewelry, shoes, and clutches can add the perfect finishing touch and complete your wedding guest look. For ideas on what to hear with your dress, we go into great detail about how to style your dress for a wedding in all of the pages of our wedding guest style ideas. Also, see our picks for wedding guest jewelry!
This graphic appeared on Pinterest in an earlier iteration of this post. Most of these dresses are now sold out, however, we have kept the graphic here in case you are visiting the site from this pin.
This pink wrap dress is a super-affordable wedding guest look is from SHEIN. It's the Simplee Leopard Asymmetrical Ruffle Hem Wrap Belted Satin Dress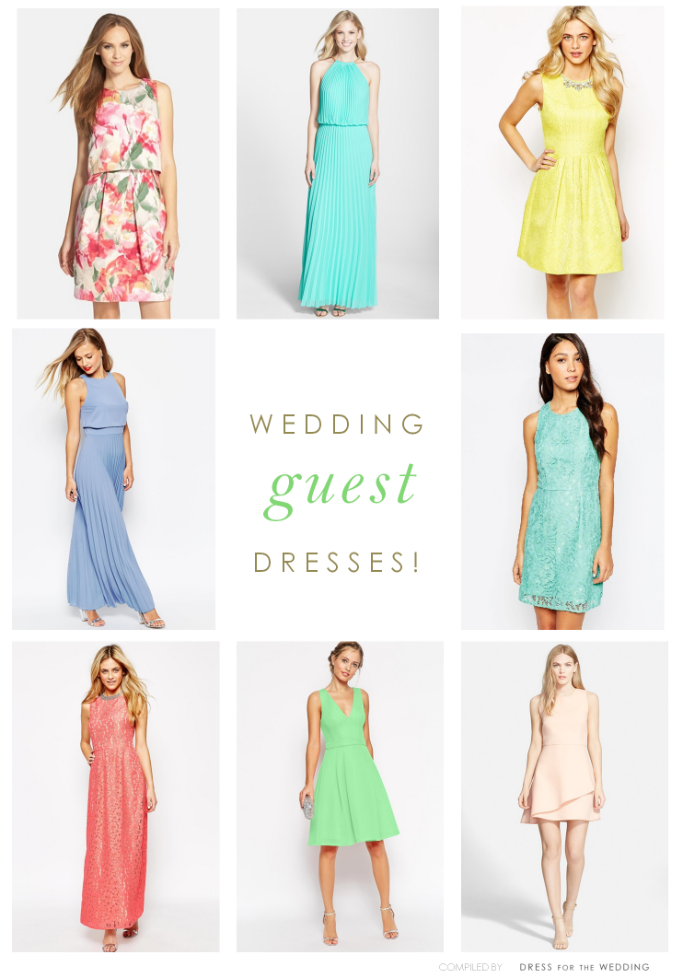 Wedding guest dress sources from sponsors - clockwise from top:
1. Floral Dress Nordstrom ( See more floral dresses) 2. Turquoise Pleated Dress, Nordstrom ( See more Long Gowns) 3. Oasis yellow party dress from ASOS . See more yellow guest dresses 4. Aqua Lace Layer dress from ASOS See more light blue dresses 5. Halston Heritage Peach Fit & Flare Dress from Nordstrom 6. Green ASOS Debutante Dress 7. Coral Dress, Asos 8. Light Blue Dress, ASOS
This page was originally published Sep 7, 2012 and updated most recently on July 21, 2023