Are you seeking size-inclusive bridesmaid dress options for your wedding party? We'll show you some of our favorite choices for plus size bridesmaid dresses and where to find and shop for them!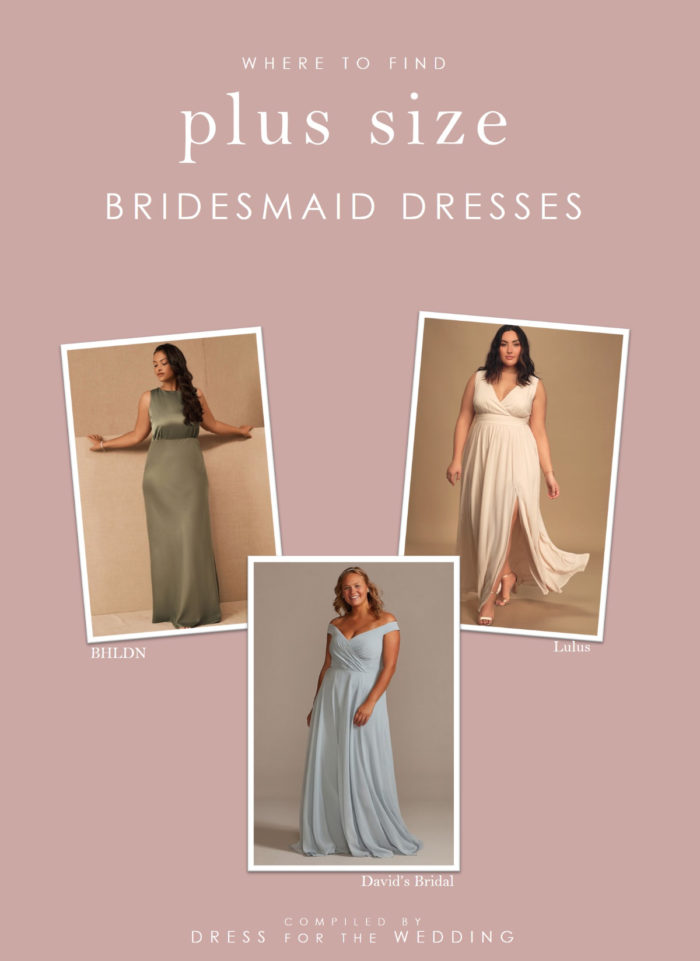 Collage image credit and product sources: 1.BHLDN | Beckett Satin Maxi Dress 2. Lulus | Thoughts of Hue Gardenia Dress 3.David's Bridal | Off the Shoulder Full Skirt Bridesmaid Dress
Plus Size Bridesmaid Dresses
It used to be that finding bridesmaid dresses in extended sizes required custom-order bridesmaid dresses. While that is still a great choice, especially if you are purchasing your bridesmaid dresses from your local wedding boutique, there are now many options online as well. Thankfully in recent years, the top online wedding retailers have realized the importance of including bridesmaid dress sizing to encompass all size ranges, figures, and body types. So now, finding bridesmaid dresses in inclusive and extended sizes for every member of your wedding party shouldn't have to be a challenge. Here are a few of our ideas for where to shop online for plus size bridesmaid dresses.
Shop the Look
Our most recent finds for curve, extended, and plus size dresses for bridesmaids. Affiliate links are used in shopping sections.

Where to Find More Plus Size Bridesmaid Dresses
These trusted online retailers carry bridesmaid dresses in plus sizes. Here are some highlights about each brand and the dresses they offer!
BHLDN

Earlier this year BHLDN launched Plus Sizes, for both wedding dresses and bridesmaid dresses. The collection wasn't just a few styles, t at last look they offered over 100 new styles of dress in the signature chic and modern style BHLDN is known for. Each style appears to be perfectly proportioned and designed with striving for high style and perfect fit. These dresses also make wonderful choices as a Mother of the Bride Dress or wedding guest dress.
Lulus

Lulus recently expanded their wedding offerings for bridesmaid dresses and wedding dresses and made sure to include extended sizing for many of the tops styles of bridesmaid dresses. We love the fact that Lulus's ships quickly and also has over a hundred of bridesmaid dress styles that are under $100.
Azazie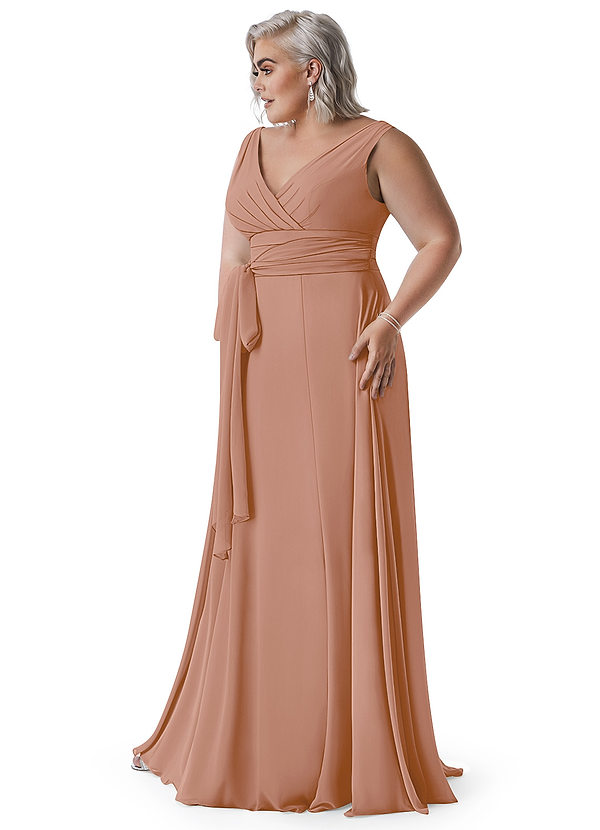 Azazie Bianca Bridesmaid Dresses | Azazie
Azazie bridesmaid dresses have a huge selection of colors and styles, and sizes! Azazie also offers custom sizing on all dresses which means you are getting the dress based on your specific measurements, which often means they will fit perfectly and won't need tailoring! Over 600 dresses here are available in plus sizes up to size A30.
Show Me Your Mumu

Show Me Your Mumu has also launched extended sizes in their bridesmaid dress collection which is full of breezy maxi dresses and satin dresses and fluttery midi and maxi styles in the most delicious colors.
David's Bridal

David's Bridal has always been a top name in wedding attire and has offered plus-size options for years. Some styles are available in store but many are available online. At last look, there were over 260 styles available in plus sizes. Sizing goes up to size 30 on many styles.
Curve from Birdy Grey

Birdy Gray has quickly become a bridesmaid dress option we love because every dress is under $100, has pockets, and comes in amazing styles and colors. They launched their
Curve Collection
this past year, which means these wonderful colors and styles now are available in extended sizing.
Ever-Pretty

We haven't yet seen these dresses in person, but we plan to order some soon to be able to give more insight into the experience. Ever-Pretty has lots of formal gowns for around $60 or less and in plus sizes! As with any purchase, always read reviews and check on their return and customer service policies.
ASOS

ASOS has an amazing selection of trendy dresses, and their Curve collection extends to their bridesmaid dress offerings, giving you a few ready to orderstylish plus size dress options.
Dessy

Dessy is available both through wedding boutiques as well as online. They do have a few week lead time for some dresses, but if you order from the "ready-to-shop" styles, there's no waiting. All Dessy Dresses are available in a range of sizes from 00 to 30.
Shop For More Plus Size Dresses For Weddings
We'll keep an eye out for more sources for plus size bridesmaid dresses and will keep listing them here! You might also like browsing our picks for plus size wedding guest dresses or bridesmaid dresses by color. And our picks for plus size Mother-of-the-Bride dresses. Also check out where to find bridesmaid earrings or browse all posts with more ideas for bridesmaid wedding attire.