Pale Blue Bridesmaid Dress
I'm continuing the rainbow series of bridesmaid dresses with this pale blue bridesmaid dress collage. I was focusing on the most saturated and primary colors first, and was going to go back to work through all the darker and lighter variations of each shade, but light blue is such a classic color, and for some reason I have not done many collages with this hue — such an oversight! So without further delay, let me provide some light blue wedding inspiration for you!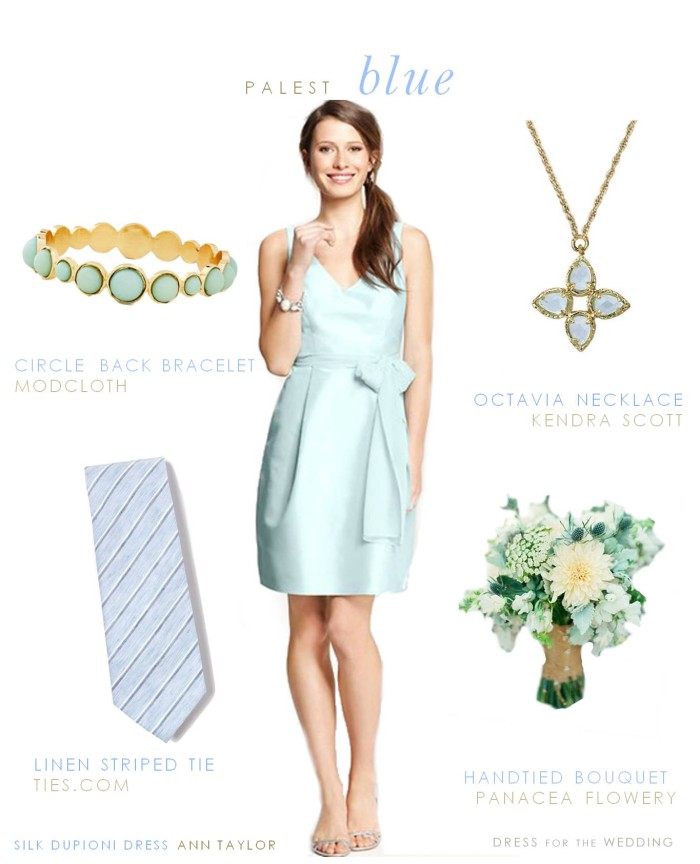 Ann Taylor V Neck Silk Duponi Bridesmaid Dress in Blue Veil / Circle Back Bracelet from ModCloth / Octavia Necklace by Kendra Scott  / Bouquet by Panacea Flowery See the orignal image here  and in this complete feature  with photography by Clayton Austin The Sparrow and the Crow /Blue Port Jefferson Striped Tie from Ties.com
It's particularly shocking that I haven't done more light blue bridesmaid looks because this was my own wedding color. The collage above would have been perfect for my own pale aqua blue and pale green color scheme!
As I like to do with these color-themed posts, I've kept the accessories monochromatic so that you can pick and choose the pieces you like, to the exact extent that you want to bring in this color. There's a bracelet, pale blue necklace, a tie for the groomsmen, and a suggested bouquet style.  The bouquet is usual the biggest accessory the bridesmaid will have so make it lovely like this one!
Pale blue can be paired with other light colors like green, yellow, pink or peach pastels quite nicely, and it also looks fantastic with ivory, white, gold or silver! Other deeper ranges of blues and purples can also be brought in to accent and give dimension to the look.
No matter which color you choose to put it with,  I will say that I consider this a classic never-out-of-style color, but I'm very blue-biased in that thought!
If you'd like more of this shade, follow my Light Blue Wedding Inspiration on Pinterest (or just follow all my Pinterest boards to see all the colors and ideas I pin!)
If you'd like more light blue dresses to chose from I also have a shop section set up with Light Blue Bridesmaid Dresses that you can purchase from reputable retailers like Ann Taylor and Nordstrom, without a long order time!


If you're still undecided about your wedding color scheme,  be sure to see the rest of the series!
More style ideas you might enjoy :