Slate blue, blue-gray, and dusty blue bridesmaid dresses are a top color choice for bridesmaid dresses. We'll show you where to find dusty blue bridesmaid dresses in both long and short styles, including affordable dusty blue dresses for weddings under $100!

Dusty Blue Bridesmaid Dresses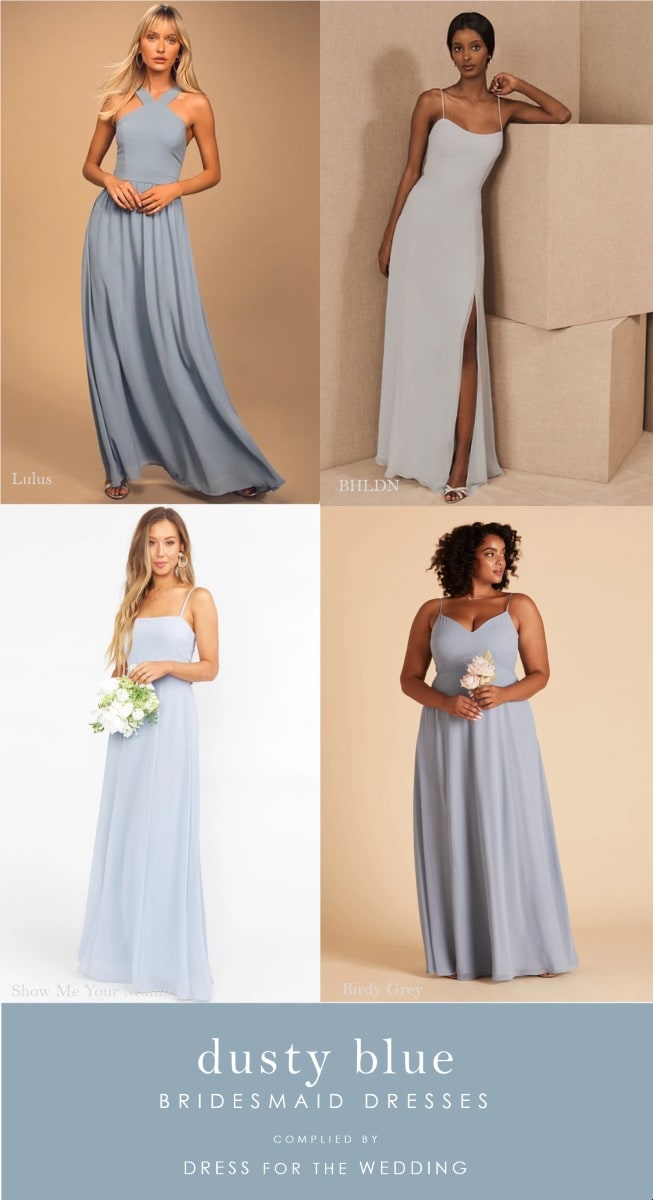 Image and shopping sources: 1. Air of Romance Light Blue Maxi Dress from Lulus 2. Jenny Yoo Kiara Dress from BHLDN 3. Lauren Tie Maxi Dress from Show Me Your Mumu 4. Devin Convertible Dress Curve in Dusty Blue from Birdy Grey
This season, we've been looking at some of the top trending colors for bridesmaid dresses. One of the most popular bridesmaid dress colors has always been blue! We always love a light blue bridesmaid dress, and it seems this particular blue with a tinge of gray often known as dusty blue, is becoming a very popular color choice.
Shop The Dresses

One of the reasons this dusty blue color is so wonderful is that it's a great color for all seasons. Dusty blue can work for a spring wedding just as easily as a winter wedding; just change out some flowers and perhaps some bridesmaid accessories! It also is a fairly universally flattering color for all skin tones and a timeless classic shade that will have you happy with your color choice for years to come!.
Where to Shop for Dusty Blue Dresses
This shopping guide picking blue bridesmaid dresses uses commission links.
This shopping guide is provided to allow you to see all these dresses in one place! Nothing is better than reading reviews to hear how the process was for other purchasers, to find the dresses that are best for your party! Here's where we've found some beautiful dresses for weddings in dusty blue!
Birdy Grey

Birdy Grey has dusty blue bridesmaid dresses --both in a shade specifically called dusty blue which is a beautiful pale blue with gray undertones -- as well as a dark slate blue that is a medium tone blue with hints of dark grey, that is a steel dusty blue shade. We have written about our love for Birdy Grey Bridesmaid Dresses in this review of their offerings. We really love that under $100 the price point and infinite styling options of their convertible styles.
Lulus

Lulus has quickly become one of our top recommendations for all things wedding, and especially for bridesmaid dresses and wedding guest dresses. We love that Lulus dresses for weddings are ready to ship, meaning you can get them without the normal lead time you might have on a custom bridesmaid dress order. They also are usually under $100, which is great when trying to keep things affordable! They have maxi dresses in shades like denim blue and blue-grey that perfectly suit a dusty blue color scheme.
Show Me Your Mumu

Show Me Your Mumu has two shades that might be of interest. Steel Blue Chiffon and Slate Blue, all presented in the effortless boho style maxi and midi dress style Show Me Your Mumu is known for!
Azazie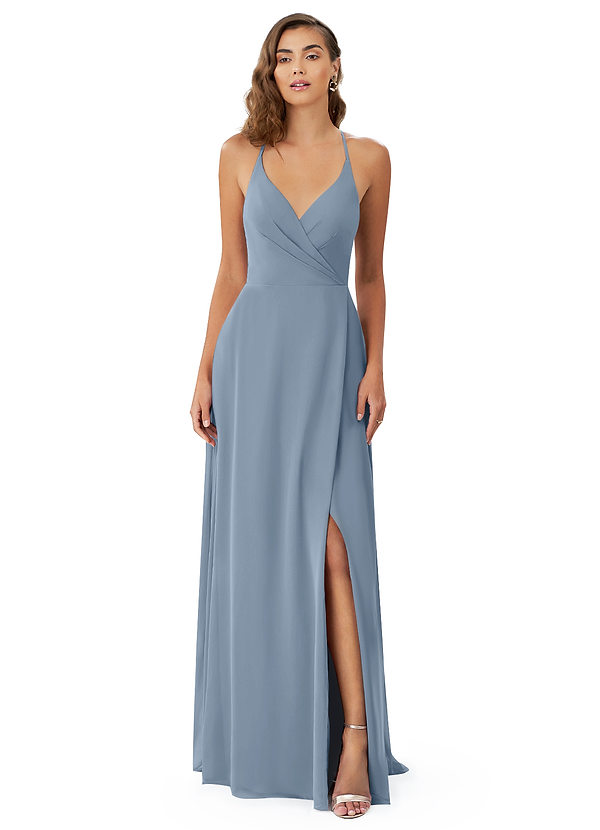 Azazie has 100s of colors of bridesmaid dresses, and one of them is dusty blue which is a mid-tone blue with grey undertones. Many styles of bridesmaid dresses at Azazie are under $100, and they come pre-sized, meaning they are sized by measurements so that tailoring might not be necessary. Azazie also offers 100s of silhouettes, so you can choose between short or long styles and sizing from petite to plus. If you are a fan of dusty blue, might also like the new shade called Periwinkle that they offer, or the shade stormy which is a darker grey-blue color. You can see the color stormy in our review of the Azazie bridesmaid dresses in the try at home program!
Kennedy Blue

Ryan from: Kennedy Blue
Kennedy Blue has several blue colors that might be of interest! Slate blue, fog, sky, and storm all have blue gey undertones. The only choice you'll need to make is the style and whether you want a dark or light blue tone of blue-grey!
You might also like our finds for light blue bridesmaid dresses, dark and navy blue bridesmaid dresses or bridesmaid dresses by color!