If you're looking for a pair of stunning wedding earrings to complete your bridal style, we'll show you where to find and shop for striking and sparkling bridal earrings.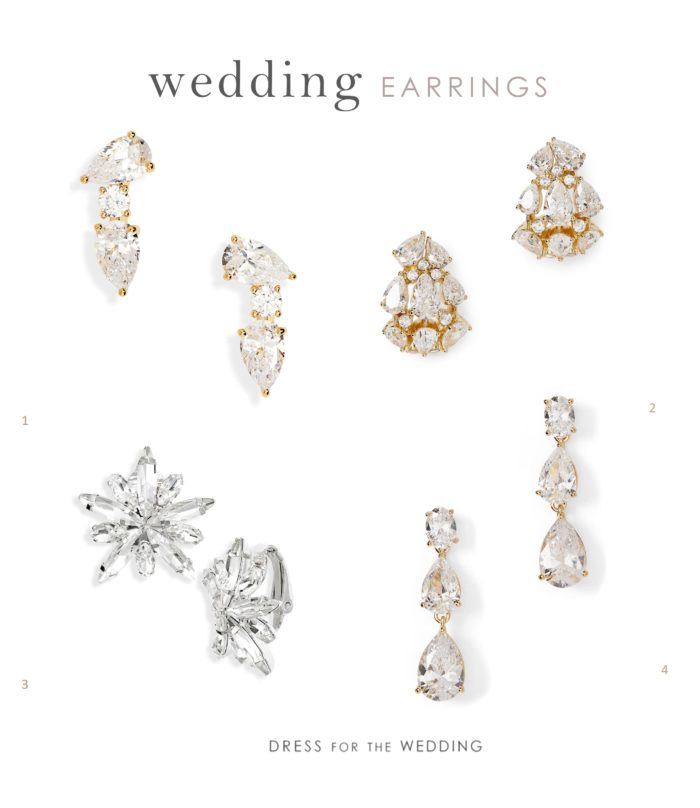 Image and shopping sources: 1 Crystal Ear Crawlers | 2 Crystal Cluster Earrings | 3 Navette Burst Earrings | 4 CZ Drop Earrings
Wedding Earrings
We've hand-picked some of our favorite sparkling ear jewelry to complete your bridal style. If you love a classic wedding style, try some of the pairs of cluster earrings, simple studs, or pearls. For more glamour; try a pair of chandelier bridal earrings in crystal, rhinestone, or diamond! For a more modern wedding style try a bridal ear cuff, or ear jackets, or just a shoulder-skimming statement earring! T
Shop Earrings for Weddings
Here are some of our favorite wedding earring picks from places like Nordstrom, Etsy, BHLDN and more. Each image is linked to the shop where you can find the earrings.
Shopping sections use affiliate links, which means this site may earn a commission on resulting purchases. We do not directly sell or ship any of these items, we simply refer you to the retailer where you can purchase these items.

More Wedding Jewelry and Accessories
See more wedding accessories and jewelry, or browse our wedding dresses to find designer wedding dresses you might love!