In this post, we'll share with you where to find sea glass bridesmaid dresses. If you love the look of sea glass, and its range of blue, green, and aqua tones, you're not alone! It's a gorgeous color for bridesmaid dresses, especially for beach or destination weddings. We also have a few picks for accessories and decor for a sea glass themed wedding!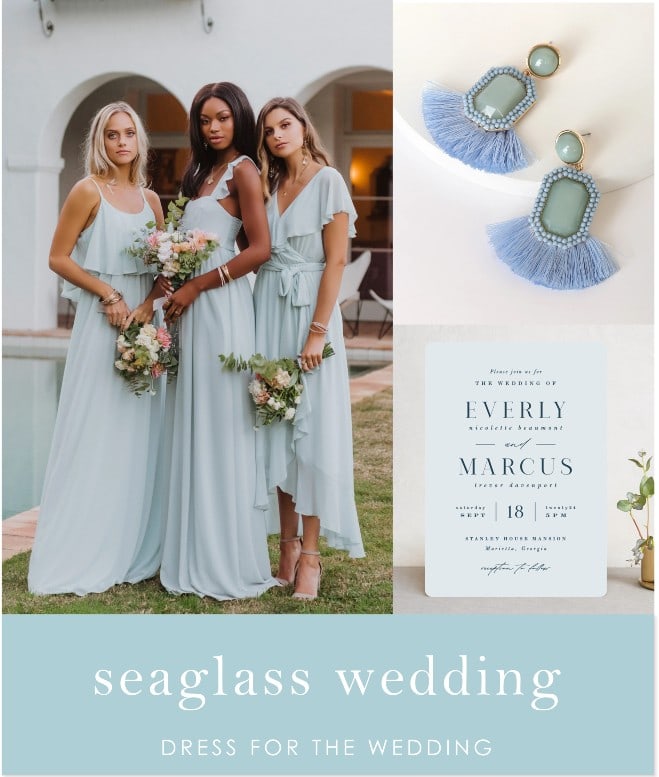 Image and product sources: 1. Bridesmaid dresses from Show Me Your Mumu 2. Boho Tassel Earrings from Lulus 3. Everly Invitations from Minted
Where to Find Sea Glass Bridesmaid Dresses
Blues and greens are always popular colors for bridesmaid dresses. While lately, we've seen lots of light and dusty blue bridesmaid dresses, we're now again seeing these sea glass blue and green colors! In fact, the style idea for this collage was a few years ago, but it looks fresh to us still and again! Here are a few of our favorite seaglass bridesmaid dresses.

More Places to Shop
The dresses above are one sample of where to find blue-green dresses. Here are a few more places to look for this color for your wedding.
Birdy Grey

Dresses at Birdy Grey are under $100, which is one of the things we love about this bridesmaid dress company. Their latest offering includes a fabric color sea glass. The Birdy Grey color is described as an ocean green - so it's a little darker and greener than the light greenish-blue that comes to mind for us with the color sea glass sometimes. We also think their dusty blue and sage green colors are pretty sea glass-like - and they go great when mixed with the color they call sea glass!
Show Me Your Mumu

The styled collage that is the cover image for this post features a dress from Show Me Your Mumu. While their sea glass fabric has been discontinued, they still have a number of light blue and light green bridesmaid dresses that could qualify. We love the sea green colors like mint, silver sage they offer, as well as sea blue colors like icy blue and steel blue.
Kennedy Blue

Caroline
from: Kennedy Blue

Sea Glass Dresses
from: Kennedy Blue
Kennedy Blue has several sea glass fabrics and over. One is called " sea glass" and is the pale blue green we most strongly associate with this color name. TO us, it is the perfect balance of soft green and blue combined. Kennedy Blue dresses start at $89, and have detail options like pockets, lace, different necklines.
More Dresses from Kennedy Blue
David's Bridal

David's Bridal has a number of sea blue and green shades like mint, sage and spa in there 100s of silhouettes and various fabrics like satin, chiffon, and crepe styles. Many styles are under $150.
Azazie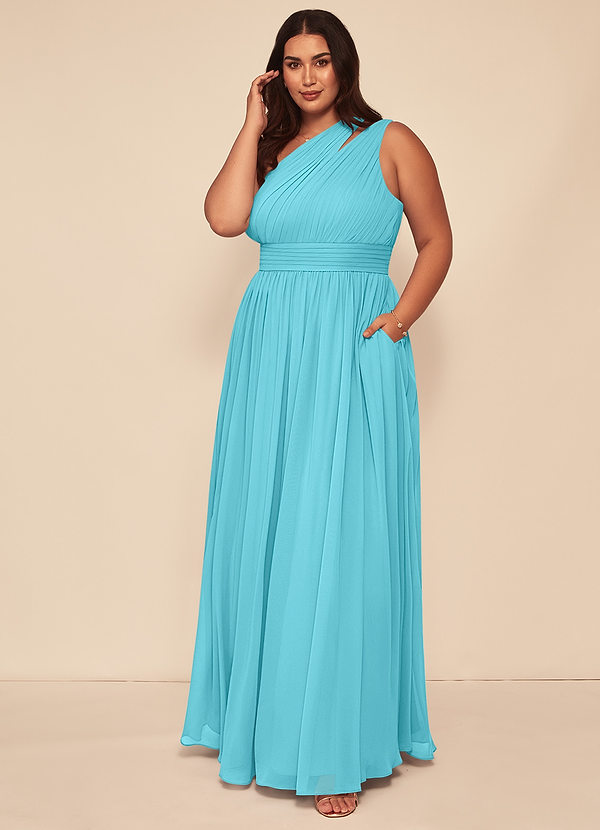 Azazie Molly
from: Azazie Inc
Azazie has a few sea glass type colors in bridesmaid dresses. We love the colors jade, carribean, and spa to get that seaglass look - mist, mint and other green colors are another option!
More from Azazie
Blue Green Dresses for Bridesmaids
If you like this shade, you might also love these dresses in mint and pale blue bridesmaids dresses, as well as these soft green dresses. I've paired Limpet Shell here with some soft green and gray accessories. However, this pale turquoise color can also stand up to punchy colors like yellow, pink, and coral. It's a wonderful aqua color that can be energizing or soothing depending on how it is combined with other hues.
This aqua maxi bridesmaid dress by Show Me Your Mumu is one of many in that line that perfectly captures the beach-chic style. It's a little bit dressed up, a little bit bohemian, and all-in-all a very versatile style, available in many more shades like cobalt, navy, white, lavender, coral, deep green, and prints as well.
Styling a Seaglass Bridesmaid Dress
This original collage and article was written a few years ago, so we're updating it with new picks for 2022 and 2023, However, we still love this outfit idea below!
The beachy, soft blue-green called 'Limpet Shell' by Pantone was one of the hot colors for Spring a few years ago! Limpet Shell is the soft green-aqua blue of seaglass, making it a very popular color for beach weddings. But Limpet Shell isn't just limited to the seaside weddings, it's a beautiful spring and summer color for nearly any wedding.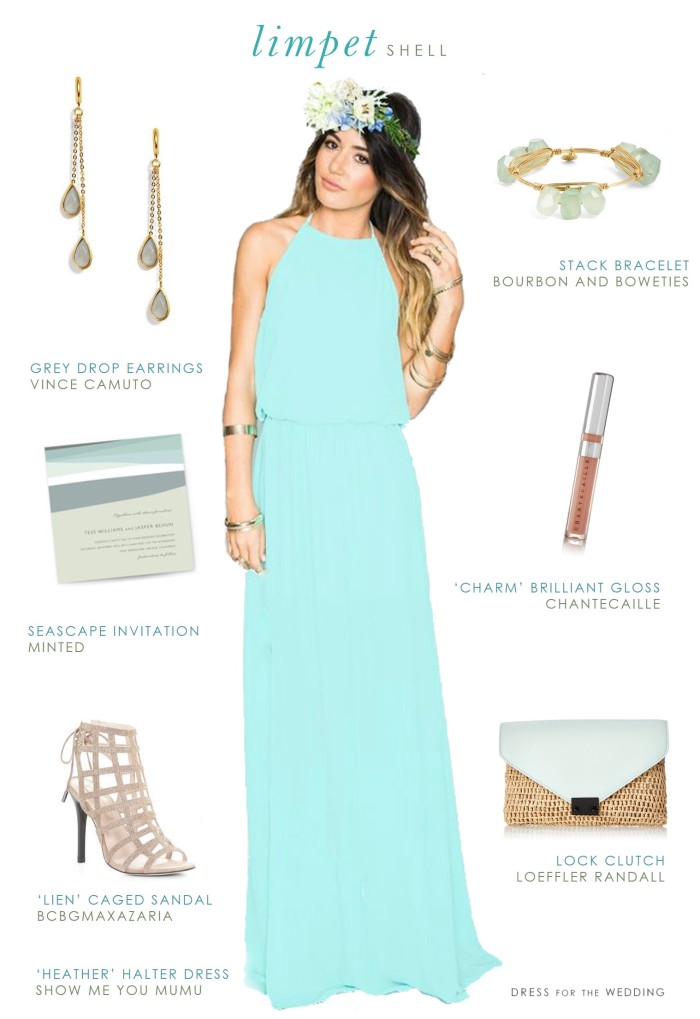 The shopping links in italics are from our affiliates and sponsors.
Dress: Heather Halter Dress in Sea Glass Crisp by Show Me Your Mumu ( Sea Glass has been discontinued as a color, but they have lots of new blues to take the place of this color - we love icy blue chiffon!) | Earrings: Grey Teardrop Earrings by Vince Camuto | Bracelet: Medium Stone Stack Bracelet by Bourbon and Boweties from Nordstrom | Lipgloss: Chantecaille Brilliant Gloss in Charm from Net-a-Porter | Clutch: Signature Lock Clutch in Mint by Loeffler Randall from MyHabit.com | Shoes: Lien Caged Sandal from BCBG Maxazaria | Invitation: Sea Scape Wedding Invitations from Minted.com
I have a few ideas for how to wear it presented in this collage. I love the look of a slightly neutral, touch of coral lipgloss with this and soft green and gray and neutral accessories that look like they were made from beach-washed stones and taken from natural elements. The colors in the invitation perfectly show how this mix echos all the colors of the ocean waves. Taking cues from the style on the model, I think the subtle makeup and a loose wavy hairstyle shown here is a great fit for this dress. And for florals, can't you just imagine this dress paired with a pretty grey-green bouquet of succulents? This dress is really a blank canvas. So add any touches you like, whether they be glamorous or earthy!
And, if you're planning a beach wedding, you won't want to miss these helpful posts on Beach Wedding Dresses and Mother-of-the-Bride dresses for a beach wedding.
More looks you might love:
Cute and Affordable Bridesmaid Dresses
More Bridesmaid Dresses from Show Me Your Mumu
Shopping sources on this site use affiliate links. This site may earn a commission if you make a purchase from our links. Originally published Feb 16, 2016.