Sequined and Beaded Gowns for the Mother of the Bride
A wedding is a great reason to dress up and sparkle a little bit! And if you're in a special role like a mother-of-the-bride or mother-of-the-groom, a sequined or beaded gown is the perfect way to celebrate! Beaded dresses can come in pretty gold sequin gowns, silver sequin gowns or dresses or colors like pale blush or pale blue. Here are a few of my favorite picks for sequin dresses and beaded gowns that would make beautiful mother of the bride dresses in shoppable format from my sponsors and affiliates.
Shop section uses affiliate and sponsored links.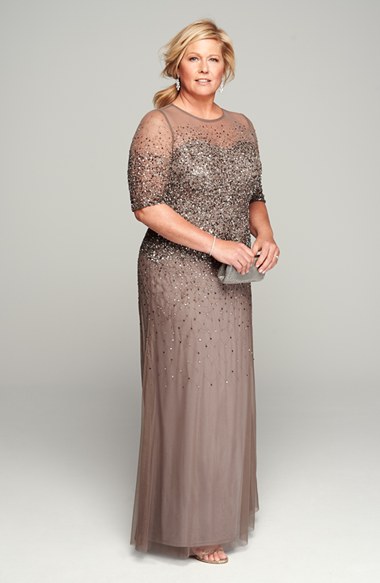 Adrianna Papell Beaded Dress
This dress has been one of the most popular and searched this week, and I get a lot of questions about where to get it ( I think it doesn't always load quickly in the shop section, above, even though I keep stocking it there. It's available at Nordstrom, click here to see and buy it!) and read the reviews – it is a great mother of the bride dress!
Also try these great shops for mother of the bride looks:
Nordstrom | Neiman Marcus | Teri Jon | Saks Fifth Avenue  |BHLDN
More style ideas you might enjoy :