The rich, plush feel of velvet is one of the best parts of cold-weather holiday dressing. We've collected the prettiest gorgeous velvet special occasion dresses that we could find to help you get dressed for holiday parties and winter weddings.
This page about velvet dresses for wedding guests uses affiliate links and images in shop sections, meaning this blog may receive a small referral commission from our sponsors.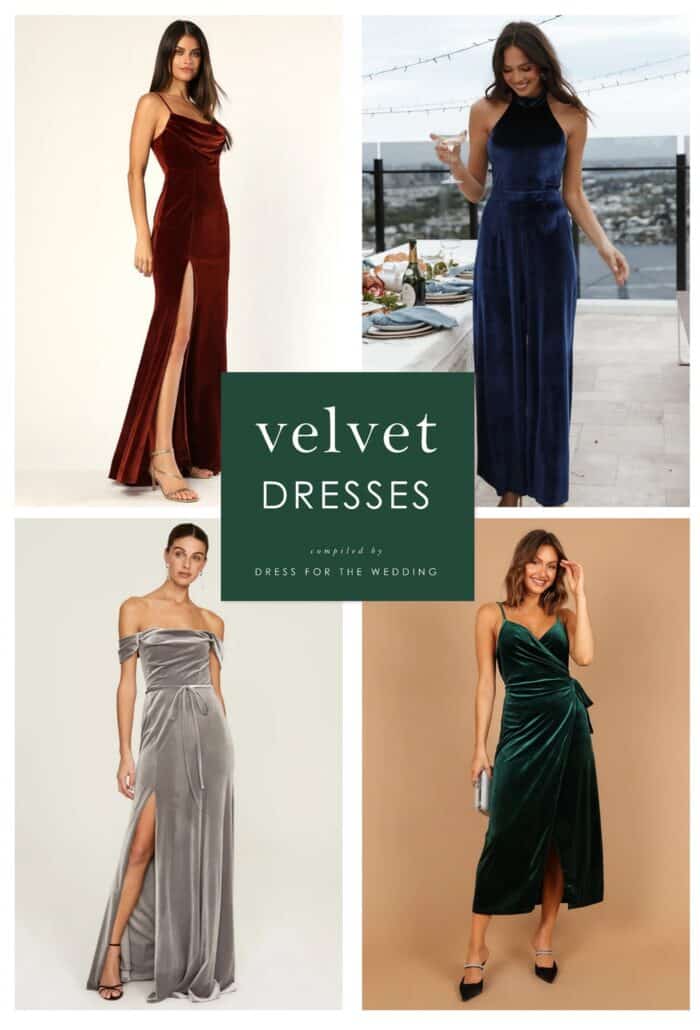 Image credits and shopping sources: 1. Brown Cowl Neck Gown from Lulus 2. Aria Velvet Jumpsuit by Petal and Pup 3. Gray Off the Shoulder Gown by Rent the Runway 4. Wrap Velvet Midi Dress in Green (also available in other colors) from Petal + Pup
Velvet Dresses to Wear to Weddings, Parties and Special Events
Velvet is particularly lovely for fall and winter formal weddings. As one of the finest special occasion fabrics, it's ideal for wedding guest attire. Velvet dresses in beautiful deep colors like bottle green, blue, burgundy, and even gold abound this season. It's an elegant fabric that looks luxurious and also keeps you warm. It's a great look for any event around the holidays!
Velvet Wedding Guest Dresses
Here are a few of our favorite velvet dresses to wear to your next autumn or winter wedding as a guest, or if you're not heading to a wedding, wear these to a party!

Many of our favorite retailers and sponsors are offering gorgeous velvet wedding guest dresses this season. Check out places like Nordstrom, and BHLDN, for amazing velvety looks!
Can You Wear Velvet as a Wedding Guest?
Can you wear velvet as a wedding guest? Yes, absolutely! Velvet dresses for wedding guests are a great option, especially as the holidays grow near and the days and nights get colder. Just make sure the silhouette of the velvet dress you choose matches the dress code of the event. Here's some guidance below.
Velvet Dress for Casual Event

If it's an informal event, you can still wear velvet, but you may want to select a casual wrap dress with a short sleeve or maxi dress style. This is also a great style to wear for holiday family photos.
Velvet Semi-Formal Dress

For semi-formal events choose a velvet cocktail dress or midi dress. These are great for winter semi-formals, winter weddings, holiday cocktail parties, or a winter date night.
Formal Gown in Velvet

For formal events like a black tie wedding, military ball, or winter gala, choose a formal full-length velvet gown and some heels and sparkling accessories. If you love this style; here are a few more velvet dresses we love this season!
More Velvet Dresses Special Occasions
Spaghetti Strap Velvet Midi in Velvet Floral Burnout

This little midi shows how fun and textured velvet can be with the floral pattern in a burnout fabric. This midi is a great choice for a holiday party or to wear to fall and winter semi -formal weddings.
Long-Sleeved Green Velvet Party Dress

This long sheer-sleeved green dress has so much fun stuff going on. The long sheer sleeves, the full flared skirt and the trail of embellished details down the bodice make this a show-stopping gown to wear for holiday family photos, a winter wedding, or your holiday semi-formal event.
Off the Shoulder Velvet Gown

This stunning gown can work for bridesmaids' dresses, a mother-of-the-bride gown, or a black tie formal event. It comes in a range of colors and sizes, but we think this blue is special! See more of the velvet bridesmaid dresses we love.
Past Dress Features
These are velvet dresses we've showcased in the past, but they are no longer available. We keep these images just so that sourcing credit is given in case you reach this page from these images on Pinterest.
Deep Blue Off the Shoulder Gown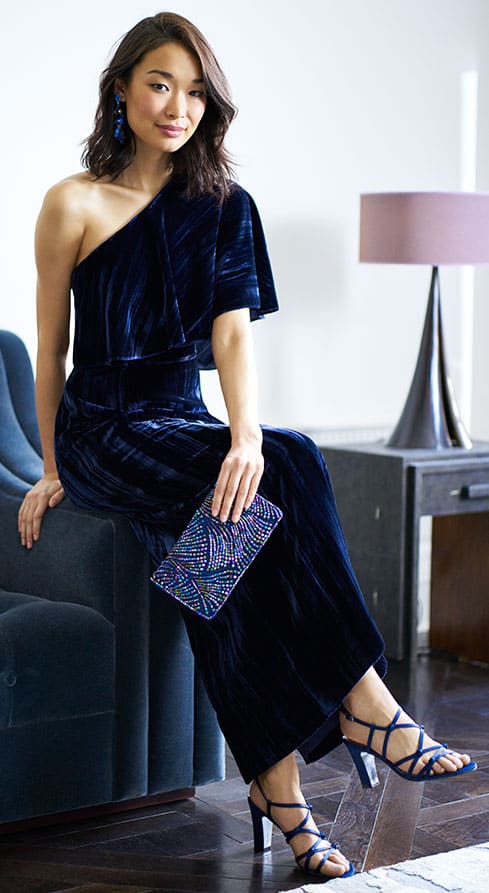 Oh-so-gorgeous! We love this new blue velvet one-shoulder gown from Adrianna Papell! ( Now out fo stock)
Red Velvet Asymmetrical One Shoulder Midi Dress

This ASOS one-shoulder velvet dress is striking, and under $40! (Dress is now out of stock)
Love this bottle green velvet dress from Nordstrom! They have tons of beautiful velvet dresses!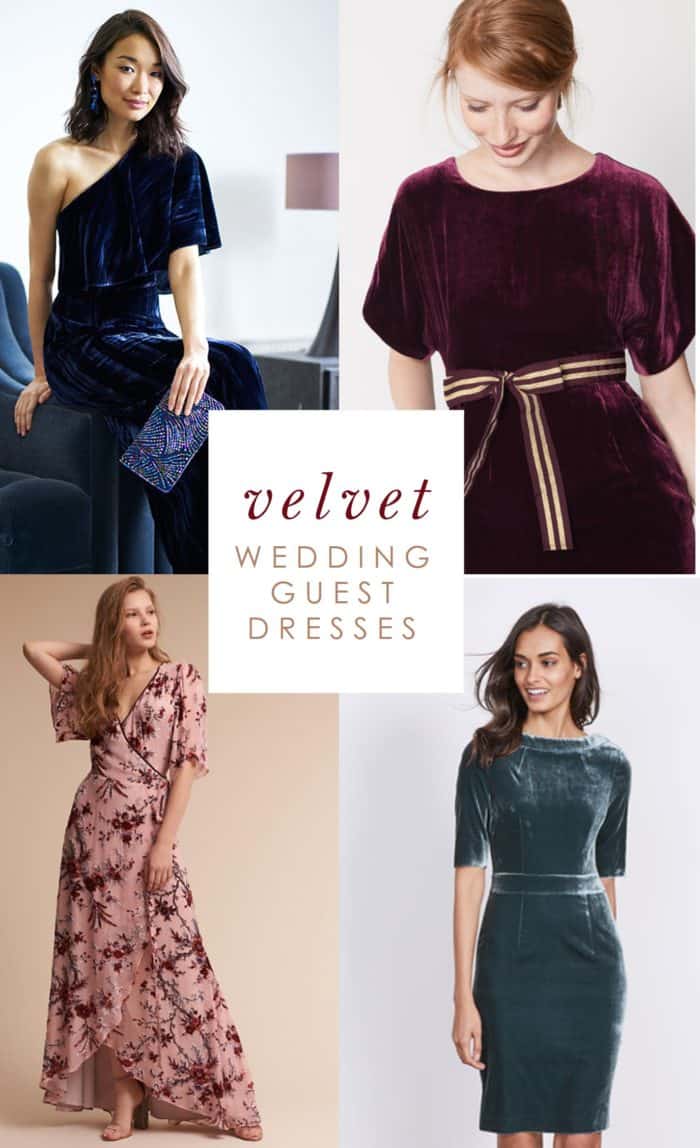 Image and shopping sources: 1. Blue Velvet One Shoulder Gown from Adrianna Papell 2. Burgundy Velvet Dress - Robyn Dress from Boden 3. Floral Velvet Maxi Dress - BHLDN 4. Blue Green Velvet Dress from Boden
This article was first published on October 6, 2017, and was updated most recently on October 9, 2023.