Fall wedding ideas to make every detail of your autumn wedding! If you're planning a fall wedding, this post will help you find all the elements; from invitations to decor, plus dresses, flowers, food, and favors -- all of them perfect for an autumn wedding! Rich fall colors and motifs of the season abound in this fall wedding inspiration post!
The shopping sources in this post use affiliate links, which means this site may earn a commission if you make a purchase from our links.
Fall Wedding Ideas and Decor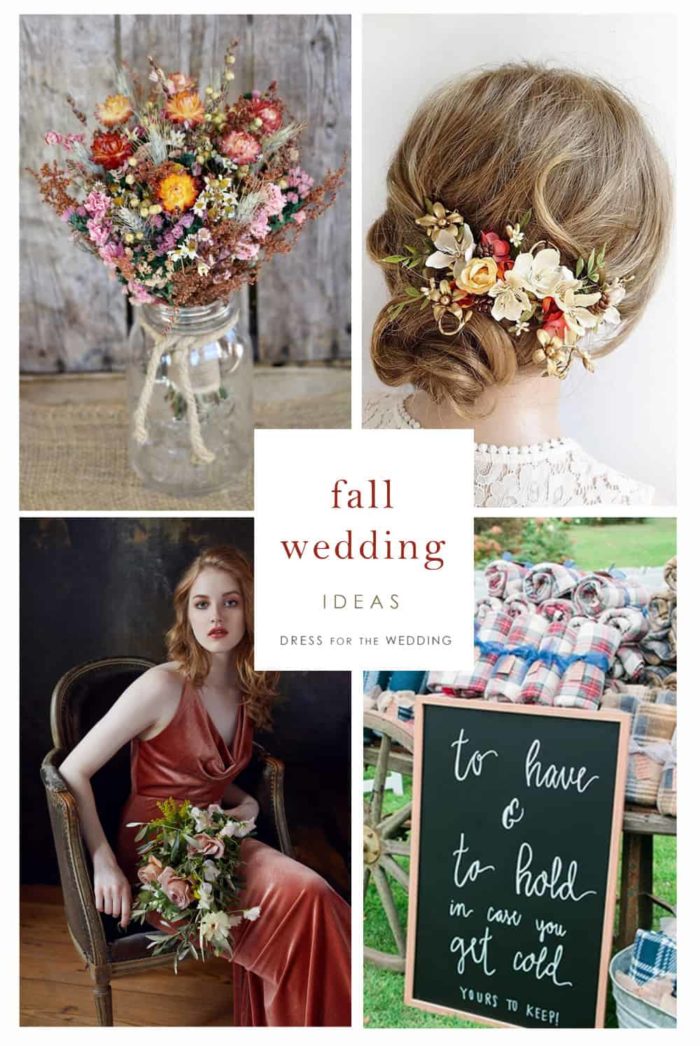 1 | Fall Flower Bouquet from The Flower Patch on Etsy 2 | Hair accessory for a fall wedding created by the Honeycomb on Etsy 3 |Velvet bridesmaid by Jenny Yoo, Photographed by This Modern Romance. 4 | Personalized wedding blankets and shawls from Where to Get on Etsy
Shop Fall Wedding Decor, Favors, Accessories, and Invitations

Things we love about fall weddings!
While spring and summer weddings get a lot of the spotlight; they are just the start of the wedding season! Fall weddings are just as popular; if not more so!
Fall is filled with gorgeous nautral colors, plus the cooler days mean you won't have to worry about sweating through your outfit, bright sun making everyone squint, and unpredictable summer storms.
Fall in my region of the country has some of the prettiest days of the year! Sunshine peeks through when you least expect it, and the fall light and foliage just looks so pretty in pictures.
If you and your love are planning a fall wedding; here are a few of my favorite things to include! I hope they'll inspire you!
Fall Wedding Invitations
You'll want to set the tone for your fall wedding early with your wedding invitations! Something with an organic motif or that coordinates into the colors you'll use in your wedding is always a good idea. We love this one from Minted, and they have many more for the season.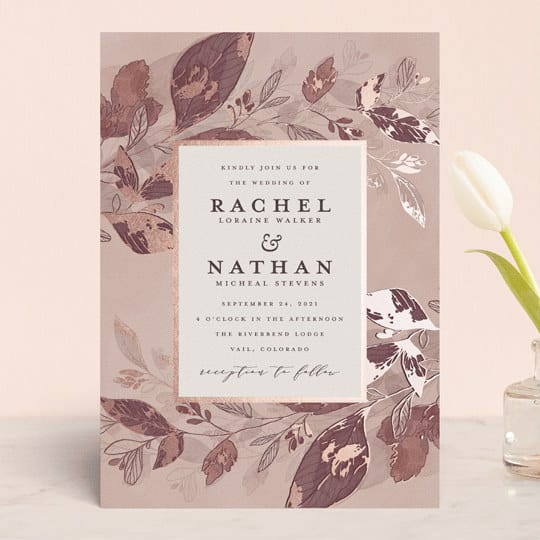 Midnight Vines Wedding Invitations from Minted
Wedding Accessories
Wearing a fall-themed accessory can be another beautiful way to give a nod to the season. Adorn your hairstyle our your bridesmaids' hair with a beautiful flower crown in fall colors or romantic hair accessory like this!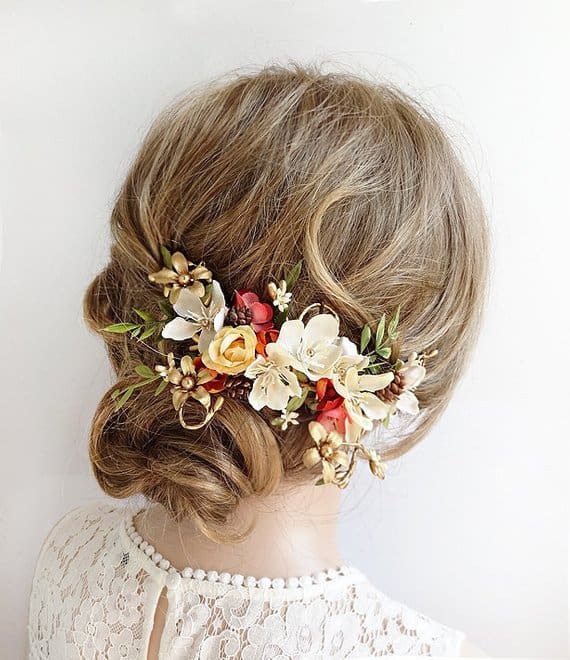 Hair accessory for a fall wedding created by the Honeycomb on Etsy
Bridesmaid Dresses for Autumn Weddings
We especially love this shade of cinnamon, but gold, soft sage green, and burgundy, mauve and plum of course are great colors to use in your bridesmaid dresses! We did a whole post on fall bridesmaid dresses as well as fall mother of the bride dresses, filled with dresses in autumnal colors. You might also love these Velvet Bridesmaid Dresses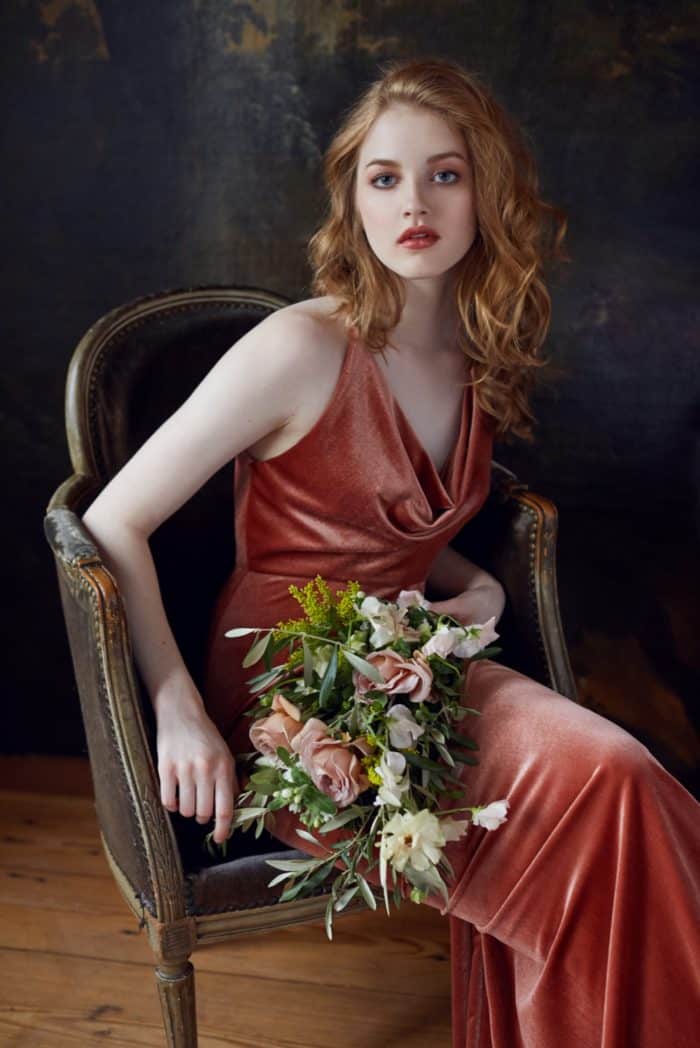 Velvet bridesmaid by Jenny Yoo, Photographed by This Modern Romance. See the full feature here. Buy the dress from Nordstrom
Fall Wedding Dresses
Fall is the perfect time to rock a long sleeved wedding dress, or a beautiful autumn-inspired accessory! You can also add a layer to a strapless gown with wraps or a cape for your wedding dress!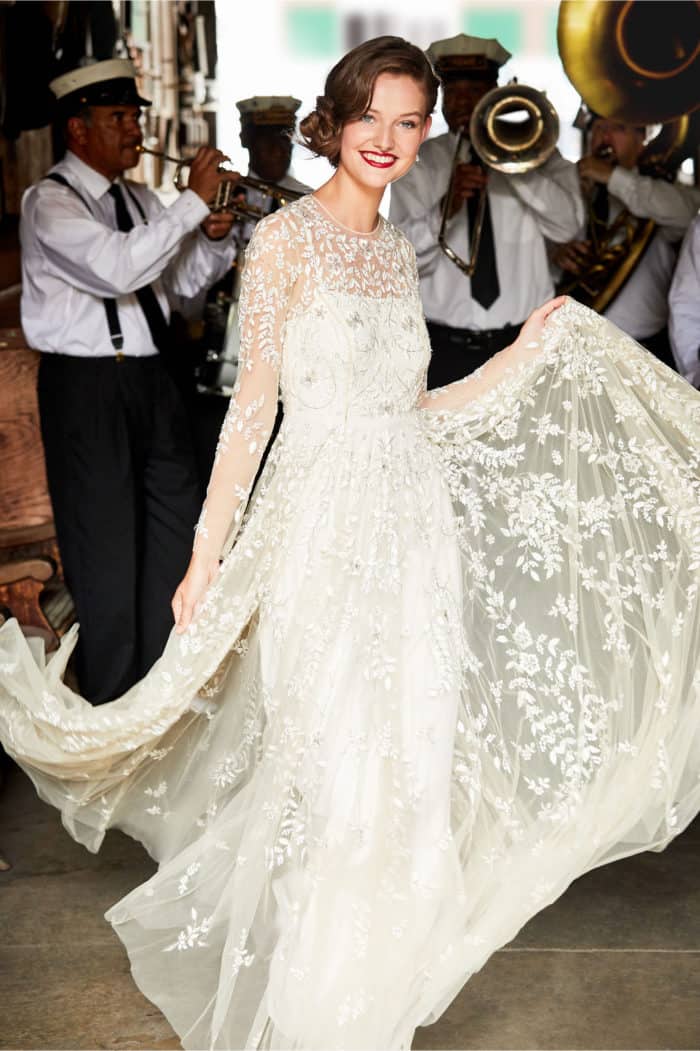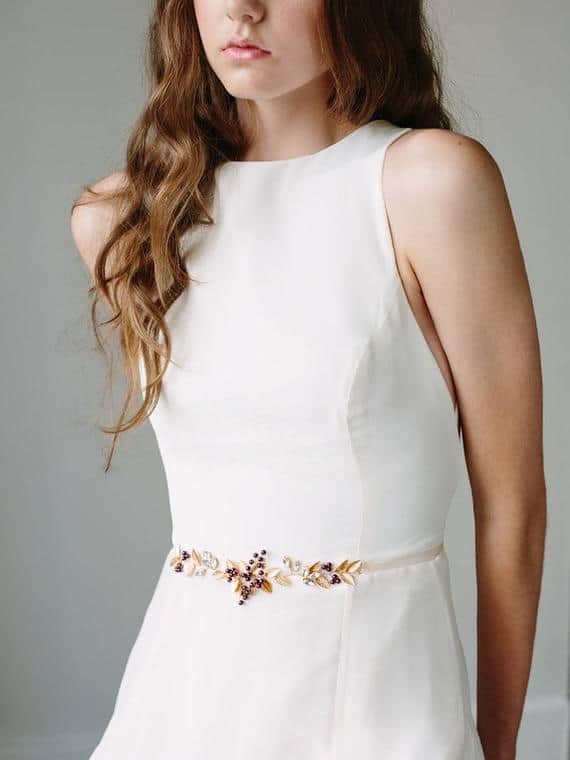 Fall gold vine and berries bridal sash from Davie & Chiyo on Etsy
Fall Wedding Decor
It's obviously a great time to get creative with fall motifs and natural harvest inspiration like apples, pumpkins, flowers of the season, colors that reflect the harvest and the changing leaves. Don't feel limited to just those traditional hues; a fall wedding can look great with touches of sage green, cream, copper, gold, and other colors as well!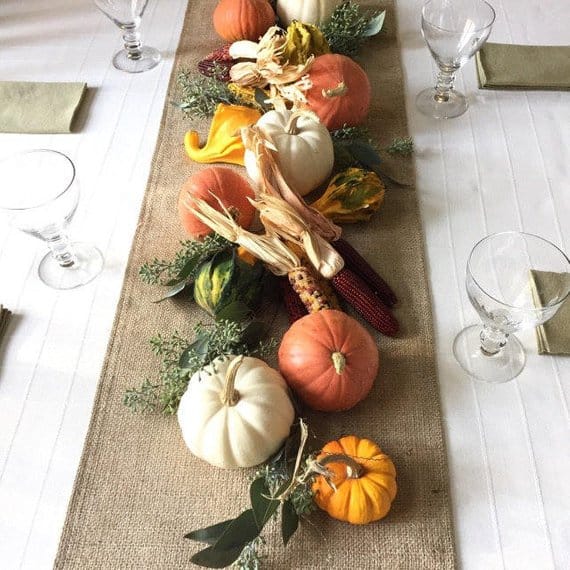 Hemmed Burlap Table Runner by The Ruffled Daisy on Etsy
Table runners, signage, and candles and florals can be a great way to add a little autumn to your wedding! Check out these velvet pumpkin pillows, or cute white pumpkins for decorating tables or your event space.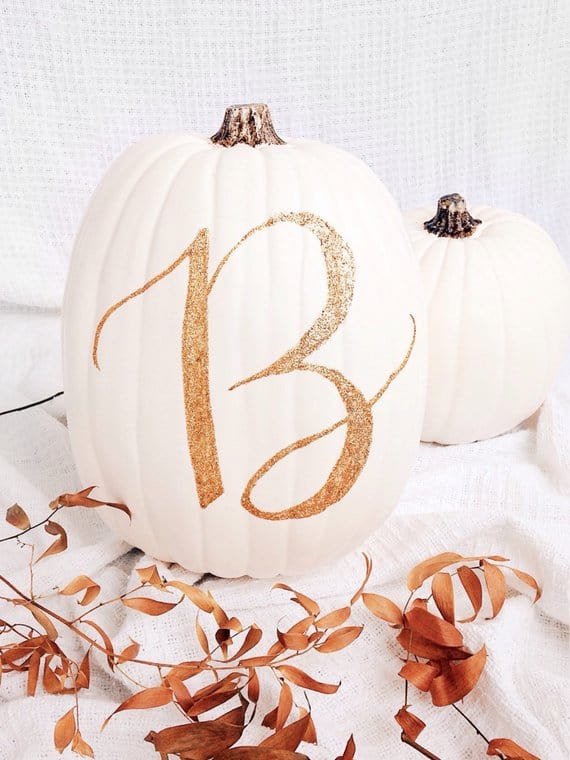 White pumpkin with glitter initials from Paper Case Studio on Etsy
Fall Flowers
It can be beautiful to select blooms that reflect the colors of the foliage and the flowers that bloom during this season. One can also select dried flowers. Your florist will be able to tell you which flowers are best for your intended color scheme, mood and season of your wedding! Browse Instagram for lots of fall floral ideas!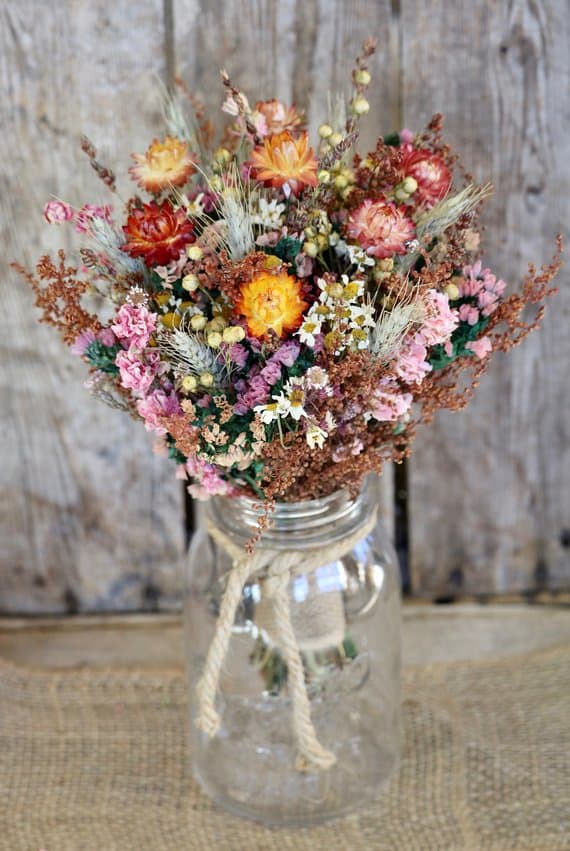 Fall Flower Bouquet from The Flower Patch on Etsy
Wedding Drinks
Welcome your guests with a signature fall cocktail, like a cider mimosa or an apple cider mule! Check out our boards on Pinterest for more ideas.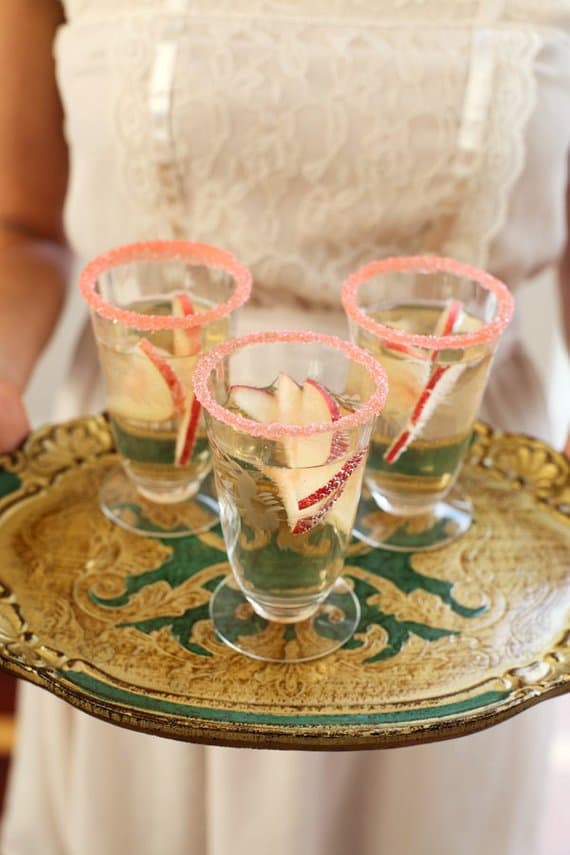 Fall cocktail idea with image of Cocktail Rimming Sugar from DellCove Spices on Etsy
Signature drinks that use apples, pumpkins, cinnamon and other flavors of the season! Check out our Pinterest board called party things for some ideas! To make your drink even more festive, try fall drink stirrers, fall cocktail napkins, or fun garnishes!
Fall Wedding Food
Fall is also the perfect time for cozy foods; maybe your reception will feature a firepit - in which case - do s'mores with these cute personalized marshmallows! Tasty treats like homemade pie pops, apple cider donuts are all perfect for the season. Popcorn, cookies, or fall candies can all be given as favors in a bag like this!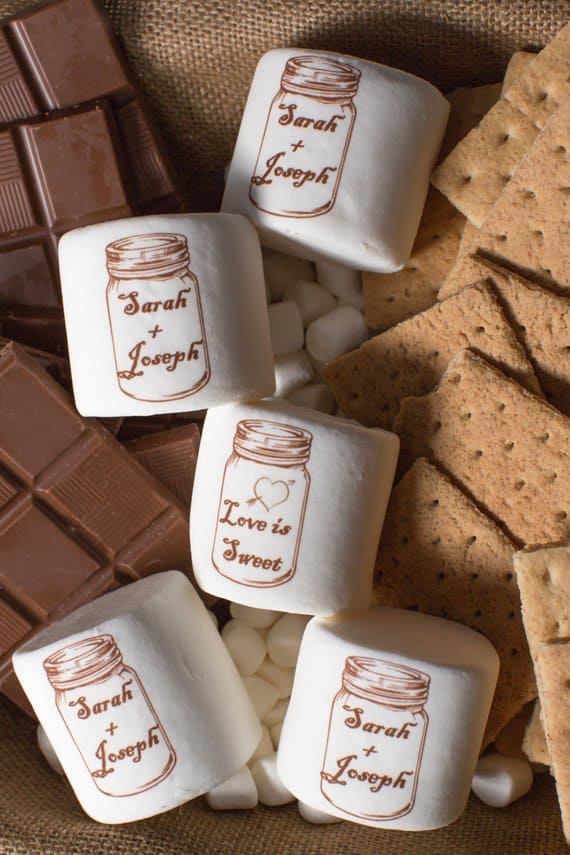 Personalized marshmallows for fall wedding favors and firepits from Candy With at Twist on Etsy
Fall Wedding Cake Topper

Wedding cake topper for a fall wedding created by Glam Celebrations on Etsy
More Wedding Ideas!
These ties in fall colors for Grooms and Groomsmen.
In case the weather is chilly, you may wish to include this information on where to find wraps for wedding guests!
Give your guests ideas for what to wear with these fall wedding guest dresses, and velvet dresses for weddings!