With long hemlines and a variety of sleeve and silhouette options, maxi dresses are a perfect wedding outfit option for fall. To help you get dressed for any weddings or special events, we're providing this guide to the best fall maxi dresses for wedding guests.
Affiliate links are used in this article about fall maxi dresses for wedding guests. This means this site may earn a commission if you make a purchase to the sites we've linked to.
Fall Maxi Dresses for Wedding Guests
We've picked an assortment of long dress styles to suit every dress code, aesthetic, and budget. See our picks below to see why fall is the perfect season to rock a maxi dress at the next wedding you attend.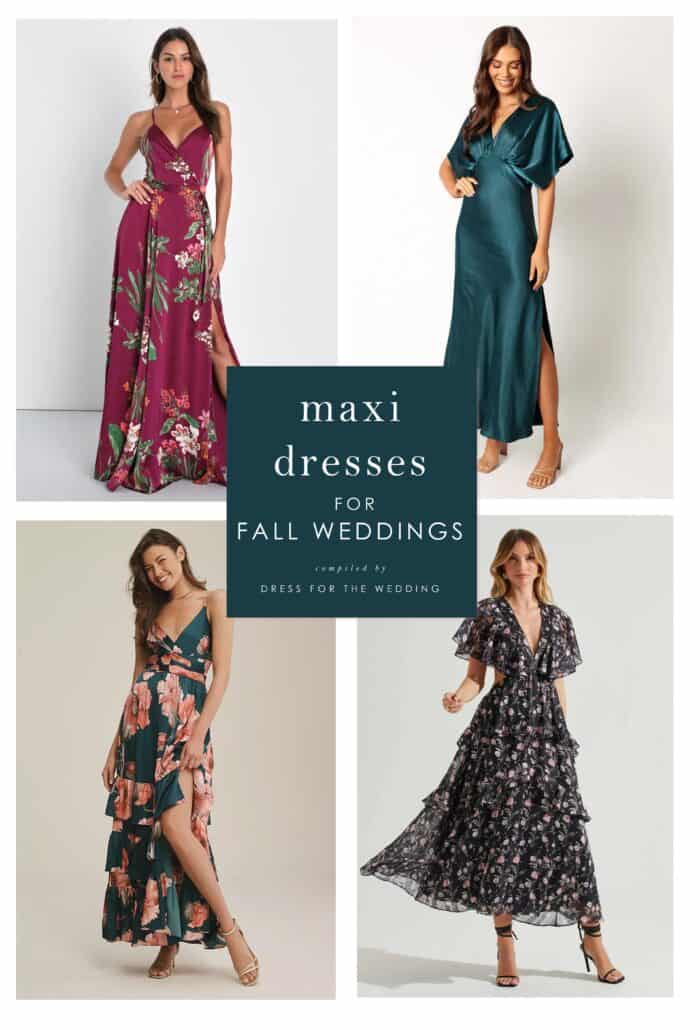 Image credits and shopping sources: 1. Still the One Burgundy Floral Maxi Dress from Lulus 2. Ricki Satin Maxi Dress in Jasper Petal + Pup 3. Hutch Guthrie Printed Dress from Anthropologie. 4. Lucy Flutter Sleeve Cutout Dress from Astr the Label
75 Maxi Dresses That Are Perfect to Wear to a Fall Wedding
To make it easy to find a great maxi dress that's wedding guest-appropriate, we've collected some of our favorite fall maxi dresses that we believe will make for gorgeous wedding attire! Maxi dresses like this are perfect for fall outdoor weddings, and other autumn venues. Commissionable links are used here.

Trending Maxi Dress Styles for Fall 2023
There's no question that the maxi dress is suited to the fall season, and it has rapidly become the dress of choice for weddings.
Maxi dresses in general are delightful with their long flowy silhouettes, that give an air of formality and a bit of coverage for fall temperatures.
We love that these styles can be dressed up for formal events, or worn with flats sandals, and casual accessories for a more informal look.
Here are a few current favorite looks that perfectly illustrate the trends we're seeing for formal to semi-formal maxi dresses this autumn.
Pleated Burnt Orange Maxi Dress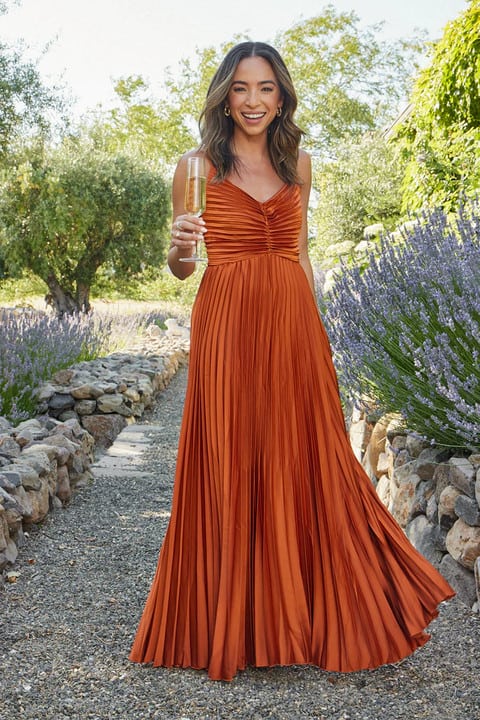 This dress shows off two current trends and what a great look a fall maxi dress can be. We are seeing pleated styles everywhere in wedding guest and special occasion dresses and this is a gorgeous example of the look. The burnt orange color is a classic fall shade, but also a trending color this year. Wear it to a formal wedding, or an outdoor wedding at a winery, brewery, or rooftop. This dress is the Naira Pleated Maxi Dress in Sunset Orange from Petal and Pup.
Long Sleeve High High Neck Dress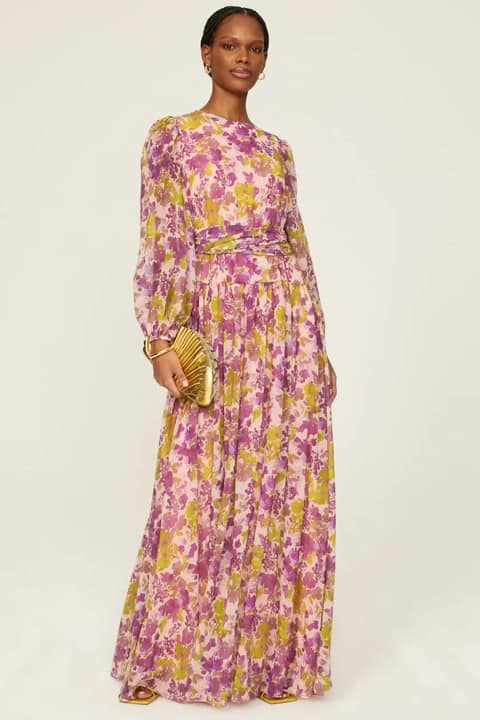 Rent the Runway
The gorgeous mix of mustard and purple florals suggests the leaves changing during the seasonal shift of late summer and early fall. The long sleeves, floor length, and high neckline give a modest and elegant style of gown for a guest of a wedding. Wear it to everything from a boho outdoor wedding, to a formal fall reception. This is the LLong Sleeve Floral Maxi by LTD from Rent the Runway.
Velvet Floral Print Cowl Neck Maxi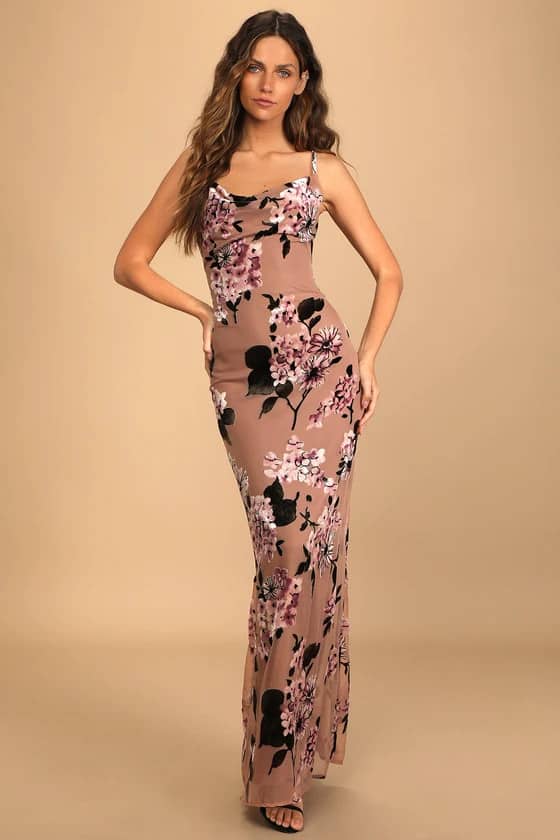 Lulus
This sleek maxi dress shows off a fitted cut along with one of our favorite fabrics for the fall season - velvet floral prints. This mauve velvet floral has a gorgeous cowl neckline and comes in a gorgeous palette of fall shades like mauve, ivory, dark green, and burgundy making for an ideal semi-formal or formal fall wedding guest dress. This dress is called the Romance in the Making Floral Print Velvet Dress from Lulus.
Dark Fall Floral Maxi Dress with Long Sleeves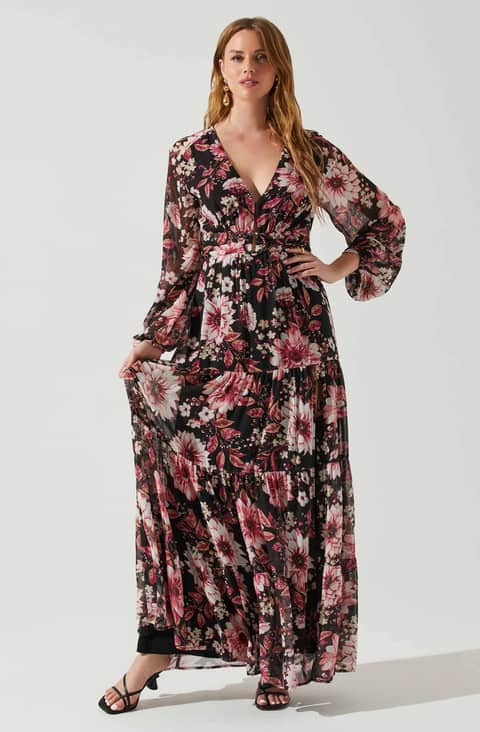 Floral print fabrics with dark blue or black backgrounds give a gorgeous moody style for the fall season. The long sleeve and V-neck styling of this dress make it ideal to wear to a winery or brewery wedding, a casual fall wedding, or an informal outdoor wedding reception. This is the Trinity Long Sleeve Floral Maxi Dress from Astr the Label.
Floral Burgundy Short Sleeve Maxi Dress with Tiered Skirt
The flutter sleeves combined with the layered tired skirt give this dress dimension and floaty airy style. This dress is available in a few color combinations, but this burgundy dress with neutral florals is an ideal focal point for a fall wedding guest outfit. This is the Midnight Mood Burgundy Maxi Dress from Lulus.
High Neck Sleeveless Maxi Dress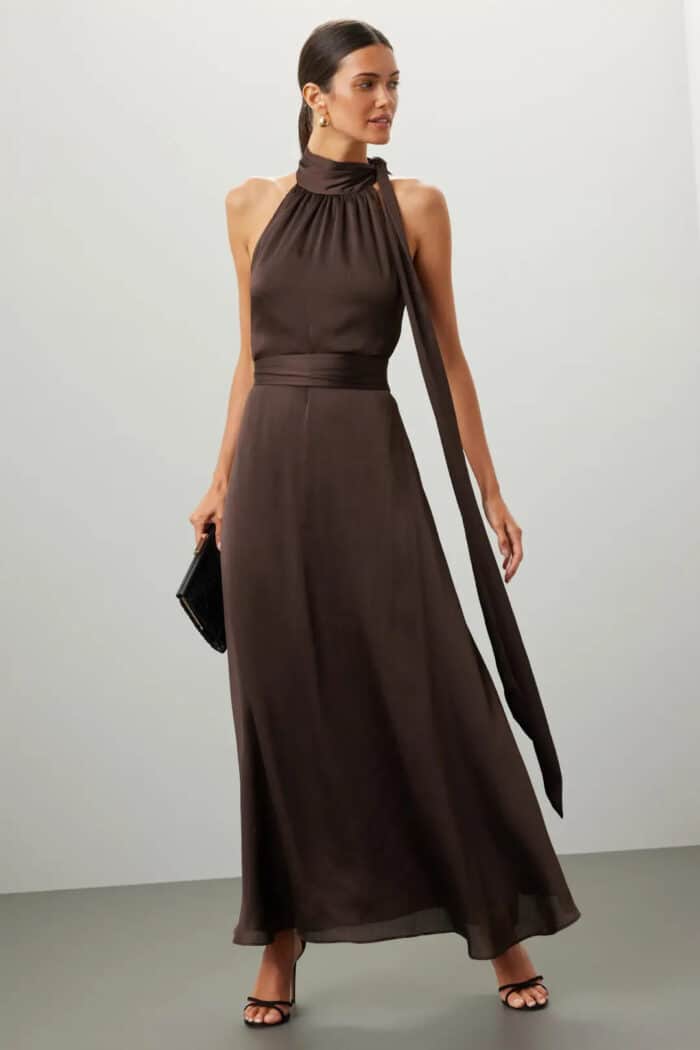 Rent the Runway
This sophisticated sleeveless style shows the high mock neck style gown we've been seeing in an on-trend rich earthy brown color that is showing up this fall in gorgeous gowns like this. This illustrates a more formal style of maxi dress that edges into gown territory and can be worn to formal weddings. This is the Kayla Gown from Sachin + Babi available through Rent the Runway.
Short Sleeve Fitted Dark Green Maxi Dress
This short-sleeved style in deep emerald green shows another color that is hot for 2023. The all-over dainty floral pattern and structured fit make this a beautiful look for a semi-formal fall wedding. Best of all this is a sustainably made wedding guest dress! This is the Reformation Silk Birch Maxi Dress from Anthropologie which comes in two other colors.
What's the Difference Between a Maxi Dress for Fall and a Gown?
The fall maxi dress is a close cousin to a formal gown and sometimes can overlap. With a formal gown, the formal fabric, a little bit more tailored or fitted structure, and extra long and lean silhouette make the look decidedly formal or black tie.
A fall maxi dress can be formal too but often is made of a less structured casual rayon or flowy fabric that leaves room for informal styling too.
If you want a formal gown check out our picks for fall formal dresses. If you want a shorter look check out our picks for midi dresses for wedding guests or our picks for semi-formal fall wedding guest dresses.
What Type of Maxi Dress is Suitable to Wear in the Fall Season?
The main characteristics of ideal fall maxi dresses are these 3 factors:
Fabric As cooler weather sets in the fabrics are slightly heavier in fall, and dresses may be lined. You may also see velvets, heavy crepe suiting, or heavy stretch fabrics rather than lighter-than-air summer-weight styles.
Color The patterns and colors are deeper and more autumnal. Burgundies, dark green, and dark blue replace summer staples like pastels and soft and brightly colored floral prints.
Silhouette Maxi dresses in the summer might be sleeveless, have spaghetti straps, or barely-there sleeves. In the fall you'll see more styles with short long sleeves, 3/4 sleeves, or at least a covered off-the-shoulder style.
Is it OK to Wear a Maxi Dress to Fall Weddings and Special Occasions?
Absolutely! A maxi dress is great for fall events. So, just like wearing white after Labor Day now has been classified as passe advice, the maxi dress also gets permission to go into the fall months. In some cases, you can even help a summer maxi style make the transition to fall with some darker accessories or wraps. But with the pretty autumn shades like deep olive green, and some of the burnt oranges, rich burgundies, and deep blues and purples, why not try out a few decidedly fall maxi dress looks? The extra length and the optional addition of a long sleeve make these a great choice for those chillier fall temperatures.
How to Accessorize a Maxi Dress for Fall
Accessorizing a fall maxi dress is also easy! For the deep green maxi dress below, we added gold and a bit of aqua, to help make the jump from summer colors ( like this shade which looks like sea glass) into fall. We actually found tons of pieces we loved with this dress!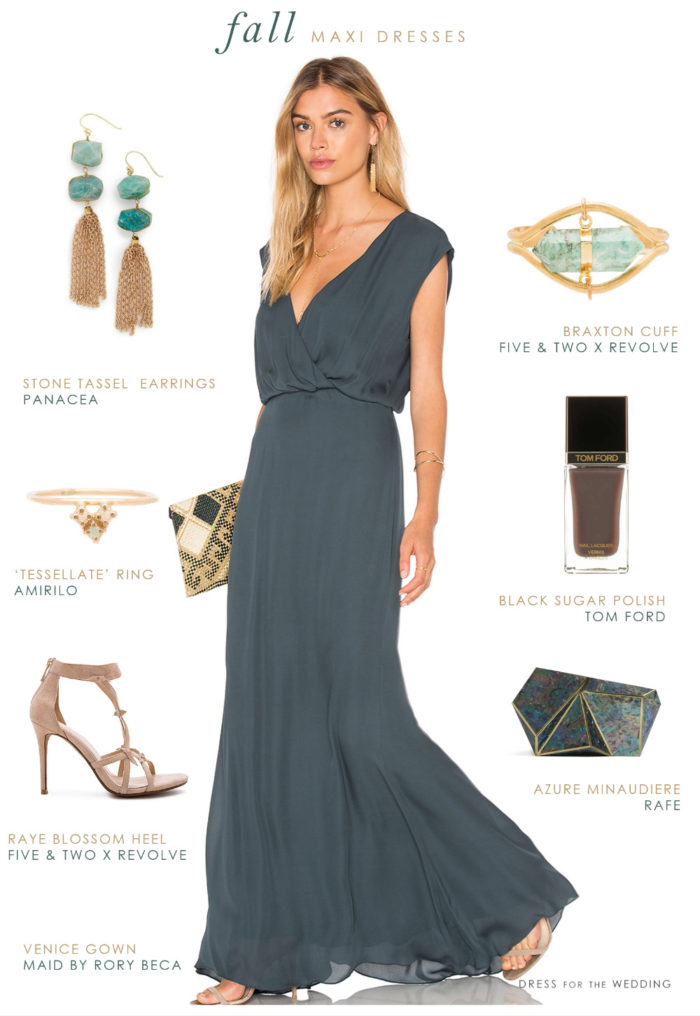 These maxi dresses for fall shopping sources use affiliate links where noted in italics.
Dress: Maid by Rory Beca Venice Gown in Clover from Revolve | Earrings: Panacea Stone Tassel Earrings from Nordstrom | Cuff: Braxton Cuff by Five and Two x Revolve | Nail Polish: Tom Ford Nail Lacquer in Black Sugar | Clutch: Azura Rainbow Minaudere from Rent the Runway, also shown on model with: Kayu Saguaro Clutch in Black from Revolve | Shoes: Raye Blossom Heel in Nude from Revolve | Rings: Amarilo 'Tesselate' Ring in Gold Overlay from Revolve
More Fall Wedding Guest Styles
We've been updating all of our fall wedding attire suggestions this season. See 90 of the best wedding guest dresses, our suggestions for what to wear to a fall semi-formal wedding, or our picks for casual fall wedding guest dresses, or - if you're headed to a formal wedding check out these fall formal dresses for guests of black tie weddings.
Features from Past Seasons
These are maxi dresses we've featured for fall weddings in the past seasons. These dresses are likely out of stock, but we have kept the shopping guidance here for continuity.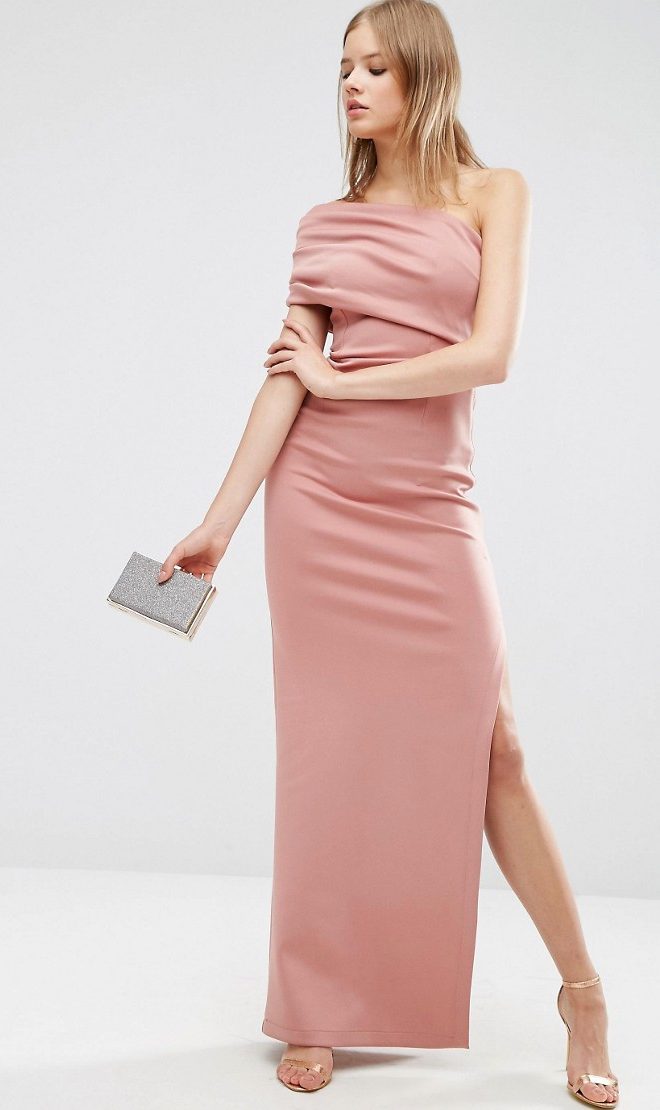 One Shoulder Scuba Maxi Dress from ASOS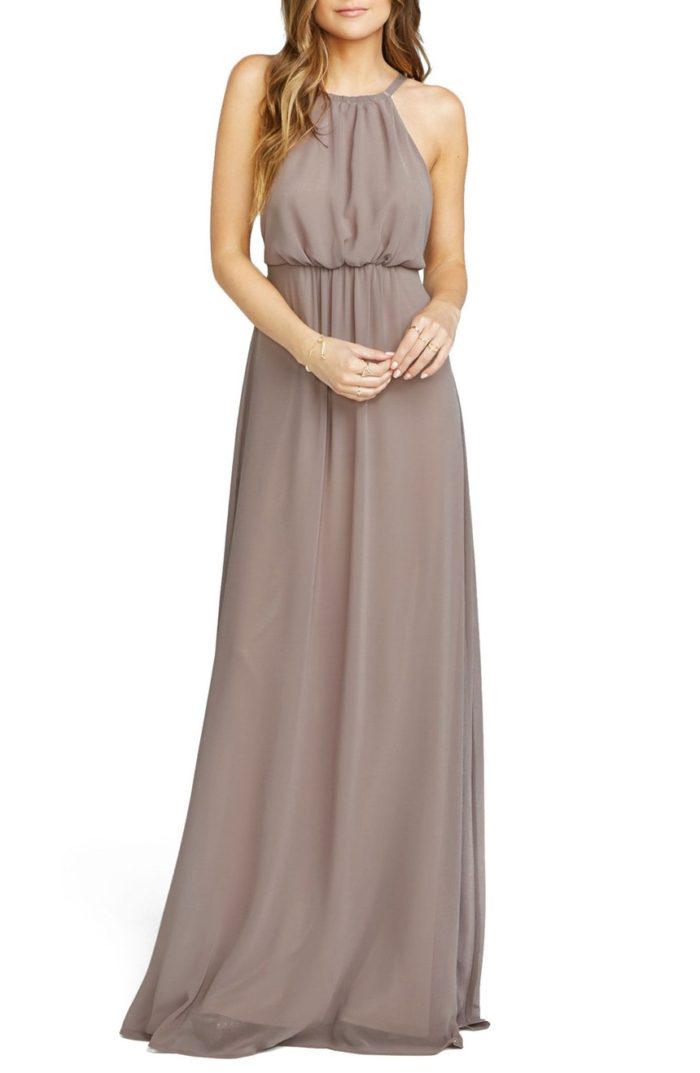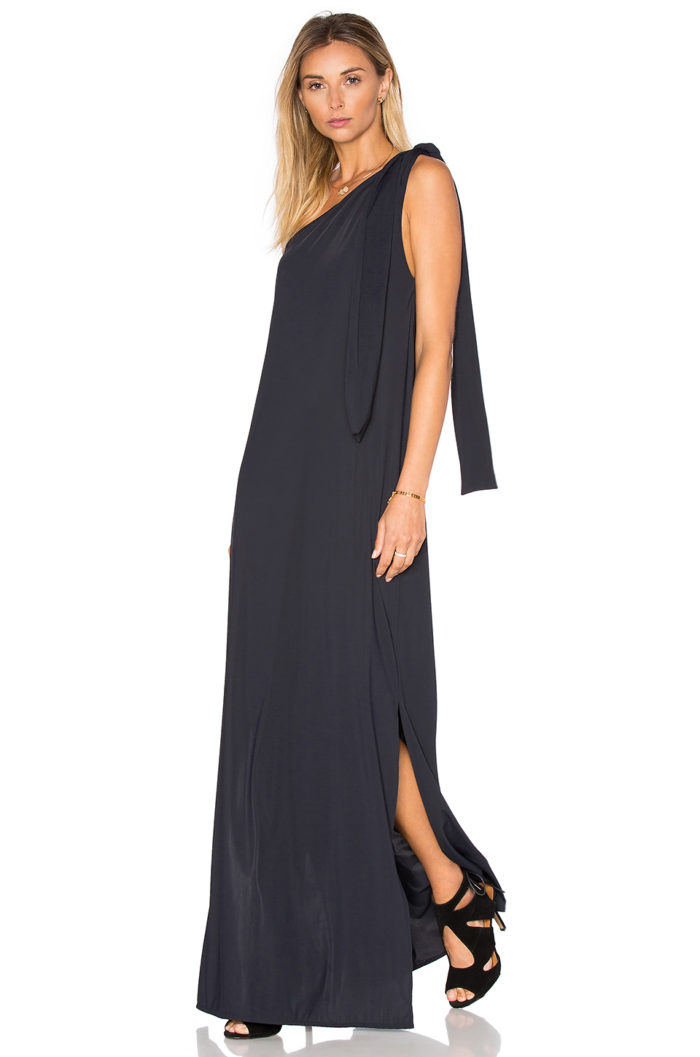 Lenny Neimeyer Drape Gown from Revolve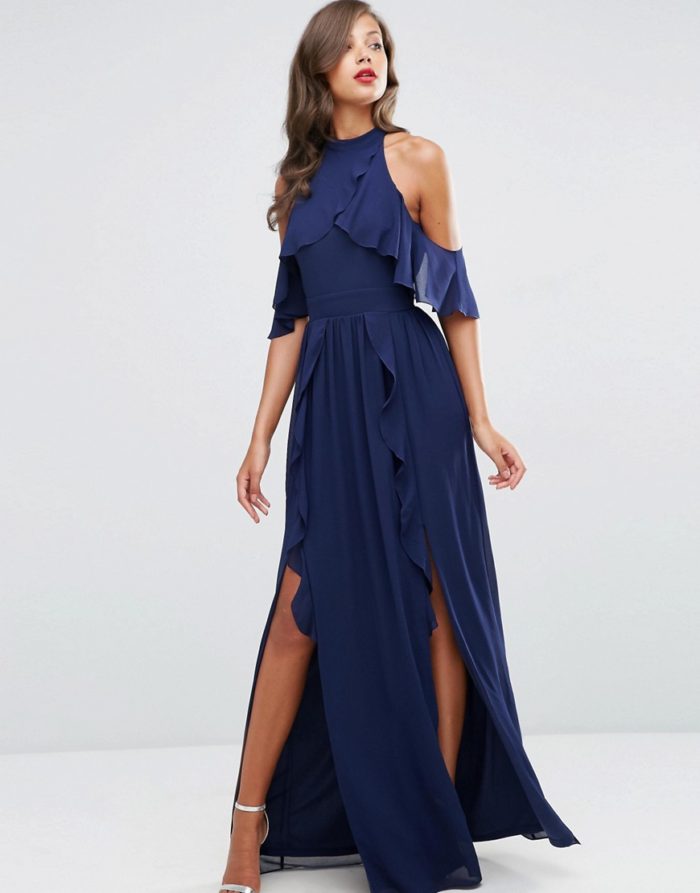 High Neck Ruffle Maxi Dress from ASOS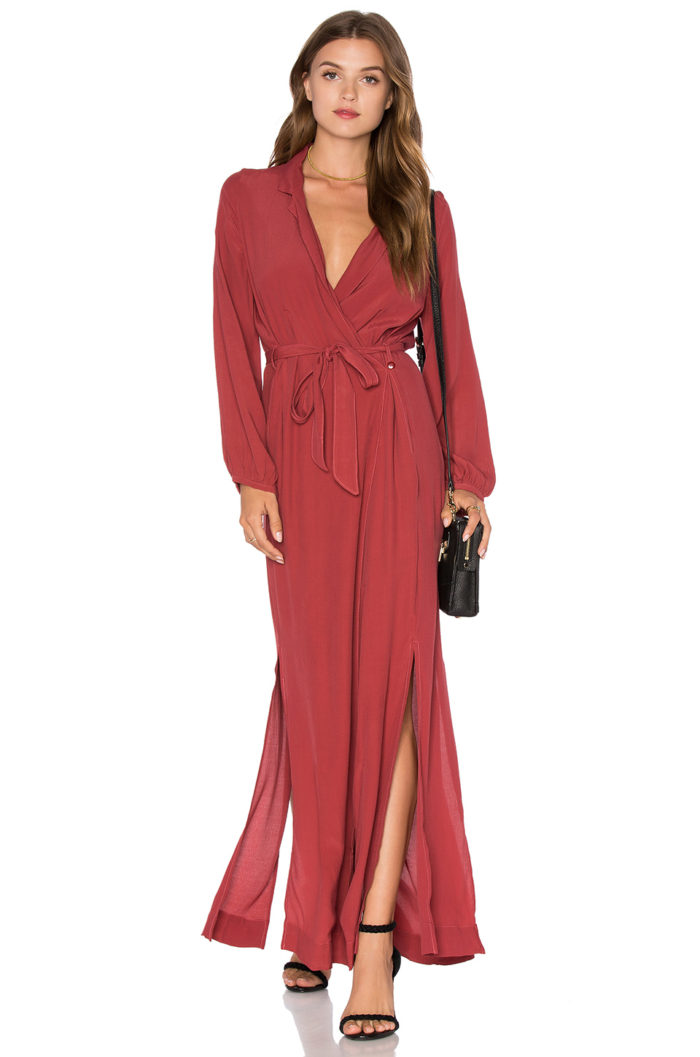 The Clementine Dress from Revolve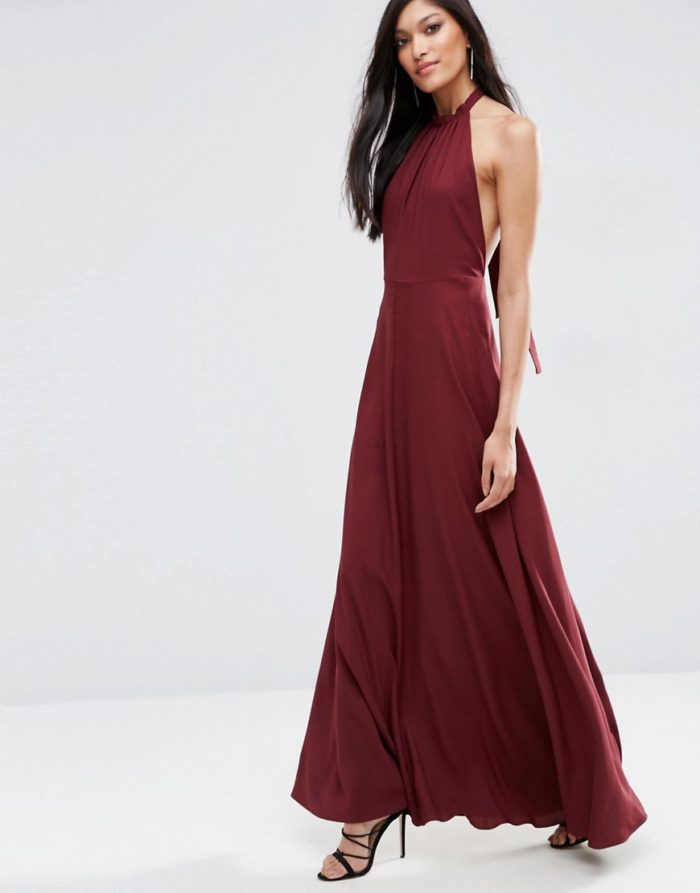 This article was first published September 7, 2016, and was most recently updated on September 2, 2023.