8 Great Bridesmaid Gifts
One of the fun parts of wedding planning is not only choosing your bridesmaids, but also choosing the gifts you'll give your maids to thank them for their friendship, support, and role in your wedding. Since many brides give the same gift to each bridesmaid, it can be tricky to find a gift that will suit all your friends but also will properly convey how special they are individually to you.
Where to Find Great Bridesmaid Gifts
Today, I've picked out 8 great bridesmaid gifts that are based on some of the gifts I've been lucky enough to receive. I'm a practical gal at heart, so you'll see that I especially love a gift that has meaning for the wedding, and will be used again daily by your maids. I hope you like these ideas! (This post has been update recently for the new year: See the shop section below for lots of new ideas! There are way more than 8 gift ideas!)
This post uses affiliate links.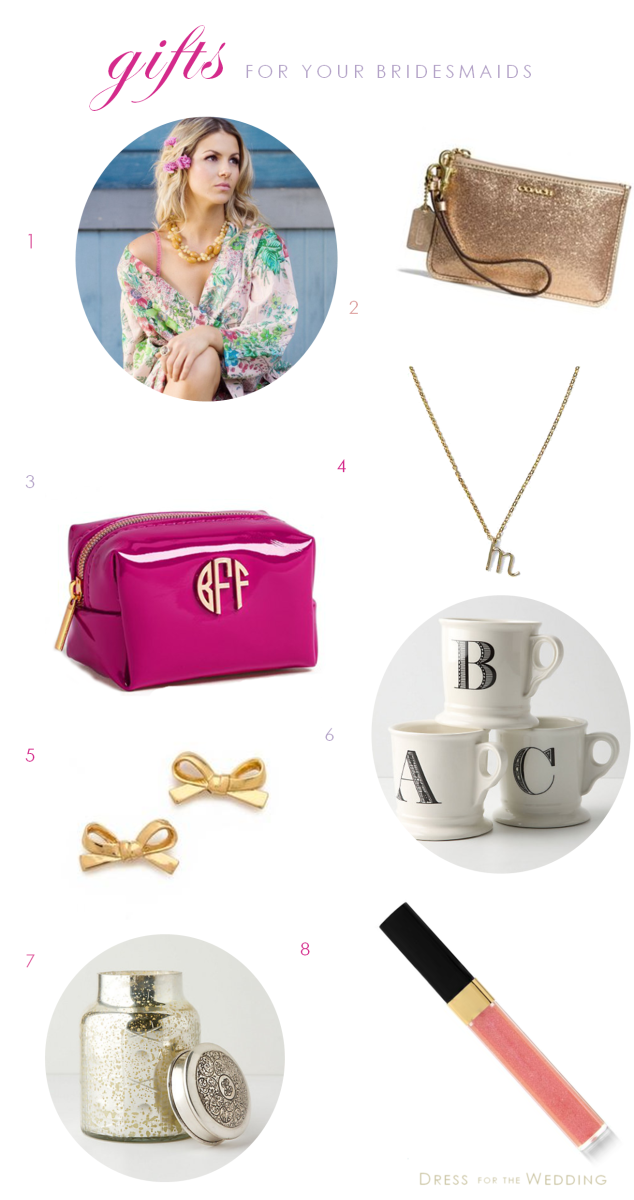 1. Plum Pretty Sugar Robes in Pink Love Poppy 2. Coach Wristlets 3. BFF Emergency Kit from Nordstrom 4. Initial Necklace 5. Skinny Bow Earrings from kate spade new york 6. Monogrammed Mug from Anthropologie 7. Capri Candle See more candles from Anthropologie 8. Chanel Levres Scintillantes Glossimer
Shop Bridesmaid Gifts

More Bridesmaid Gift Ideas
If you've spent as much time on wedding blogs as I have, you probably have seen those beautifully striking images of all the bridesmaids getting ready wearing the prettiest floral robes by Plum Pretty Sugar. Not only do these make for the prettiest getting-ready pictures, but the robes themselves are so gorgeous, that I can only imagine how thrilled each maid is to have such a pretty keepsake to have for her everyday primping routine too!
I have to admit, when I saw pictures of large bridal parties in these robes, I thought, "Wow, that has to be a lot of robes to buy!" but then I learned that Plum Pretty Sugar brilliantly sells these robes in sets at a packaged price. So smart! For my own wedding, I gave
handmade jewelry and makeup bags from Etsy that I stuffed with essentials for my bridesmaids, and I probably spent more than 6 robes worth trying to fill all the bags with little trinkets, mints, emery boards, and things that everyone already has in their purse and that aren't permanently special. It wasn't a terrible idea, but thinking back on it now, I really love luxurious personal gifts like this that have a bit more substance!
I received a black wristlet like this when I was in my dear friend's wedding several years ago. Before owning one, I had never realized how practical and wonderful the little wristlet can be, and at that time in my life when I had an entry-level job and would never have splurged on a even a small brand name bag for myself, it really was a treat. I can't tell you how many times I've tucked this in my larger purse to have a quick place to put keys, lipgloss, ID, credit card -- all the essentials! I also use it for jewelry storage on trips, and then it does double duty as my little evening clutch. Every time I use it I think of my friend and how smart she was to give this! She also gave us keychains, and -- you guessed it -- I still use that keychain every. single. day. and think of my friend (and how ironically perfect that gift was, since I got locked my keys in my car while going to her wedding. Argh. Cringe.)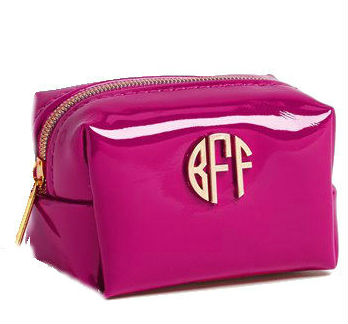 If you've every tried to make your own emergency kit like I have, you know that you can easily spend $80 even at the dollar store on what seems like a heap band-aids and safety pins. ( Sorry, I'm slowly realizing I'm a little obsessed about what things cost in this post!) Now, if you ever had someone give you an emergency kit, you'll know how an unbelievable feeling of gratitude that you'll have for that person when a few days down the road when actually have a band-aid when you need it, or a sewing kit or stain remover at a key moment. This one is particularly fantastic because the "monogram" is BFF - a cute touch for your Best Friend Forever or Bridesmaid Friend Forever. This one has 52 essentials, and it's only $24. In my experience, one can never have too many 1. essentials 2.zippered makeup travel bags !
Ok, I've never received one of these, but file this under something I'd have on my wish list if I were a bridesmaid. There's just something so cute and wearable day-to-day about a meaningful monogram -- either your own, or one that has special meaning in some other way. I love how the letters are slightly abstracted so it takes a minute to distinguish if it's just a charm or an initial. I like that it beckons someone to take a closer look and holds meaning for the wearer.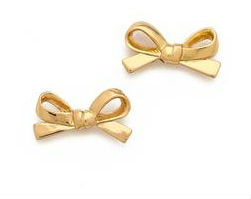 These Kate Spade earrings have made it into so many posts, because I think they are the post adorable earrings ever. They are a little bit whimsical but pretty and classic too. Jewelry is a very common bridesmaid gift, especially if you want your bridesmaids to wear a certain piece as a part of their attire. I just love that these particular earrings are sweetly romantic enough for wedding wear, and understated enough to become a go-to everyday pair of earrings as well.
6. Capri Candle
Ok, I know it's a little weird to say, "Hey, thanks for being in my wedding - here's a candle," but wait until you smell this one. My friend introduced me to these candles, and they are truly one of the best smelling candles I've ever owned, and they last forever. ( Not kidding, I had one for years!) The scent is slightly tropical, but also like a bit of citrus and magnolia mixed with something else delicious. Scent can be such a strong reminder of a time and place, so by giving this, you'll be tapping into that instant ability to transport someone to a different time, and their house or apartment will smell great in the process. As far as the card to enclose, you could say more graciously, " Thanks for being a light in my life today and everyday" or something with some sweeter sentiment than just, "here's a candle!"
I was lucky enough to get 3 of these mugs as a part of a shower gift that at the time doubled as shower decor in my new initials and a vessel for beautiful peonies. It just doesn't get any better than that! Later, another wonderful friend gave me another mug with my new initial so that my husband and I could each have one! I love using these for coffee everyday, and think of my friends' kindness when I do!
8. Chanel Levres Scintillantes Glossimer
Back to a bit of luxury! If you're giving a bag as a gift, it's a great idea to tuck a little something in there, and it's fun to spoil your friends with a chic little luxury item like this Chanel lip gloss. My friend gave me this for my birthday, and it was such a thoughtful extravagance that I'd never pick up for myself. It's a pretty fun treat to peek in my purse and see a little slice of Chanel looking back at me. And when I dab a little on, I immediately feel a little more like a lady. For gift giving, you can pick a color for each lady, or pick a signature color that will suit everyone, so they'll all have matching lipstick for the wedding.
I hope these 8 ideas have made bridesmaid gift-giving easier. It was a fun post for me to write, and I actually have more ideas for another post in the future. Remember to have fun with your gift-giving; and it's so important to thank your friends and pamper them a little during the wedding process.
Related Posts: