Wine Evening Gown Styled Two Ways
Hello, my sweet, Dress for the Wedding readers! I hope you all had a wonderful weekend! Today's post features a wine evening gown styled two ways, and along with that, I decided to give you little glimpse into my method of creating posts.
So, our story begins over the weekend, when I updated the mother of the bride shop and made individual pages to make it easier to search by color. If you're looking for a mother of the bride dress, you'll want to check it out! One of my favorite gowns from the red mother of the bride dress choices was this burgundy gown by Robert Rodriguez.
This post uses affiliate links, which means this site may earn a commission if a sale is made from a product we link to.
Wine and Pewter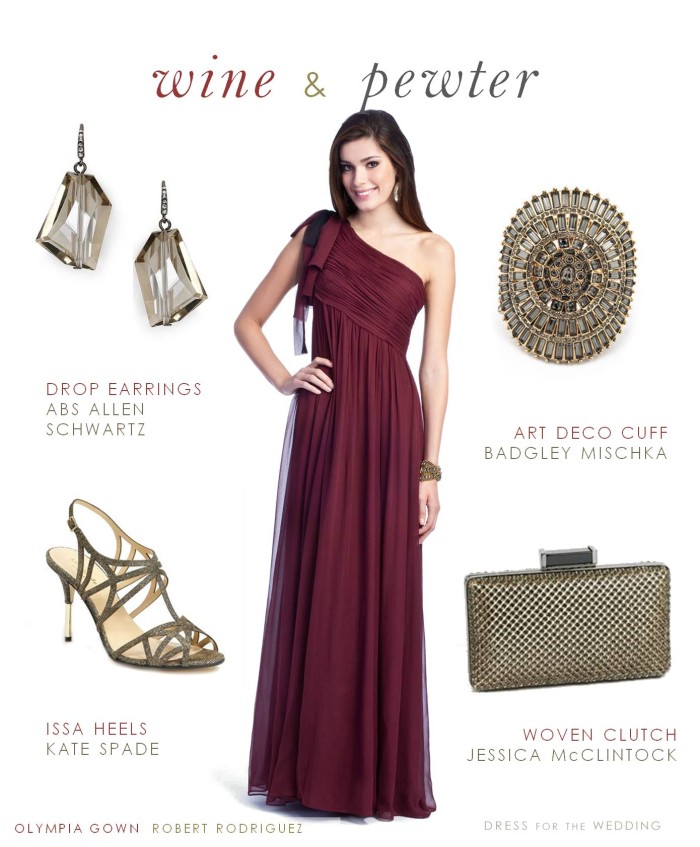 Robert Rodriguez Olympia Gown at Rent The Runway / ABS Allen Schwartz Earrings / Badgley Mischka Art Deco Bling Cuff / Jessica McClintock Clutch / Kate Spade Issa Heels
Shop By Color
I organized the shop because I was in a nesting mood (my closet at home got cleaned out too). I try to keep this blog as full as in-stock sources as possible ( so if you see something you like, you'll know exactly where to get it) and because I get lots of requests for dresses in a specific color. I know when I was planning my wedding I wished there was a way to see and shop for lots of dress options in one color in one place. My hope is that I've saved someone from spending hours checking out all the major stores that carry mother of the bride dresses for a certain color since I've already done the searches for you and collected my favorites for you to shop from. By the way, the same whirlwind of color organization also reached the bridesmaid shop, too!
Shop More Burgundy Dresses

Today's Look
For today's post, I've been planning to do a series on the all the colors of mother of the bride dresses-- after I finish the one I'm doing for bridesmaids-- but I couldn't resist starting in on one now.
I've also been intending to do more formal gown posts since we're getting into the season where days are short and more formal and black tie weddings are held. I think this dress suits both those plans and is such a great choice for women of any age.
This gown is an exclusive rental with Rent the Runway, and I love reading all the comments. This dress isn't for everyone, but several renters mentioned they liked that it had a flowy skirt that suited their figures.
So, you may be wondering: why two looks today? Usually, when I create a post, I have an accent color or a general idea of accessories I want, and then I have to search for those items. Sometimes I find just the thing in 5 minutes, other times it takes several fun hours where I find so many ideas I have to narrow them down, and sometimes things aren't clicking right away and make a mess and I have to keep coming back to the computer to search again - well this post was one of those!
Wine, Black, & Gold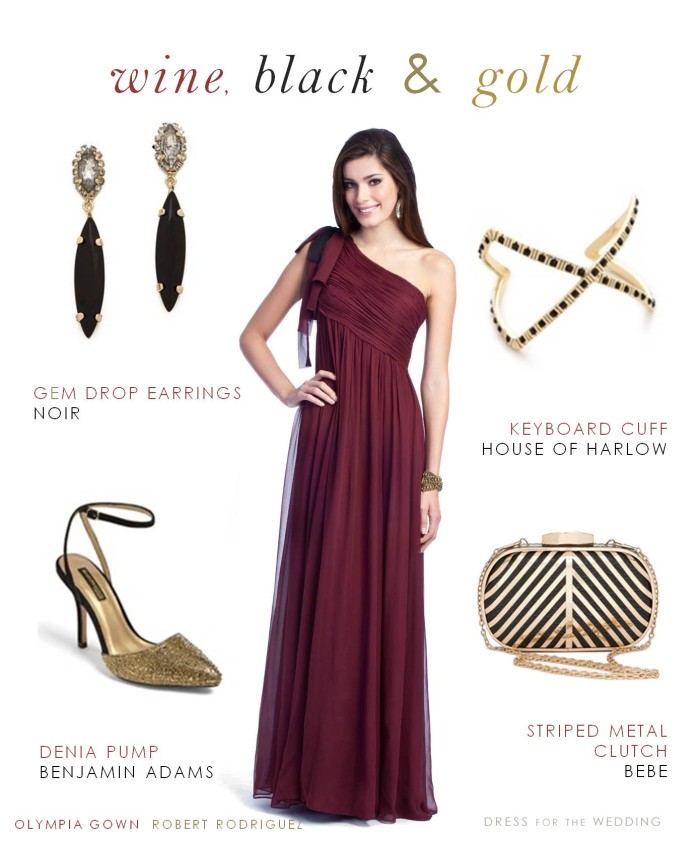 Robert Rodriguez Olympia Gown at Rent The Runway / Noir Gem Drop Earrings at Shopbop / House of Harlow Keyboard Cuff / Bebe Striped Metal Clutch / Benjamin Adams Denia Pumps
I knew I wanted to play up the little black tie at the shoulder (you can barely see it in the picture) but I wasn't sure how. I also knew I didn't want to just put the usual silver or gold or simple black accessories. If you've ever laid your clothes out on your bed or made a huge mess in your closet while trying to figure out what to wear; you'll know what my laptop looked like. I had little images of gold, burgundy and black accessories strewn all around my PowerPoint "canvas" that I use to create these collages. I started playing around with options, and finally, I realized I accidentally had two looks. I couldn't decide which one I liked more, so I've decided to post them both.
As you can see, the first is wine and pewter look. I love how gray looks with this cranberry color, and but I wanted to be sure it had plenty of sparkle to keep it from being drab.
The second look became a kind of Art Deco style with black and gold details. I fell in love with the graphical style of the striped purse, bracelet, and gold and black heels, and so the second look was born.
So I'm leaving it up to you - which one do you like more? I can't wait to hear your thoughts!