Ivory, White or Cream Dresses for Bridesmaids
White bridesmaid dresses give a clean, ethereal, soft style for a white or ivory wedding color scheme!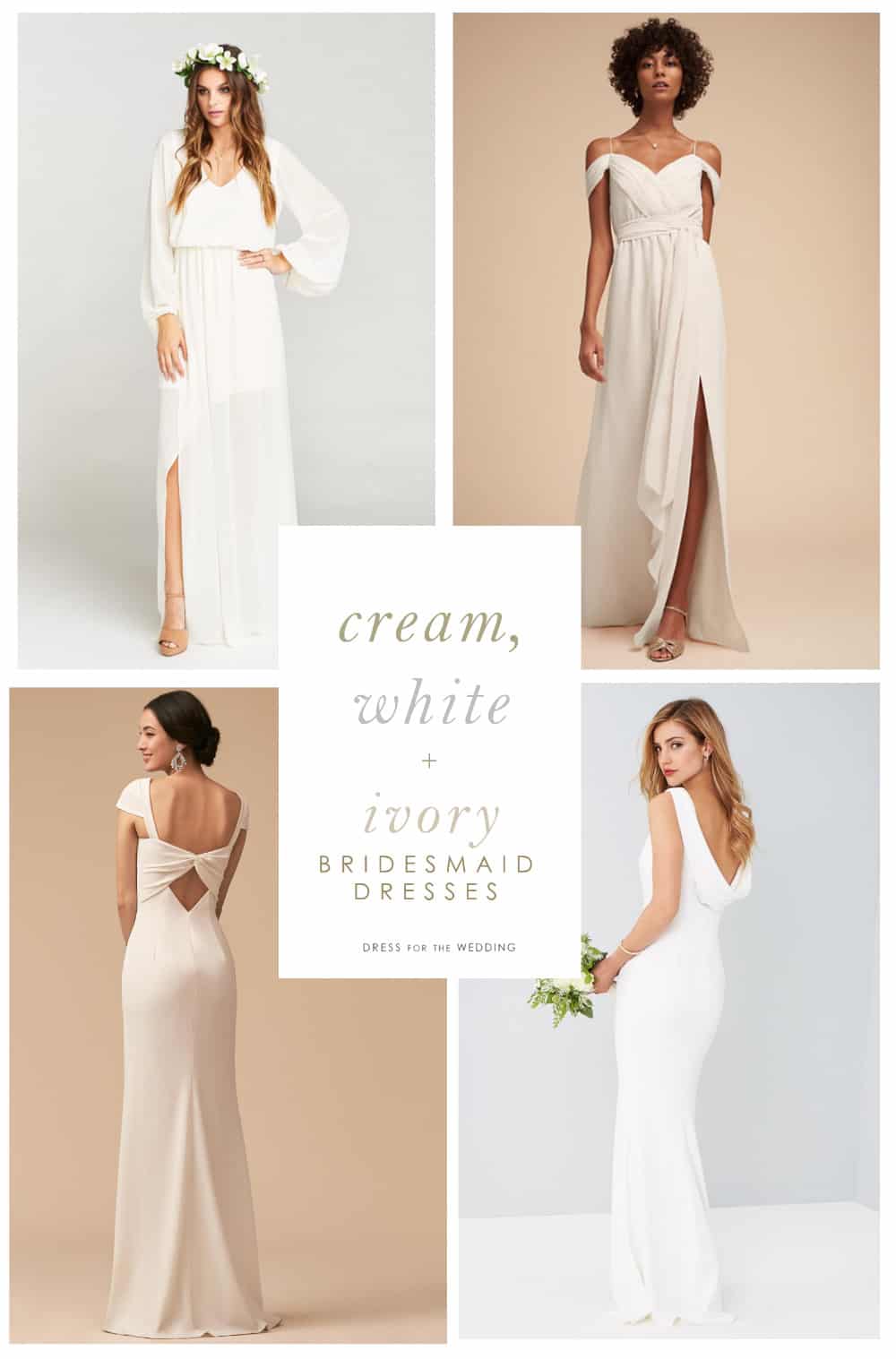 Dress sources: 1/ Jocelyn Dress from Show Me Your Mumu 2/ Kane Dress from BHLDN 3/ Madison Dress from BHLDN 4/ Drape Back Crepe Gown from Nordstom
White and Off White Dresses
White, ivory, or cream bridesmaid dresses can give an crisp and elegant look to a white wedding color scheme!
I'll never forget when I first started planning my own wedding, my father gave me a wedding planning book that featured a cover image of bridesmaids all in white! It was beautiful, but I had to admit before I saw that image I had never thought of dressing my bridal party in all white! My understanding is that this is a trend that was made popular in some Southern US weddings - and now it has gained more worldwide popularity! IT seems to be an emerging trend for 2018 weddings, and we love the look! The reasons are clear - it's an ethereal, clean and lovely look! Now, I've seen it on many blogs and in other weddings, and its a timeless style! Here are resources for finding white bridesmaid dresses for your wedding! And here's one of my favorite tips: even if you aren't planning on having your bridal party wear white, dresses that are marketed as white bridesmaid dresses can be a great way to find a white dress to wear to your wedding or for wedding-related events!
Shopping sources on this site use affiliate links, which means this site may earn a commission if you make a purchase after clicking our links. Your clicks and purchases help support this site!
Shop the Look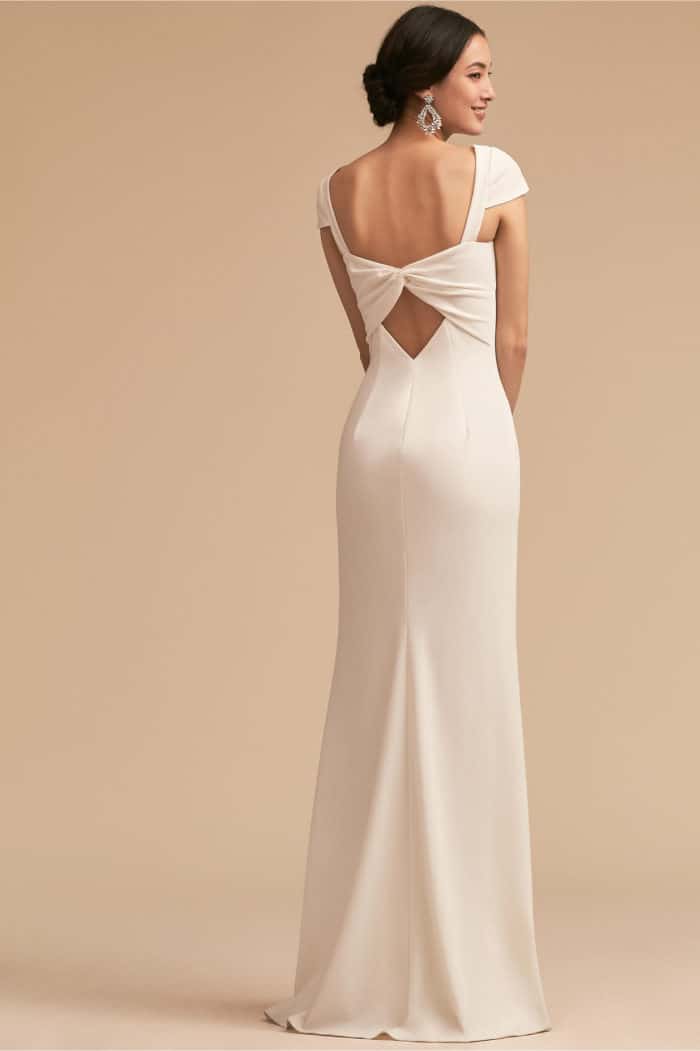 For a rustic wedding --or perhaps even a beach wedding -- I love the look of bridesmaids all in short white lace dresses. Add heels or dressy booties for rustic weddings, or beach wedding sandals for beach weddings, and you'll have a great look!
For a chic formal wedding, sleek white gowns are grand! It looks great if the bridesmaids gowns have clean lines or super simple, perhaps setting off a bride who may be wearing a more intricate gown. I love the Madison Dress, Legacy Dress, or the Jones Dress from BHLDN for this look!
If you're not sure that you want a stark white dresses for your bridal party, try cream or a floral print on a white background, or a beaded white gown. Try print from Jenny Yoo!
Pick dresses that differ from the brides gown, but complement it in some way - maybe the bridesmaid dresses have the same neckline, but a simple, straight skirt, or perhaps the neckline, or length varies from the bridal gown.
For a boho wedding try thses breezy styles from Show Me Your Mumu.
White dresses in a mix of textures and fabrics are also great for the mismatched bridesmaid look!
If you don't want white bridesmaid dresses, but you DO want a reasonably priced wedding dress for yourself, shopping for dresses labeled as white bridesmaid dresses, can be a great money saver! You can find a simple white gown for under $200, that will certainly work for wedding dress too! I especially like the selections at Dessy and BHLDN for this purpose!
Where to Shop for White Bridesmaid Dresses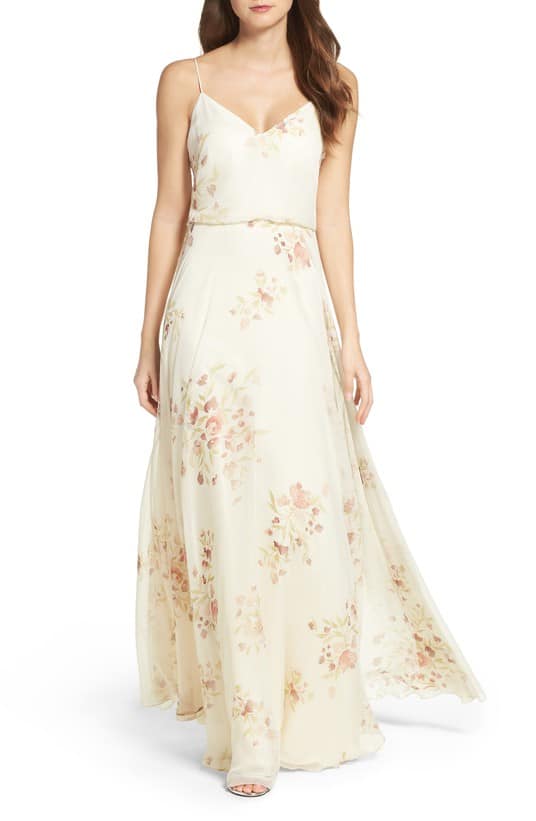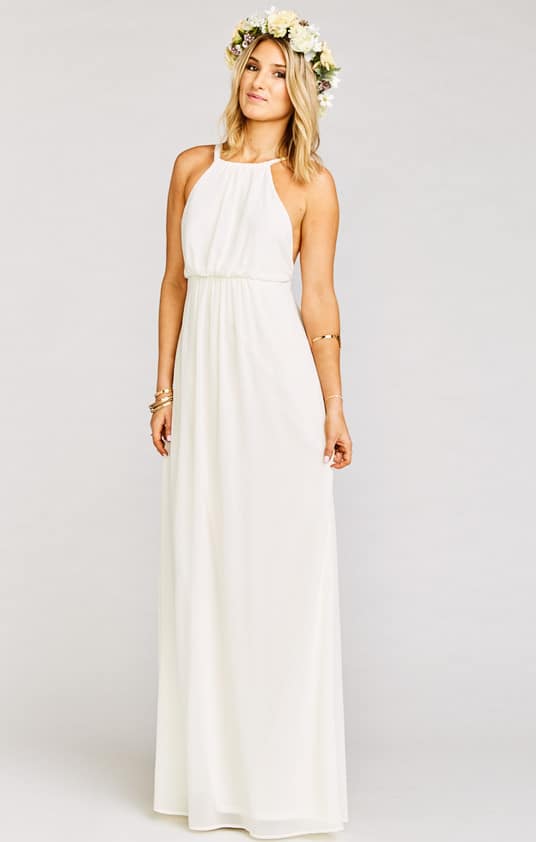 Amanda Maxi Dress from Show Me Your Mumu
See more bridesmaid dress and wedding style posts:
Peaches and Cream Mix and Match Bridesmaid Dresses