Sponsored post. This look at dresses and accessories from the Nordstrom Half -Yearly Sale has been generously sponsored by Nordstrom. Affiliate links are also used in this post.
Get ready to start 2019 in style, with dresses and accessories that are on sale at Nordstrom, plus details about styling services to refine your look!
Winter Styles On Sale at Nordstrom
As I mentioned in my earlier post this week, the Nordstrom Half-Yearly sale is on now through January 2, 2019, with amazing deals and up to 50% off of Women's, Men's and Kids, Clothes and Accessories!
Dressed-Up Styles from the Nordstrom Half-Yearly Sale
Not only is it a great chance to shop for some of the everyday items you may have had your heart set on this year, the sale is a great way to add to your special occasion wardrobe. Everything in this fantastic winter wedding guest outfit is included in the sale!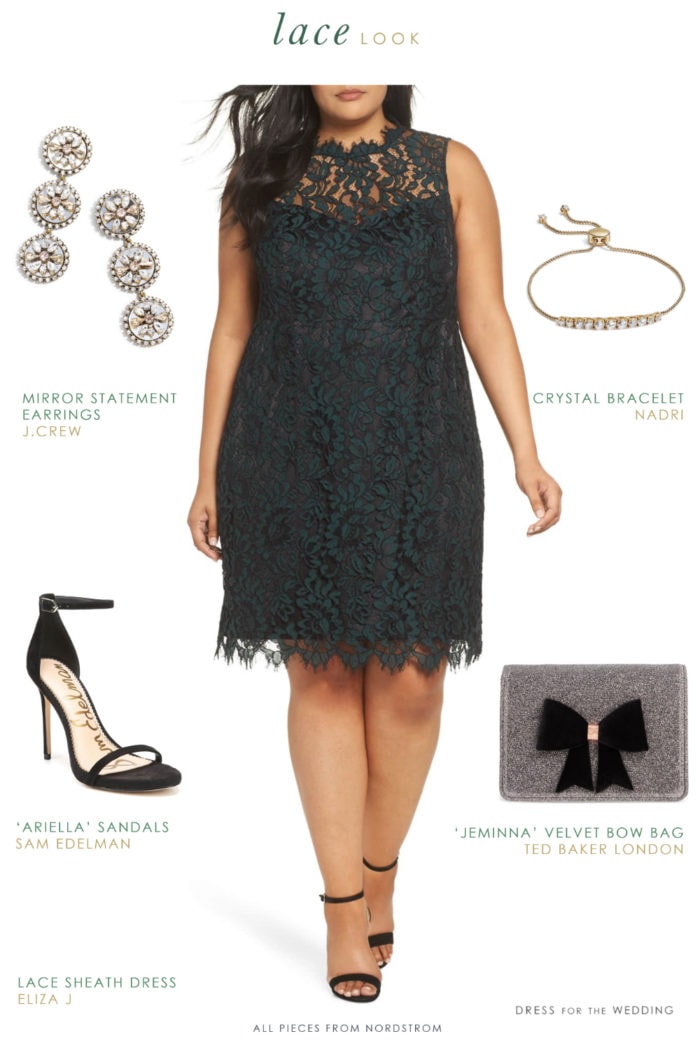 Dress: Eliza J Lace Sheath Dress (Plus Size) | Earrings: J.Crew Crystal Mirror Statement Earrings | Bracelet: Nadri Crystal Bracelet | Clutch: Ted Baker London Jeminna Velvet Bow Evening Bag | Shoes: Sam Edelman Ariella Ankle Strap Sandal
Shop The Look

Dresses for Every Event on Sale!
The dresses and accessories in the sale are a fantastic selection of some of the best brands like those earrings from J.Crew, the dress by Eliza J , as well as more looks from ASTR the Label and Vince Camuto. There's a dress on sale for every event - from casual styles to a formal velvet gown.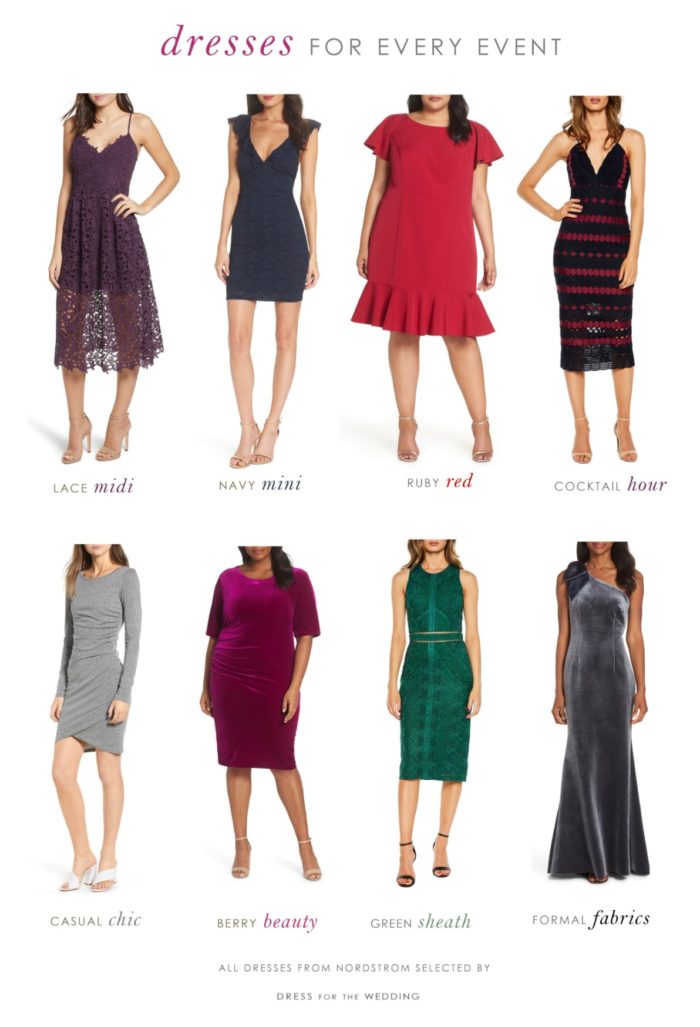 Lace Midi: ASTR the Label Lace Midi Dress | Navy Mini: Lulus Ruffle Neck Lace Minidress | Ruby Red: Eliza J Ruffle Hem Sheath Dress | Cocktail Hour: Bardot Diamond Lace Dress
Casual Chic: Leith Ruched Long Sleeve Dress | Berry Beauty: Vince Camuto Velvet Side Ruche Body-Con Dress | Green Sheath: Bardot Eve Lace Dress | Formal Fabrics: Eliza J Bow One-Shoulder Velvet Gown
Shop The Look

Looks for Every Style and Every Budget
While the sale is one of the best reasons to shop, it's also a great time to keep an eye out for new arrivals coming soon at Nordstrom, or to pick up some pieces if you're taking a vacation this winter.
Nordstrom has pieces for everyone - no matter your style preference, age, or gender! Nordstrom has the top names clothing and beauty in every price range.
Shopping with an Eye 2019 Special Events
If you got engaged over the last few weeks, you'll also want to familiarize yourself with Nordstrom's Wedding Shop and their in-store services like wedding styling and the designer bridal gowns Nordstrom has available at The Wedding Suite locations.
Online, Nordstrom also has one of the best selections of bridesmaid dresses, Mother-of-the-Bride dresses, suits and tuxedos, and all sorts of special occasion outfits that will take you from engagement parties, to your honeymoon!
Style and Service
Both special occasion and everyday dressing calls for attention to detail, and Nordstrom can help you navigate everything from your wedding day to just getting a great wardrobe together for work!
Nordstrom stylist services are available help you create an entirely new look, or to just get some assurances on your purchases.
Nordstrom's in store-services can help with everything from creating style boards to inspire your purchases to alterations and tailoring and shoe shines to make sure your clothing investment looks perfect!
See all the ways Nordstrom can help with their in-store services, or start shopping these great finds from the sale - you only have a few more days until it ends!
Shop The Dresses and Accessories from the Sale

Sponsored post. This look at dresses and accessories from the Nordstrom Half -Yearly Sale has been generously sponsored by Nordstrom. Affiliate links are also used in this post.