Winter Bridesmaid Look: Icy Gray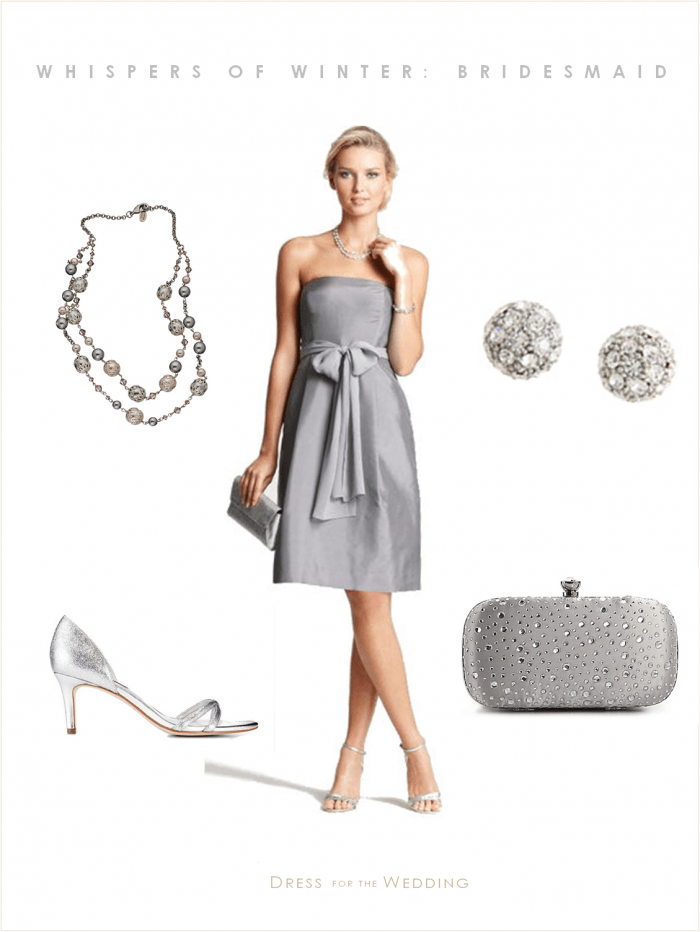 Ann Taylor Medium Grey Silk Dupioni Strapless Bridesmaid Dress /Two Layer Gunmetal Drape Necklace / Nina - Kendahl Genuine Crystal Pave Stud Earrings / Lulu Townsend Random Rhinestone Minaudiere Clutch - Silver 
I started to add some green touches to this gray Ann Taylor dress, but I soon found that the gray by itself was so striking! Instead, perhaps the green touches could come in with pale green velvet ribbon in the flowers, and some beautiful evergreen trimmings in her bouquet and around the ceremony and the reception. Can you imagine how deliciously pine-y scented that would be? For the attire, I opted for a monochromatic icicle gray for all the accessories: some pave sparkle earrings that resemble icy snow, a sparkle clutch and a thick gray necklace, that has some pale rose tones to warm up the whole look.
See the rest of the looks : Bride and Groom and the Event Design
Looking for more silver dresses? Check out these  gray bridesmaid dresses.
Shop The Look:
More style ideas you might enjoy :