Light Yellow Bridesmaid Dress
Yesterday, I presented a slew of lemon yellow loveliness to help get a jump-start on spring and sunshine. Today, I wanted to show you the softer side of yellow, with this pale yellow dress from Kirribilla.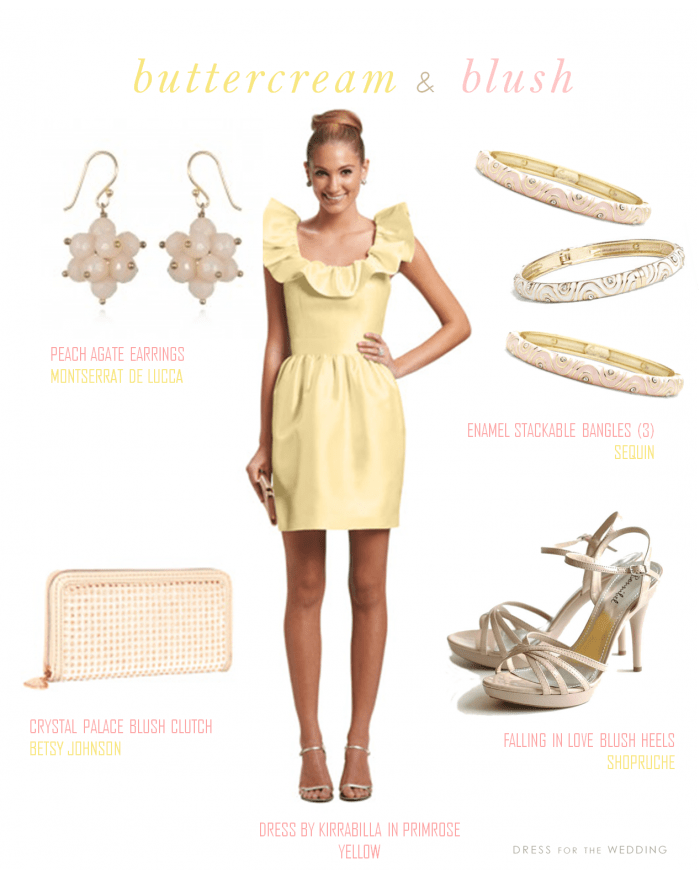 Kirribilla  Zoe Bridesmaids Dress in Primrose Yellow / Peach Agate Cluster Earrings/Sequin Stackable Bracelets  (Sold individually, pink and white shown) /Falling In Love Blush Heels/Betsey Johnson – Crystal Palace Zip Around in Blush 
Pale Yellow Bridesmaid Dress with Blush Accessories
I'm calling this shade butter or buttercream, but the official color from Kirribilla is called Primrose Yellow. I just discovered this line through one of the advertisers I work with,  Weddington Way, which is an amazing resource for finding your bridesmaids dresses by color. This particular style and the two Kirribilla dresses below come in a rainbow of pretty colors. Weddington Way is not only a great way to find your dress, they even group together your wedding party so that everyone is on the same page, and places their orders in a timely fashion.
Ok, back to buttercream, I love anything pastel, so I have put some pale blush accessories with this, but really any pale pastel accessory would be lovely here: lavender, mint, and peach accessories would all be so pretty. In case you're looking for more pale yellow; here are some other dresses for bridesmaids below. Very light yellow and cream colors should be avoided as a guest following along the lines of the don't wear white/ivory/cream rule. ( An aside about that: While I think the bride will always stand out no matter what her guests wear, and the" what colors not to wear rules" irk me sometimes, since I've seen superstitions about nearly every hue,  I once wore light yellow dress to a wedding and later when I saw pictures that made it look pretty pale and close to cream, so I totally regretted it.) So,  with that, I'm keeping these picks recommendations just for bridesmaids.
Pale Yellow Dresses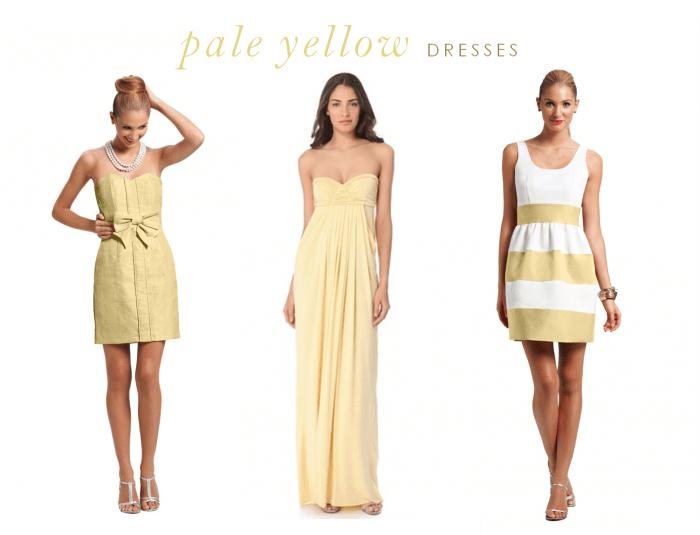 Kirribilla Cecile in Primrose Yellow / Rachel Pally Fortuna Strapless Dress / Kirribilla Lucy in Primrose Yellow
Looking for more ideas? Take a peek at these pages!
Yellow Ties for Grooms and Groomsmen
More style ideas you might enjoy :