Mother of the Bride Dresses for Black Tie Weddings
Mother of the Bride Dresses for Black Tie Weddings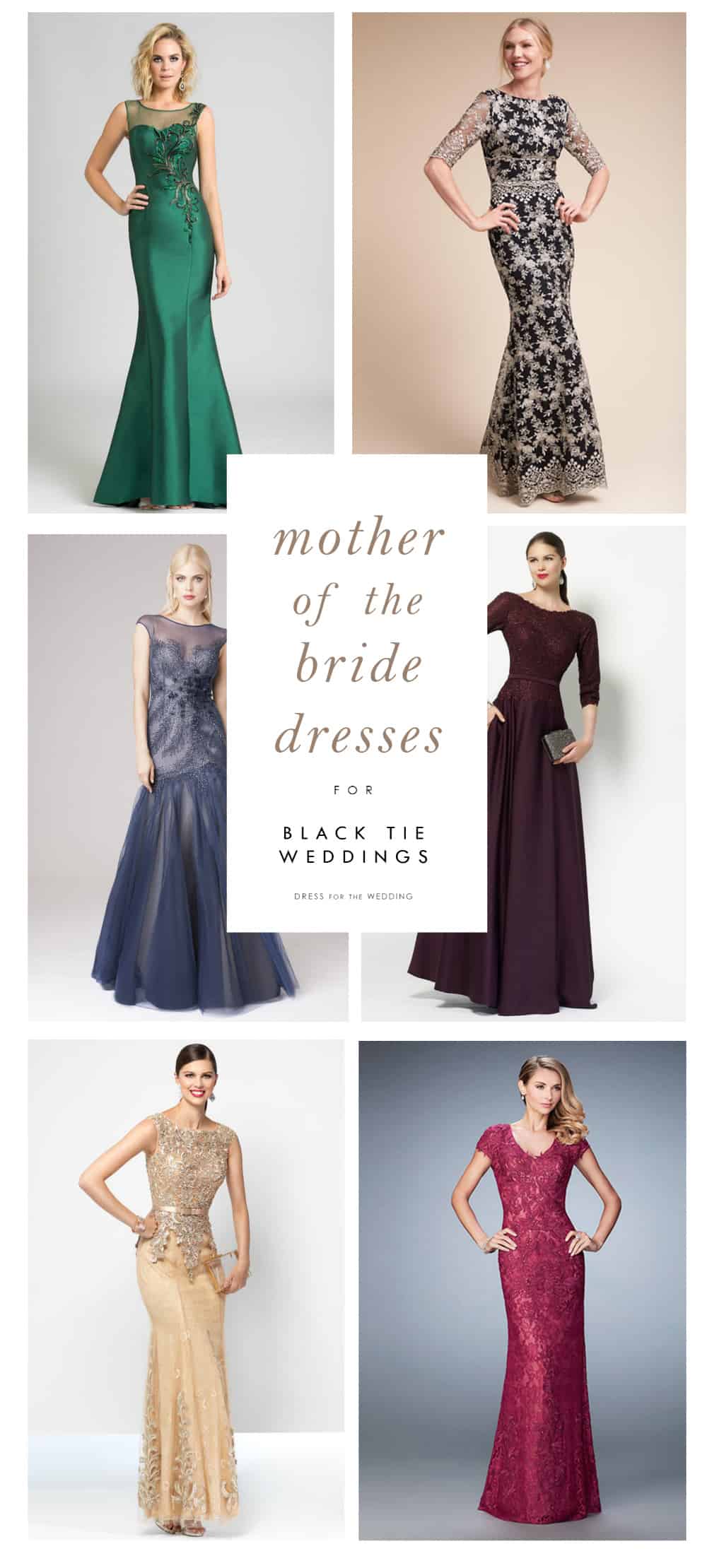 Shopping sources for these black tie mother of the bride gowns. Commission links are used
1 / Ferani Couture from Couture Candy 2/  BHLDN 3/ Teri Jon 4/ Alyce Paris from Couture Candy 5/ Alyce Paris from Couture Candy 6/ La Femme from Couture Candy
Formal Gowns for Mother of the Bride  for Black Tie Weddings
Finding special, stunning gown is always important for the mother-of-the-bride, and perhaps even more so when it is for a black tie wedding.
Locating the perfect beautiful and elegant mother-of-the-bride dress for a black tie wedding, doesn't need to be a challenge. Fortunately, there are many retailers and designers who offer striking special occasion gowns that will suit nearly every price range and aesthetic. Here are a few of our favorite selections from retailers for black tie mother of the bride dresses.
Shop Black Tie Mother of the Bride Dresses
Black Tie Attire Guidelines for Mothers of the Bride or Mothers of the Groom
If your son or daughter is planning on a black tie wedding, here are just few black tie attire guidelines to in mind:
A black tie mother-of-the-bride gown should usually be formal and long; either floor-length, or a high-low-hemline, or perhaps hit at the ankle. Some more formal below-the-knee styles are usually acceptable. If you are in doubt, consult the couple to see how formal a style they'd like you to consider. If you opt for a shorter dress, make sure it is formal and perhaps heavily embellished or stylishly accessorized, to make sure it suits the occasion well! The role of mother of the bride or mother of the groom is a role of honor, after all! For black tie attire, consider the most formal fabrics, like silk, velvet, organza, satin, or chiffon, and certainly consider sequin dresses or embellished gowns. Darker colors are usually slightly more formal, and therefore a good choice,  but dark colors are not necessarily a hard-and-fast the rule; certainly a dazzling light silver or gold gown or beaded or embellished gown in nearly any color is a suitable mother-of-the-bride dress for the event as well!
Dress for the Wedding uses affiliate links in shop sections, meaning this blog may receive a small referral commission from our sponsors, if a qualifying purchase is made.