Mother of the Bride Dress: Emerald Green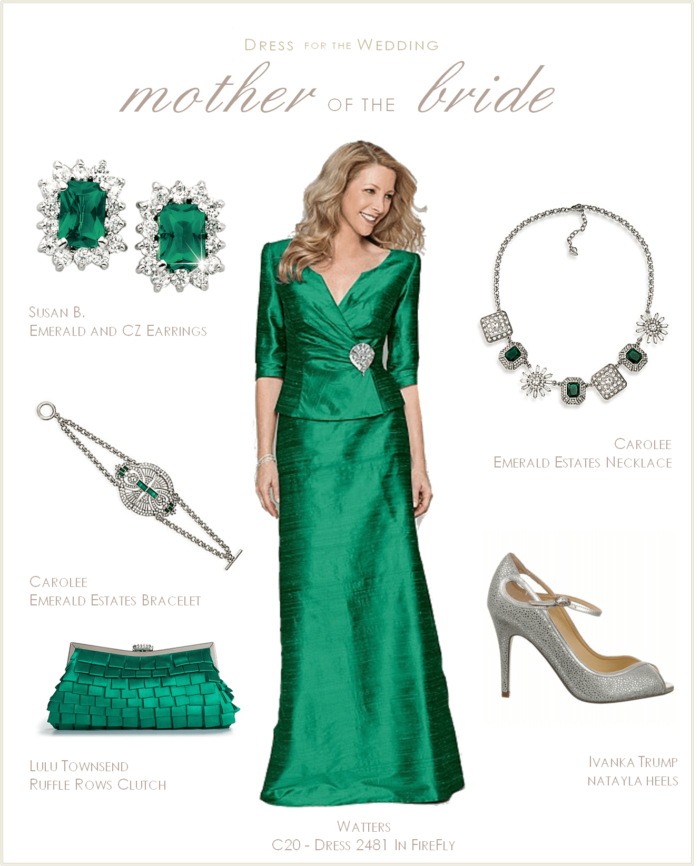 Watters C20 Dress 2481 In FireFly /  Carolee Emerald Estates Ornate Statement Necklace / Ivanka Trump Natalya Shoes (Silver Pebble) - Women's Shoes /Lulu Townsend Ruffle Rows Frame Clutch - Green /Carolee Emerald Estates Vintage Crystal Bracelet / Sterling Silver Simulated Emerald and CZ Earrings 
Well, it's very late into fall, but I'm finally making good on my intention to show more Mother-of-the-Bride or Groom dresses, and to also bring you more details of the amazing Collection 20 - C20 by Watters. Collection 20 dresses are special occasion dresses that are perfect for a modern and elegant mother-of-the-bride.
I plan to feature even more dresses from Collection 20 in upcoming sets, but to start I wanted to show you this silk duponi C20 gown ( Dress # 2481) in Firefly  which is an emerald-y green - one of the loveliest colors of the season. I think this is perfect mother of the bride, or mother of the groom dress especially for any of you who may be planning a late fall or winter wedding.  I've shown emerald green with gold before, but because of the beautiful silver brooch detail on this beautiful wrap-waist, I paired this with emerald and sparkling silver toned jewelry.
If emerald green isn't in your plans, this dress comes in over 30 other colors with fun and delicious names like bellini and persimmon. Truly, there is a color for every wedding palette, and a silhouette to suit each mothers' personal style. One of my favorite aspects of this gown is that looks like one-piece, it's really a jacket and skirt combination, making it all very easy to size and easy to wear again together or as separates. Collection 20 dresses are available through bridal retailers. Please check out the locator on Watters' site to find one near you.
More Green Mother of the Bride Dresses.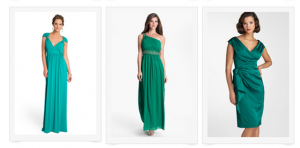 More style ideas you might enjoy :