Sale at Shopbop
Hi everyone! I'm finally back from bridal market and just downloading images, organizing my notes, and following up on my social media posts ( Instagram was down in the midst of bridal market, so I have lots more behind-the-scenes looks to post!)  Bear with me just a few hours more and I promise I'll have some of the prettiest dresses you ever did see!
As much as I loved what I saw last year, this season's collection across the board was really spectacular! So many collections showed such a new direction and polish to them.  Every designer really brought their A-game; I guess the long winter was productive! I can't wait to show you the trends and the amazing collections I saw!
For now, as I get myself organized, I just wanted to pass along this shopping tip! Dress for the Wedding sponsor Shopbop is having their Spring Sale. That means 25% off both sale and full-priced items!  You know that I'm a huge fan of their Wedding Boutique, and their newest collections of cocktail dresses aren't to be missed either!  Where else will you be able to get a Badgely Mischka Shoes and Dresses,  this amazing Marchesa gown, or a wedding dress for 25% off? If you've had your eye on this Katie May wedding dress I featured, or this Periwinkle Shoshanna dress, now is the time to get them! Use code INTHEFAMILY14 to get the discount. The sale runs tomorrow through midnight, so hurry! Shopbop is a sponsor and retail partner of Dress for the Wedding. Be back soon with the bridal market details!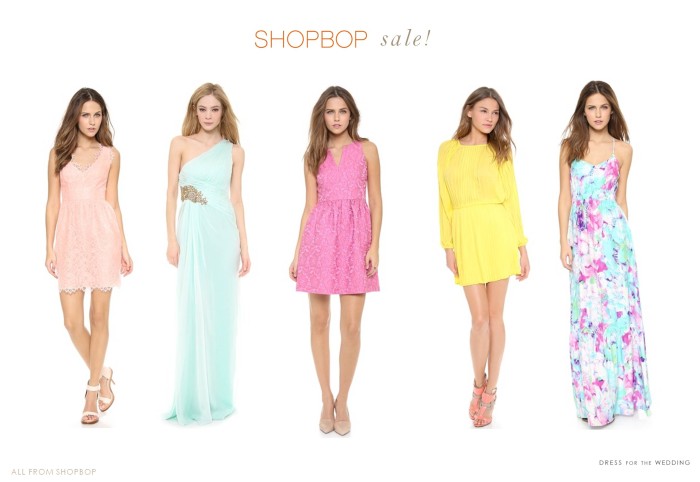 1. Shoshanna Lace Sierra Dress   2. Marchesa Notte Dress  3.  4.Collective Flirty Pink Dress 4. Blaque Label Pleated Dress 5. Parker Anna Dress