Periwinkle Gown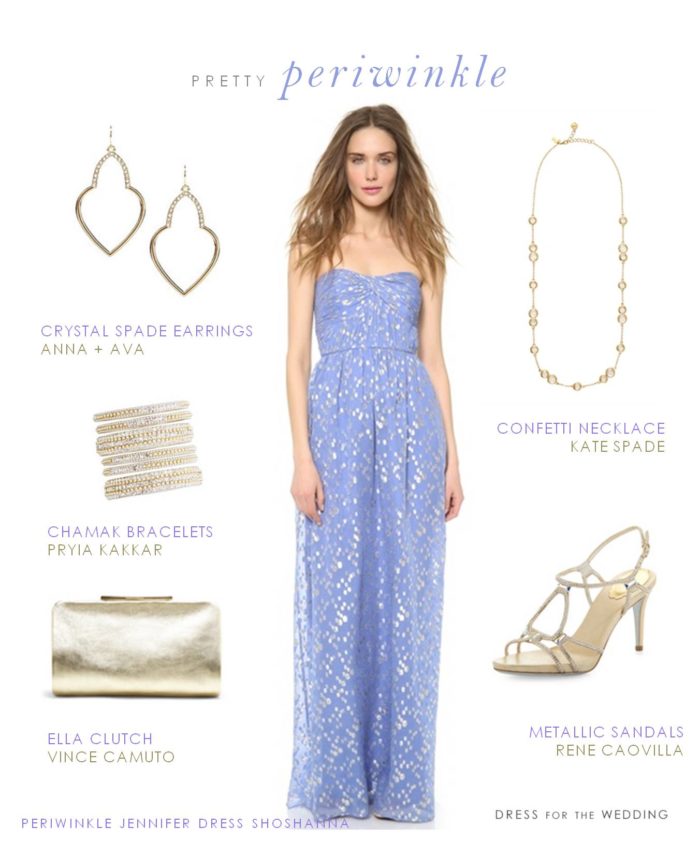 Links from affiliated sponsors:   Rent the Jennifer Dress at Rent the Runway| Crystal Spade Earrings by Anna + Ava | Crystal Confetti Necklace by kate spade new york  | Metallic and Crystal Sandals by Rene Caovilla | Ella Clutch by Vince Camuto | Chamak by Priya Kakkar Pearly Crystal Bangles
If you asked me what my favorite color was at approximately ages 5 through 8, my answer was always "periwinkle" .  Not only was it fun to say, but it was also the name of the children's clothing and consignment shop where all of my favorite clothes came from, and it was a great combination of some of my favorite colors; blue and purple, made a little mysterious by a hint of gray.
Apparently not much has changed, because when I saw this periwinkle gown by Shoshanna, I was instantly a fan. It's simply a color variation of this mint dress I was crazy for last year, but updated in this equally bewitching color. Periwinkle is very close, if not nearly identical to the shade "Violet Tulip" which is one of Pantone's top colors for spring.  When I ventured out of the house for some non-online shopping this weekend, I was happy to see this color making its way into spring sweaters and summer tops, so even if you're not getting dressed for a wedding, you can still wear this shade.
As for this dress, I'd love to see it worn as a bridesmaid orspecial stand-alone maid of honor dress. The silver-gold flecks make it easy to put with both silver and gold — I chose accessories that had that pale silvery-gold look with pave touches.  For a slightly laid back bohemian or beachy wedding style, I'd put a long necklace with this and dangling earrings like the ones above with this dress. However, this dress would also be perfect for a spring or summer formal wedding. Just make the earrings more formal and add a shorter and more ornate crystal necklace, and you're ready for that event. In the shopping details I've included two options from retail partners. You can buy it at Shopbop, or rent this dress at Rent the Runway. No matter how you get to wear this dress, and where you wear this, one thing is for sure,  I'm going to have to say my younger instincts were right on this one; periwinkle is such a lovely color, and it should be everywhere!