An Interview with David Tutera!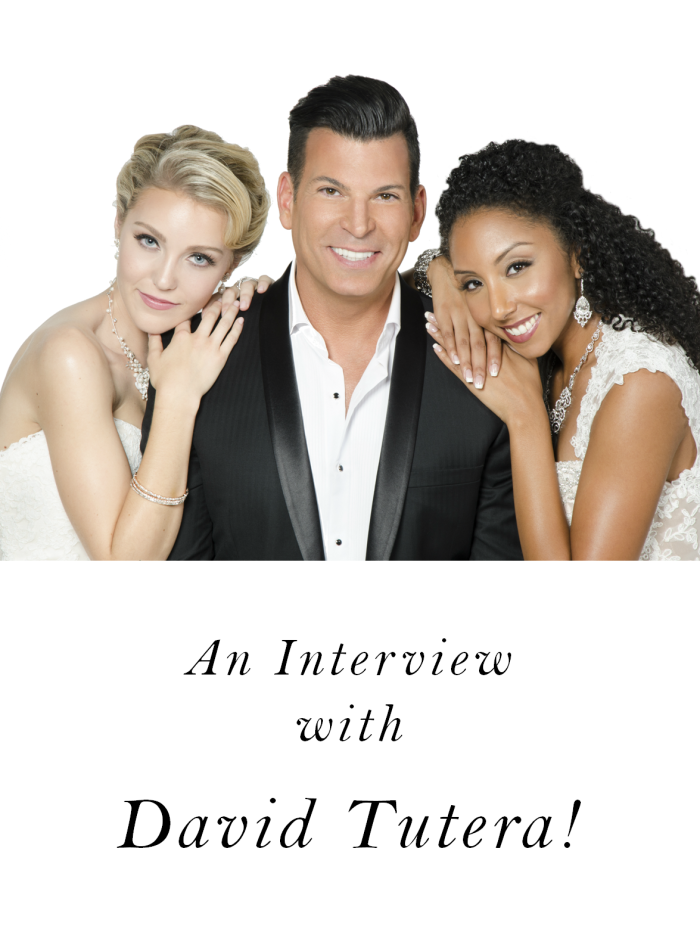 David Tutera is an acclaimed wedding, event, and entertaining expert who is known for creating some of the most spectacular celebrations and weddings. His design talents are unrivaled, but perhaps what we love most about him is the charm, positivity, and concern he shows for his couples and clients!
As if planning some of the world's best celebrations wasn't enough, David Tutera is also the author of several books, the creator of a stunning line of bridal shoes and bridal accessories, the designer of wedding dresses for David Tutera for Mon Cheri, and is now launching a new dinnerware line. He's also a loving and doting dad to his daughter, Cielo.
This passion for all things wedding and celebration-related, has led David Tutera to develop a one-of-a-kind wedding event called Your Wedding Experience presented by David Tutera – a new take on bridal shows that will be more interactive and will have the crème de la crème of David Tutera-approved vendors. These events are taking place in Atlanta, Houston, and Philadelphia, and I'm lucky to have been selected as the featured blogger for Your Wedding Experience Philadelphia! I can't wait to be a part of this event!
I had the opportunity to interview David and get his thoughts on wedding trends and getting the most out of your wedding planning experience! I think you'll absolutely love his thoughts on wedding trends, how to diffuse wedding planning stress, a wedding item to splurge on, and his dream celebrity event! Read on and get to know David Tutera!
Get to Know David Tutera!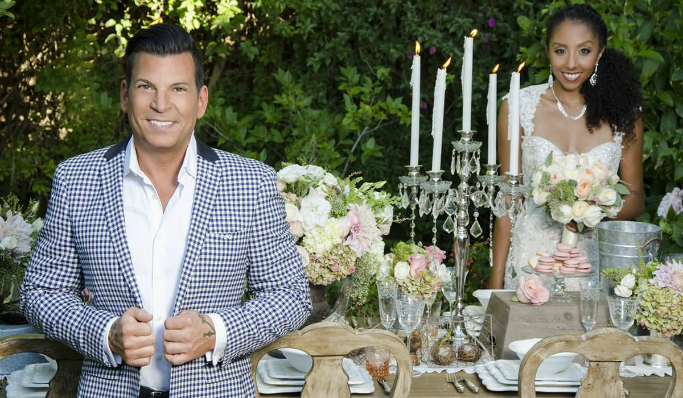 1. Sukey from Dress for the Wedding:  I'm very excited to be a featured blogger for Your Wedding Experience Philadelphia. What were some of the elements that you felt were important to have as a part of the Your Wedding Experience events?
2. David Tutera: I wanted to essentially create a unique experience for couples that would help cut down time and stress that wedding planning can sometimes bring on. My goal was to provide brides and grooms with an all-access pass to touch, feel, and experience all of the trend-forward ideas I've come up with alongside the best vendors in Philadelphia.
2. You not only design events; you also design wedding dresses, shoes, bridal accessories, and tabletop home décor. What sources of inspiration do you like to draw from when you design your collections?
When it comes to designing my collections, I typically draw inspiration from elements in my everyday life---from the beauty of nature, to the change in seasons, and even pop culture. Looking to the runways and staying up on the latest high-fashions is also a source of inspiration for me, as it tends to be ahead of bridal and helps me forecast trends in my own way, which later translates into my work.
3. What is one of the biggest mistakes you see couples make when planning their wedding?
A big mistake I always see couples make, is listening to everyone else but themselves. Couples forget that their wedding day is about them and, therefore, should be representative of who they are and what they love. It's easy to get caught up in all of the opinions being thrown around by family and friends -- trying to please everyone is impossible. At the end of the day, couples need to ask themselves what they want on their day, not what others want.
4. What are some of your favorite trends for 2015 - 2016 weddings?
Some of my favorite trends include: unique and organic floral, illusion details in fashion and sophisticated, whimsical décor.
5. For couples who are on a tight budget for wedding planning, what elements do you suggest they focus on that will make the most of what they have to spend?
The most important elements of a wedding are Food, Entertainment and Ambiance; you always want to make sure you have an overall connected look and feel for your event, while ensuring that your guests are fed and having a good time. For a couple on a tight budget, when it comes to setting the tone, focus less on elaborate centerpieces and more on bringing out as much of your personality as possible at the event.  Bringing in elements that are representative of who they are as a couple are unique touches that guests will appreciate and remember far longer than any floral arrangement.
6. You know we love wedding dresses on Dress for the Wedding, and your line David Tutera for Mon Cheri has many fans here! What are some of the bridal gown design details you love for 2015?
We are seeing a lot of delicate--yet intricate-- details in bridal fashion spilling off of the runways and down the aisles. My favorites have to be three-dimensional floral motifs and illusion necklines, backs and sleeves that feature sophisticated beading and lace appliqués---all of which I had to include when I designed my 2015 David Tutera for Mon Cheri collections.
7. Thanks to My Fair Wedding and David Tutera's CELEBrations, we've seen you diffuse many of the stressful situations that arise during wedding and event planning. What is your advice to engaged couples for keeping their cool when wedding planning gets tense?
If things begin getting tense or stressful, take a step back and breathe!  Enlisting the help of your family, friend, or bridal party to take on a task or just listen while you talk it out is sometimes all you need to take the load off your shoulders or ease a situation. There will always be bumps along the way during planning and right up until the day of…it happens! So instead of letting it get the best of you, remember the big picture and that at the end of the day, it's all about you as a couple and the celebration of your love.
8. We've also seen you help couples whose wedding plans have gotten off track. What's your advice for brides and grooms who feel their wedding planning is going off the rails?
With websites like Pinterest, many couples get so wrapped up in the overflow of wedding trends, information and ideas beautifully displayed before their eyes, embodying the "perfect" wedding. Trying to achieve every single element they see or 'pin', eventually sends them full speed off the rails--not knowing where to begin, what to do first and how narrow down all of the fabulous boards they spent hours creating!
My advice:
- First and foremost, create a wedding budget before you plan or purchase anything, and stick to it!
- Please know that you can still have a beautiful wedding without having every single item on your Pinterest board present. Instead, narrow details down to what you really love and what you could do without, whether it's splurging on a vendor or an upgraded specialty table linen. Refer to your boards merely as an inspiration guide….don't let it take over and throw you off track--it will only make you crazy.
- Create a timeline to-do list from one year to six months out and check off completed tasks as you go until the big day. This will keep you organized and focused, which is the key to staying on track and sane.
9. Besides the dress, what else do you feel is a key piece of wedding attire that brides should invest in?
A good pair of shoes!
Though it may go by in a flash, your wedding day is a very long one and you will be on your feet for many hours, so it's very important to invest in not only a beautiful pair of wedding shoes, but a functional and comfortable pair as well. I am not one to condone a bride switching into a pair of flip-flops at her reception; I believe her shoes should remain on until the reception is over.   You choose the dress you feel most beautiful and comfortable in, so the same should go for your shoes. After all, you wouldn't change into your pajamas in the middle of your reception because you didn't want to wear your dress anymore, right? On your wedding day, you are the bride, you are the center of attention and your beauty should radiate throughout the entire day, from head to toe (literally).
Check out David Tutera's own collection of bridal shoes here!
10. What looks do you love for bridesmaid styles?
I love that more and more brides are beginning to stray away from the traditional cookie-cutter bridesmaid dress and are taking a more fashion-forward approach.  I'm a big fan of mixing and matching different styles in the same color family, or when a bride lets her girls choose their own dresses in a variety of shades like muted pastels--it always looks gorgeous and translates beautifully in photos.
11. What looks are key for well-dressed grooms?
Funny enough--I recently designed my first menswear collection, which I'm really excited about and I asked myself the same question when I began brainstorming and designing what I wanted to include in my line.
I found that for me, the following items are key:
A sophisticated, proper suit or tuxedo that is well-tailored of course.
The right accessories are a must to complete the look:
Vest (tip: choosing a color variation for the groom's vest can differentiate him slightly to stand out from the groomsmen)
Matching tie or bow tie.
Belt
Cuff links
Studs
Formal Shoes
Formal Socks
Lastly --a clean shave and a neatly styled coif to complete the look.
For those of you attending Your Wedding Experience, you will actually get to see the David Tutera Men's collection of tuxedos, accessories and formal shoes first-hand on the show's exclusive Wedding Catwalk.
12. One of things I love is how much we get to see of your wonderful relationship with your daughter Cielo on CELEBrations.  Has becoming a dad changed the way you work and get inspired?
Being a father is unlike anything else, it truly is one of the most amazing experiences. My daughter brings out the best in me and inspires me every day in all aspects of my life.
13. What gives you the greatest sense of pride and accomplishment at the end of an event?
At every event, I always take a second to step back and really take it all in. Seeing many months of hard work and design come to fruition always gives me a sense of pride. But more importantly, seeing the look of happiness on my clients' faces and their satisfaction with my work, is what really makes each event an accomplishment.
14. Tell us about one amazing event or detail you pulled off, where even you were in awe of what you and your team were able to accomplish.
I did an event in Mexico for one of my fabulous clients who wanted to surprise their guests with a special performance from a private headliner. The only catch was, the headliner was in California and we needed to charter all of the guests on a private plane for a "Top Secret" excursion. On top of keeping mum about where they were going and what they would be doing, we also had to keep each guest accounted for and held on to all of their passports in the process--that wasn't nerve-racking or anything! In the end, my amazing team and I pulled it off and it was a success. The guests all traveled safely to and from the performance and had a spectacular time.
15. It is a few months away, but I'm already looking forward to Your Wedding Experience in Philadelphia! What are you looking forward to most about the three Your Wedding Experience Events?
I'm really looking forward to sharing my expertise with local couples in each city, seeing them have fun and knowing that they will leave with all the knowledge, resources and inspiration they need to help guide them with the wedding planning process.
16. If and when you're given a large budget and complete control over designing a wedding, what's your favorite thing to include in the event?
Various types of entertainment that change throughout the night for sure. A champagne bartender pouring bubbly while suspended from the ceiling, an electric violinist playing as guests are seated for dinner, a specialty singer or surprise performer, the list can go on….but keeping guests on their toes and entertained with an ever changing environment is one of my favorite things to do at client events.
17. You've worked with some amazing celebrity clients, but do you have a particular dream celebrity client (living or no longer with us) that you'd love to work with? What would be one of the things you'd love to include for his or her celebration?
I've always dreamed of doing Lady Gaga's wedding (even way before she got engaged.) As eccentric as she is in the public eye, I also feel like there is a side to her we don't get to see that could perhaps be a little more traditional. I envision having the two worlds collide and designing her something very grand, bold and out-of-the-box, with nods to both her Italian heritage and her life as the fabulously unique star that she is.
18. We also love wedding guest style here on Dress for the Wedding, and we've noticed that you're a very sharp dresser. What's your go-to outfit when you attend a wedding as a guest?
Why, thank you! My go-to is a great custom-tailored suit, with a pop of color and an unbuttoned collar paired with a uniquely folded pocket square.
19. This is a question and a statement! The casual dinnerware pattern I have in my home is your pattern, David Tutera 'Aspire'! What to you aspire to each day?
I aspire to always keep moving forward and dreaming bigger, personally and professionally. Living a positive, healthy life is very important to me, so I try to take it one day at a time while learning new things and yearning to always improve and challenge myself at the same time.
Aren't his answers fantastic!? I really want to see that Lady Gaga wedding collaboration become a reality! Thank you to David Tutera for this great glimpse into this thoughts on weddings and events. Plan to see him live at a Your Wedding Experience presented by David Tutera near you!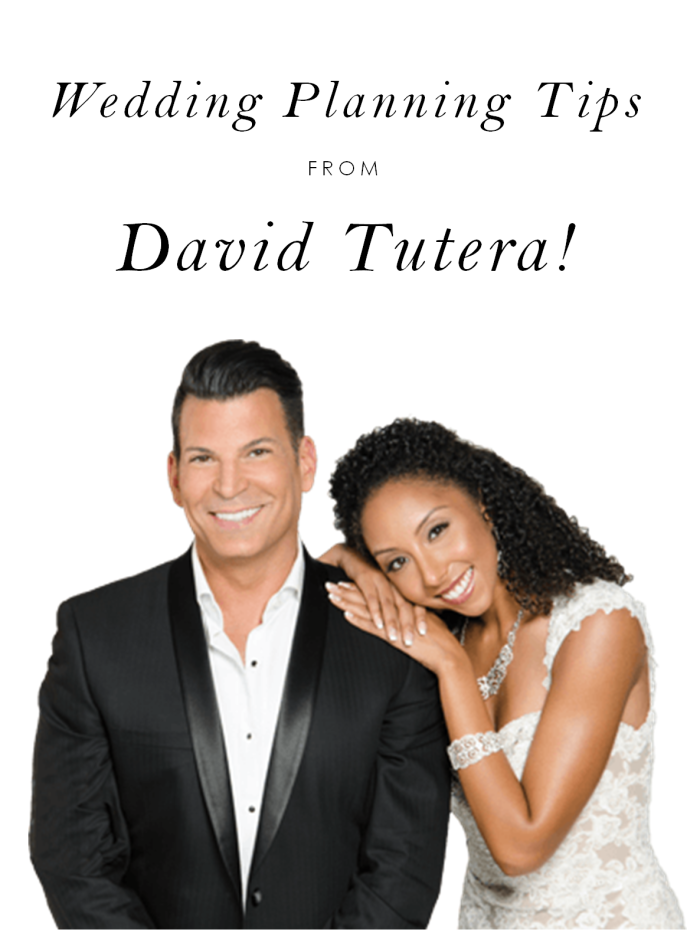 More posts you might like:
Finding Your Best Bridesmaid Dresses from Your Wedding Experience Tips & Trends
Learn more about Your Wedding Experience!
Finding the Wedding Dress That Works for You!