Bridal Market 2014 Recap: Day 1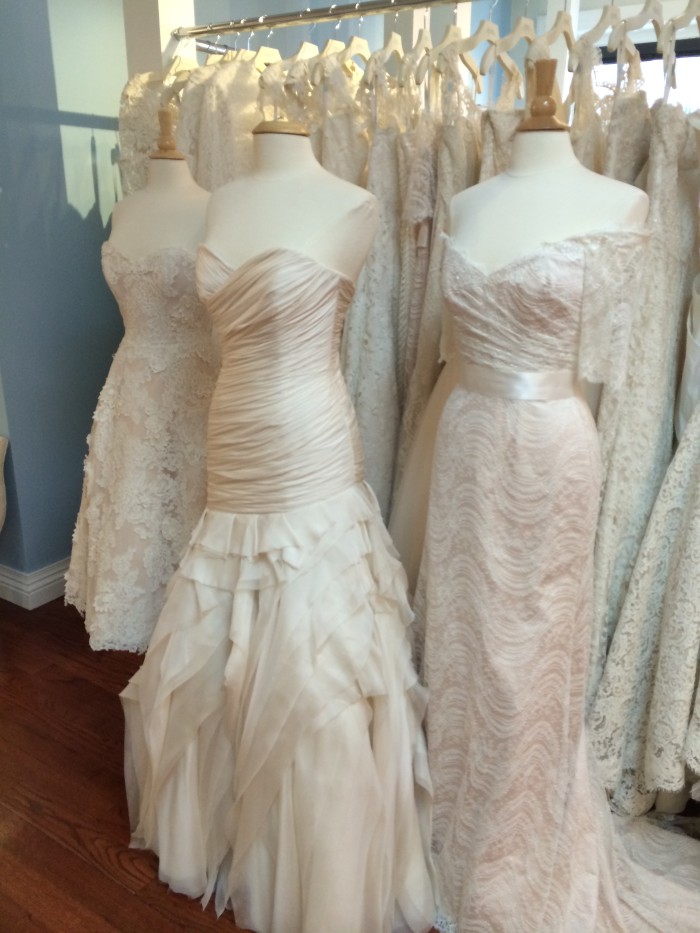 I've been promising this for so long, and it's finally here! This past week, I had the chance to go to New York for the second time to attend Bridal Market, or New York International Bridal Fashion Week. It's called so many different things  depending on where you're exhibiting and what collection you're showing ( Fall 2014 or Spring 2015) that I need a spreadsheet for the hashtags at this point.  Most attendees simply call it "market" for short. It essentially consists of 4-5 days of wedding fashion found at the The Knot Couture Show, and New York International Bridal Week Show, plus private events and fashion shows around the city.  This year, I attended more private showings and runway events which is fun as a lifelong fashion fan. It feels like a real "pinch-me"  moment to sit at these runways, but I also really love out on getting to chat one-on-one with some of the brands and designers.
I arrived on Friday around 1 pm,  and Market was already in full swing, especially because many of the designers who usually show on Sunday or Monday, had exhibited on Thursday. I missed Theia, but I have the official pictures at least, so I can't wait to show you that collection.  I tried to make it to the Piers ( aka Pier 92/94 where the New York International Bridal Week venue is) , but the President was in town, and traffic was more snarled than usual, so the cab driver and I decided I should bail out of that idea and off I went to my first appointment at Modern Trousseau!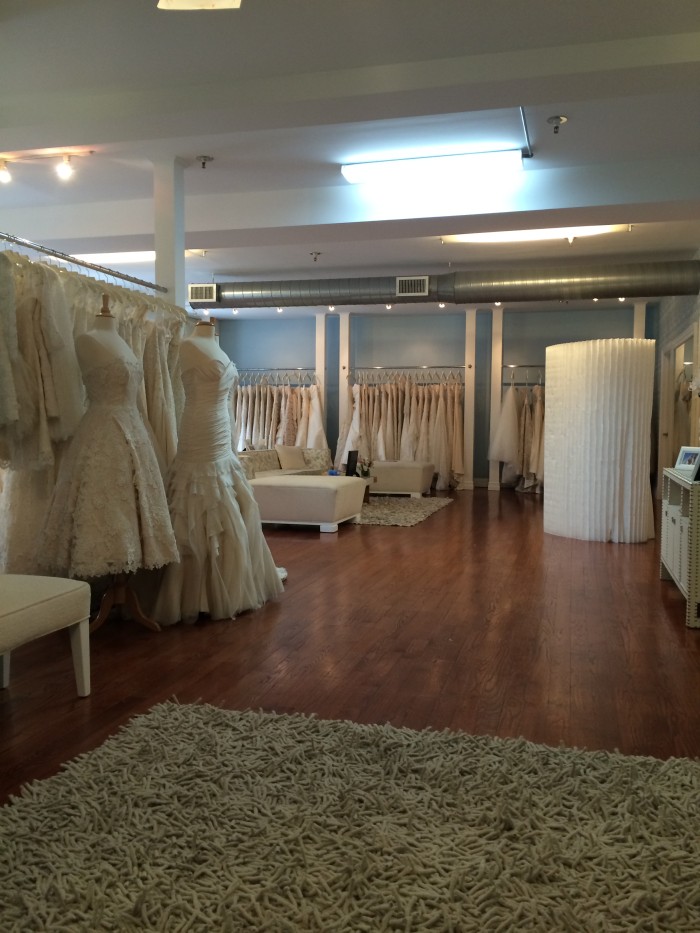 The Modern Trousseau flagship is on 7th Avenue, and is a beautiful boutique managed by the wonderful Nicole. She immediately and graciously offered me a mimosa, which I took even though it hadn't been a hard day yet at all. I took a seat in the luxe surroundings as Callie Tein, Modern Trousseau's designer, walked us through her inspiration for the Spring 2015 Collection.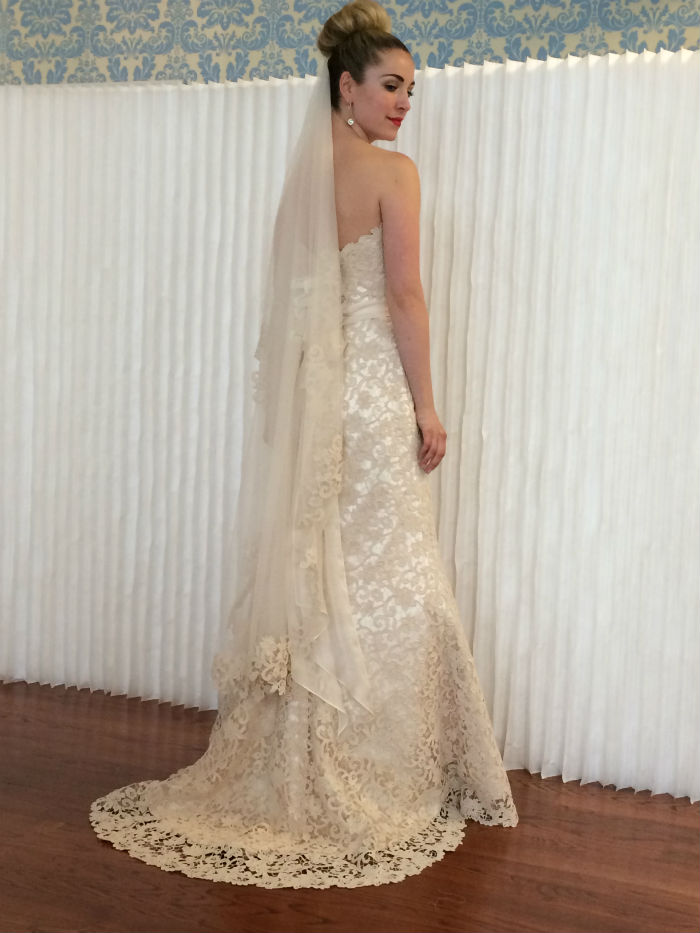 Scout with matching veil
It was fascinating to hear her speak about what inspires her.  The gowns this season had such distinct personalities to them, but still were part of such a cohesive, romantic look. Tein reflected on how she was drew inspiration from a variety of areas: new fabrics, subtle use color, new cotton laces, and ideas that she had been wanting to translate into wedding gowns for some time. In a point that was especially close to my own heart and generation, Tein also spoke about taking some of the elements she loved about 1980s fashion, and toning it down and making it classic. For instance, one of my favorite gowns -- Bryton-- features a big bow. For those who may not remember so vividly, the over-sized bow was once a staple of the over-the-top '80s style, but with this new scale it makes a classic statement and also makes the delicate waist of this gown even smaller.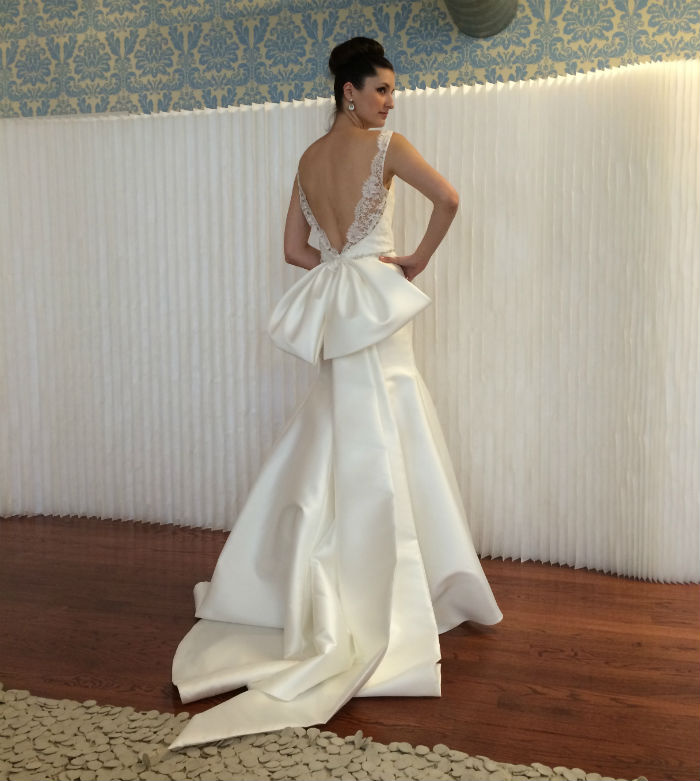 Bryton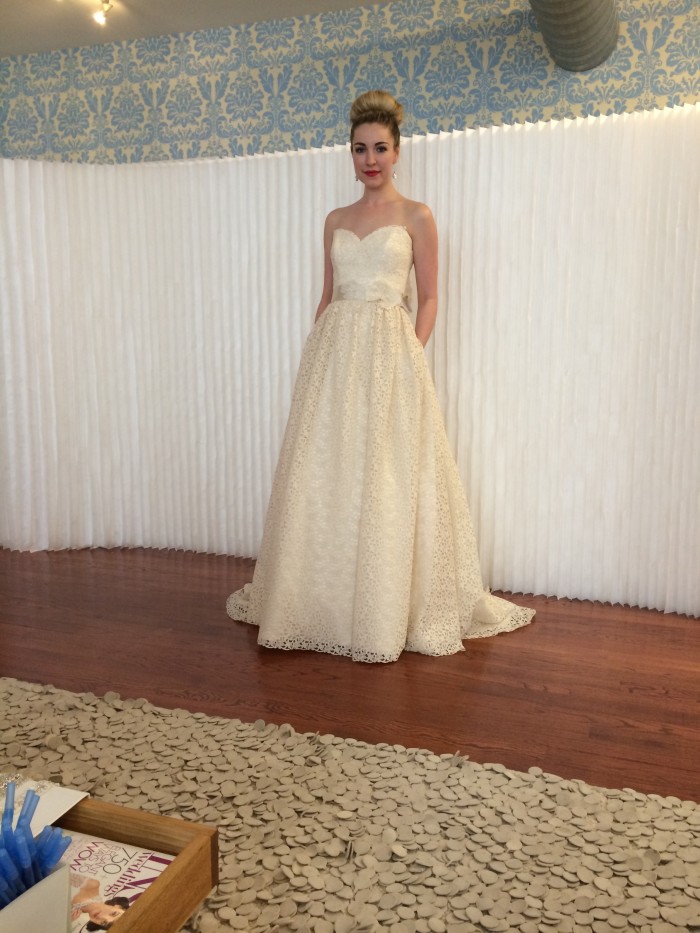 Edie
Another interesting detail for me was how Tein will take a pattern from the lace in the dress, and echo that detail in one of the custom veils. It expands the overall design in such a wonderful way. She also tells us how satisfying it is to have an idea that she has been toying with finally come to fruition in these gowns.  I realized this last year, but after this conversation I realized once again how meeting the designers in person is such a great experience, because you actually see the good, kind people, and creative minds who make these dresses happen at work. It gives such personal dimension to the dress, and I love being able to pass along to my readers what wonderful, genuine, talented people are behind these gowns!  I've really noticed that cheerful people make beautiful things!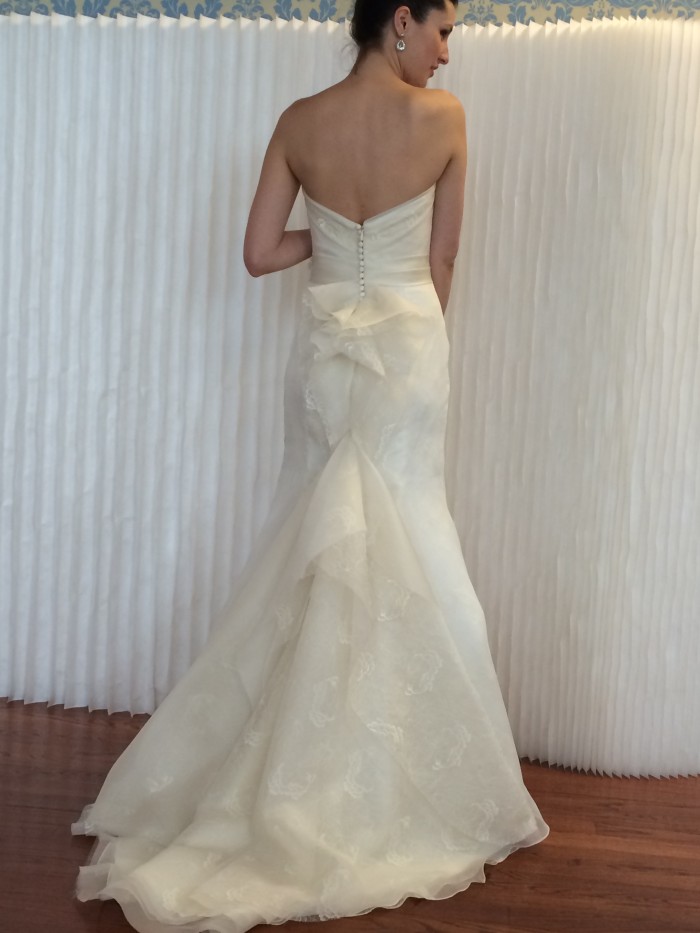 Logan
After that fun start to the weekend, I headed to the hotel to meet with my friend and her co-worker before they headed to that night's Yankees/Red Sox game. This Red Sox fan had to forgo the game in order to get a good night's rest for a packed Saturday schedule and the first show of the morning: Watters! See you tomorrow for more!
Visit Modern Trousseau ( www.moderntrousseau.com) for more details on their Spring 2015 Collection. Stay tuned for official images and my picks for the top 5 dresses from their Spring 2015 Collection!
See Day 2 of Bridal Market here!