Dressing for a Spring Wedding
This post was originally published on Bayside Bride on March 8, 2013. See the full post there!
Wedding Guests of a Springtime Afternoon Wedding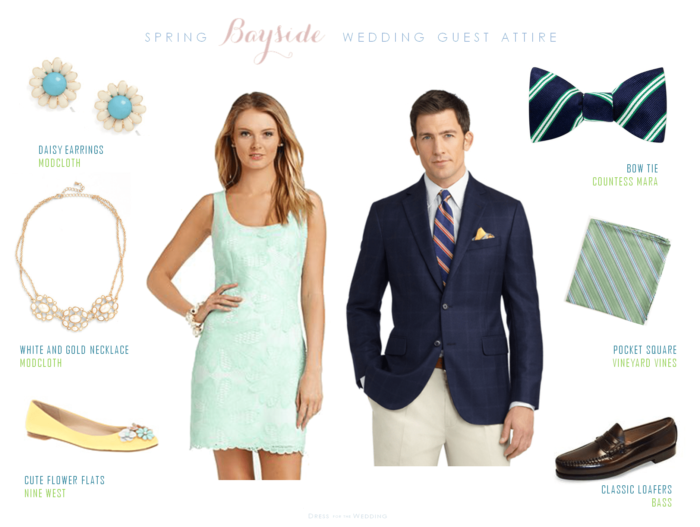 Lilly Pulitzer Limited Edition Sand Bar Blue Iridescent Daisy Lace "Lonnie" Dress  / Whoopsie Daisy Earrings / Strand and Deliver Necklace /Nine West Yellow Okeanos Flats
Fitzgerald Fit Windowpane Sport Coat/Core Stripe Bow Tie by Countess Mara Navy blue Silk / Chappy Stripe Pocket Square / Bass Loafers
To start off our look, I'll help set the context–we've nicknamed the suggested attire, "Garden Party Preppy". What does that mean, exactly?  Since the wedding is in the afternoon and outdoors,  it doesn't require formal touches like a tuxedo or a long dress, but it's best to not be too not casual either. Instead, female guests might choose a pretty dress in soft muted hues–pink, peach, gray, pale yellow, green or blue– or a pretty print. Preppy styles, like the ones assembled below from Lilly Pulitzer and J.Crew, are perfect. When choosing, just think springtime colors!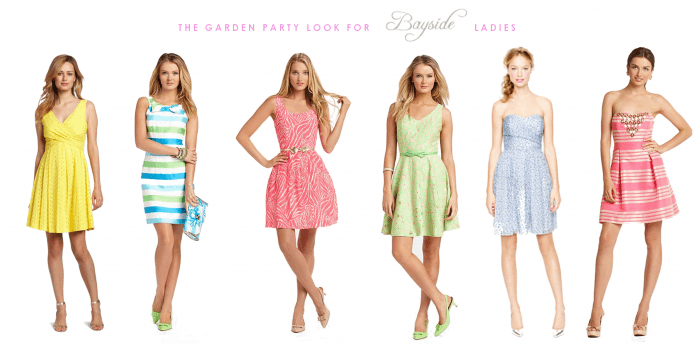 Yellow Eyelet Dress / Blue Green Stripe Lilly Pulitzer "Henley" Dress /Lilly Pulitzer "Posey" Dress  /Lilly Pulitzer "Freja" Dress / J. Crew  Arabelle in Ditzy Floral Dress / Lilly Pulitzer Sami-Ryan Dress
For the gentlemen, a spring wedding is chance to shed the dark colors of winter and dress in very dapper way. In short– we're hoping you'll bring the seersucker and bow ties. In the spring a  lighter colored suit is fine, as is  navy sport coat, and–even though it's not fully summer yet–we love the cotton look of these seersucker sport coats and suits. If you take the sport coat option,  twill pants,  khakis, or chinos are wonderful counterpart, and you'll probably earn extra party points if they come in a color, like a Nantucket red, yellow, pink or green.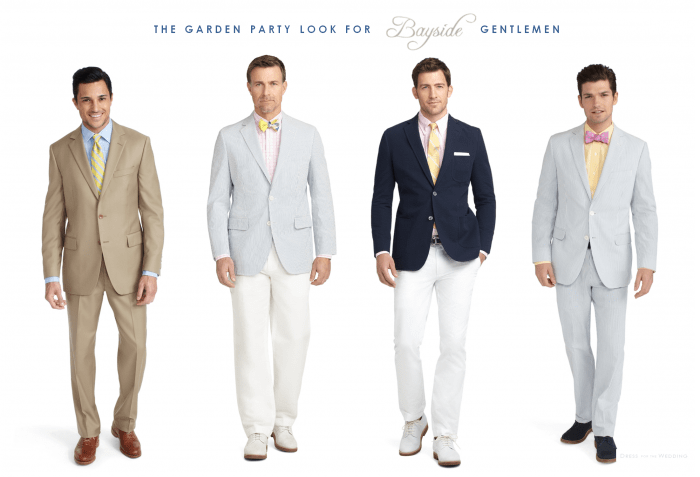 Brooks Brothers Fitzgerald Tan Solid Gabardine 1818 Suit /Brooks Brothers Madison Fit Seersucker Sport Coat /Fitzgerald Fit Navy Seersucker Sport Coat / Brooks Brothers Fitzgerald Seersucker Suit
With this description,  I'm sure most of you are getting a feel for the look, but to help you consult your closet or local clothier, I've created these quick little guides.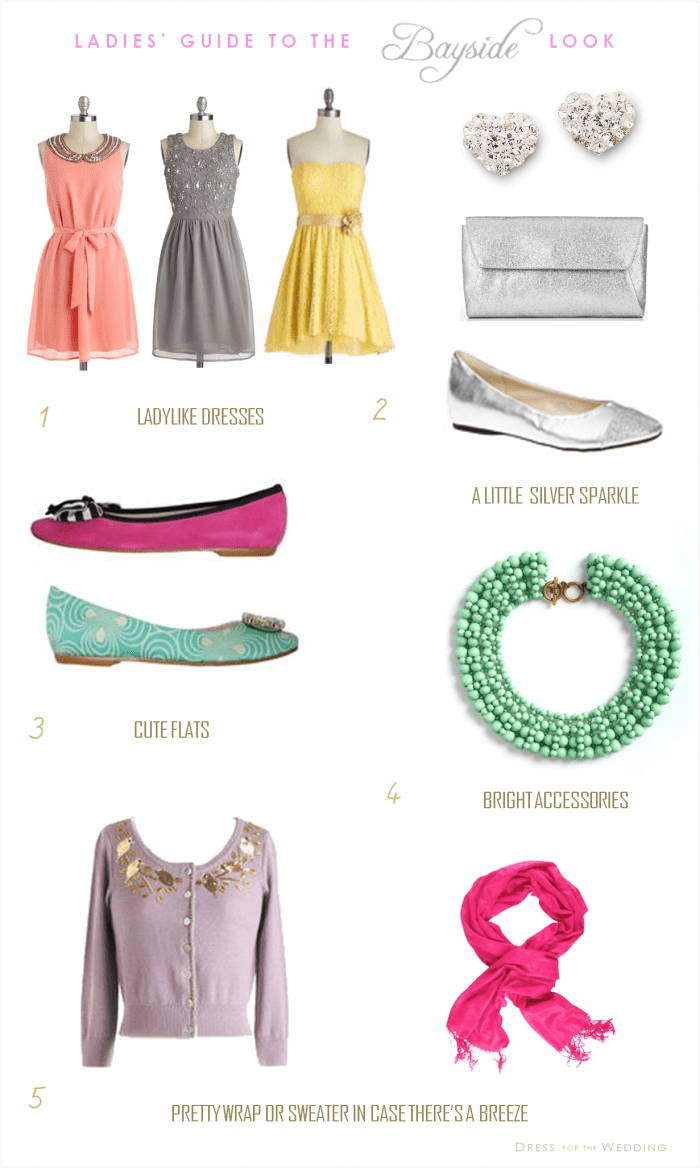 1.  Dresses from ModCloth: Peach "Sunrise at Sunset" , Gray "Glitz a Wonderful Life Dress" and Yellow "Sweet as Lemon Square" Dress  2.  Silver Sparkle Earrings , Silver clutch from Ann Taylor , Silver Flats  3. Cute Flats:  Pink with Striped Navy Bow  flats,  Mint flats  4. Accessories : Mint Necklace  5. Wrap or Sweater : Cardigan and Wrap
For the gentlemen, a suit in navy, tan, or gray will do nicely–as will a sport coat and some wonderfully preppy pants. The cheerful checks of a gingham shirt would fit right in, as would a bit of color on the belt. Most of all, let us not forget the tie. It's impossible not to like the fellow who shows up in a brightly colored tie, and if it's a bow tie — it's all the better! Other touches like colorful socks, Sperry topsiders, and nautical looks are appropriate as well.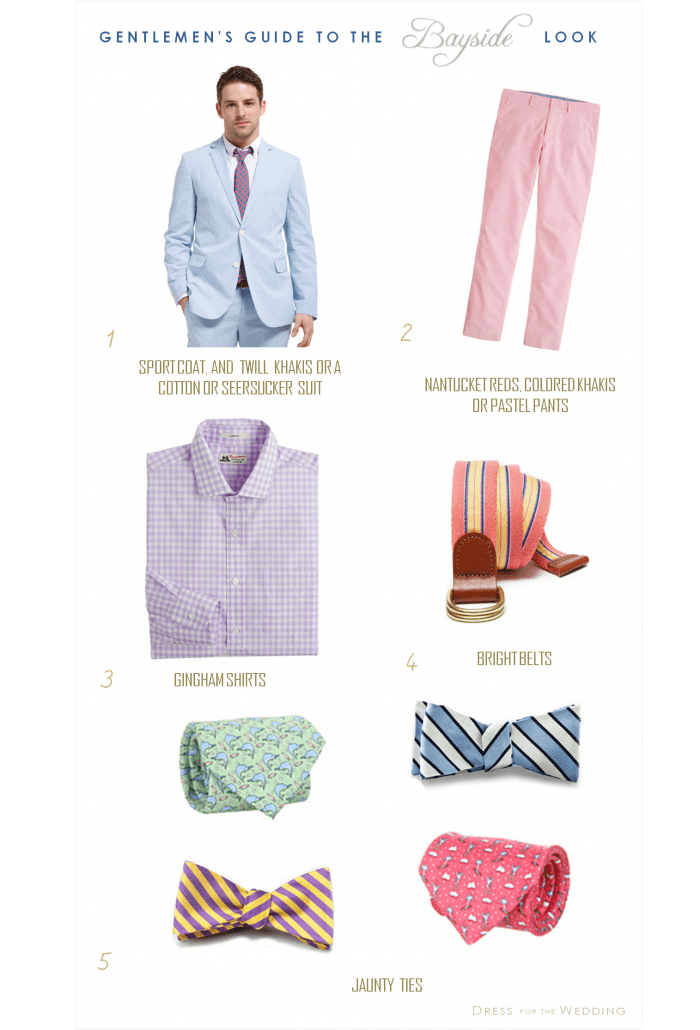 1. River Stree Jacket and Chino Suit from Bonobos 2. Pink Pants or Nantucket Reds 3.  J. Crew Gingham Shirt 4. Bonobos Coralius Yellow Belt  5. Ties:  Top left: Vineyard Vines Sailfish and Lure Top Right:  Brier &Moss Blue and Black Striped Bow Tie "The Colton"  Bottom left: Purple and Gold  Brier & Moss the LeCroix Bottom Right: Vineyard Vines  in Raspberry
I hope this little guide will help anyone  heading to Bayside weddings this spring! Clearly, spring weddings in the Chesapeake are about taking the cheery blooming colors of the season and making them a part of your wardrobe in a festive and lovely way.