Yes, you can wear a jumpsuit as a wedding guest, just follow these tips! We've also picked (well over!) 15 jumpsuits for wedding guests to wear!
This post about jumpsuits to wear to weddings uses affiliate links. This site may earn a commission if you make a purchase from our links.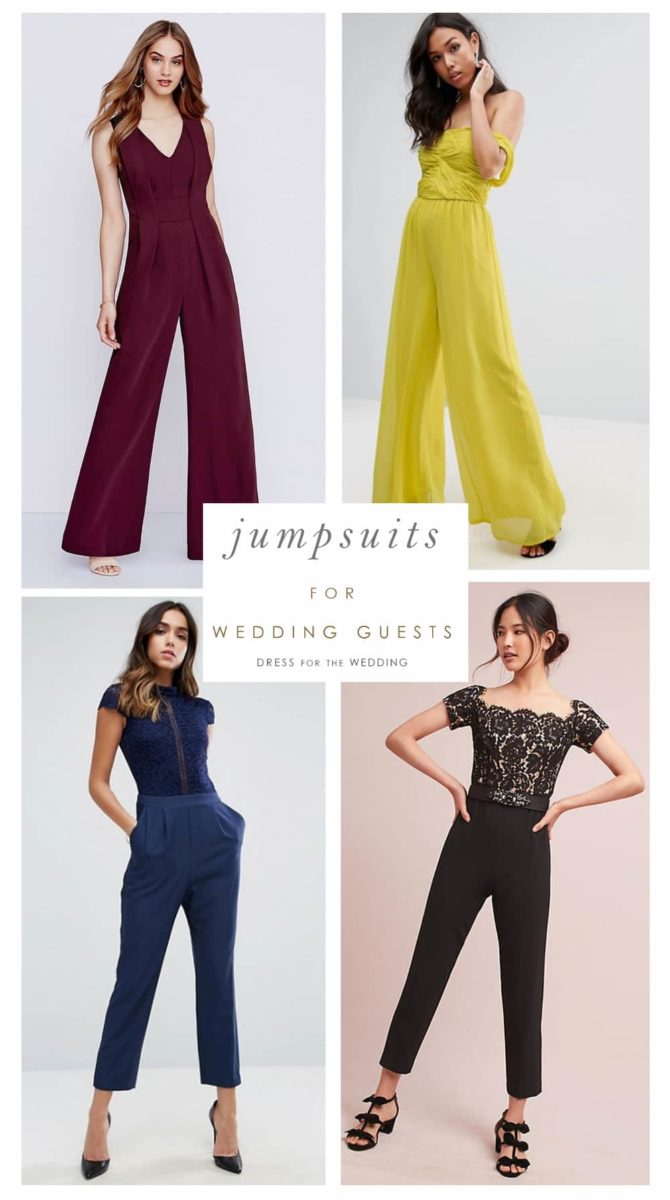 This post about dressy jumpsuits for special occasions uses affiliate links. Shopping sources: 1. Antonio Melani Kennedy Crepe Jumpsuit from Dillards 2. ASOS Bandeau Off Shoulder Jumpsuit in Chiffon 3. ASOS Lace Top Jumpsuit 4. Lace Off-The-Shoulder Jumpsuit from Anthropologie
Jumpsuits For Wedding Guests
Jumpsuits have become a popular wardrobe piece for the past several seasons, and they are absolutely appropriate as wedding guest attire, just as long as the jumpsuit suits the occasion, and that you're comfortable wearing one of the one-piece items!
Fall wedding season is starting, and, in my view, dressy jumpsuits are particularly appropriate for fall and cold weather wedding attire. Here's why: there are certainly some lovely jumpsuits for any season, but quite often, the warmer temperatures just suit light breezy dresses or skirts!
For the colder season of fall weddings, you want a chic look, but possibly a little extra warmth, so it's the perfect time of year to don a jumpsuit! Jumpsuits offer the comfort of pants, with the one-piece ease and head-to-toe style of a gown!
Dressy Jumpsuits To Wear to Weddings
Scroll down more for even more tips for how to wear a jumpsuit to a wedding. If you're looking fora jumpsuit here are a few we've found recently that are available to shop!

Wedding Guest Outfit with a Jumpsuit
This jumpsuit blends the look of a maxi dress with open slits at the legs, with the modesty and mobility of pants. It's also a lovely sapphire satiny fabric. This unique hybrid style, is why I've picked it as our featured dressed-up jumpsuit to wear as a wedding guest!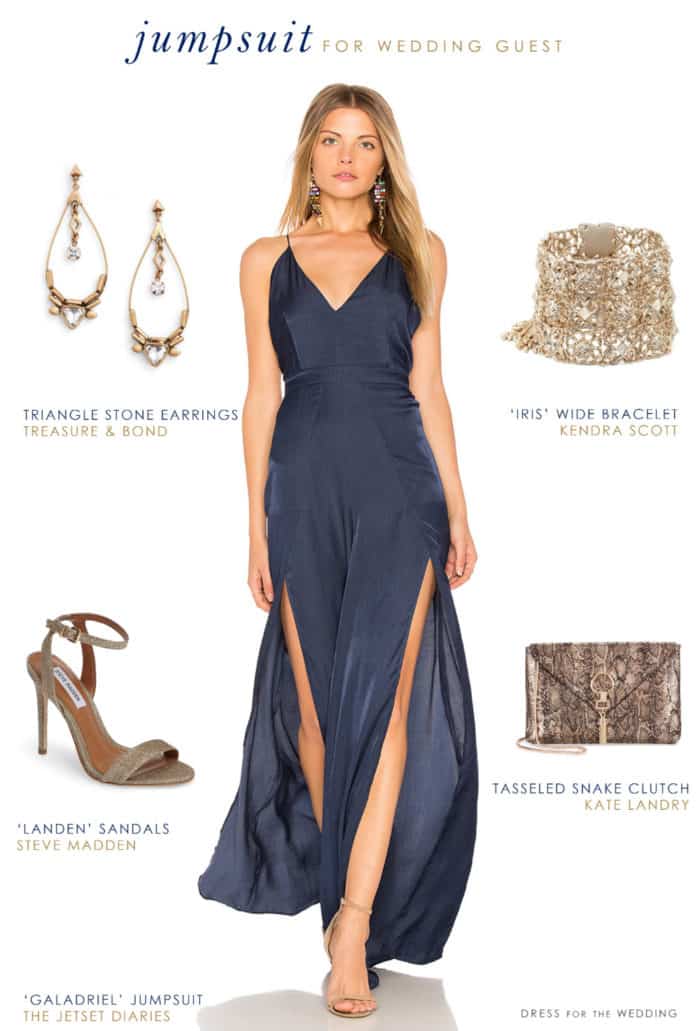 Affiliate links from sponsors are used in the shopping sources this post.
Jumpsuit : Galadriel Jumpsuit in Marine by The Jetset Diaries from Revolve | Earrings: Triangle Stone Earrings by Treasure & Bond from Nordstrom | Bracelet: Iris Wide Bracelet by Kendra Scott from Nordstrom | Clutch: Tasseled Snakeskin Clutch by Kate Landry from Dillard's | Sandals: 'Landen' Ankle Strap Sandals by Steve Madden from Nordstrom
How to Make Sure Your Jumpsuit is Wedding Appropriate
Here are just a few tips to make sure you are wedding-ready with your jumpsuit:
Make sure the jumpsuit fits the dress code. This means a casual floral print jumpsuit might be fine for a rustic wedding, but you'll need a formal fabric and sophisticated style if you're wearing a jumpsuit to an evening or black-tie wedding. Always consider the time, venue, season, and general tone of the event when selecting your attire. When in doubt, pick something with clean, classic styling and accessorize! Which leads us to:
Accessorize accordingly! Most jumpsuits we've seen are tailored and monochromatic, which can mean they read as a little more casual than their gown or suit counterparts. Make sure you bring out some eye-catching accessories or go with some more dramatic makeup or styling to accent your look. I think jumpsuits look great with high heels and bold earrings!
Don't wear white. Even though your jumpsuit probably won't be mistaken for a wedding gown, the age-old rule of no-white still applies, even if you are wearing a jumpsuit, not a dress. (But if you are the one getting married and looking for a white jumpsuit to wear, then check out this post on wedding jumpsuits for brides!)
Make sure the suit fits your proportions. There are lots of styles for every shape, long torso, petite, plus, tall, which is good since your jumpsuit has to fit each aspect from head to toe. Make sure you can walk, dance, sit in the suit without pulling or fit issues! Make sure you're also comfortable with the style - they sometimes take some getting used to! Don't try one for the first time for an important event!
Jumpsuits are good but careful with rompers for formal events. I'm sure there are some rompers that wouldn't look out of place at a casual outdoor wedding, and even some that are more dressed-up that might suit a semi-formal event, but I just haven't seen any yet that I can wholeheartedly recommend. For the most part, rompers are usually too short and too informal, and just a fashion risk I personally wouldn't be ready to take at a wedding unless I knew it would be fully appropriate. I say keep rocking the cute rompers for honeymoons vacations and nights out, and go with a jumpsuit that is below the knee (like the mid-length culotte style below) or longer for a wedding. I'll let you know if I do find a dressy romper that looks like it's a good look for a wedding guest!
Still not quite ready to wear a jumpsuit for a wedding? Try one for the rehearsal dinner! It's usually a more relaxed event and, therefore, a great time to try out this look!
An embellished neckline and sumptuous rich purple color, make this a perfect wedding guest style. Eliza J Crystal Pleated Jumpsuit from Nordstrom
Sequins and a midnight blue elevate this suit to formal-wear status! Rachel Zoe Ocean Blue Sparkle Jumpsuit, rent it from Rent the Runway!
One shoulder asymmetry is always an eye-catching style. It looks even more chic in a jumpsuit like this! One Shoulder Jumpsuit by Adrianna Papell from Nordstrom
A fashionable cold-the-shoulder style for petites in a delicious burgundy color! Lauren Ralph Lauren Petites Cold-Shoulder Jumpsuit from Dillard's
Pretty burnt orange/rust makes this a great color for early fall! ASOS Tea Jumpsuit with Knot Front
Flattering ruffles and halter styling make this a sleek and fun jumpsuit for a wedding guest! Calypso Wide-Leg Jumpsuit from Anthropologie.
Sequins would be great for a sparkling cocktail reception, or a winter holiday or New Year's Eve wedding! La Lune Jumpsuit from BHLDN
More ruffles, but in a bright blue! Lovely for a destination wedding or rehearsal dinner look! Becca Jumpsuit from Shopbop
A pretty color and cool open leg jumpsuit under $100! Split Leg Jumpsuit from Nordstrom
Sweet high neck style with tea-length legs, in a neutral color that can be accessorized to the hilt, or left simple and chic. ASOS Jumpsuit with High Neck and Buckle
Where to Find Special Occasion Jumpsuits
If you want a really formal pair of pants, check out our post on tuxedos for women!
If you are still looking for more jumpsuits! The selection is better than ever! I recommend:
Nordstrom has a great selection, check out styles by Adrianna Papell, and Eliza J!
Bloomingdale's lots of sleek tailored looks, check out more by Ralph Lauren
ASOS has a tone of gorgeous colors, prints, details and selection, with lots of special occasion jumpsuits under $100!
Ok, I couldn't stop at just 15 jumpsuits, and some of these special occasion jumpsuits might sell out, so check out more jumpsuits for this season's weddings!