Is it Okay for the Mother-of-the-Bride to Wear Black?
Can the Mother-of-the-Bride or Mother-of-the-Groom wear black? My answer is yes -- but with a few guidelines!
Affiliate links are used in the shopping links in this post. This means this blog may earn a small commission if a qualified purchase is made.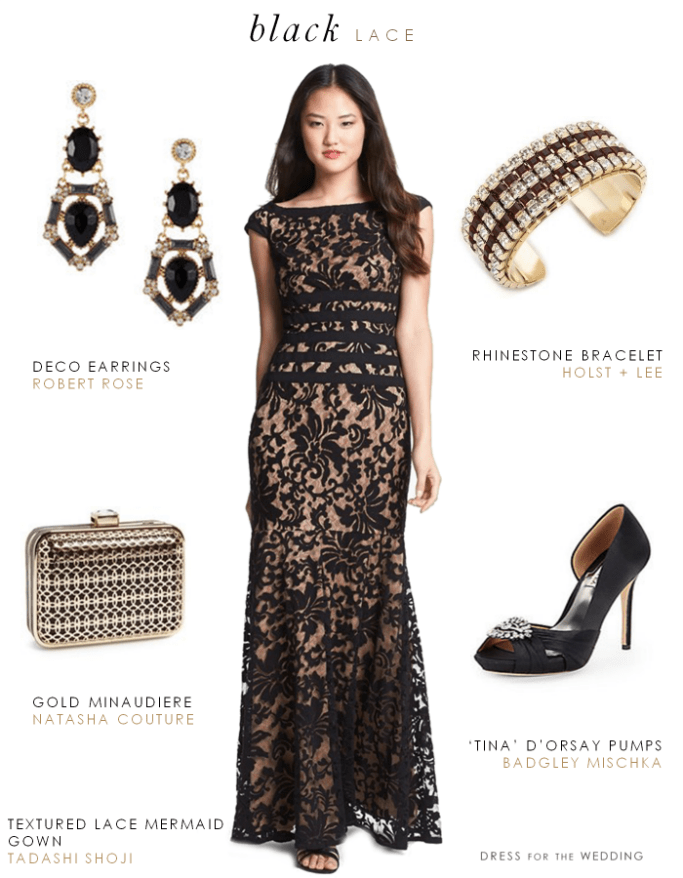 Gown: Tadashi Shoji Textured Lace Mermaid Gown in Black //Earrings: Robert Rose Deco Earrings at Lord & Taylor //Bracelet: Holst + Lee The Perfect Rhinestone Bracelet at Shopbop // Heels: D'Orsay Heels by Badgley Mischka //Clutch: Natasha Couture Minaudiere
Shop Black Dresses for the Mother of the Bride
Affiliate links are used in the shopping links in this post. This means this blog may earn a small commission if a qualified purchase is made.

Is a Black Gown Appropriate for a Mother of the Bride or Mother of the Groom?
Every so often, I like to check out the wedding message boards I read as a bride-to-be to help me find out what attire issues couples are facing amid wedding planning. On a recent perusal of these boards, I found a definite hot-button issue -- Mothers-of-the-Bride or Mothers-of-the-Groom who wear black. Some brides-to-be were in favor, while others were appalled at the choice. I hope these guidelines will help in navigating this unexpectedly tricky dress color.
Why Wouldn't a Black Dress Be a Good Choice
There are a million ways that tensions can run high with wedding planning, and attire can be one of the biggest triggers. As I learned from my message board readings, some brides-to-be and grooms-to-be are upset that their mothers or mother-in-laws-to-be have chosen a black dress, while others are thrilled that their moms have chosen such a sleek look.
I can feel for both sides. After all, black is traditionally the color of mourning, and up until 10-15 years ago or so, it was considered a bit of an off-limits color for weddings. If the couple's wedding colors are vibrant and cheerful, or soft and light, black can appear to be severe, and a member of the wedding party who wears black can stand out unfavorably. If the relationship between the mother and the couple is at all tense, to begin with, a mother then selecting a black gown--especially when it is against the couple's wishes--can be taken as a personal affront.
How to Choose the Right Black Dress to Wear to a Wedding
On the other side of things, the black dress is also the color of choice for chic and elegant women everywhere, and can be sophisticated and subtle -- exactly what one would want in dress for the mother of the wedding! As a general matter of attire etiquette and elegance, I think if the bride, groom, or couple is ok with a black dress for the mother-of-the-bride or mother-of-the-groom then it is an absolutely beautiful choice! A black dress is especially suitable for the evening and even more suitable for black-tie weddings. When selecting a black mother-of-the-wedding gown, just steer away from anything too drab or severe. Many black gowns are nothing but festive! Also make sure it is worn in such a way to be dazzling, not dour. The best way to do this is with a large dose of sparkling accessories, as well as a sincere feeling of joy and happiness toward the couple.
So my take on the issue is this: check these 2 things before selecting black as a dress color!
1. Make Sure a Black Dress is Approved with the Couple
Usually, there is one entity that acts as decision-maker-- be it the bride(s), the groom(s), the couple as a unit, or the planner -- who has been designated by the couple to make determinations on attire. If any colors are off-limits for attire -- this person should communicate these early-on to the mother-of-the-bride or mother-of-the-groom before they choose their gowns. If wearing a black gown is offensive to the couple, then the mother-of-the-bride or mother-of-the-groom should respect that and choose another color. If guidance has been given for color choices, mothers should check in first with the primary decision-maker to make sure the color and dress style they are selecting will be suitable. That said, Mother-of-the-Bride or Mother-of-the Groom should still be able to pick a color and dress style that general suits their personal style, but for this occasion, it is also important that the couple's wishes for attire are respected. If a mother feels dark colors suit her are best, navy, charcoal gray, and other darker levels of nearly any hue are great choices.
2. Make Sure the Dress is Festive and Suitable for the Time of the Event
Be sure to select a gown and accessories that are wedding-appropriate and look celebratory! Choosing a gown that has a touch of detail, a secondary color, a bit of lace, or a festive flourish ( like a bow or interesting silhouette) will go along way keep the gown looking cheerful! If the wedding is in the summer, spring, or daytime, keep in mind that no matter how festive your gown is, black might not be the best shade. Ask the couple for input on what they envision. If your mom or mother-in-law to be has chosen a black gown, and you don't love it - see if she'll change her choice, but if not, don't sweat it! Just let it go gracefully. Everyone will be focused on you as a couple!
That's it! Let me know in the comments, what are your thoughts? If a black gown is just the thing you're seeking, here are some wonderful possibilities. And if you've decided on a different color, check out my other style ideas and dress picks for Mothers!
This post has links to affiliated sponsors in italics.
More Examples of Elegant Black Mother of the Bride Dresses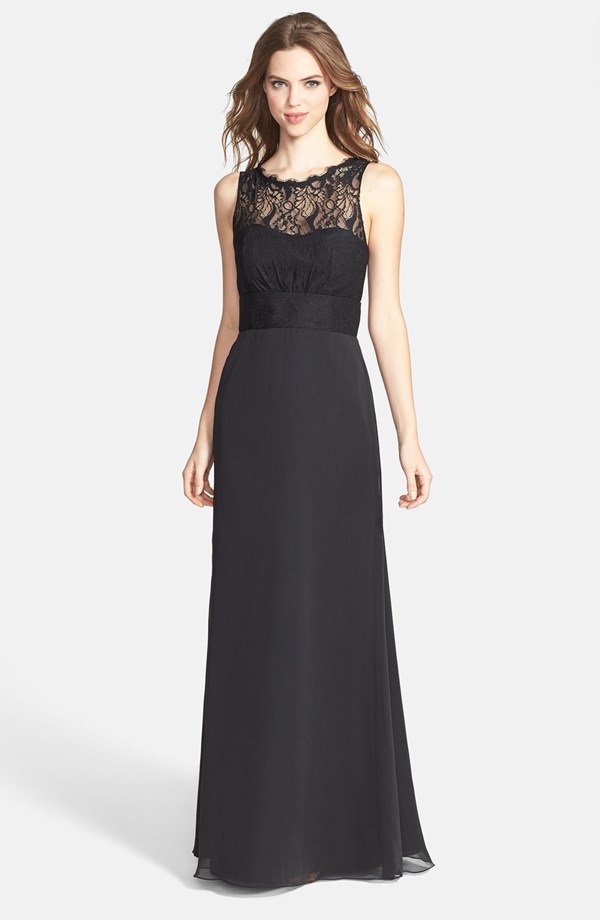 Jim Hjelm Occasions Lace Illusion Gown at Nordstrom, See other MOB dresses at Nordstrom here.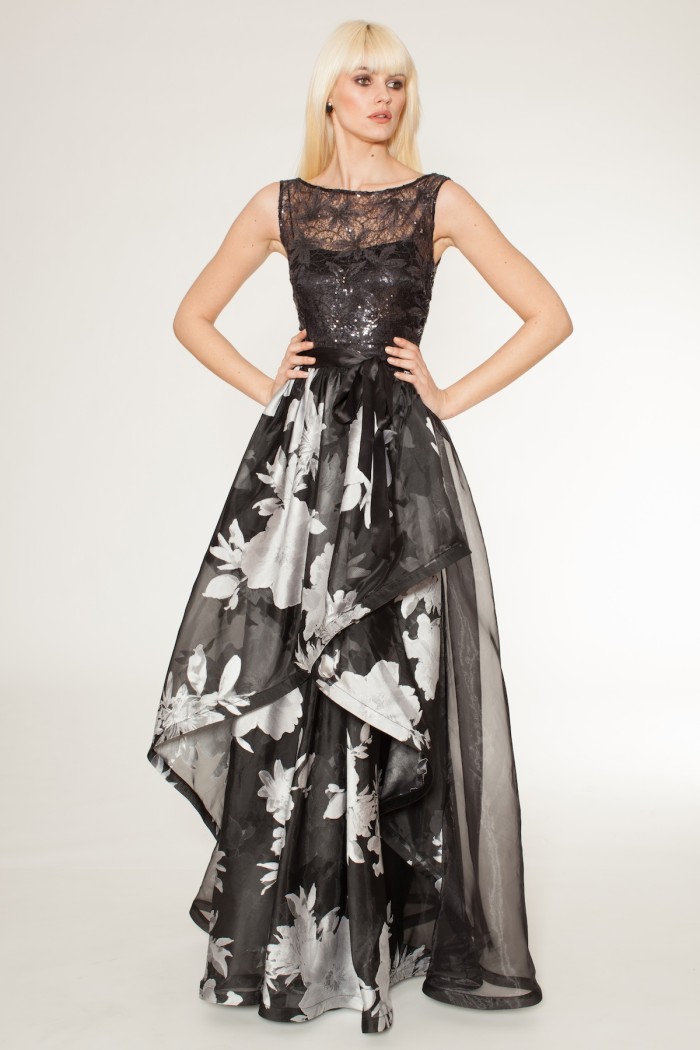 Black and Silver Ballgown from Teri Jon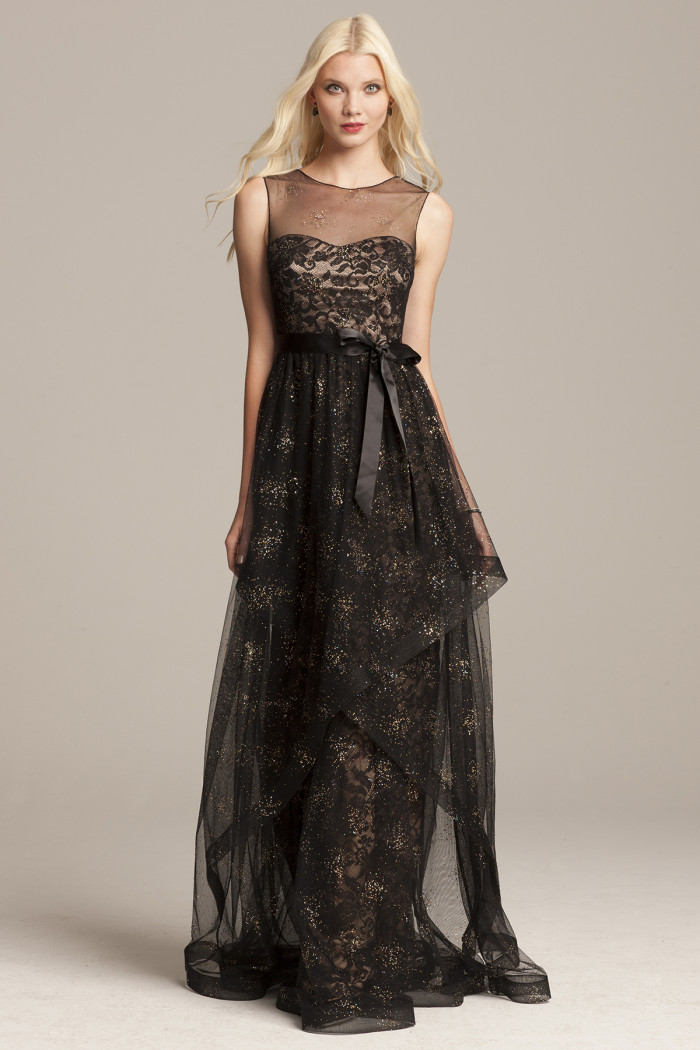 Flocked gold metallic gown by Teri Jon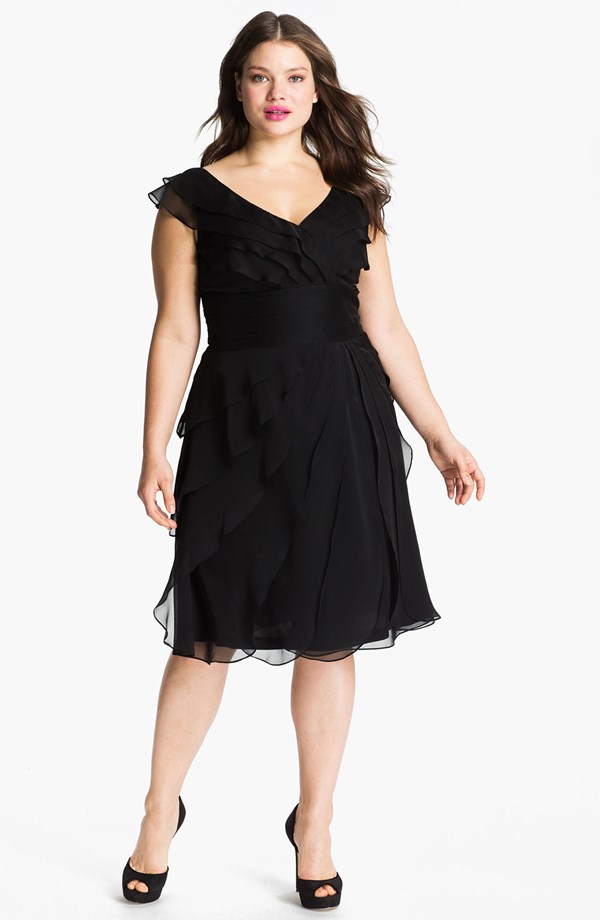 Short chiffon pleated dress from Nordstrom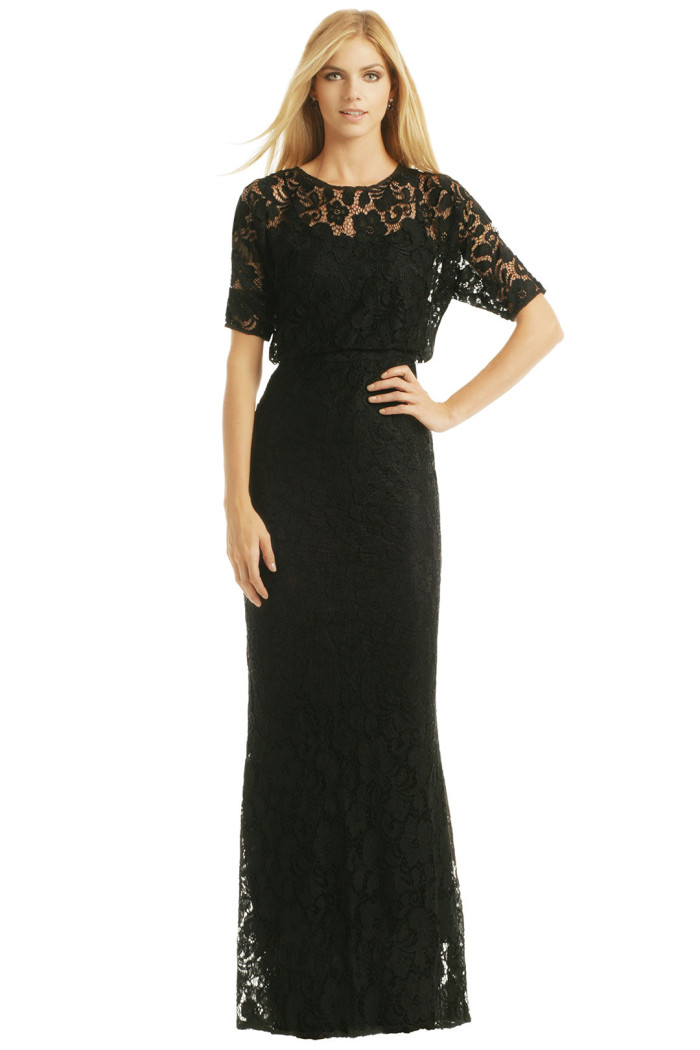 Black lace dolman sleeve gown at Rent the Runway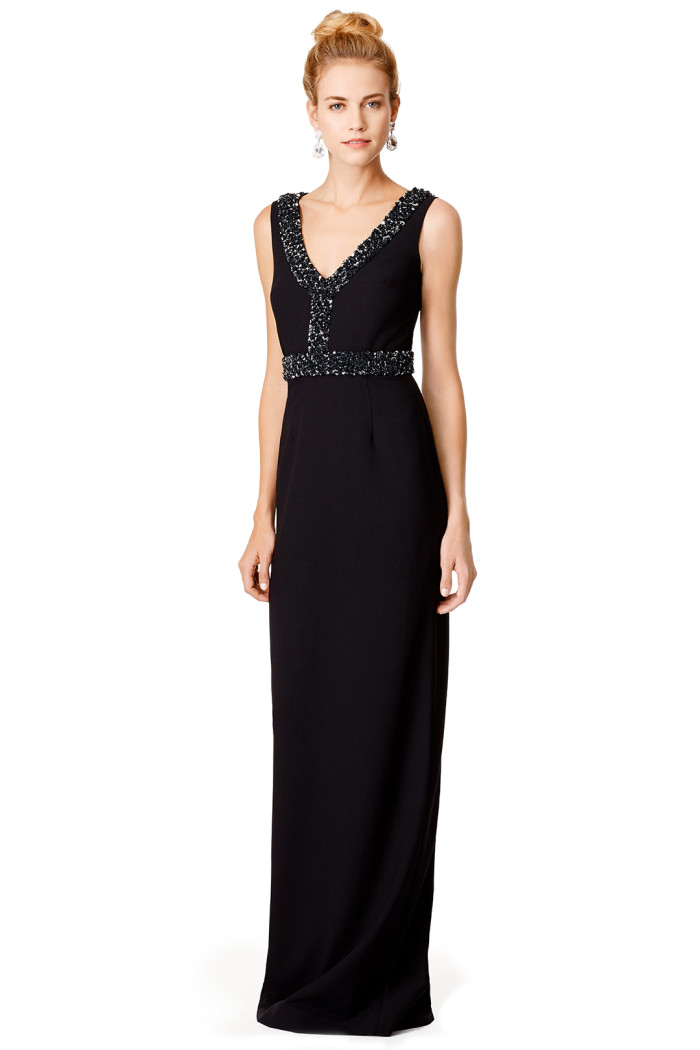 Embellished black gown at Rent the Runway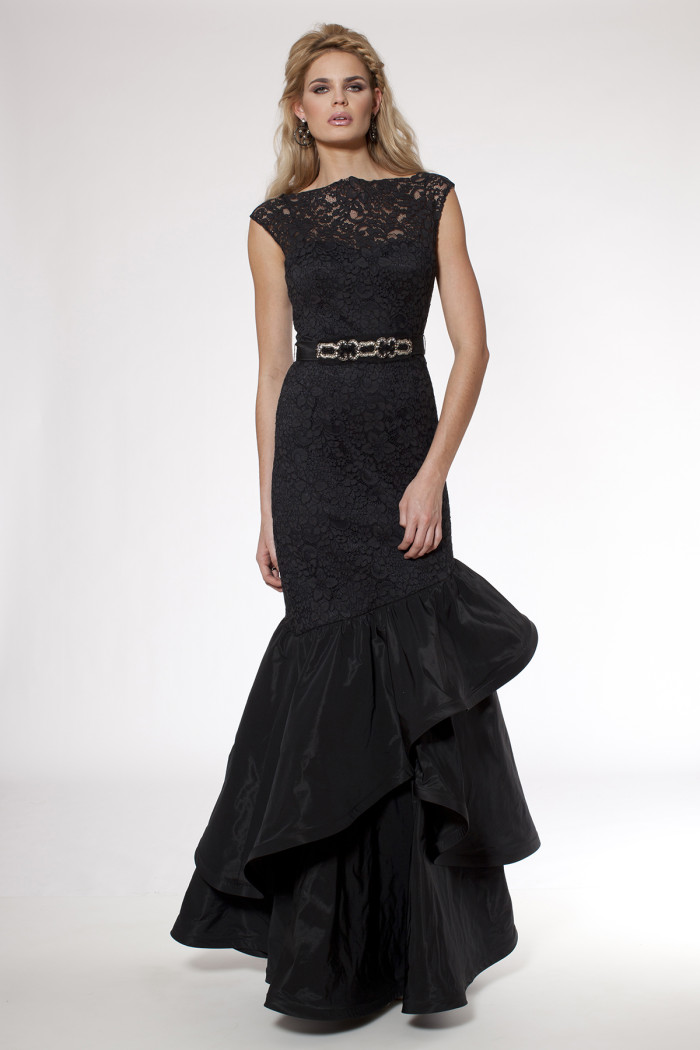 Belted lace and taffeta black ballgown from Teri Jon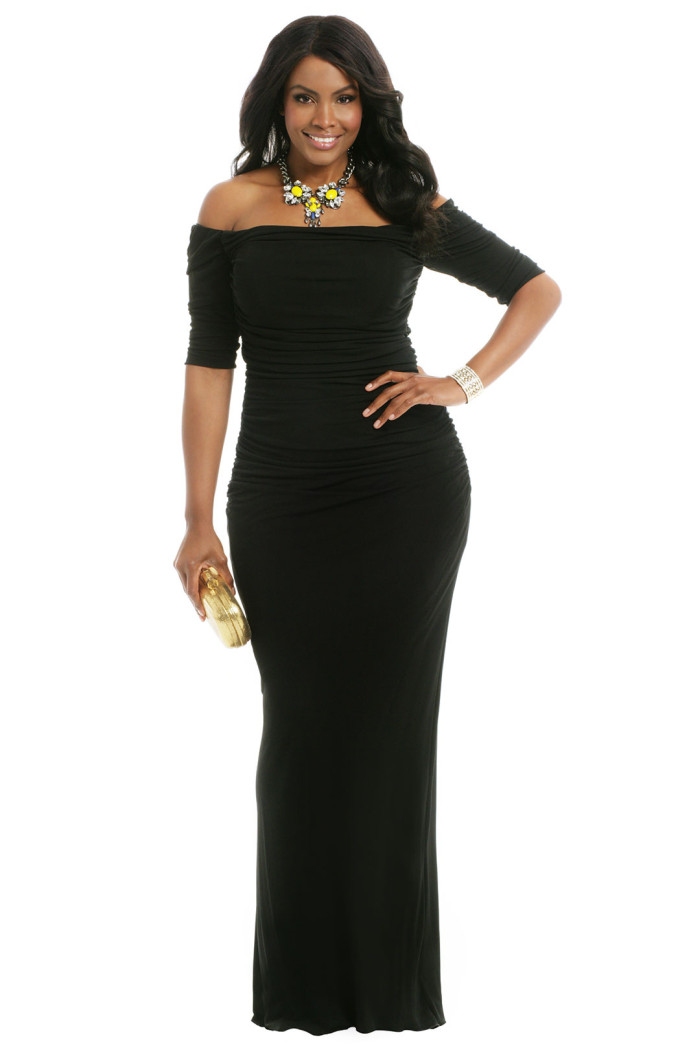 Off-the-shoulder Badgley Mischka gown at Rent the Runway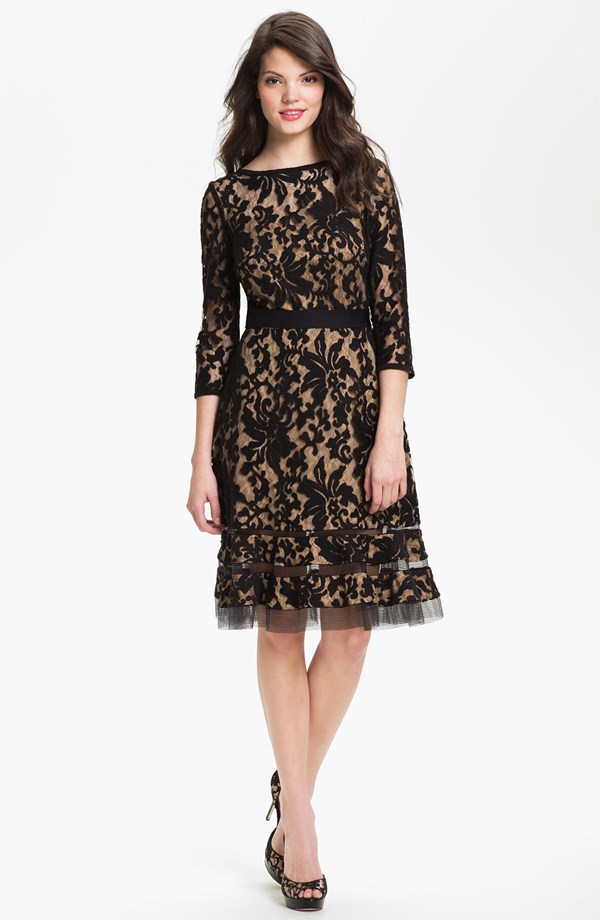 Black lace Tadashi Shoji Cocktail Dress
More black dresses for the Mother of the Bride or Mother of the Groom at Nordstrom
Don't forget to follow my Pinterest Boards, to be able to search, find, and share your Mother-of-the-Bride dress ideas with the couple!