Outfits for Mothers of the Bride and Mothers of the Groom
This look at wedding outfits for Mothers-of-the-Bride and Mothers-of-the-Groom, is a partnered post that has been generously sponsored by BHLDN.
We're continuing our BHLDN series dedicated to styling the Mother-of-the-Bride and Mother-of-the-Groom with today's post which focuses on styled outfits for mothers in the wedding!
Dress for the Wedding is known for creating collages, and there's a reason for that:  when I worked in a boutique, one of the comments I frequently heard was: "I like this dress, but how would you accessorize it?" For special occasions, many people like to visualize a whole outfit from the accessories to the shoes, and I especially find that many Mothers of Brides and Grooms want a total look created for just them, so that they feel perfectly put together for their son or daughter's big day!
BHLDN makes finding a beautifully coordinated wedding outfit quite easy because of the cohesive style within all of their collections. Their selection of accessories is especially easy to mix-and-match between pieces. Here are 3 looks that work for either a Mother-of-the-Bride or Mother-of-the-Groom, shown with accessories I've personally picked to perfectly compliment each look.
Tea Length Dress and Accessories for the Mother of the Bride or Mother of the Groom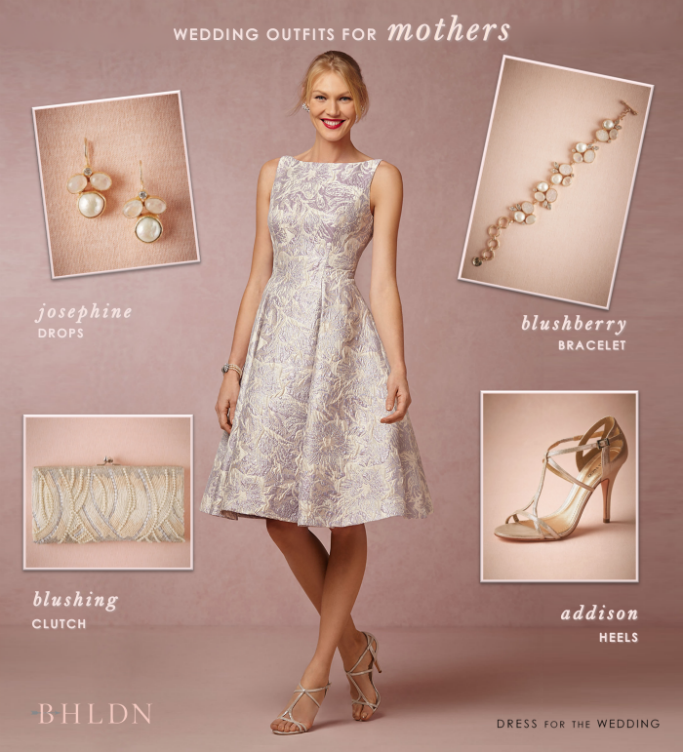 Dress: Ida Dress | Earrings: Josephine Drops | Bracelet: Blushberry Bracelet  |  Heels: Addison Heels | Clutch: Blushing Clutch 
I love this tea-length or midi-length style, and from the response when I've shared this dress as a pin,  it appears that many of my readers do too! This length is both elegant and unexpected, and the faint lilac jacquard is rich and regal. As another option for those who love this silhouette,  the Becca Dress also features this chic length. Both dresses are ideal for a morning or afternoon wedding.


Ice Blue Dress and Accessories for the Mother of the Bride or Mother of the Groom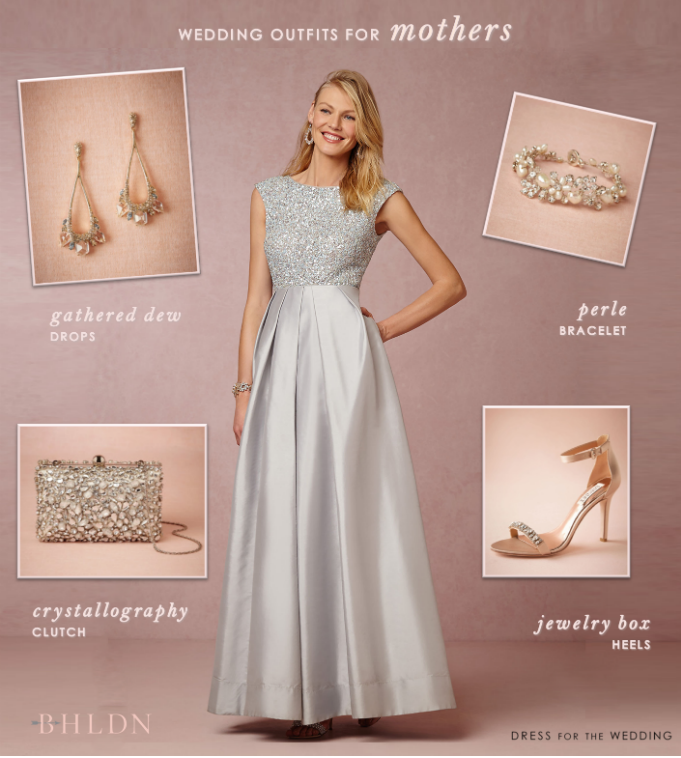 Dress: Azalea Dress | Earrings: Gathered Dew Drops |  Bracelet: Perle Bracelet  | Heels: Jewelry Box Heels  | Clutch: Crystallography Box Clutch 
A light blue gown is a favorite choice for many Mothers-of-the-Bride or Mothers-of-the-Groom, and the Azalea Dress from Aidan Mattox brings the pale blue gown into the modern age. This beautiful gown in ice blue is an exclusive color to BHLDN, and has a beaded bodice and a gorgeous taffeta skirt with pockets. Sparkling crystal accessories with touches of neutral warm tones accentuate the color and dazzling qualities of the gown.


Burgundy Gown and Accessories for the Mother of the Bride or Mother of the Groom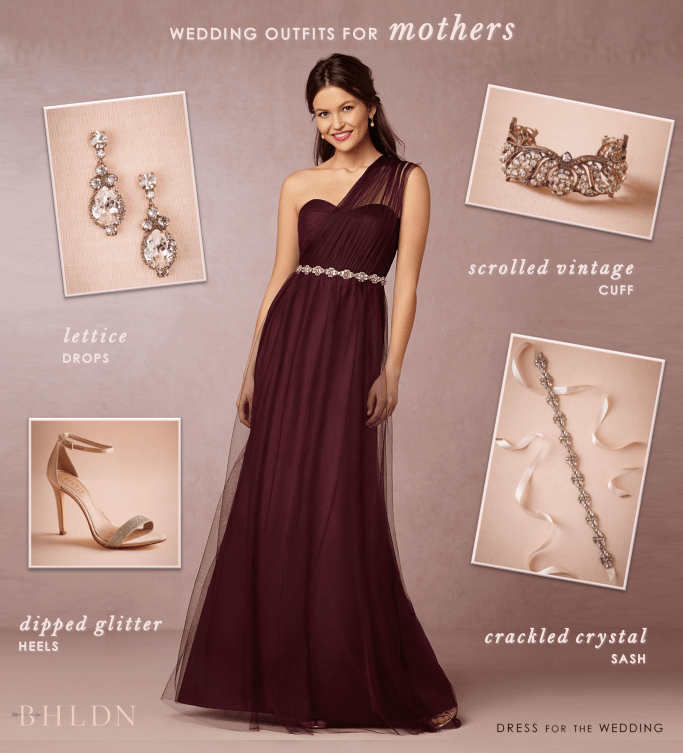 Gown: Annabelle Dress in Cabernet | Earrings: Lettice Drops  | Bracelet: Scrolled Vintage Cuff  |  Sash: Crackled Crystal Sash | Heels: Glitter Dipped Heels
One of my favorite gowns to recommend for bridesmaids also makes the perfect Mother-of-the-Bride dress. The Annabelle Dress is a convertible dress that allows the wearer to configure the neckline and sleeves in over 15 different ways. A one-shoulder tying option is shown here, but the tulle panels can be used to create  open sleeves, shoulder-skimming straps, deep v- necklines, and many other styles. This gown comes in 11 colors at BHLDN, and the Cameo Pink and Cashmere Annabelle dresses can also be paired with a Camille topper for the option of a lace bodice with sleeves. I love this deep burgundy color for a mother in a fall or winter wedding. The look gets even more glamorous and romantic when paired with a crystal sash and antiqued crystal accessories.


More ideas ...
I hope these styled looks have given you some great ideas for your own Mother-of-the-Bride or Groom ensembles.  If you want a few more ideas, be sure to see last week's feature on Mother of the Bride Dresses with Sleeves, and check back next week for more looks from BHLDN!
Please also take a look at the full offerings at BHLDN for more ideas for mothers' attire, and also take a peek at our partnered BHLDN Pop-up Shop for Mothers which features many of the styles we're highlighting in this series!