A curated collection of sequin, beaded, and solid color rose gold bridesmaid dresses for weddings chiffon, silk, and other special occasion fabrics.
Affiliate links are used in the shopping links in this post, meaning this blog may receive a commission from our sponsors at no cost to you, if a qualifying purchase is made.
Rose Gold Bridesmaid Dresses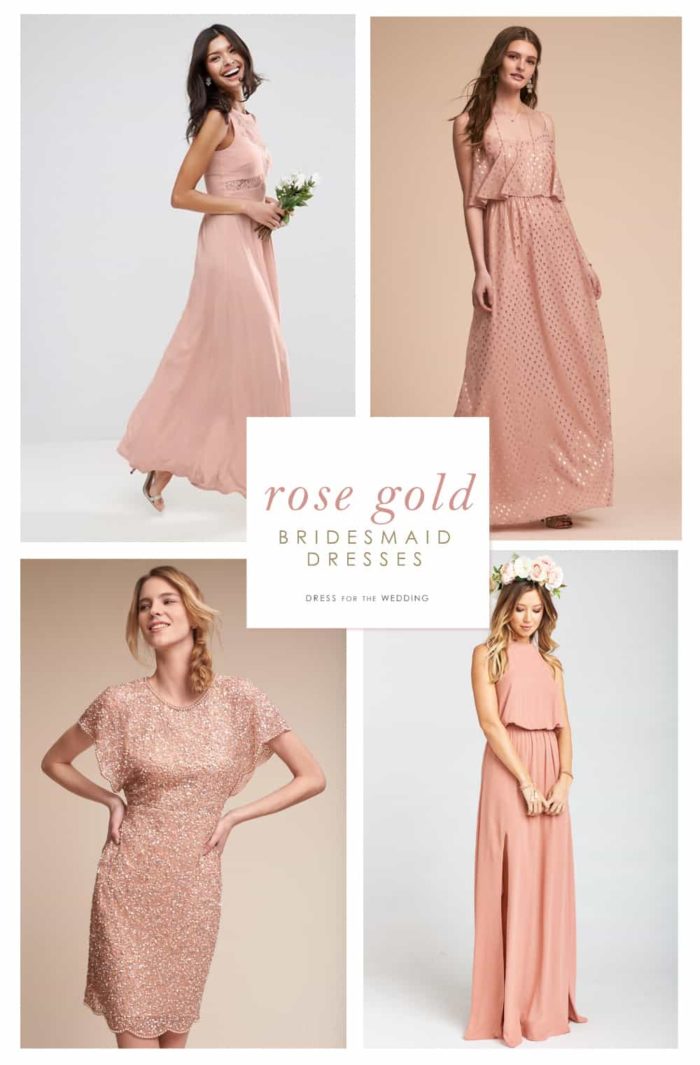 1/ ASOS WEDDING Lace Top Pleated Maxi Dress 2/ Paris Dress from BHLDN 3/ Elin Dress from BHLDN (Out of stock at BHLDN, but available now at David's Bridal ) 4/ Heather Halter Dress in Rustic Mauve Crisp from Show Me Your Mumu
Well, since I first wrote about this single rose gold bridesmaid dress, the rose gold bridesmaid dress trend has definitely continued, and it is still going for the foreseeable future at weddings. If you are looking for a sequin bridesmaid dress in peach or rose gold, please check out these individual posts featuring a peach sequin bridesmaid dress and rose gold sequin bridesmaid dresses, but also take a look at some fresh picks for rose gold bridesmaid dresses that we've added to this post.
Shop Rose Gold Dresses

Where to Find Bridesmaid Dresses in This Color
The best places to look to find gorgeous rose gold bridesmaid dresses in metallic copper, rusty rose, or rose gold, are:
More Rose Gold Dresses to Inspire Your Wedding Look:
If you are looking for a rose gold bridesmaid dress for your wedding party, I suggest the following beauties!
A Boho Style in a Rustic Rose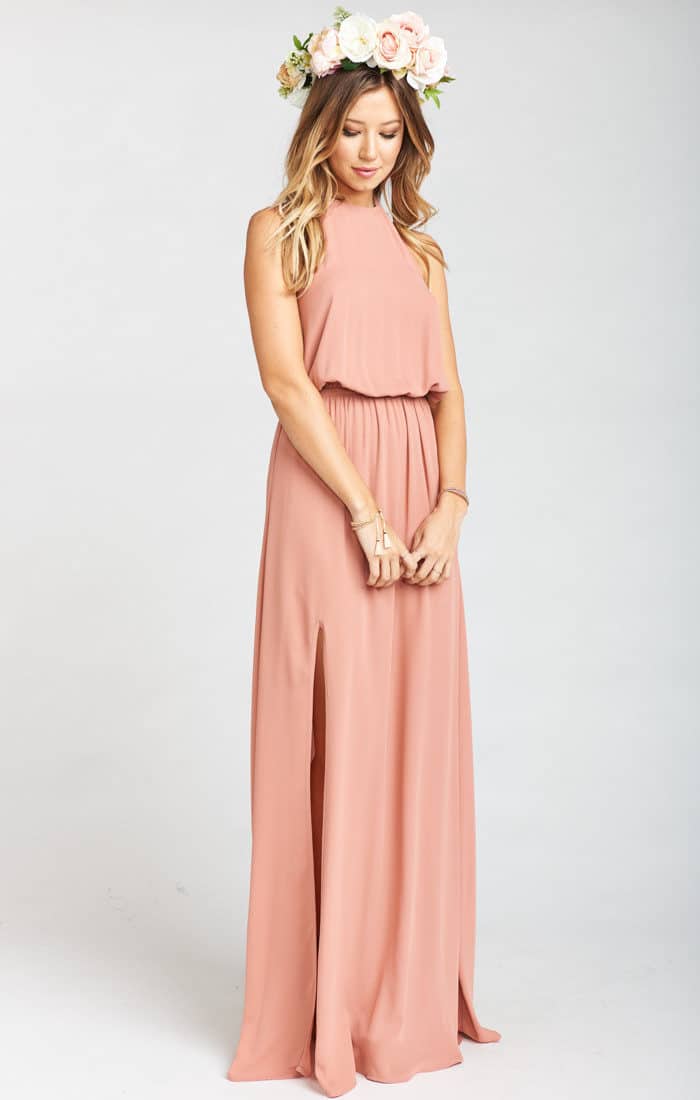 Heather Halter Dress in Rustic Mauve Crisp from Show Me Your Mumu
Lace Rose Maxi Dress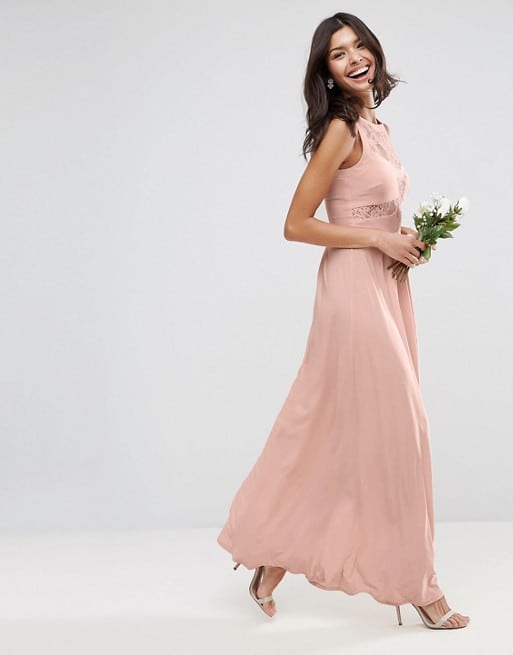 ASOS WEDDING Lace Top Pleated Maxi Dress
Rose Colored Chiffon Maxi Dress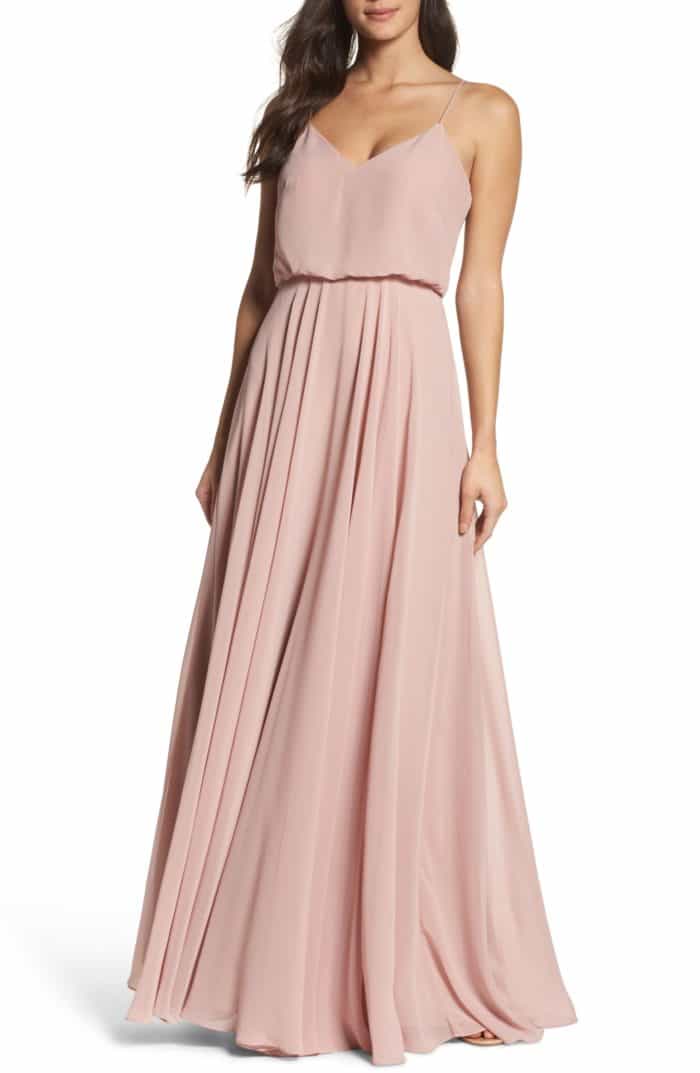 Inesse Chiffon V-Neck Spaghetti Strap Gown by Jenny Yoo
Sequin Bodice Dress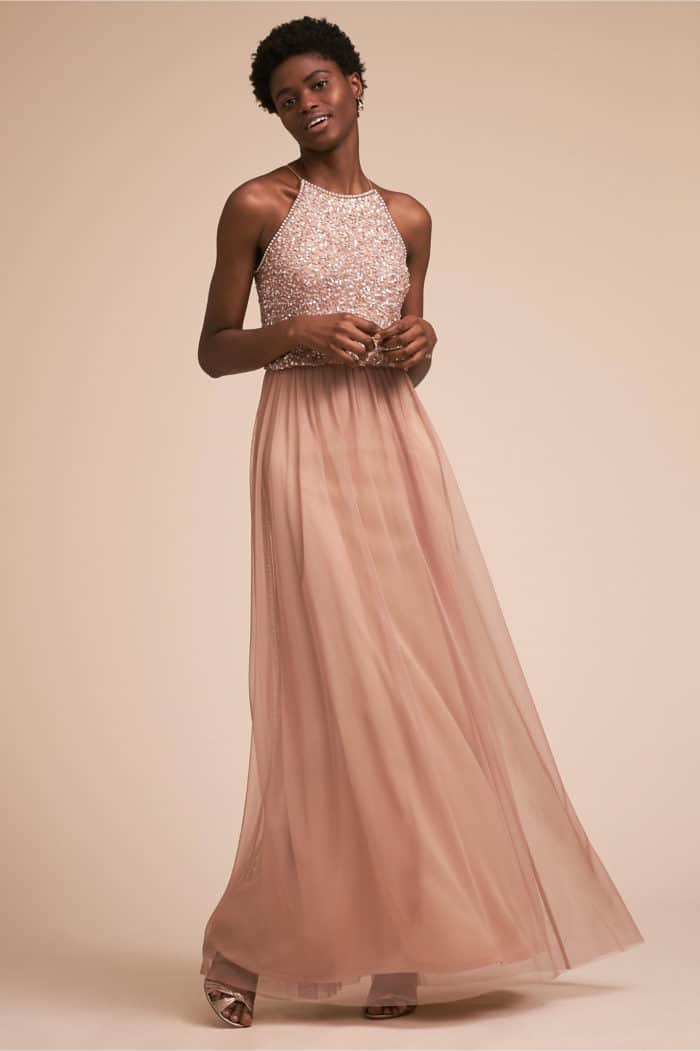 A Short Rose Gold Look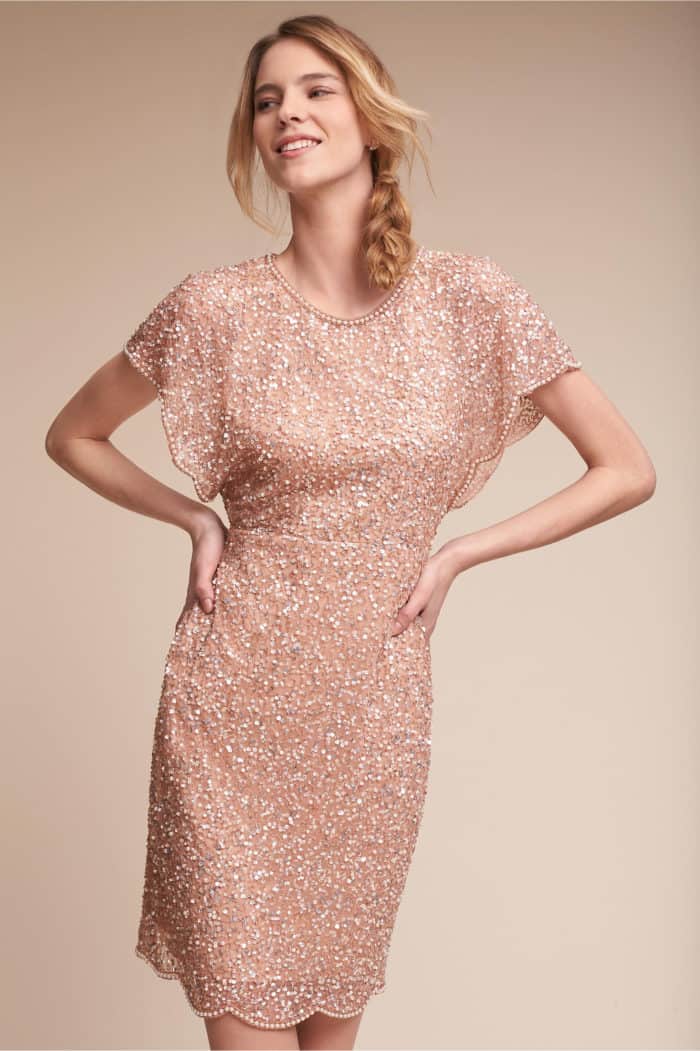 Metallic Rose Gold Lace Bodice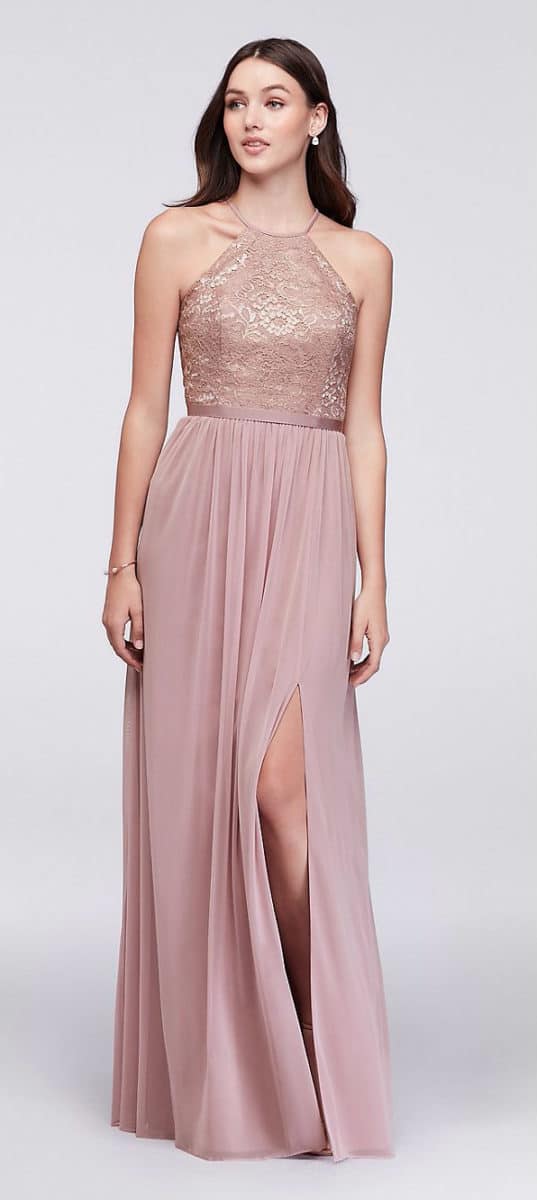 Open-Back Metallic Lace and Mesh Bridesmaid Dress from David's Bridal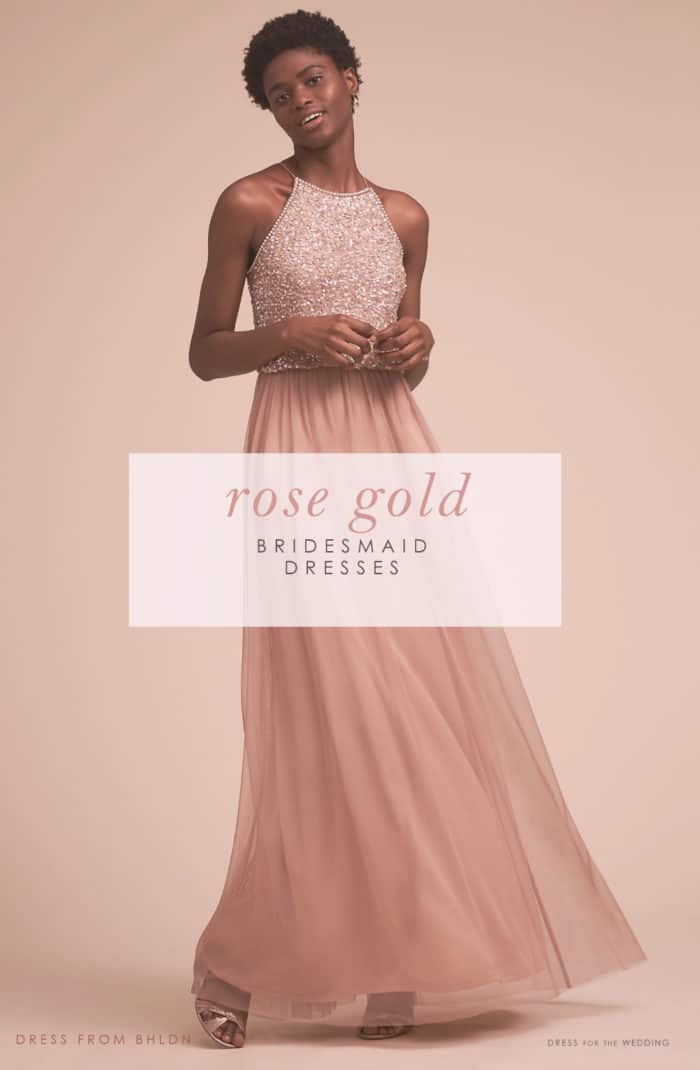 Rose Gold Bridesmaid Dress Ideas
For more ideas for how to style your bridal party with rose gold or copper look, Please also check out these related posts:
Peach, Cream, and Blush Mix and Match Bridesmaid Dresses
Blush and Gold Bridesmaid Dresses
Copper and Rose Gold Bridesmaid Dress Outfit Styling Idea
[Note: This is the original post from 2013, so if it seems dated, you'll know why!)
I've officially heard that metallics are a big trend for bridesmaid dresses this season, and I couldn't be happier! I love gold and silver, but some of my new favorite metallic colors for fall have been copper, bronze, and rose gold. That's why when I saw this rose gold hue from J.Crew called Mauve Blush, I knew I wanted to feature it! (Sadly J.Crew discontinued their bridesmaid dress line in 2016, but there are still plenty of places to get this rose gold look!)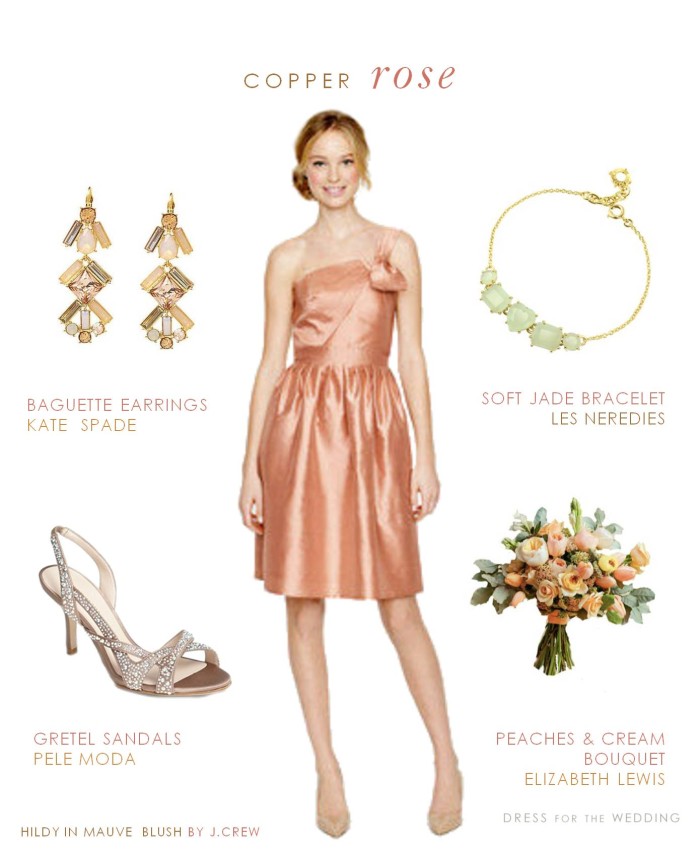 Hildy Dress in Mauve Blush by J.Crew/ Kate Spade New York Baguette Bridal Earrings in Blush Multi Gold / Les Nereides Bracelet /Bouquet: Peaches and Cream Wedding Bouquet by Elizabeth Lewis Floral Design. Elizabeth Lewis from The Nouveau Romantics Photography by Stephen Karlisch /Ribbon: Ribbonerie /Original Publication Credit: Southern Living Weddings Magazine, 2013 / Pelle Moda "Gretel" Sandals
More style ideas you might enjoy :