Dark Blue and Green Dress for a Wedding Guest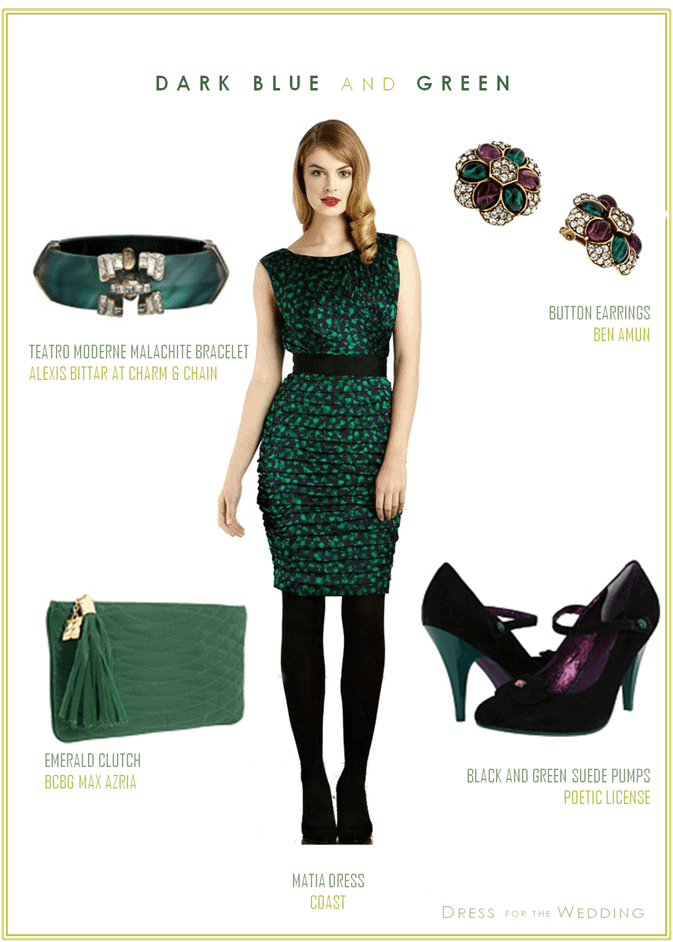 Coast Matia Dress
/
Ben Amun Button Earrings with Amethyst and Green Stones
/ 
Poetic Licence "Collectors Item" Black Suede Heels
/
BCBG Max Azria Ana Clutch in Emerald
/ 
Alexis Bittar Teatro Moderne Gold Center Stud Malachite Bracelet
Dark Green and Blue Coast Dress for a Wedding
I  do seem to be featuring a lot of blue or green dresses for fall lately, but apparently that's not going to stop me from featuring one (or several) more!) I came across a whole bunch of great dresses at Coast, and this one, called Matia, really caught my eye.  It's a blue and green cocktail dress - which could go more dressy casual if you put more casual accessories with it.  By the way, while we're talking about my posting habits, I seem to feature a lot of cocktail dresses and dressy casual dress , too! but I do that because really feel that a cocktail dress is probably the dress of choice for 80% of wedding invites. ( I arrived at that very unscientifically, by the way.) This dress reads as emerald green but really has a background of navy with flecks of green, green-ish blue and black, making it a great dress to pull lots of colors from.
I like how they've shown it with opaque black tights, and I picked a black shoe with some emerald green to it , and some emerald green accessories.  I think it's perfect for a fall wedding, and will probably be your go-to party dress for several other occasions afterward, including those upcoming  holiday parties!
By the way, Coast is based in the UK, but there are a few stores in the US and they do ship to the US within 6 days or so, you just need to set the shopping basket to the US our your particular country setting to find the correct pricing and sizes.