If you're thinking of having sage green as a wedding color, this post is for you! We've created a shoppable post of some of our favorite sage green bridesmaid dresses, invitations, decor ideas, as well as a few tips for how to incorporate sage green as a wedding color.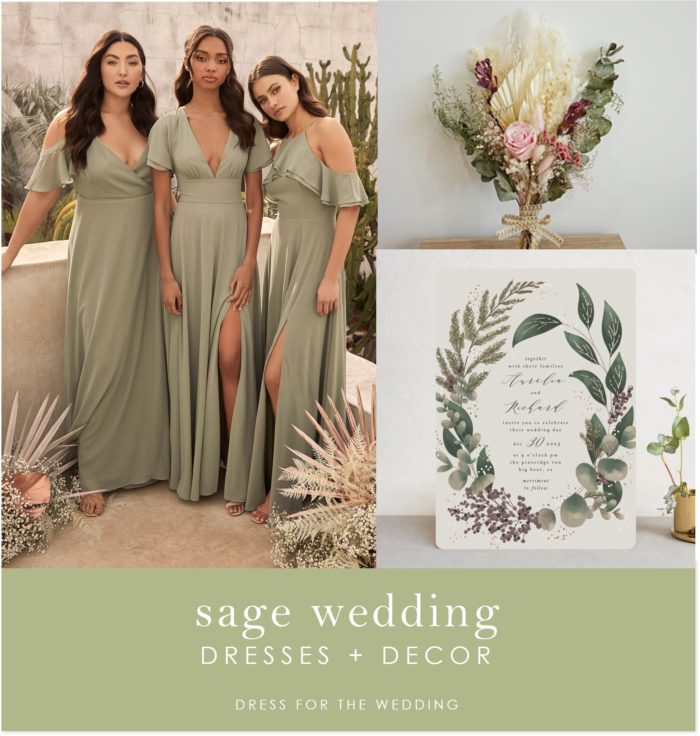 Image and product sources 1. Sage Green dresses from Lulus 2. Evergreen Invitation from Minted 3. Floral Bouquet fromFEverBloom on Etsy
Sage Green Wedding Ideas
A pretty pale sage green is an amazing wedding color on its own, or to pair with another shade. Because it's such a natural and muted color, it pairs well with so many other shades like soft dusty rose shades, peach, pink. light blues, gray, ivory, beige, and even lavender - just to name a few!
In this post, we're just sticking to the main shade of pale sage green, but it absolutely mixes well with these other shades.
Shop the Color Scheme
Here are our picks for all things for a sage green wedding. Below the shop section, we have some more tips for ways to use this color in your wedding! Affiliate commission links are used in this section and in most parts of the posts, where products are linked to.

How to Incorporate Sage Green in Your Wedding
Here are a few ways to use sage green in your wedding in addition to the bridesmaid dresses!
In the bouquets, by bringing in soft green florals like lamb's ear, eucalyptus, or other greenery. Your florist will have ideas, of you can go faux like the bouquets above from Etsy.
Tying that bouquet with sage green ribbon, and using that ribbon accent elsewhere!
Have the groomsmen or other attendants wear ties or socks in this color
Use green in the table decor by bringing in linens or elements like green vases, bottles, glassware in addition to using the
In addition to the invitations, this color can be used the paper goods, wedding signage, and programs
In the favors, and places settings by giving little potted succulents or other plants in this shade, or buying candy and wedding favors in this color
Signature drink that might have a hint of the taste of sage! Here's one sage cocktail recipe to try!
As an accent color on your wedding cake!
Choose a soft pale green stone or bead in the accessories or jewelry that you or the attendants wear.
Sage Green Wedding Attire
This season, we're seeing sage green in lots of dresses that are available off the rack (as opposed to it being a special order bridesmaid color! If you want dresses that will ship quickly, see these styles from Lulus and BHLDN, and Show Me Your Mumu. As you'll learn by looking at our dress picks, sometimes the sage green color family goes by other names as well. We have seen the global sage color also called everything from moss green, olive green, to mint, eucalyptus, or even seafoam. For instance, BHLDN has dresses in a shade they are calling Moss, which would certainly still work as a dark shade of sage. To us, the color sage green can have several undertones go from an almost silver-green in some styles to a mint blueish green, to a yellowish-pale green like the Lulus dresses.
More Wedding Ideas
The ideas are boundless -- but remember -- you might want to also have a second and third color as an accent to break up the green a bit.
For more ideas check out our picks for green bridesmaid dresses, green mother of the bride dresses, as well as these green attire ideas!
You might also like our other post about Eucalyptus wedding ideas that has some overlap with this color scheme or see our ideas for modern weddings.
This collage originally appeared on our LiketoKnow.it feed. Follow us for more wedding ideas, we often create daily wedding posts and have more shoppable wedding ideas there!