Dresses for Wedding Guests for Spring 2015
Attending a wedding this spring? Here are 8 lovely wedding guest dress picks to wear to every sort of spring wedding!
Please note, this post was written so many of the dresses in the original collage are out of stock, but I have updated the dresses below with currently in-stock picks for weddings. Also visit this page to see our latest Spring Wedding Guest Dress Picks!
Shopping sources on this site use affiliate links, which means this site may earn a commission if you make a purchase from our links.
Shop The Look

Shop Spring Dresses for Guests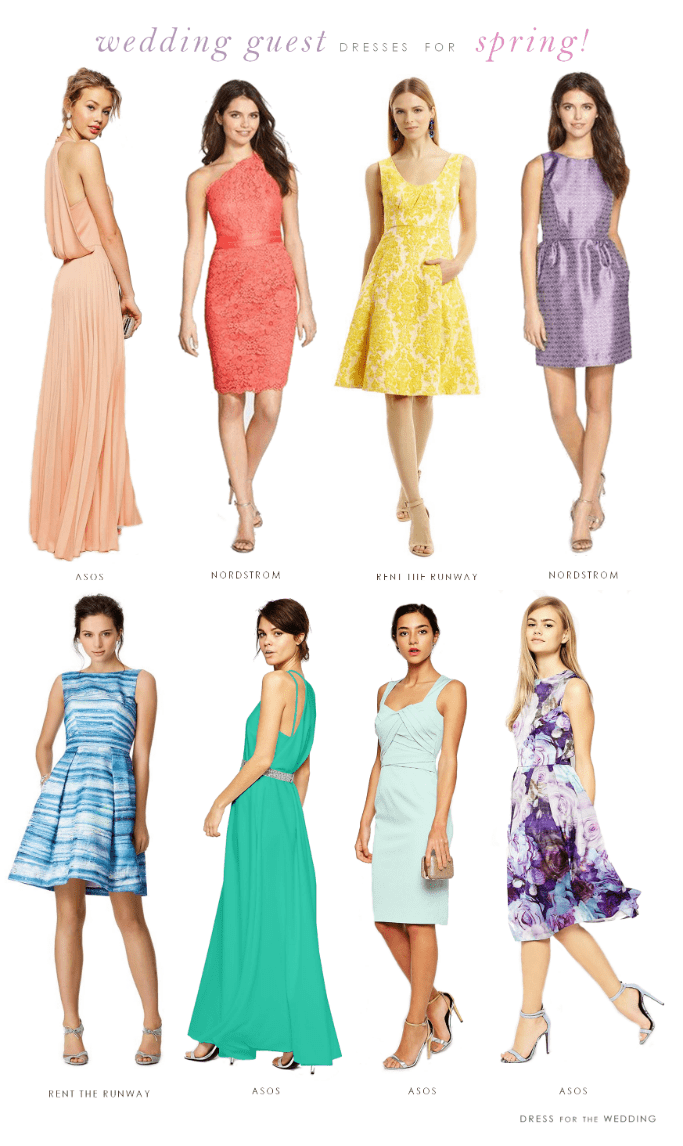 Source and shopping links are from affiliated sponsors. Top row: 1. Asos Maxi Dress 2. Coral Lace One-Shoulder Dress from Nordstrom 3. Tracy Reese Honey Jacquard Dress from Rent the Runway 4. Winnie Bow Back Metallic Dress by Erin Fetherson
Bottom row: 5. Theia Blue Gradient Dress Rent the Runway 6. ASOS Drape Back Maxi Dress in Atlantis Green 7. Coast Brice Dress at ASOS 8. Floral Dress from ASOS (Also visit this page to see our latest Spring Wedding Guest Dress Picks!)
Women's Dresses for Spring Weddings
I can practically hear the soft thud of wedding invitations hitting your respective mailboxes this time of year! Wedding season is upon us. You're probably just now saving dates and RSVPing to April, May, and June weddings and possibly wondering what to wear.
As usual, I will be with you all throughout wedding season finding wedding attire ideas and keeping the shop section stocked with dresses. Pretty spring dresses are arriving in stores every day! Even though its still early, I can say without hesitation that this year's guest of wedding dress selections are just lovely! I've picked 8 spring dresses above that have already found their way to the top of my own must-have list. Also check out the current picks for 2018 Spring Wedding Guest Dresses
Pretty Spring Dresses to Wear as a Wedding Guest
These guest dresses are among my favorites because of their general loveliness and their suitably for weddings across the board. If you have a daytime wedding or a wedding with a dressy casual or casual chic dress code, or a bridal shower to attend I love light dresses like #3,the Honey Jacquard Dress , #5 the Blue Gradient Dress by Theia (Both for rent from Rent the Runway) or that pretty #6 the floral dress from ASOS. The pretty pale blue Brice Dress at ASOS could also work for a daytime wedding or for late afternoon into evening because of the tighter cocktail styling.
Semi Formal Spring Attire
For more semi-formal picks where cocktail attire is the best choice, you can add some dressy accessories to the more casual dresses, or step it up a notch and pick the lace coral dress coral lace dress or that lovely purple bow back dress . If you have a formal wedding, or just want to wear a longer style to a semi-formal wedding, try either one of those maxi dresses. Dress them down for a beach wedding or semi-formal wedding, or dress them up for a formal or black tie event. Those maxi dresses are suited to so many settings!
Daytime Spring Wedding Attire
I hope I've helped a little on your search for what to wear. If you need more inspiration, check out these recent looks as well as the shop! You can search by semi-formal and cocktail attire, daytime casual chic attire, and maxi dresses and formal evening gowns.
More looks you might love:
What to Wear to a Spring Wedding - our latest Spring Wedding Guest Dress Picks
Shopping sources and links in italics and in the shop section are from affiliates and sponsors, meaning that this blog may earn a small referral commission from the retailer, at no cost to the purchaser, if a qualified sale is made.