This shopping guide post will help you find the perfect dress or outfit for a very important member of the family - the grandmothers of the bride (and grandmothers of the groom). We'll show you some of our favorite styles for grandmothers, with details of where to shop for grandmother-of-the-bride dresses and more pretty special occasion styles!
Commissionable links are used in this post.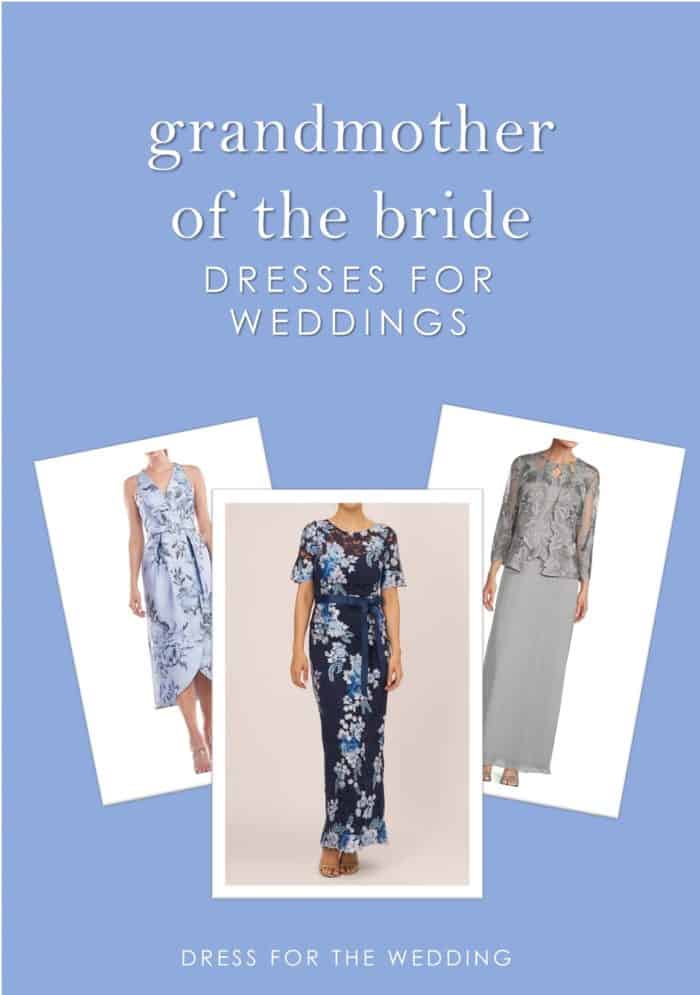 Image credits and shopping sources for dresses: 1. Floral V Neck Dress from Dillard's 2. Embroidered Navy Lace Gown by Adrianna Papell 3. Alex Evenings Round Neck Lace Dress with 3/4 Sleeves and Jacket from Dillard's
The Best Grandmother of the Bride Dresses
The grandmother-of-the-bride or grandmother-of-the-groom certainly has a special role in a wedding! We focus a lot on mother-of-the-bride attire in our styling ideas, but we also want to focus our attention on this special member of the wedding party!
Commission links are used in the shopping sources in this blog.
Where to Shop + Find Dresses for the Grandmother of the Bride or Groom

If these picks aren't a good fit, you can also always "borrow" from our Mother of the Bride dress suggestions, We have organized these by color, and season.
Sequined Red and Burgundy Pink Coral and Peach Gold Yellow
Light and Dark Green Light Blue Dark Blue and Navy Purple
Silver and Gray Gold, Taupe, and Neutral Black
Plus Size Short Sleeve Long Sleeve With Jackets
What Should a Grandmother Wear to Her Granddaughter's or Grandson's Wedding?
So, what should a grandmother wear to her granddaughter's or grandson's wedding? Whatever she likes, that is within the wedding dress code and something that you feel lovely in. You'll want to keep in mind, that usually the grandmother of the bride or groom is in pictures and considered an extended member of the wedding party. However, grandmothers usually won't have to coordinate her outfit to the extent that the mothers in the wedding usually do. In some cases, however, the couple or parents of the couple want a cohesive style for all family members, and they will suggest a particular color scheme or style for your outfit.
In our experience, the grandmother is in several roles; that of honored guest, head of the family, and a member of the extended wedding party so you may want to just double-check the wedding's dress code before selecting a dress, pantsuit, or gown, and perhaps communicate some of the dresses you're considering with the mother of the bride, mother of the groom, or couple.
However, we know that many grandmothers just select something they love, and wear a suitable outfit, without too much worry about coordinating with the entire wedding party- and that's often the perfect solution!
If you are seeking a dress or outfit, many mother-of-the-bride dresses will work just perfectly for a grandmother of the bride, however, sometimes grandmothers prefer a few extra elements in their attire! We get lots of requests for dresses with jackets, sleeves, easy-to-wear styles, and separates - pantsuits or skirts, and tops! Choose something that you feel comfortable in, both from the perspective of easy-to-wear and something that suits your personality!
When it comes to dress length and formality, some grandmothers find a shorter dress or petite style is easier to manage than a long gown. Midi-style dresses, cocktail dresses, and formal long gowns are all perfect choices for weddings - just choose the hemline and silhouette that best suits you.
Wedding Attire Guidelines for Grandmothers of the Bride
For a formal or semi-formal wedding, grandmothers may choose a formal gown, a longer style dress, or an elegant suit-like style.
For a casual wedding, a dress is still appropriate, as is a pantsuit, skirt and blouse, or dress and jacket combination! When in doubt, check with the couple on the dress code and colors or themes you might want to include in your attire.
Whatever you wear, you'll want to choose something that suits your personal comfort and style as well as the dress code for the occasion!
Some of our attire tips for mothers of the bride may help narrow it down! Again, you may also want to choose your colors to be harmonious with the mother of the bride and the wedding party.
Elegant Special Occasion Dresses for Grandmothers
Here are some styles we recommend for grandmothers of the wedding for the current season.
Beaded Dress
This beaded mid-length dress with short sleeves is a great choice for grandmothers. We love the length and beaded details, and this brand - Pisarro Nights - is one of the best for beaded dresses!

Short Dress with Jacket
A short dress with a jacket gives an easy-to-wear length with the comfort of having a jacket that can be removed for dancing or in the event of hot weather, or a jacket to provide a little extra coverage for cool weather or church ceremonies. Here are more dresses with jackets that work for mothers and grandmothers.

Pantsuits
Special occasion pant suits often come with a matching jacket or flattering top. This comfortable and easy-to-wear style is popular with grandmothers who prefer pants or a suited style. It's also a great look for a more casual venue, although certainly most of these jumpsuits are formal enough for even an evening wedding. Just adjust your accessories to be more casual for a daytime wedding, and more formal for the evening.

Cocktail Length Dress
A great cocktail dress goes everywhere, especially for a grandmother's outfit. Perfect for daytime or casual weddings, all the way to evening a classic cocktail dress can be an excellent pick for a grandmother of the bride to wear.

Formal Styles
Formal styles with a bit of a sleeve or cape are a popular choice for grandmothers attending black-tie or formal weddings. We love these styles that have a bit of embellished lace top and a beautiful skirt with clean lines.

Midi Length Style With Cape and Godets

Louisa Dress from AW Bridal in Dusty Rose
Mid Length Dress with Matching Jacket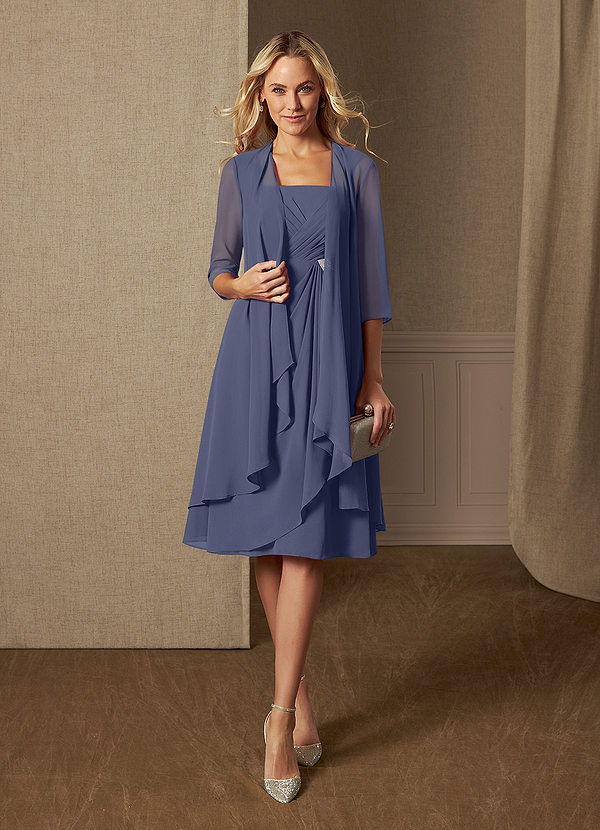 Olivia Dress by Azazie
Modern Mid-Calf Dress in Gorgeous Colors

Romula Dress by AW Bridal
Formal Gown with Cape

Luster Dress by AW Bridal
3/4 Sleeve Gown with Twist Waist Detail

Caesar Dress in Mist by AW Bridal
Embellished Top Chiffon Gown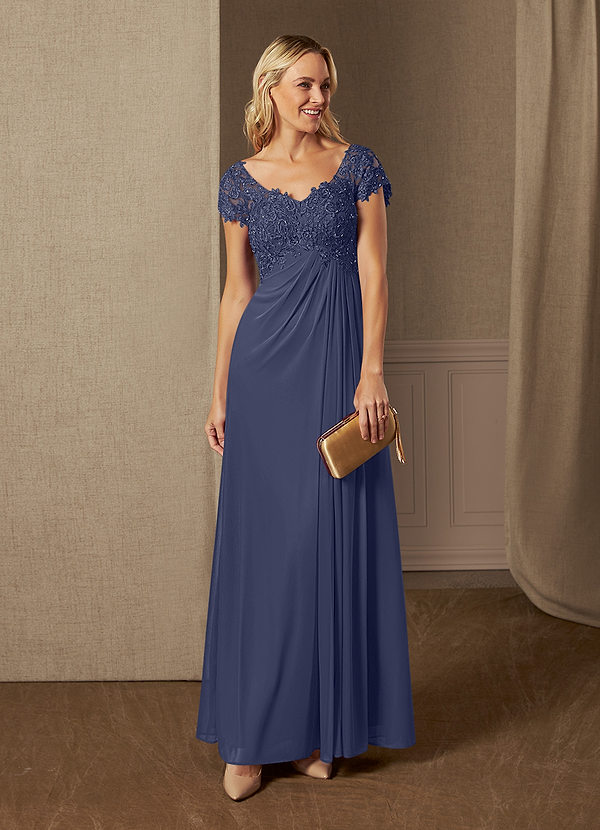 Macy Dress by Azazie
Top Designers for Grandmother of the Bride Dresses and Outfits
We see a lot of dresses for weddings, so we have seen up close which designers we feel do an excellent job of creating beautiful and elegant special occasion dresses for grandmothers of brides and grooms. Here are a few designers we recommend taking a look at in your search:
Nordstrom, and Dillard's, and always have a great selection of these special occasion dresses!
This post was originally created in December 2017, and last updated in June 2023.
Suggested Dresses from Past Seasons
Here are some of the dress finds and ideas we've featured and linked to in the past, that may now be out of stock. We've kept them here for continuity in case you are visiting this page looking for these dresses since sometimes these dresses will come back in stock.
Taupe Midi Dress with Jacket by Alex Evenings. This Midi Dress & Jacket from Nordstrom would be lovely on a grandmother of the bride, or a mother of the bride
A pink lace embellished gown with Jacket Emma Street Lace 2-Piece Jacket Dress from Dillard's
For a black-tie wedding, this elegantly draped gown with long sleeves and an illusion neckline by Alex Evenings comes in navy or a violet color.
This fantastic navy blue lace pantsuit with jacket. Guipure Lace and Chiffon Plus Size Pant Suit from David's Bridal
Midi length embellished and sequined Mesh Gown with long sleeves by Pisarro Nights from Nordstrom
A light blue gown with two Piece Jacket Dress with Sequin Lace Jacket by Emma Street from David's Bridal
A neutral lace mid-length dress with matching jacket Alex Evenings Plus Sequined Lace Tea-Length Jacket Dress from Dillard's
A black gown with Textured Metallic Top and Jacket Plus Size Dress with Jacket | David's Bridal