Gray Ties for Groomsmen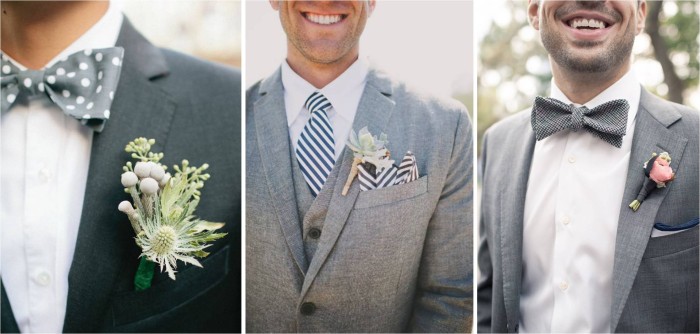 Gray Polka Dot Tie and Pretty Boutonniere on Ruffled Photo by Shannen Norman of Shannen Natasha Weddings | Striped Tie and Pocket Square Image by Heidi Ryder | Gray Bow Tie and Pink Boutonniere on Ruffled Photo by MGB Photo
Grey Ties for Weddings
There have been some great posts on gray color schemes this week, like this marbled grey and auburn inspiration on Burnett's Boards and this Arizona wedding, with the most lovely gray dresses on Elizabeth Anne Designs, that have kept me busy with pinning images to my gray wedding ideas board on Pinterest. It also was Father's day earlier this week, which is usually a time when I do a lot of looks for the groom, father-of-the-bride, and groomsmen, but I just didn't get to it this year. So to make up for my lack of focus on the gentlemen who make up the wedding party, today I'm finally presenting another "ties for the guys" post.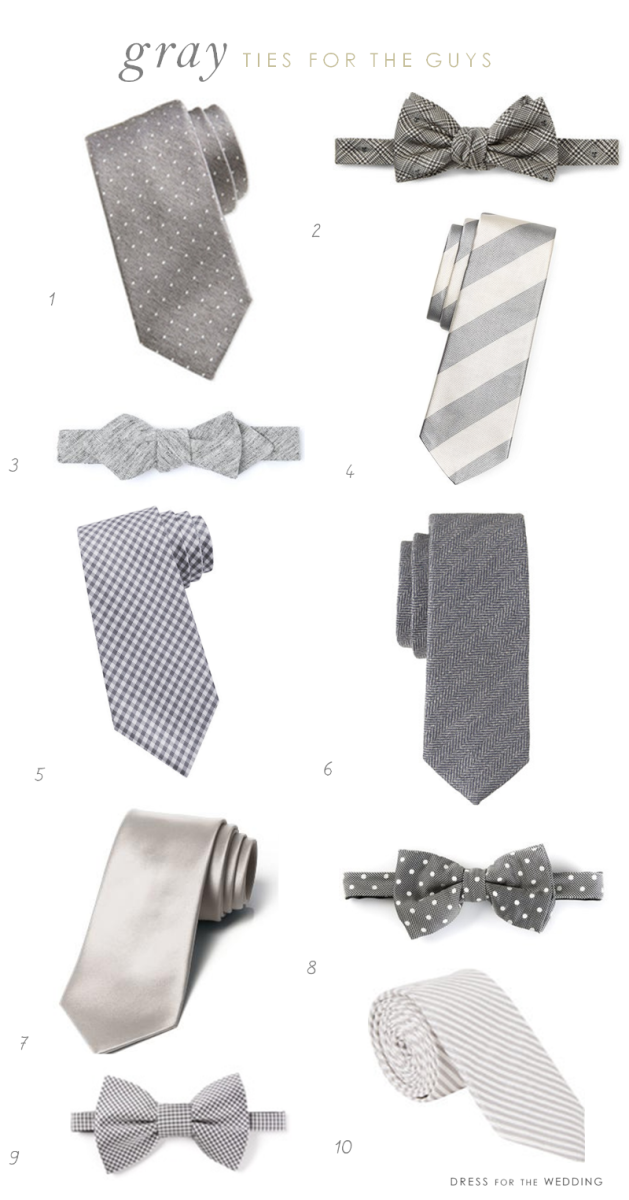 1. Hugo Boss Swiss Dot Tie in Gray and White at Neiman Marcus 2. Alexander McQueen Skill and Prince of Whales Bow Tie at Mr. Porter 3. Alexander Olch The Crisp Bow Tie in Dark Gray 4.Bold Stripe Gray and White Tie from Brooks Brothers 5. DKNY Silk Gingham Check Tie at DKNY 6. Cotton Tie in Grey Herringbone by J.Crew 8. Paul Smith Polka Dot Bow Tie 9. Lanvin Vichy Check Bow Tie 10. Barneys New York Seersucker Tie
Like clutches, you may have noticed I have a bit of a thing for nice ties. I have always loved picking them out for my dad for the typical Father's Day gift, and for my husband, but neither of them has much of an opportunity to wear a tie in daily life. Seeing some of the elegant gray grooms and groomsmen on the gray wedding inspiration, brought back my love of picking out ties. I love the patterns, textures and just the little bit of instant interest it adds to a look. If you want a traditional silk gray tie for your groom and his groomsmen Dessy and Ties.com and The Tie Bar are a few of my favorite spots to find those, but for this collage, I had some fun with texture! There's nothing more fun than a gray seersucker tie for summer, or a rich flannel tie for a winter wedding. I hope you find just the tie for your wedding party here!
Shop The Ties