There are so many pretty printed styles out there now, some are florals, some have a neat pattern like this, and some have that distinctly tropical look -- all  are perfect for outdoor summer weddings! I've added a few more of my favorite printed wedding guest dresses to the shop the post section below.
Affiliate links are used in this post.
Printed Dresses for Summer Wedding Guests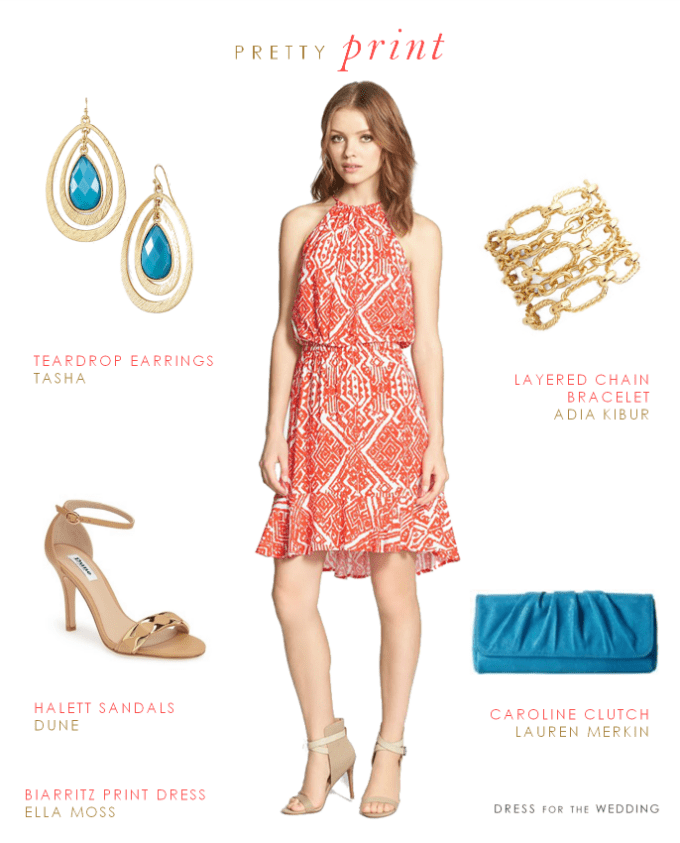 Biarritz Print Blouson Dress by Ella Moss at Nordstrom | Tasha Teardrop Earrings at Nordstrom, see another pair I considered here | Layered Chain Bracelet by Aida Kibur at Shopbop | Caroline Clutch in Turquoise by Lauren Merkin at Amazon  see another clutch I considered here | Hallett Sandals by Dune at Nordstrom
The shopping sources in this post use affiliate links, which means this site may earn a commission if you make a purchase from our links. 
Printed Dresses to Wear to Weddings

Printed Dress for an Outdoor Summer Wedding
I have a confession to make: before I started this blog, I didn't wear a lot of prints. Solid dresses, shirts, and pants were my standard default, especially with the conservative outfits I wore at my former job.  Now, through the process of creating these layouts, I've realized how versatile prints are and so I've added them to my own wardrobe and I've included more prints in my collages.  That's why I've selected this  pretty printed dress, because I think is a great choice for summer daytime weddings. This time of year, I can't stand to wear anything that is too tight, so breezy styles like this are exactly what I choose. .
How to Accessorize a Printed Dress for a Wedding Guest
With a print, it's easy to accessorize simply with neutrals or metallic jewelry; the print it self is usually enough of a statement. I actually kind of liked how this looked with all tan accessories, but at the last minute I decided to add that bit of blue. The other thing I keep discovering about my own style,  is how much I like wearing a bit of an unmatched look. For instance, I have a lavender clutch that I thought was just for one outfit, but I've been pleasantly surprised that goes with everything! It's great with navy, black, and every kind of pastel! If you're like me and get stuck in the matchy-matchy rut, try a little bit of color that seems arbitrary. You won't be sorry!
Casual Printed Dress to Wear to a June Wedding
So, do you remember a few weeks ago how I mentioned I was on the search for something to wear to a winery wedding? Well, it's coming up this weekend! The dress is casual, and from what I know of the venue, I think it really is a very casual, sundress sort of event.
I'm thinking a style like this dress with a pretty print and easy-to-wear look is going to be the way to go. The wedding starts after 6, so I might try something that has a little more of a cocktail look, but is still casual enough; a  "dressed up for nice dinner out" style, if you will.
I have 4 dresses in contention right now, but the one I like the best, my husband likes the least, so I'm still thinking about renting one! (I'd better hurry with that!) I also need a pair of neutral dressy sandals, so I definitely have my eye on something like the ones up in the collage! I'll keep you posted! (Update, I ended up wearing a bright blue casual dress like these, it was perfect!)
More Summer Wedding Styles:
Are you heading to a wedding this month? According to a tweet I saw by the Huffington Post, last week was the most popular wedding weekend, but that doesn't mean there are still a ton of weddings to attend.  I have plenty of picks for summer weddings on the blog but the dresses aren't always in stock, so I'll do a post soon that will cover you for the rest of June and into July! Here are a few to check out now.
Maxi Dresses for a Wedding Guest