Holiday Gift Ideas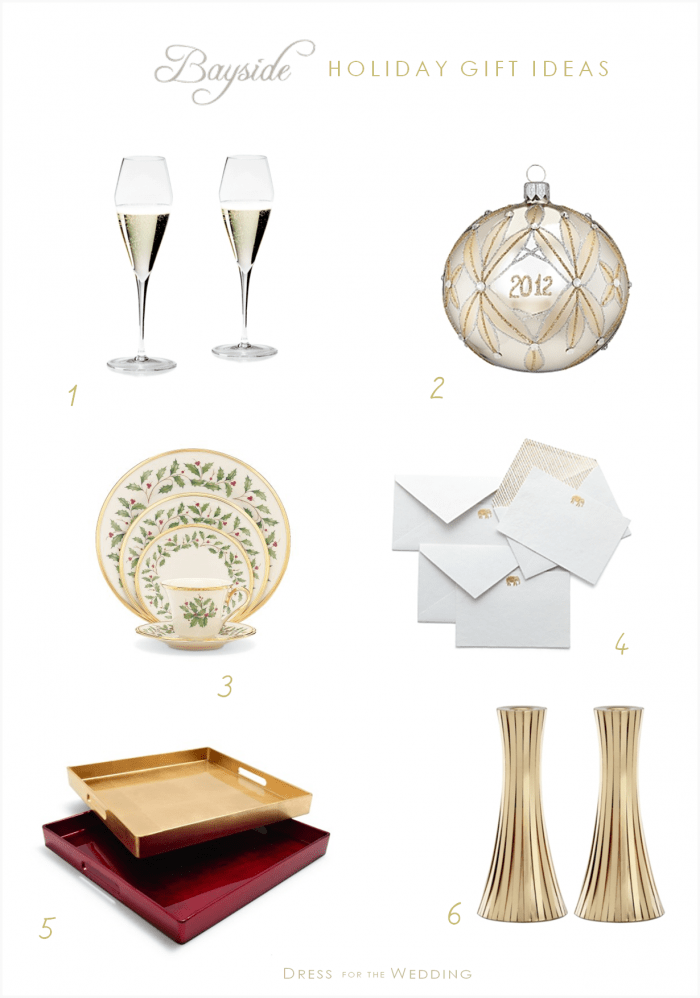 1.Riedel Champagne Flutes, Set of 2  / 2. Waterford Annual Dated Lismore 60th Ball Ornament, 2012 / 3. Lenox Holiday 5-Piece Place Setting/4. JR by John Robshaw Gold Thank You Stationery / 5. Sur La Table Gold Lacquer Metallic Serving Tray / 6. Donna Karan Lenox  Gold Vertical Bound Candlesticks, Set of 2 
Holiday Gift Ideas for 2012
The holiday season is usually prime time for gift-giving; and if you're attending a wedding - even more so!  These would make wonderful gifts for anyone, but I've chosen a few things that would be really sweet gifts for a couple just starting out and making memories. Here are six gifts and the traditions that can accompany them:
1. Champagne flutes are a must for New Years' Eve toasts and celebrating special occasions together.  2.Having an ornament like this Waterford ornament to commemorate your first year as a married couple is a gift that will bring back happy memories each year. 3. When I was growing up,  it always added to the excitement at dinner time when the holiday china came out. It gave my parents a way to remind me to be on my best behavior and to eat all the veggies on that pretty plate! Giving this to a couple is 's a great way to start a seasonal tradition in their  family, too! 4. Stationery with a gold motif is always wonderful to have on hand at this time of year for thank you notes.  5. A bright tray is so helpful for breakfast in bed, or bringing hot chocolate to the fire.  6. Pretty gold candlesticks a perfect for romantic dinners, and are a festive touch year round in any home!
Happy Holidays with joy and peace to all!
This article is an excerpt from my monthly feature on Bayside Bride. Read more here for the full details on holiday looks to love.