Your friends just got engaged! Now you just need to know where to find the best engagement gifts. We'll give you over 70 ideas for engagement presents for couples to let them know just how happy you are for them! We've found over 70 thoughtful and creative engagement gift ideas!
Affiliate links are used in the shopping links in this post. This means this blog may receive a commission on purchases.
Engagement Gifts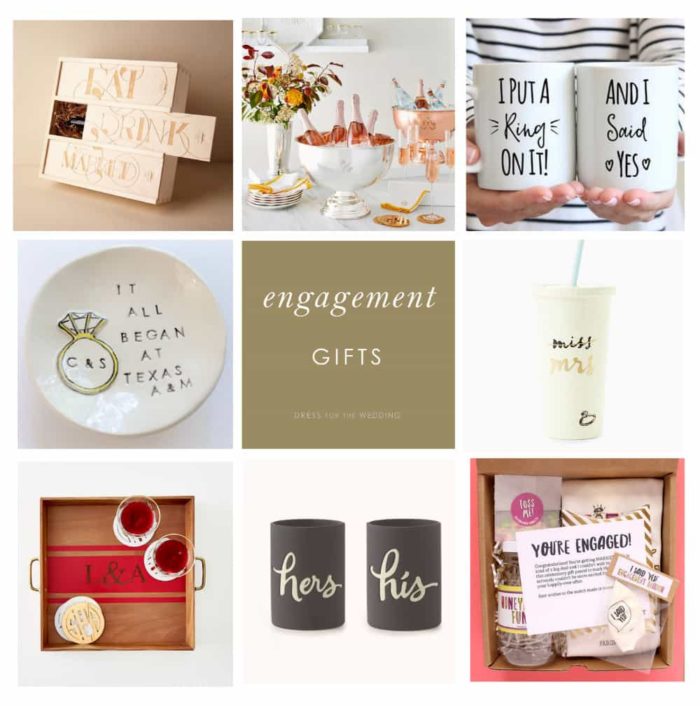 Engagement gift ideas: 1/ Anniversary Wine Box from BHLDN 2/ Personalized Celebration Wine Bowl from Mark and Graham 3/ Couples Mug from FieldTrip on Etsy 4/ Personalized Ring Holder from Magic Makings Art on Etsy 5/ kate spade new york 'Miss to Mrs' tumbler from Nordstrom 6/ Personalized Striped Tray from Mark and Graham 7/ two of a kind cozy /coozie set from kate spade new york 8 / Engagement Gift Basket/ Box from Parcelly on Etsy
Ideas for Engagement Presents
The fall and holiday season is prime time for engagements, so to help you find some great ideas for gifts to gave your newly-engaged friends, we've collected these ideas in shoppable format! I love picking out gifts for people, so I've created this little collection of engagement gifts that are just perfect for happy couples. Whether you give these as a stand-alone gift or make a box of goodies for your favorite engaged couple, these ideas are here to help!
Shop For a Good Engagement Gift

More Ideas: What to Put in an Engagement Gift Box or Package
A wedding planner or wedding planning book is always a good gift idea! Here are our recommendations for The Best Wedding Planning Books. When looking for great gifts, here are a few of our favorite spots to shop:
Check out this post for more gift ideas! And now you have a wedding to get dressed up for, so don't forget to stop back here for all sorts of wedding attire ideas!
Also check out Bridesmaid Gifts, and our Holiday Gift Guide!