If you have a work holiday party, a festive winter wedding, or you just expect a gathering of good friends at the holidays, the holiday season is always a great excuse to get dressed up! There's something special about the rich fabrics and textures of the dresses that are available for winter holiday parties. We've collected some of our favorite holiday dresses and clothes for you to easily shop from below to wear to your next holiday party.
Affiliate links are used in product listings, meaning this site may receive a commission for purchases or clicks made through links in this post.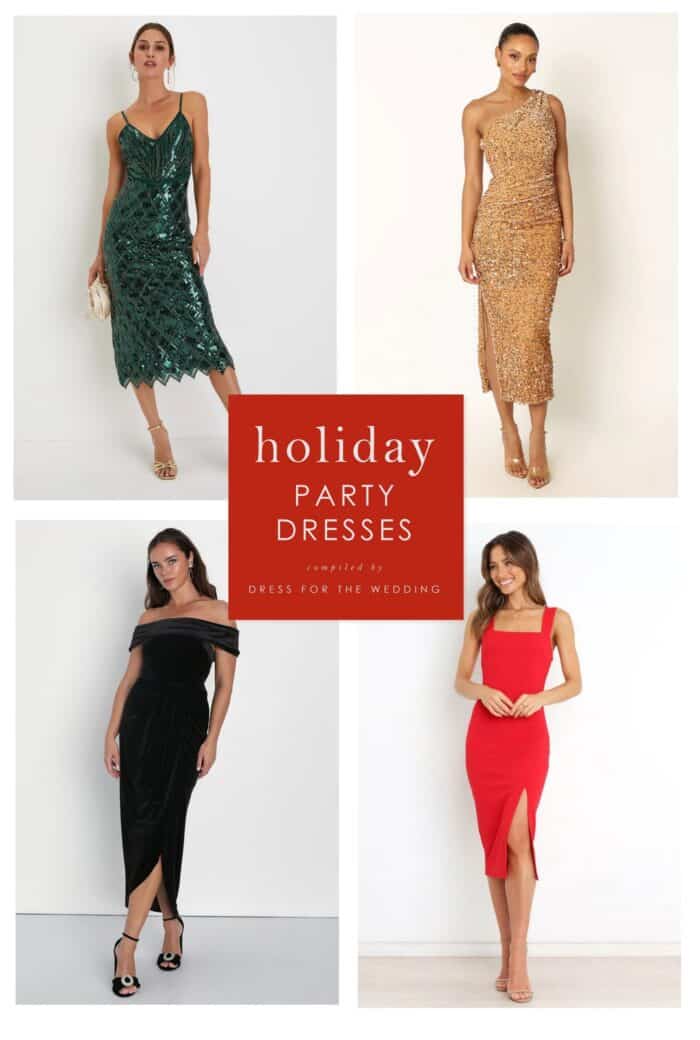 Holiday party dress image credits and shopping details. 1. Green Sequin Midi from Lulus 2. Gold Sequin One Shoulder Midi from Petal and Pup 3. Black Velvet off the Shoulder Dress Lulus 4. Red Square Neckl Cocktail Dress from Petal and Pup
Party Dresses for Fall and Winter
Whether you have a wedding to go to during the holidays, your work holiday party, a winter gala event, or just want a special dress to meet up with friends, these dress styles might work for you! Since many of us are spending the holidays at home, we've picked an assortment of sweater dresses that are perfect for Thanksgiving outfits or family photos. You might also want to dress up for a family photoshoot for your holiday cards. Don't forget to see our Holiday Gift Ideas as well!Happy holidays and happy shopping!
Short Sequin Dresses | Red Dresses | Green Dresses | Silver Dresses
All shopping links go to affiliate retail partners and sponsors, meaning that this blog may earn a referral commission if a qualified sale is made.
Holiday Party Dresses
These are some of our favorite dress styles, fabrics, and colors for the holiday season to help you find the perfect look.
Long Sleeve Sequin Style

The winter season brings a chill to the air, making long-sleeved dresses not only practical but also incredibly stylish. They offer warmth while allowing you to look fantastic. We particularly love long sleeves on dresses with delightful details, such as lace, sequins, or velvet, to choose to wear for your next holiday gathering. See more long sleeve dresses that are versatile and perfect for a wide range of fall, winter, and holiday occasions.
Classic Red Holiday Dress

For those glamorous Christmas parties or New Year's Eve celebrations, holiday cocktail dresses are the way to go. Christmas holiday dresses and holiday styles come in various lengths and styles, from playful mini dresses to sophisticated midi dresses. These dresses often feature eye-catching embellishments, such as sequins or beading. A classic red dress will make a bold, festive statement, while a little black dress exudes timeless elegance. See even more red dresses we love or check out these red dresses for under $100.
Black Tie Holiday Dress

If you're fortunate enough to attend a highly formal event like a winter ball, black tie wedding, or gala during the festive season, probably be on the lookout black tie dresses that also have some holiday style. Look for formal dresses in rich, jewel-toned colors like deep red, emerald green, or royal blue. With the right accessories and styling, you'll be the star of any black-tie affair. For more details and more examples of these dresses see all our dress picks for what to wear to a winter formal.
Little Black Dresses

Little black dresses work or almost all of life's special occasions and the holidays are no different. This one with a bow, already looks ready to go. If you choose a simple black cocktail dress, they are the perfect backdrop to any holiday sparking accessories, black heels or faux fur wraps you might want to wear.
Velvet Dresses for Holiday Parties

Velvet fabric on almost anything is one of our favorite styles of the winter season. Gorgeous velvet dresses in midi, maxi or formal lengths are all textbook Christmas holiday party dresses. See all of the velvet dresses for special events we love.
Sequin Cocktail Dress

For New Year's Eve parties, a sequin dress is always one of the top picks for the perfect holiday dress. Silver, gold, green or blue dresses are always fabulous colors to choose. We especially like this gold midi dress, because it's a gorgeous color in a perfect semi-formal style.
Work Holiday Party Attire

Some workplaces have casual office-based holiday parties where all you might need is a fun Christmas sweater or a work dress, top, or pants with a little holiday flair! However, some workplaces throw grand parties and it's a time for you and your co-workers to get dressed up and break out your finest cocktail dresses or even formal gowns. If that's the case, we've probably already shown you enough cocktail dresses and formal gowns to choose from for your work party, so we'll give you a few more middle-of-the-road ideas. In general, for a dressy casual work holiday party, aim for an outfit that's both professional and festive. We like this wrap sweater dress in a metallic fabric for a work Christmas party. Dressy jumpsuits, holiday tops that we'll share below, sweater dresses, suit separates, or a well-tailored work dress in a holiday color is a great idea too.
Casual and Chic Holiday Outfits
While the holiday season undoubtedly includes formal events and grand galas, there are also many moments when you can embrace a more relaxed and laid-back style. Whether you're spending quality time with close friends or having an intimate family gathering, chic holiday outfits are a perfect choice.
Dressy Jumpsuits

Whether you're headed to casual get-togethers with friends or heading to a big Christmas party chic holiday jumpsuits can be a great way to go. Dressy jumpsuits and an easy-to-wear and fashionable choice. The jumpsuit looks just as put together as the dress adds a touch of modern sophistication while maintaining warmth, making it a versatile choice.
Cozy Sweater Dresses

For Thanksgiving gatherings, family photos, getting dressed for a casual church service, or just celebrating in style on Christmas day, cozy sweater dresses are a great choice. These dresses combine stretch, comfort, warmth, and style, making them ideal for casual outings or small celebrations. Pair them with tights and ankle boots for a comfortable yet chic look. Just picking a great color like terracotta, rust, camel, or burgundy for Thanksgiving or winter white, green, or red for the December holidays is almost all you need to do to have a dressy-looking but casual-feeling outfit for easygoing celebrations.
Holiday Tops

Sometimes all you need is a festive top to make a chic holiday outfit. These are the foundation of the perfect outfit for work parties, going out with friends, or dressing up just a little bit at home. Best of all these long sleeve tops will keep you warm! All you need is a pair of pants, jeans, silk or sequin skirt that you love, and one of these tops.
Our Top Picks for Special Occasion Dresses for the Winter and Holidays
We keep this section updated with the latest holiday dresses and new arrivals.

As the holiday season approaches, embrace the elegance, style, and joy that dressing for the occasion brings. Make it a season to remember by choosing outfits that express your unique personality and enhance the magic of the holidays. Celebrate with warmth and style, and revel in the happiness that comes with dressing up and making the most of this wonderful time of year.
More Winter Style Ideas
For more inspiration, you might also like seeing these Winter Wedding Guest Dresses or our picks for formal gowns for black tie weddings and events.
This post was originally published on Sept 30, 2018 and updated most recently on October 30, 2023.
This is an old collage that was the cover art for this page. These dresses are from past seasons and now are sold out, but we keep the image for image credit continuity. We have tried to find similar options in the shopping section above.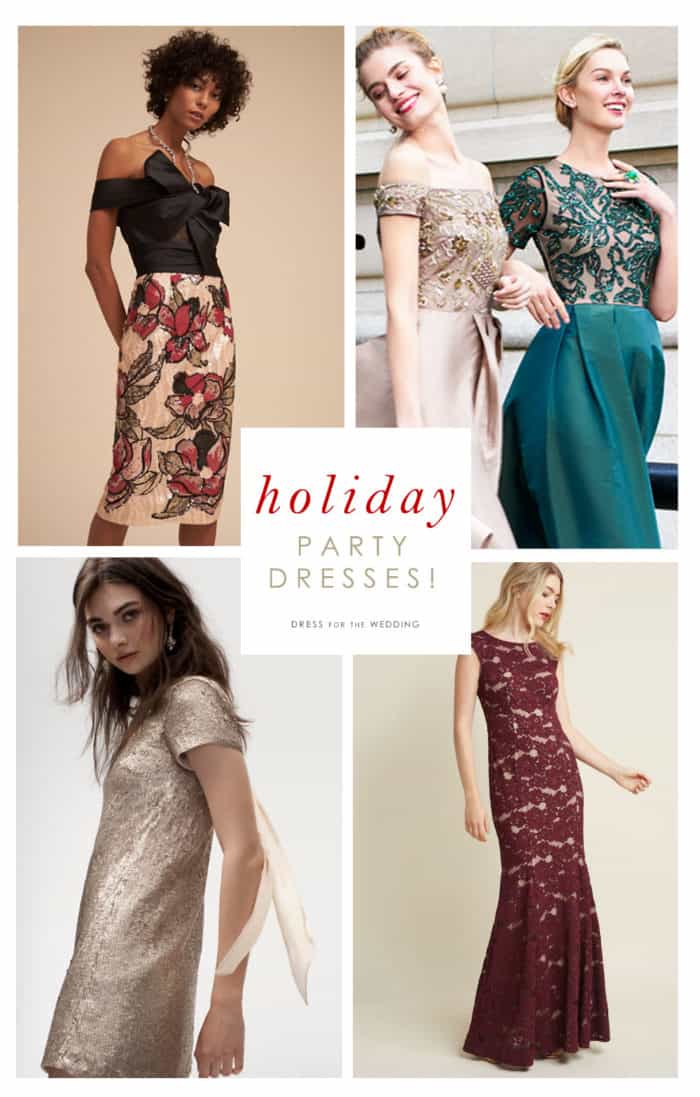 Image and shopping sources: 1 // Ramba Dress from the Party Dresses at BHLDN 2 // Gold: Off the shoulder beaded gown from Adrianna Papell Green: Short Sleeve Taffeta Ballgown from Adrianna Papell 3 // The Glitz Dress from BHLDN's Party and Occasion Dresses 4 // Looking Luxe Lace Party Dress from ModCloth
Still looking? You can also see all of the holiday outfit ideas we've created over the years for inspiration. No luck yet? Check out these favorite spots to shop for party dresses:
Nordstrom Anthropologie Saks Neiman Marcus