The winter season is not just about the holidays and colder weather; it's also the perfect time for festive formal winter events that call for dressing up in style. Whether you're attending a winter wedding, a black-tie winter gala, a high school formal, or a military ball, figuring out what to wear for formal events can be a challenge. This guide to what to wear to a winter formal is designed to help you find the best dresses and gowns for your big winter event.
What to Wear to a Winter Formal Wedding, Gala, or Military Ball
In this article, we'll talk about various formal events and dress codes to provide you with some fabulous winter formal dress ideas, taking into account the holiday season, cold weather, and the latest fashion trends.
Affiliate commissionable links are used in shopping sources for this post on winter formal attire, which means we may earn a small commission on qualified sales.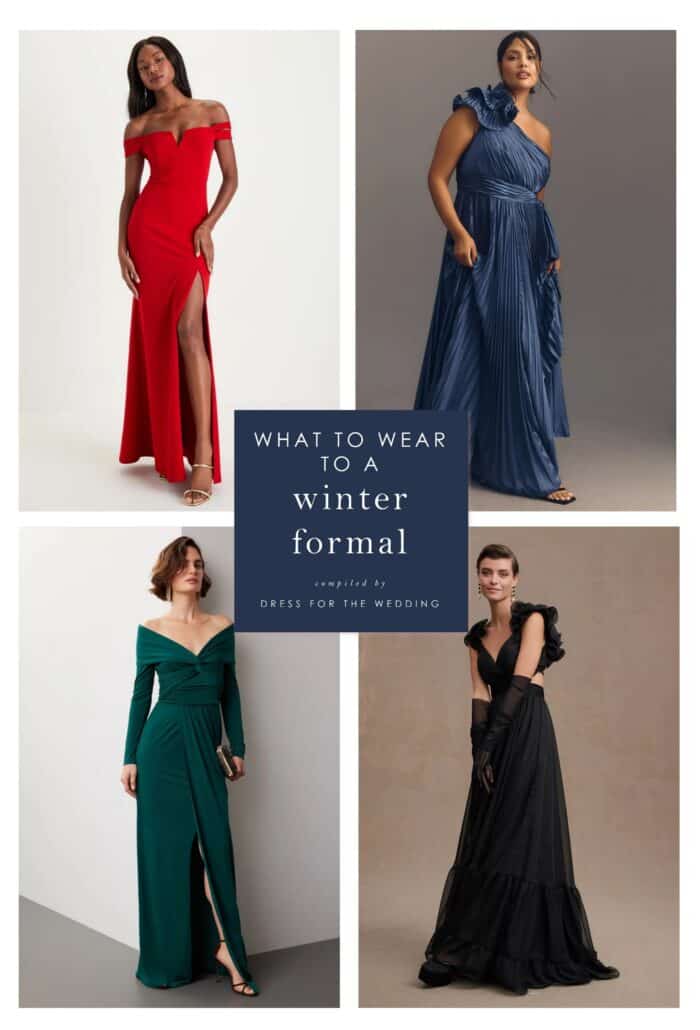 Image credits and shopping sources: 1. Alluring Vision Red Off the Shoulder Maxi Dress from Lulus 2. Mac Duggal Pleated Gown from Anthropologie 3. Wrapped Around Gown from Rent the Runway 4.
What to Wear to Formal Winter Weddings
Winter weddings are not as common as their summer and spring counterparts, which makes them an even more special invitation to receive. With the added anticipation of celebrating the holidays, the possibility of snow, and just the general coziness of the season, winter events have a distinct atmosphere. Winter weddings in particular can be very special events. If you've been invited to a black tie or formal winter wedding or gala, choosing the right formal attire to stay both warm and stylish, and to be in keeping with the dress code is sometimes a balancing act. We've edited all the winter formal dresses we've seen this season and tried to pick the best dresses to make your search for winter formal attire a breeze.
Best Colors and Styles to Wear for Winter Formals
We particularly love colors like garnet red, deep gold, emerald green, sapphire blue, navy blue, and burgundy. Heavier special occasion fabrics like velvet, jacquard, satin, or silk, and the addition of long sleeves or a chic faux fur coat provide the right amount of luxury and warmth. Here are a few of our favorite winter formal dresses.
Velvet Gowns for a Formal Winter Event

Velvet is the perfect fabric for winter, and it's certainly one of the signature styles to consider for any winter formal events. Here are a few examples of gorgeous colors like evergreen and sapphire blue and a black velvet one-shoulder style.
Garnet Red Formal One Shoulder Gown

While bright red isn't always our top pick for wedding guest dress color, it moves closer to our top recommendations in the winter months, when it's a color of celebration during the season. This one-shoulder column gown is the epitome of winter elegance.
Sequin Gowns In Winter Colors

Sequins always bring glamour and if you combine them with a fabulous color like green, gold or blue you have a recipe for the ideal winter gala outfit.
Long Sleeve Gowns for Winter Black Tie Weddings and Events

Long sleeves are always apractical choice for winter weddings, and when you add a full length gown, rich color and sequins and beading you have a winning look for a holiday formal event. See more of our picks for long sleeve wedding guest dresses if you'd like more of this style.
Ball Gowns

If the look of winter had one style signature, winter ball gowns would be the look. These full skirted styles with either off the shoulder necklines or long sleeves are the sort of fairytale attire we dream of wearing as a winter formal outfit.
Emerald Green Gowns

Gold Gowns for Winter Black Tie Events

What Accessories and Jewelry Should Be Worn with Winter Formal Attire?
Accessorizing is key for a formal event. Pairing your dress with bold statement jewelry, sparkling earrings, and a metallic clutch that complements the color of your dress. If you're wearing a dress that doesn't quite keep you warm enough for any time you'll have to spend outside, investing in a winter wrap, cardigan, chic velvet bolero jacket or faux fur jacket is a wonderful idea. A dressy short or long wool coat can also be worn for getting to and from the event. See our picks for wedding guest jewelry for some ideas.
What Shoes Should You Wear with a Winter Formal Dress?
While it's not the most practical footwear choice, you can't beat the look of high heel strappy sandals or embellished high heels with a formal evening gown. Finding a shoe with a dressy block heel or kitten heel will give you a bit more support if you're walking in inclement conditions. For slightly more informal winter events, you may be able to wear sophisticated high-heeled boots or opt for closed-toe heels for a bit more warmth.
What Should Men Wear for Winter Wedding Formal Attire?
Men attending a formal winter wedding or winter gala should opt for a classic tuxedo or a dark suit. A bow tie is a fantastic option to add a touch of elegance and formal personality. For some winter weddings or gala events, creative black tie might be encouraged, which means fun winter elements like a velvet suit jacket, or choosing a formal suit in a winter color. In the case of a winter military ball, male members of the military are likely to be in their formal dress uniforms, while civilian male guests usually wear a tuxedo or formal suit.
What to Wear for a Black Tie Winter Gala

A black-tie winter gala is a grand occasion that requires some gorgeous formal wear. Channel your inner celebrity and embrace a level of red-carpet glamour for this special event. Here are some more formal dress ideas to help you make a statement.
For women attending a black-tie winter gala, nothing beats the timeless elegance of a full-length evening gown. Consider rich, luxurious fabrics like satin or silk or sequined gowns in deep, dark colors. If permitted by your event's dress code, the holidays are also a time to wear red and gold festive colors. These hues are not only seasonally appropriate but also create a dramatic effect. Like a formal winter wedding, you'll want to accessorize with fine jewelry if you have it, crystal costume or statement statement jewelry, and heels or formal shoes.
Unless creative black tie has been encouraged, men will most likely want to rent or wear their own classic tuxedo for a black-tie winter gala. A black tuxedo with a crisp white dress shirt and a black bow tie is the perfect choice for a formal event of this caliber. Black polished dress shoes, and well-chosen pocket square, dress socks complete the look.
What to Wear for a Winter Military Ball

As any member or partner of someone in the military knows, military balls are steeped in tradition and require a level of formality and respect. When attending a military ball during the winter season, it's important to adhere to the requirements of the dress code while subtly adding your personal touch. You'll want to read up on specific protocols to ensure that you follow the event's guidelines and be respectful of military customs and traditions.
For dress codes, female guests attending military balls often opt for a full-length evening gown in dark and elegant colors. Sometimes there will be guidelines on skirt length and how low cut the front and back of the gown can be, so be sure to research the particular dress code of the military ball you'll be attending. However, much like formal wedding attire, navy blue, black, or deep green are fantastic options. A dress with shoulder coverage or sleeves is a wonderful modest choice. You'll also want to steer clear of gowns that are too revealing, have too many embellishments, or are in a bright or unsubtle color. While sometimes female members of the military may be allowed to wear a gown, many are required to wear a dress uniform and should refer to guidance from their command.
For civilian male guests, a classic black tuxedo with a crisp white dress shirt and black bow tie and polished dress shoes are is the best bet for military balls. Again, male military service members will likely wear their dress uniforms. Event-specific dress code is usually provided at the time of invitation and should be adhered to.
What to Wear For Winter High School Formals

Far from the strict formality of a military ball, is the much less formal high school winter formal dance. Winter is a popular time for a formal high school dance or social event. High school formals are usually much less formal attire than the wedding and gala events we've mentioned. Unless your school ssays to wear truly formal attire like a prom dress and tuxedo, usually wearing a festive semi-formal attire or a semi formal holiday dress is the best way to go.
High school formals wear is a great time to choose winter cocktail dresses, midi dresses, or maxi dresses. Shorter hemlines are a great option, allowing you to move freely on the dance floor. Colors like jewel tones, and metallics are fantastic choices for high school dances during the winter season as is the little black dress. See our picks for homecoming dresses for even more short dress inspiration. Young men attending high school formals usually opt for a well-fitted suit. A black suit is a classic choice, but you can also go with dark gray or navy. A tie or bow tie, depending on your preference, adds a touch of formality. Be sure to choose dress shoes that are comfortable for dancing the night away.
The Best Formal Dresses for Winter Weddings
For formal winter weddings, long dresses are the most common and appropriate style of dress. Ball gowns, off-the-shoulder gowns, and evening gowns are all great choices. You'll also want to select a dress color that suits the event and season. Finding an evening gown in a dark jewel-toned color is a wonderful idea. Here are our picks for the top winter formal gowns and long dresses to wear to winter black tie events.

Dress Code Guidelines Winter Special Occasion Outfits
Regardless of the type of formal event you're attending during the winter season, there are some universal tips that can help you make the perfect choice for your outfit.
Let the colors of the season be your guide is the time for rich, dark colors.
Winter is the time to choose dresses and outfits with longer sleeves and thicker fabrics. Not only do they provide additional coverage, but they also add a touch of sophistication to your look.
If your chosen dress or gown doesn't provide much warmth against the elements, add a layer with chic winter coats, a stylish shawl, faux fur stole, or a velvet jacket. These kinds of cover-ups are a great option for staying warm without compromising on style.
Keep the accessories as sophisticated as your outfit with statement jewelry, elegant earrings and bracelets, a clutch, or evening gloves.
Choose footwear that complements your outfit and keeps you comfortable throughout the evening. Closed-toe heels or formal shoes are the best choices for winter weather, but metallic high-heeled strappy sandals are always a great look with a long gown.
Winter formal events offer a fantastic opportunity to embrace elegance and style, and having all the right items to wear is key to enjoying the occasion to its fullest. For less formal winter events, check out our suggestions for winter wedding guest dresses, velvet dresses for wedding guests, and holiday party dresses.