If life changes or current world events have you trying to decide if or how to postpone your wedding or event, this guide is here to help. We hope these blog posts and articles from trusted wedding bloggers will help you navigate making decisions and assist you with the process of rescheduling your wedding.
Affiliate links are used in this post.
Guides for How to Postpone Your Upcoming Wedding or Event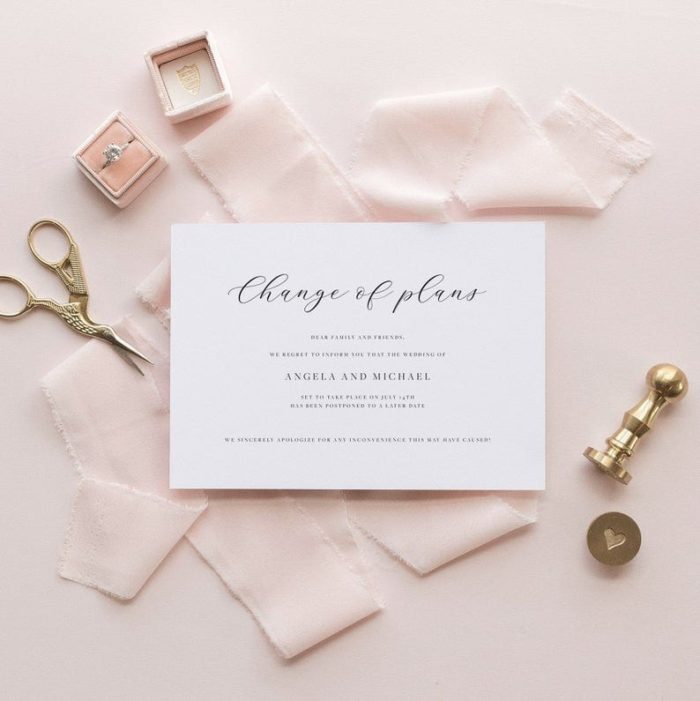 Image and product credit: Postponing Your Wedding Announcement from Blanche Paperie on Etsy.
With the current global pandemic of COVID-19, the Coronavirus, the CDC has given guidelines that for the next two weeks that groups of 10 or more people should not gather. Additionally, the CDC states that events of 250+ or more occurring in the next 8 weeks, should be canceled. These recommendations are constantly changing as the situation evolves, but they have a huge impact on celebrations and social gatherings.
If you are having a wedding, shower, engagement party, or another event within the next two months, it is undoubtedly a very stressful time as you decide on your next course of action.
Postponing Your Wedding and Wedding Events Because of Coronavirus
The current wisdom from event professionals is to postpone your wedding or event, rather than to completely cancel it.
After all, you most likely still want to get married and will be excited to celebrate at some point! Postponing and rescheduling should help you make the best use of all the efforts and funds you have put towards your wedding so far, and it may help you honor your contracts with vendors. Doing so will keep your vendors in business through this time, and will support the small businesses of the wedding and event community.
The first step is to get in touch with your vendors, to find out their individual policies, and plans they may be offering for postponement. Most planners and vendors are eager to help, and want to keep your business and help you navigate the rescheduling process. The following professional wedding bloggers have also offered more tips and have created guides to help you make decisions and work through the postponement process.
Wedding Professionals Offer Advice for Postponing Your Wedding Because of Coronavirus
We hope these guides from the community of wedding bloggers and professionals will help you navigate to how to postpone your wedding will help you during this stressful time! Visiting and supporting these blogs and the vendors they recommend will make a difference in keeping our community thriving.
Tips: Coronavirus and Your Wedding
Wedding Sparrow
Coronavirus: How it Will Affect Your Italy Wedding This Year and Beyond
Every Last Detail
What to Do About The Coronavirus and Your Wedding
Should You Cancel or Postpone Your Wedding Because of Coronavirus?
Coronavirus Wedding Postponement: Email Templates to Send to Guests
Catalyst Wedding Co.
Coronavirus and Your Wedding: What to Consider as a Couple
Polka Dot Bride
Australian Wedding and COVID-19: The Need to Knows
Boho Weddings
Ask The Experts: Getting Married in Italy and What to Do About the Coronavirus
The Budget Savvy Bride
The Coronavirus and Your Wedding
Her book, The Budget-Savvy Wedding Planner and Organizer, will also help you in the event that you need to re-allocate or reconsider budgetary aspects.
Woman Getting Married
Coronavirus and Your Wedding: What You Need to Know
Equally Wed
Coronavirus Wedding Planning: Advice on Postponing and Canceling
I Do Pennsylvania
Delayed, Paused, or Canceled: How The Coronavirus is Impacting Wedding Industry and How to Move Forward
Also Creationery Stationery on Etsy is offering free printable change the date cards. Visit this post on Instagram for more details.
More Tips for Changing Your Wedding Plan
As difficult as it is, you may be able to embrace some of the opportunities postponement might offer. For instance, it can be a good time to adjust some details you might not be happy with. You can use the time to break in your wedding shoes, organize seating, add things to your registry, write thank you notes to your wedding party or vendors for their help thus far, make gifts or favors, get hair and makeup ideas, tackle items on your wedding to-do list, write your vows, practice your first dance, or do some wedding DIY projects. Travel rates are at an all-time low, so see if you can re-book your honeymoon and potentially save money!
Also, don't forget to support small business owners during this time through Etsy. Many offer very affordable print-at-home invitations and wedding postponement notices which you may want to use to send notifications to your guests if you have to adjust your dates or location. Be sure to also use your wedding website to communicate any changes to your guests.
More Wedding Planning and Wedding Attire Ideas
If you were mid-way through the planning process, and can't visit boutiques in person to try on dresses, trusted online wedding attire providers for wedding dresses, bridesmaid dresses , mother-of-the-bride dresses and other wedding attire are still shipping, so that you can try on at home.
If postponing your wedding means you'll be drastically changing the season of your wedding, we're here to continue to offer wedding attire inspiration for every member of your event and every time of year. Here's a quick guide to our posts grouped by role, season, and style of event. Stay well and we look forward to helping you resume your celebrating soon!
Fall Wedding Summer Wedding Winter Wedding Spring Wedding
Brides Bridesmaids Grooms Groomsmen
Mother of Bride or Groom Guest of Wedding
Casual Semi-Formal Formal or Black Tie
More style ideas you might enjoy :