In this shopping guide, you'll see more than 60 dresses to wear to an August wedding as a guest. We've specifically selected these styles because they will stand up to one of the summer's hottest months for weddings.
Our editors select each dress based on a number of factors including aesthetic and dress code suitability. The shopping sources on this site use affiliate links, meaning this site may earn a commission if you purchase from our links.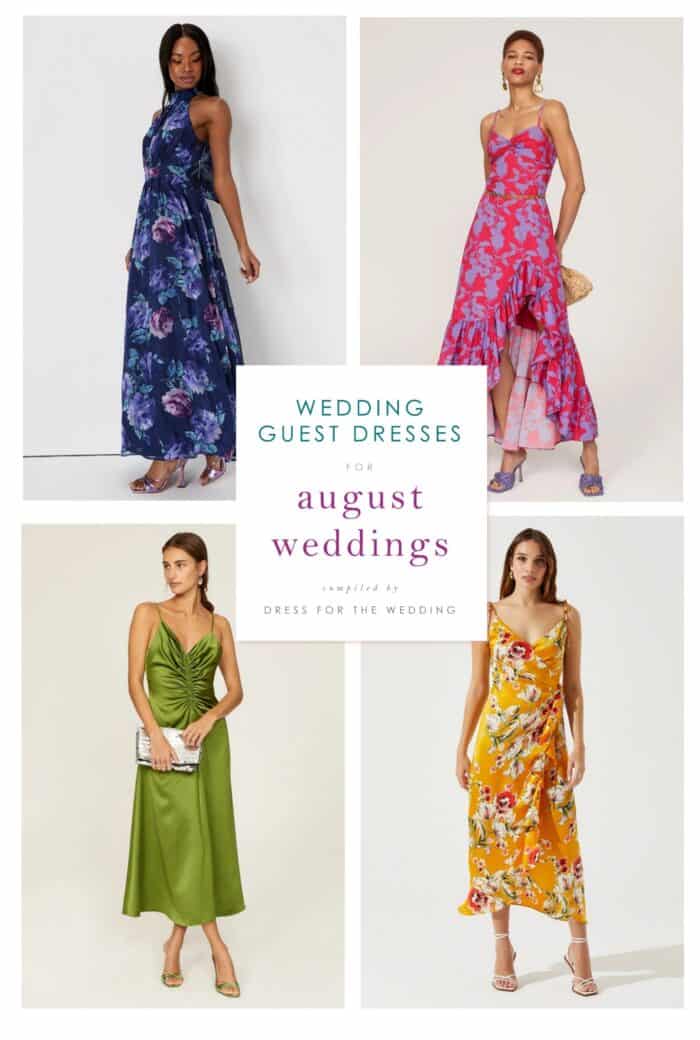 Image credits and shopping sources: 1. Splendid Perfection Dress from Lulus 2. Sweetheart High Low Dress from Rent the Runway 3. Zola Dress Rent the Runway 4. Satin Tie Wrap Dress Astr the Label
60 of Our Favorite August Wedding Guest Dresses
We've picked an August wedding guest dress for every dress code, color preference, figure, and venue, keeping the August climate in mind. Since we first published this article, we added more dresses, so you'll see at least 75 new dresses in the shoppable section below.

What to Wear to an August Wedding 2023
In general, you'll want to follow the wedding dress code, plan for the style of the wedding, venue, time of the ceremony or reception, and the typical weather at the location of the wedding.
Here are some of our picks based on the warm late summer weather we usually see in our area. These featured dresses are great for many of the dress codes and invitation scenarios you'll see for August weddings. Read more below for our thoughts on when and where to wear them.
Daytime or Dressy Casual Wedding in August

This bright floral print, bright yellow color, and easy silhouette just suits a hot summer day. If you're attending a daytime wedding that starts in the early morning or afternoon a midi dress like this with spaghetti straps is a great choice!
We have loads more picks for dressy casual wedding guest dresses if you need more ideas!
Afternoon Wedding In August

If you have an afternoon August wedding, either in an outdoor venue or a combination of indoor ceremony and outdoor we love a high-low style that splits the difference between casual and formal. The bright punchy color of this rental dress is eye-catching and festive, but very wedding guest appropriate. This dress is a rental.
If you're thinking about renting a dress, please see more of our picks for the best dresses to rent as a wedding guest.
Formal August Wedding

Blending the warm weather dressing with a long gown that is usually required for a black tie optional, black tie, or formal wedding can be tricky, but not impossible. Our recommendation is to pick a maxi dress or formal gown floaty fabric that doesn't cling, in with a summer color or floral print like this gown. Elevate the look with formal heels, jewelry and a clutch for a black tie look!
See more of our favorite guest dresses for black tie weddings if you need more ideas.
A Late Summer Outdoor Wedding

In warm summer months like August, outdoor weddings and outdoor receptions abound. Since the late summer weather can pack some serious sun, heat, and humidity, an easy midi dress with cutouts could be one great way to go!
See more of our picks for summer wedding guest styles.
Beach Wedding

The end of summer makes it a prime time to have those beachfront weddings or weddings in a seaside resort or other coastal setting. If you've been invited to a beachy wedding in August here's one idea for what to wear.
If you need more ideas, we have so many other picks for guest dresses for beach weddings.
Maxi Dress for Late Summer

We think the maxi dress is one of the most versatile styles of dress for wedding guests. A short sleeve wrap maxi dress or sundress style maxi dress so often works for a daytime or afternoon wedding. While that same dress with more formal accessories and makeup and hair styling can work for a black tie wedding.
See all of the maxi dresses we love for wedding guests.
Classic Cocktail Style

The cocktail dress or a midi dress is our usual go-to for a classic semi-formal wedding guest style. We gravitate towards the brighter colors for August. This look combines bright colors for the need of summer along with a fitted off-the-shoulder cocktail style.
See more summer cocktail dresses for weddings.
Plus Size Summer Guest

There are so many amazing options for plus-size wedding guest dresses for warm-weather weddings. This dress has the perfect special occasion summery style.
See all of our picks for Plus Size Wedding Guest Dresses.
Where to Shop For More August Wedding Guest Dresses
As you can see from the list above, we love the dress options at many different spots. Here are a few of the places we recommend checking out on your search for a dress to wear to a wedding.
More Wedding Guest Outfit Ideas
If you still haven't found the dress, we have a whole shopping guide dedicated to the best summer wedding guest dresses. You may also want to browse dresses for June wedding guests, our ideas for fall wedding guest dresses, or the best wedding guest dresses by color and dress code for the current season. You might also want to see more outfits we love for August weddings, like this wedding guest outfit featuring a navy blue strapless dress, this peach strappy dress for a summer wedding guest, or this chic summer black tie outfit!
Past Styles
These dresses have been featured in past versions of this article. We keep these images and dresses here for continuity, in case you have reached this post from an image of this dress, but they are likely now sold out.
Pink Halter Cocktail Midi Dress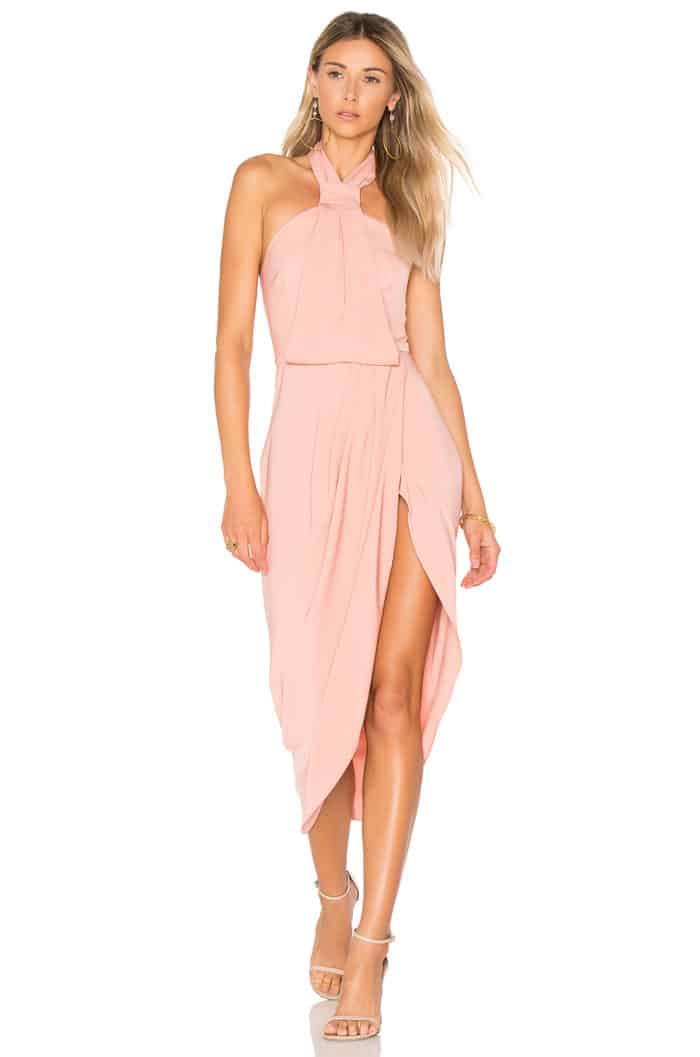 A classic look for an afternoon or evening reception, in a pretty blush peach color ( or choose from the 10 other colors this dress comes in, This dress - and others by Shona Joy - are a wedding guest staple! From Revolve $279
Floral Maxi Dress

This flowy high-neck maxi dress can go to a formal or semi-formal wedding. The light breezy style and colorful print make it perfect for hot summer nights! It's the Little Mistress high-neck maxi dress from ASOS.
Royal Blue Lace Cocktail Dress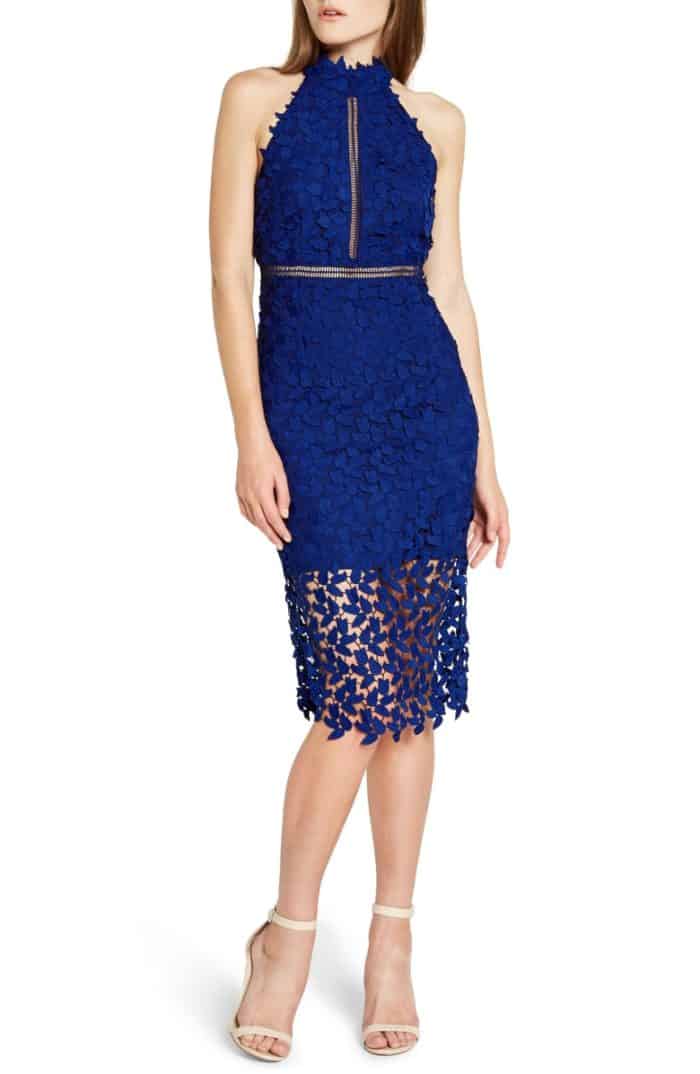 You can't go wrong lace sheath dress for a semi-formal wedding at a hotel or semi-formal venue. This dress (and others by Bardot) are perfect semi-formal summer weddings. Gemma Halter Dress by Bardot from Nordstrom $119
Blue Floral Long Sleeve Dress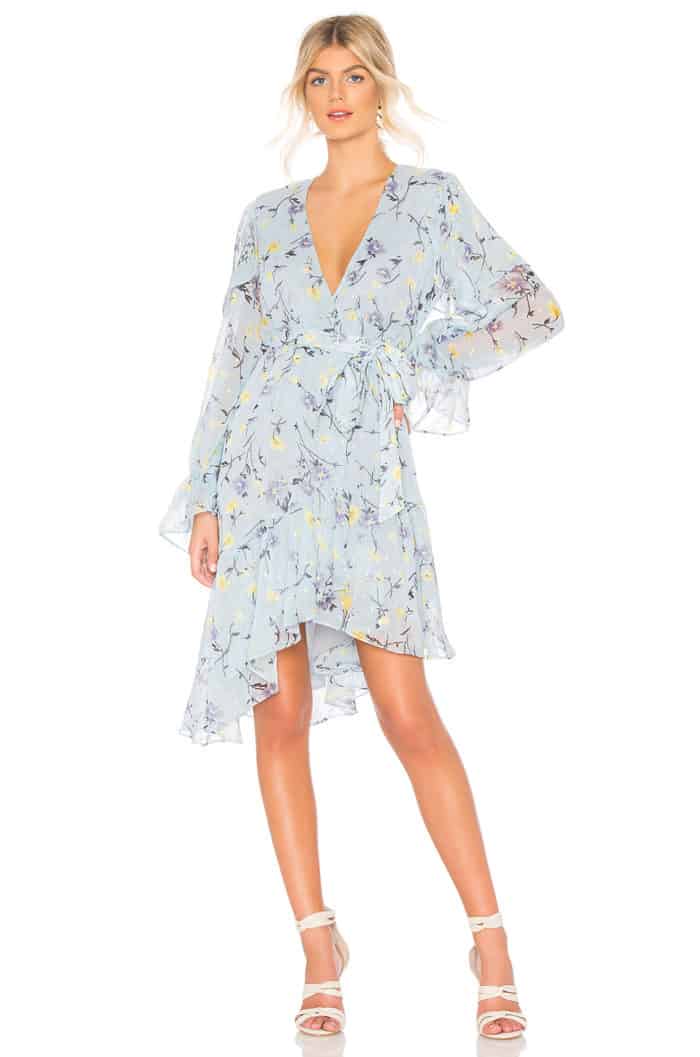 Long sleeved flowy dresses are hot right now. And maybe it's the effect of seeing all those sleeved dresses at the Royal wedding, but I love a long-sleeved dress for a morning or daytime wedding. This one is cool enough for hot August days, but also can be a wardrobe staple for fall and spring! Elliatt Harbor Dress from Revolve.
Coral Halter Dress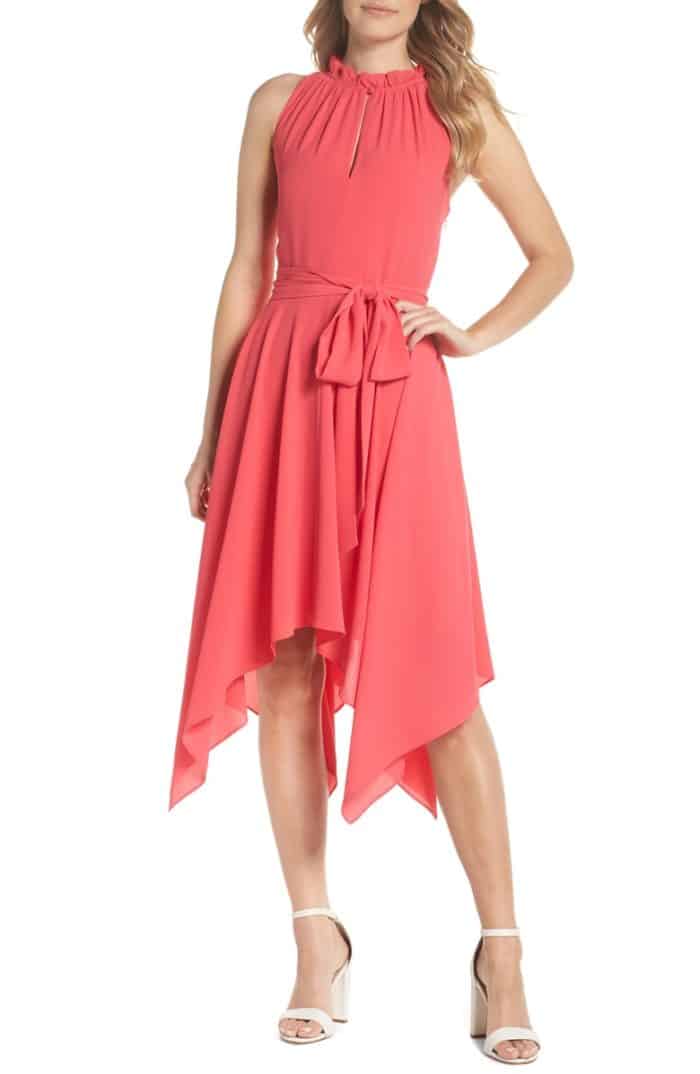 Coral is a hot color, and a great style for late summer heat! This modern style with an asymmetrical hem and pretty ruched high next is a nice light and dressy fabric for August weddings. Wear it with gold accessories for a beautiful chic summer look. Eliza J Handkerchief Hem Dress from Nordstrom $138.
Formal Mauve Maxi Dress in Regular and Plus Sizes

This dress comes in 3 colors, and a range of sizes! It's also a versatile late summer wedding pick, that can suit a formal outdoor wedding, or something more relaxed. Choose from this mauve color, navy, and mint! Genius Grandeur Maxi Dress with Straps in Dusty Rose - $125 from ModCloth.
Green Cocktail Dress with Ruffled Neckline
This pretty green ruffled gown is great for any semi-formal dress code! This pretty color is a fabulous cool tone to combat summer heat! Paper Dolls Ruffled Dress from ASOS, under $80!
Cobalt Blue High Low Dress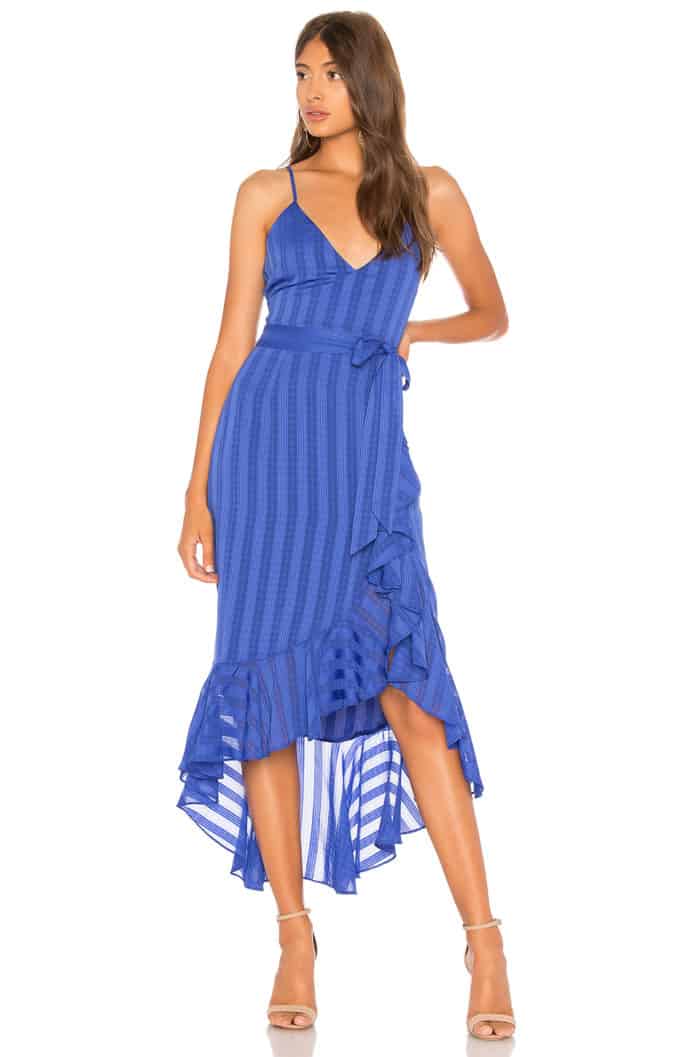 Fun ruffles, a beautiful cobalt blue color and a strappy top make this a party dress that's ready to go to afternoon outdoor weddings in late summer. Lovers + Friends Bridget Midi Dress in Cobalt from Revolve
Bright Yellow Lace Midi Dress

To us, yellow is one of those perfect colors that transition from late summer to early fall, making it a great choice for August! This flattering and versatile midi dress can be a daytime or evening wedding guest dress! ASTR the Label Lace Midi Dress $89
August Beach Wedding Style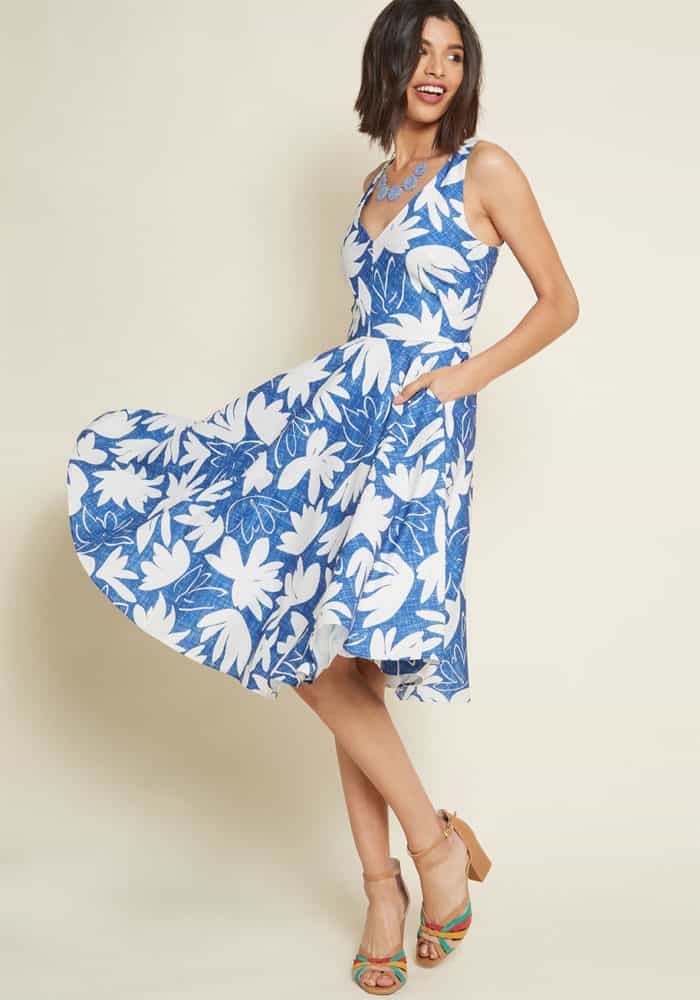 If you have a beach wedding, an informal rustic wedding, or a casual outdoor wedding this cool blue and white printed fit and flare dress is our pick! Pretty print and a flattering fit! It has pockets! Need I say more? Fit and Flare Dress from ModCloth - $109.
If you didn't the perfect dress to wear to an August wedding in the Top 10 picks, one of these may work for you!
Originally posted on August 8, 2018, updated for 2019 on August 11, 2019, updated again July 2023
More style ideas you might enjoy :