Today's post is a little different than the usual post here! We'll be looking at how to do your wedding makeup  by checking out the best bridal makeup tutorials from top YouTube bridal beauty bloggers and vloggers! These looks can help you do your own wedding makeup, or work with your makeup-artist to get the look you want for your wedding!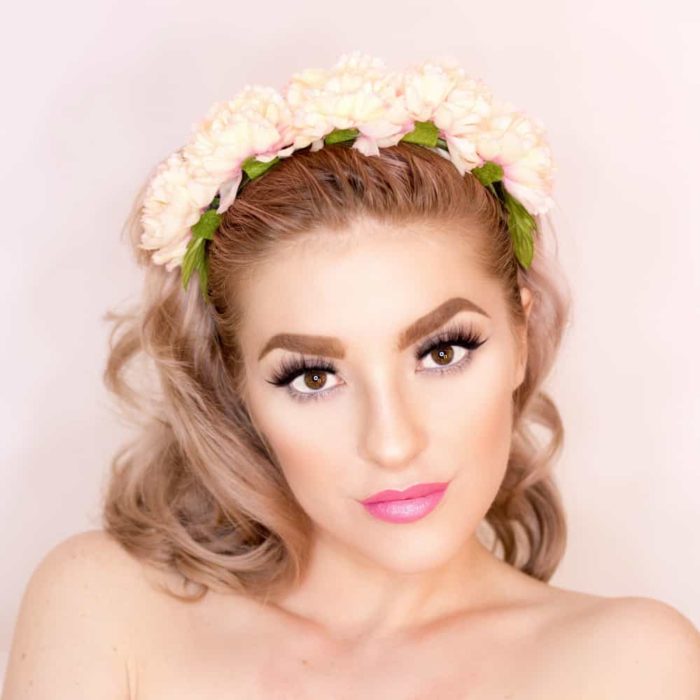 Photo via Beatnik Peach on Pexels see her on Instagram
How to Do Your Own Wedding Makeup
When it comes to makeup application I can get by, but I am by no means great at doing my own makeup. I would (and did) hire a pro for my own wedding. But perhaps it's exactly because I can't cut a crease or correctly wing my eyeliner to save my own life -- that I find I am obsessed with watching makeup tutorials on YouTube to figure out how to be better at doing my own makeup!
Best Bridal Makeup Tutorials
There's something soothing, artistic, and educational about watching how others apply their own makeup. If you are a fan of these videos and skilled with makeup, you may be thinking about doing your own makeup for your wedding. If you are looking for some great videos on how to do your own wedding makeup, this post has my picks for 10 of the best videos I enjoyed watching on YouTube.
Shopping sources on this site use affiliate links, which means this site may earn a commission if you make a purchase from our links. 
Should You Do Your Own Makeup for Your Wedding?
If you are like me -- relatively unskilled with makeup application -- it's a really good idea to hire a professional makeup artist for your wedding. You'll even see that some of these vloggers are using another pro in the tutorials. Even if you are hiring someone, these tutorials might give you examples of the finished look you want to create so you can review these looks with your makeup artist. They can also be good to watch if you won't have your makeup artist available all day, and you want to perfect a few techniques in case you have to do a little touch up.
DIY Your Wedding Makeup with Video Tutorials
However, I know for a fact that there are many people who have a knack for picking up these tips and making the whole look perfect, and can do a great job with a DIY makeup application. The Duchess of Cambridge, the former Kate Middleton did her own wedding makeup, after all!  It's also great idea to watch these techniques if you have a friend or bridesmaids who want to help you or to do their own makeup. If you are all unsure about your skills,  you can also try out these styles for bridal showers or other special events!
10 Great Makeup Tutorials on YouTube
Here are a few of the makeup tutorials I liked the most, and it seems from the ratings others did too!
How to Do Bridal Makeup - AT utorial by Simply Sona
I'm a brunette, so I could really relate to these color palettes and techiniques. Sona worked for MAC and was a freelance makeup artist before YouTube, so she really knows her stuff! I love the details she provides about blending and the techinques she is using.  For more follow Simply Sona YouTube!
Soft Bridal Makeup Tutorial by Melissa Sassine
Another professional makeup artist with her own line of products, Melissa Sassine with wonderful tips and product recommendations. Subscribe to Melissa Sassine's YouTube channel,
Neutral Wedding Makeup for Darker Skin Tones
I love how much fun Patricia and her friend have with this tutorial! The rosy coral lip and the whole look is gorgeous!  Follow Patricia Bright on YouTube.
Natural Wedding Makeup Video Tutorial
The resulting look is flawless! Katerina has great easy-to-follow technique and a few drugstore makeup product tips! By Katerina Williams,   you can subscribe to her YouTube channel here.
Understated Boho Bridal Makeup
Another natural makeup look. from a real bride-to-be - Shelby Wilson in YouTube ! I think this one is perfect to follow if you want a relaxed style for a beach wedding or to get that boho glam look. It's for those of us who don't love a lot of product -   it's that "you" only better look! She also did a tutorial on how she eventually did her actual day-of wedding makeup, to see how another approach looks in professional wedding photographs!
Tina Yong Bridal Makeup Tutorial
From a bridal makeup artist who does bridal makeup each weekend! Great product recommendations for long-wearing makeup for your wedding.  Follow and subscribe to Tina Yong on YouTube. 
Flawless Wedding Makeup
Vlogger Sazan Hendrix with her wedding day makeup artist, Lindsay, show off a re-creation of her real wedding day makeup look that they did together. Plenty of techinque and product recommendations!  Shows how to use a combo of black and brown liner to make the eyes pop, without looking too harsh! See more from Sazan on YouTube.
Glowing Wedding Makeup
You might do a double take, like I did! I thought Jessi was J-Lo! This tutorial goes fast, and is mainly written tips across the screen as the makeup artist works. This video doesn't give many details on the products, (when they are there, it's quick!) So, it's not the best for someone wanting a slow step-by-step or product-by-product way. However, the resulting look for this recording artist vlogger was just so stunning, I had to share for some beautiful makeup inspiration and general process! Follow Jessi Malay on YouTube here!
Soft Glam Wedding Makeup
Twins Kyra and Alisha make up this vlog called AlyraTV!  This tutorial is for Alisha's soft smoky wedding look. She uses three shadows from one eyeshadow palette (Anastasia) because she was a destination bride, and didn't want to have to pack tons of palettes! So smart! The resulting look is fabulous!  Follow AlyraTV on YouTube
Nautral Glowy Makeup Look
Love this simple clean makeup look by lifestyle vlogger Tanya Burr. It would be wonderful for a boho bride or bridesmaid style. Here's where to follow her on YouTube.
Shop For Wedding Makeup
To stay true to our roots as a shopping blog, I've also linked some of my favorite products and the products mentioned in the tutorials below the last video. The vloggers also usually list products on YouTube, but some of them didn't. You can get most of the products mentioned from Sephora,  and the MAC brushes and products directly from MAC or from Nordstrom.
I tried to listen for some of the top products these makeup pros like, and I stocked the shop with those, and a few of my own faves!
Shopping sources on this site use affiliate links, which means this site may earn a commission if you make a purchase from our links.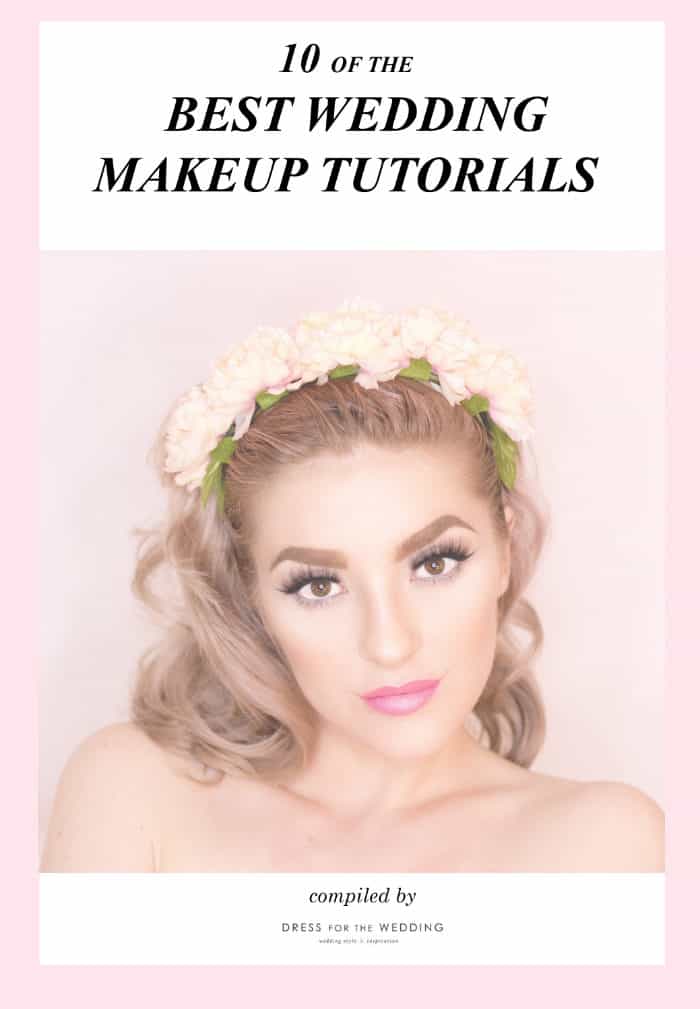 Photo Beatnik Peach via Pexels
More Wedding Inspiration
You might also want to check out our wedding dresses, bridesmaid dresses, and latest post on wedge wedding shoes!