What to Include on Your Wedding Registry with Crate & Barrel
Crate & Barrel has generously sponsored this post, but the words and love for the brand are all mine.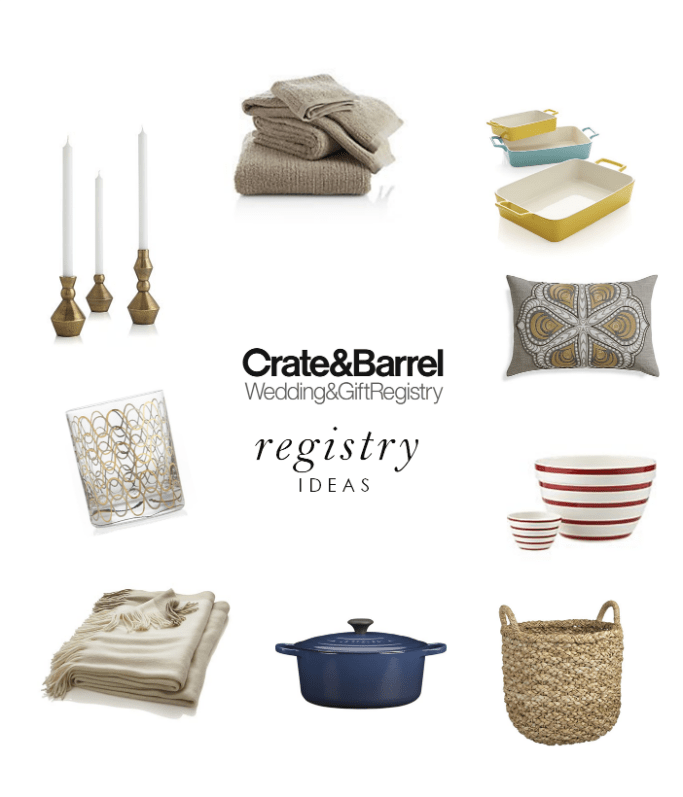 Every place I've lived--from my dorm room to my current home--has included many Crate & Barrel pieces. When I got my very first place, I treated myself to Crate & Barrel mugs with a pretty blue detail. When I moved into my first grown-up apartment, my casual plates, rugs, and home accessories were all Crate & Barrel purchases.  So, when I got married, it's no surprise that my husband and I chose Crate & Barrel as our primary registry. I am so happy with that choice, and the pieces we selected!
If you aren't sure how and why to register, I'm happy to tell you all the reasons why you should! If you're already planning to register, I'll share with you some of my tips for what to include! As soon as you get ideas, I recommend that you attend a Crate & Barrel Wedding Event! Find and Attend one at a Crate & Barrel near you!  Or if you really are ready to go, get started now and Create a Registry.
What to Include in Your Wedding Registry
I'm so in favor of engaged couples creating a registry that I wish we had registered for more things! Lucky me, because today I'm getting that chance to revisit registry all over again. Here are some registry basics that had on my own registry, plus several pieces I wish I had included! Don't let me have all the fun, remember to create your own registry at Crate & Barrel or attend the in-store Wedding Party to get the most out of your own registry experience!
What to Include in a Crate & Barrel Wedding Registry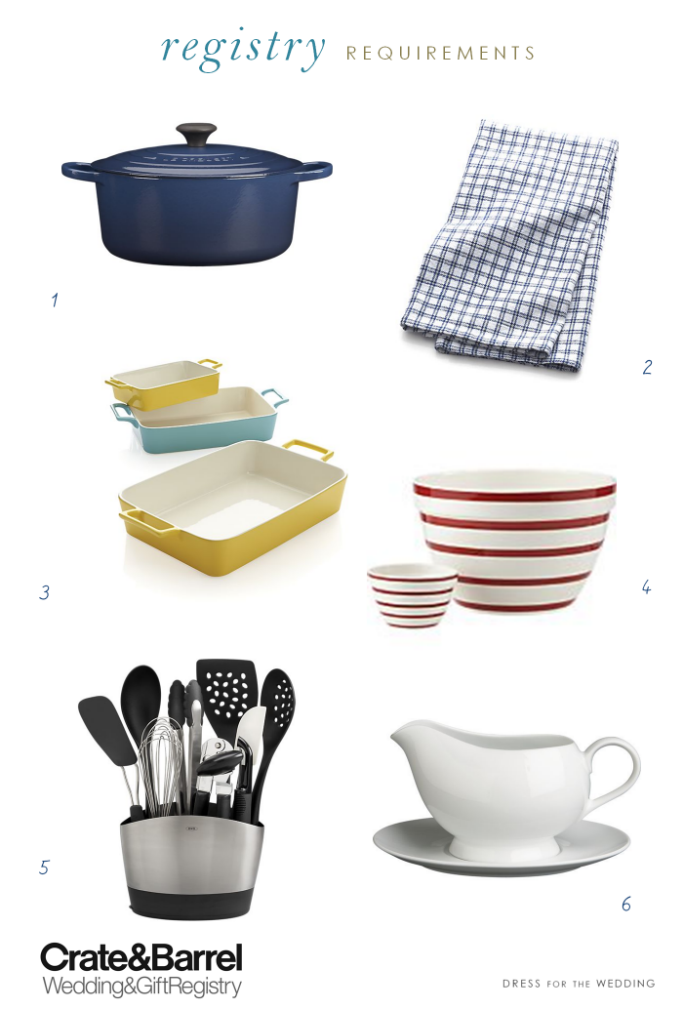 1. Le Creuset ® Signature 7.25 qt. Round Ink French Oven with Lid I cook at home a lot now,  and I have come to understand the magic of a enamel vessel that can go from stovetop to oven. I have to do a makeshift thing every time I try to braise things, and I really, really wish I had this piece.
2. Blue Grid Dishcloth  I try not to use a lot of paper towels, and I do a lot of dishes by hand, so I'm always on the search for more dishtowels! I registered for these and I'll take as many pretty ones like this as I can find!
3.  3-Piece Potluck Baker Set  I love to bake, and I love pans with handles like this. I included 2 on my registry, but I'd definitely include these today. Who can resist these pretty colors?
4. Striped Mixing Bowl Ok, if you read this blog you know I love stripes, and I also love mixing bowls! This one is so pretty for making cookies, or even displaying fruit.
5.  10 Piece OXO Crock with Tools Set   I love the weight and grip OXO puts in to their products, and having a good set of cooking tools is essential. I love these because they won't scrape or mark your pans, they are heavy-duty, and all neatly arranged in this caddy! (I already have the peeler and the tongs, and I love them but I would love this whole set!)
6. Gravy boat with saucer!  Doh! I forgot to register for this, and I need one! Every time I serve gravy I use a small pitcher I have that doesn't match my set. It's so handy and the saucer prevents spilling gravy on the tablecloth.
Why You Should Register for Wedding Gifts
Why register, you ask? Well, if you're just starting out, perhaps you can't imagine that some day you'll want place settings for 12, beautiful glassware, and a platter that will hold a 20-pound turkey.  I'm here to tell you, those days will come faster than you think. Rather than having to purchase all of those things before you host people at your house, you'll be thrilled that your family and friends gave you these gifts to help you set up a home. All the pieces we registered for have just finished doing a superb job helping me cook, bake, and set a beautiful table for Thanksgiving, and they are about to be pressed into more service for Christmas!
The tradition of registering for gifts also gives you and your spouse-to-be a time to think about the kind of home you want to create, and the gifts themselves also create memories.  For instance, my godparents (great dinner party hosts in their own right) gave us several settings of my fine china formal setting, White Pearl.  My cousins gave me the two sizes of the Lucerne lidded casseroles which I use every night because it makes it look like I made an effort (even if I've just microwaved frozen veggies) and I love how it can go into the oven for casseroles, and instantly look nice.  Another friend gave me the White Pearl teapot and sugar and creamer set, which are so pretty and are used each day!
Things to Consider Adding to Your Registry
Once you've registered for some must-haves, I recommend treating yourself to some nice-to-haves! I wish my husband and I had picked a few more pieces to have at the ready when we entertain, plus accessories that make a house a home!
Gifts For Entertaining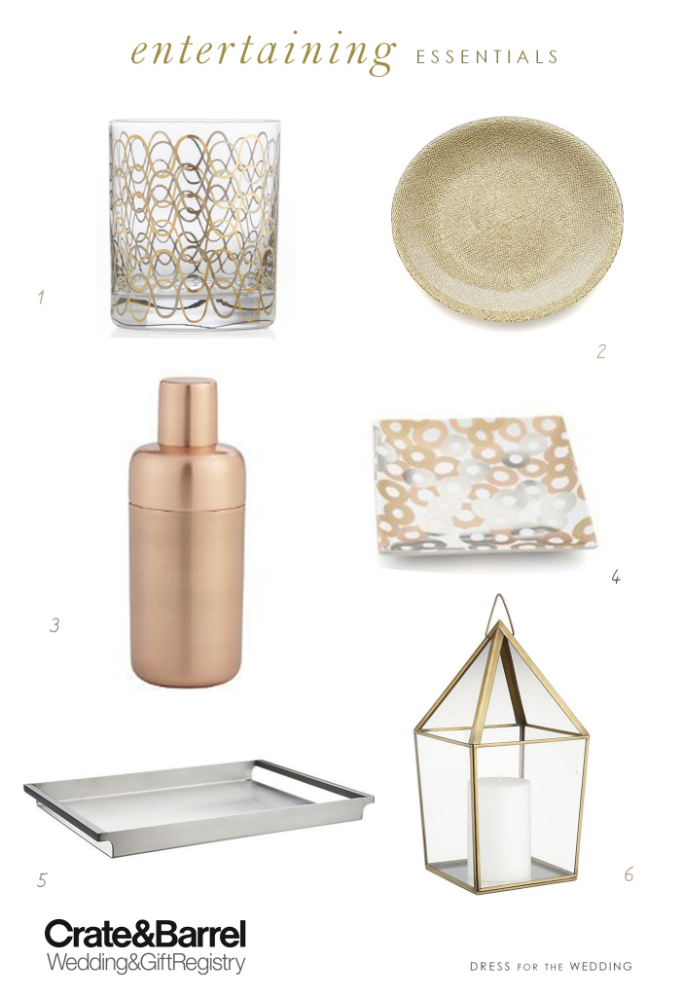 1. Greet Bar Glass How Mad Men-esque! Nothing makes it easier to make a pretty cocktail than a little gold patterned glass. I love how these are instantly festive. I'd mix and match these with the Mingle Glass.
2. Shimmer Gold Dinner Plate I love my pretty white plates, but for festive occasions, it would be fun to have these sparklers to add texture and golden glamour to a placesetting!
3. Orb Copper Shaker One of these days, I will get a bar cart, and when I do, I want this shaker! I love anything copper, and this also looks functional too.
4. Rings Appetizer Plate I'm forever in need of little plates like these! They are great for putting out small snacks or offering to guests so that they don't have to balance their hors d'oeuvres on flimsy cocktail napkins.
5. Orb Tray I love trays for carrying drinks, chic storage, breakfast in bed, and for creating a little flat surface for drinks  on an ottoman. This metallic tray is so chic and sleek!
6. Lillian Lantern This would make a fantastic centerpiece both inside and out. I love the geometric look!
Home Accessory Gifts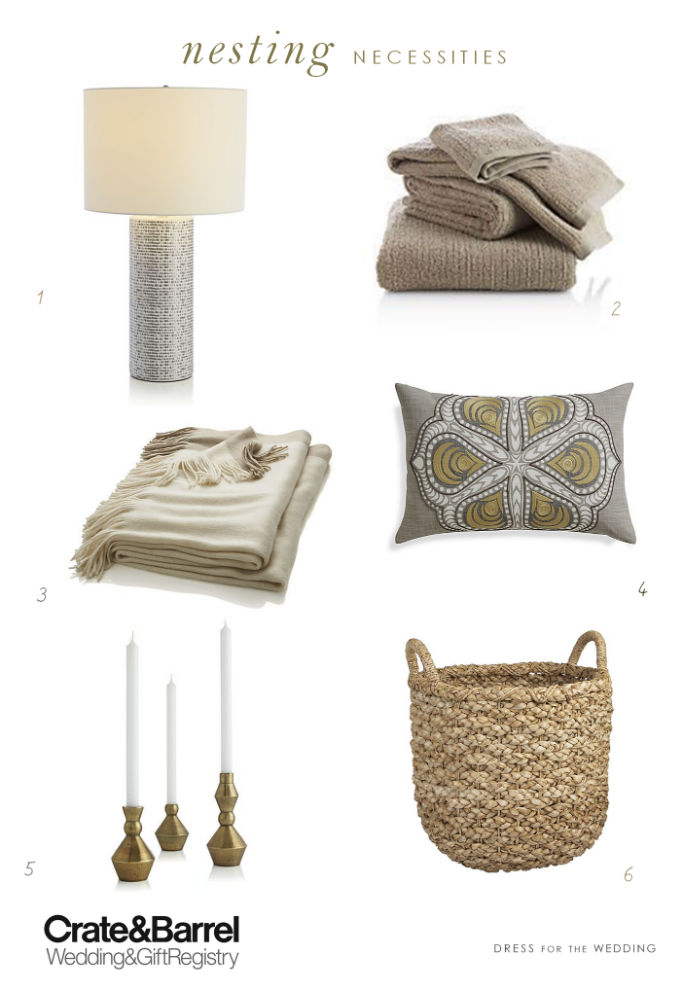 1.  Roscoe Table Lamp I'm always in search of just the right lighting, and I have the hardest time finding lamps I like, but this lamp is just my style!
2. Ribbed Sand Towels  One can never have too many fluffy towels! I love neutral colors with texture - they give your bathroom that spa feel!
3. Tepi Natural Throw Another thing I think you can't have enough of? Blankets and throws! I have one on the couch and on on each bed, and my dog and husband and I all vie for the same one in our house, maybe we should just get another! I love the contrast edge on this one!
4. Gentry Pillow You'd be surprised how much life one little statement pillow like this can add to a room.  Get a few for the couch and one for each bed!
5. Denby Candle Holders A pretty collection of candles is a must have for dinner party hosts - and it's especially nice for newlyweds to have on hand for impromptu candlelit dinners. I love the assorted sizes and shapes of these holders, as well as the rich look of the anitqued brass.
6. Emlyn Basket I love having pretty baskets like this. They add storage, and a pretty natural texture to the room.
As you've gathered by now, I completely recommend Crate & Barrel for a registry. Not only is the style impeccable, but the quality and selection is too. In addition to all the quality brands they offer, the service from Crate & Barrel is fantastic.  You'll also get benefits like a price-match guarantee; 10% off purchases for 6 months after your wedding, (giving you a chance to pick up any last minute pieces and making any gift cards you receive go farther!);  the mobile app scanner,  help from the registry experts, and the ability to use your gift cards at CB2 and Land of Nod. Crate & Barrel also offers bonus gifts from brands like Kitchen Aid and Le Creuset.  Crate & Barrel will also give you a gift : 2 stemless wine glasses in a pretty linen bag! Isn't it fun to be engaged?
By now I think you've probably seen  enough of what I want, and you're ready to start registering yourself ! Get started now and create your own registry!  I hope these collages will inspire you- next find and attend in-store Wedding Party  to get the most out of your registry experience!
Crate & Barrel has generously sponsored this post, but the words and love for the brand are all mine.