Male Wedding Guest : Classic Attire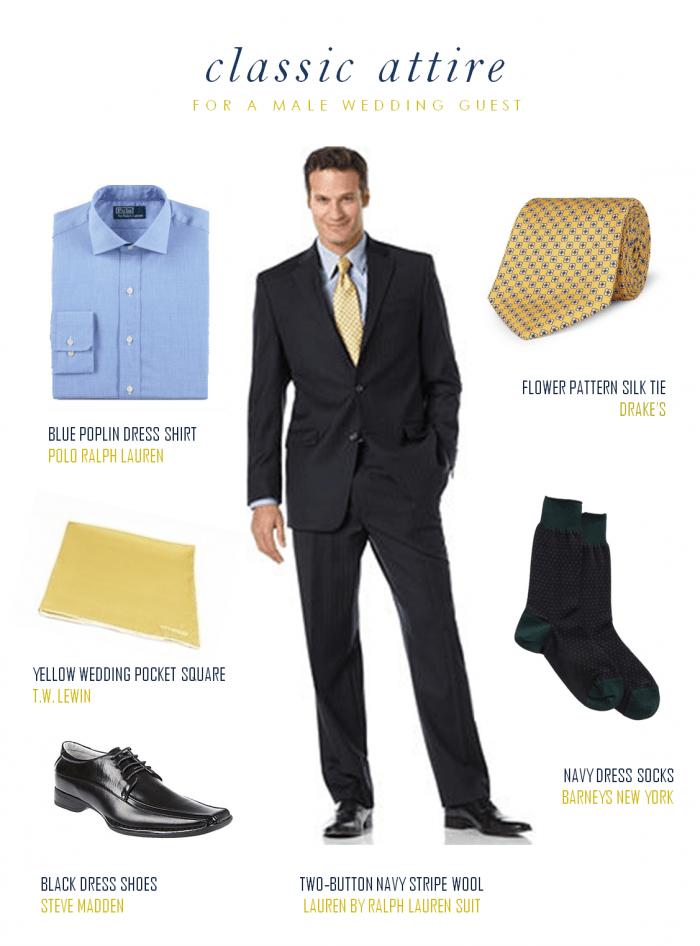 Lauren by Ralph Lauren Suit, Two-Button Navy Stripe Wool /  Flower-Pattern Silk Tie / Barneys New York Micro Dot Dress Socks / TM Lewin Yellow Silk Wedding Handkerchief / Steve Madden  "M-Tell"  Black Shoe /   Polo Ralph Lauren Dress Shirt, Blue English Poplin 
Male Wedding Guest : Traditional Attire
Last week when I announced my Dress For The Wedding pursuits to my friends and family on Facebook, I was overwhelmed by the support. Perhaps what surprised me most was the support from my male friends and family members.  Since I have long claimed that I offer styling ideas for male wedding guests, grooms and groomsmen, it seemed like I owed it to my new male fan base to write a few more posts directly aimed a male wedding attendees.
Perhaps one of the reasons I haven't covered this topic as frequently is because, despite being huge fan of picking out ties for my husband  and pairing them with shirts, I'm slightly less familiar with all the rules of men's fashion. So I've usually just included tie suggestions with posts, and mentioned things to my lady readers some accessories "for your date" but haven't given men's wedding fashion enough of a spotlight.
I think writing more for my male fans will be a wonderful new step because it will encourage me to learn more about men's fashion. For instance; I already had to look up the following questions: Is it ok to wear a pinstriped suit and striped tie? ( Yes.) And, through that search, I learned the 2 out of 3 rule from AskMen.com that generally out of the shirt, tie, and suit only 2 of the 3 should have a pattern.( 3 out of 3 is saved for gentlemen who can pull off a real mix of prints -- and I happen to know a few of these fellows!) I also learned that it's fine to wear black shoes with navy, and that a man's shoes should always be as dark or darker than his suit. I also already knew that matching ones socks to one's pants is a generally the accepted norm; but it bears repeating.  See all that I've learned so far? Exciting stuff, I tell you!
So, today's look is just the standard take-you-anywhere-but-will-be-especially-appropriate-to-wear-to-a-wedding look. A navy pinstriped suit, blue shirt, classic silk tie -- and, as an added elegant touch -- a pocket square! I noticed on FOX NFL Sunday all the commentators wear them now...so, in my mind, so should you! I can think of no greater act of chivalry than to be able to offer that square to a misty-eyed date who is shedding happy tears at the lovely sight of two friends getting hitched.
Hope you've enjoyed my foray into men's wedding fashion, and are looking forward to more to come!