Wedding Gown with Bright Accessories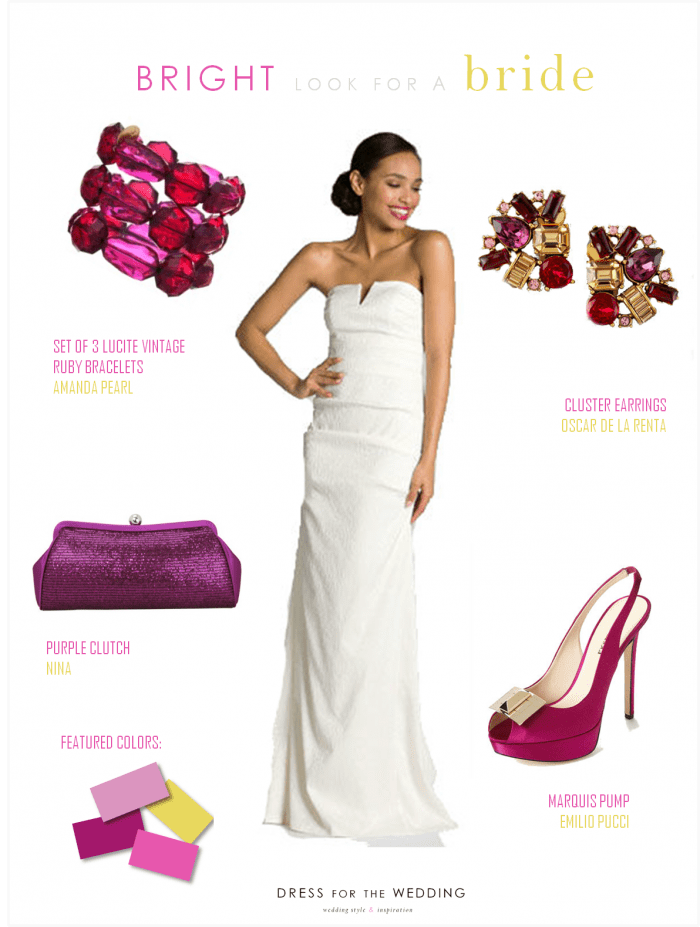 Nicole Miller Pintucked Jacquard Fishtail Gown /Amanda Pearl Set of 3 Vintage Ruby Lucite Bracelets / Oscar de la Renta Crystal Cluster Earrings / Emilio Pucci 'Marquise' Pump / Nina Clutch in Grape Deep Purple 
Sleek Wedding Gown from Nicole Miller with Bright Accessories
I'll be re-running bits of my post from Bayside Bride this week, which features a bevy of bright bridesmaids' looks. However, I couldn't resist adding a bright bride into the mix, too.  With a simple silhouette like this pintucked Nicole Miller gown, brides who a want a splash of color can easily add some, since it's especially easy to do against such a sleek dress.
As a new feature to Dress For The Wedding, I'm going to more clearly highlight the color palettes in each wedding look post in the form of "Featured Color" swatches in the left hand corner. I know color is key when planning a coordinated wedding look!
In this I picked up hot pink, a rich purple, a bright gold, and a little ruby. They all work well together, and play off of each other bring a little bit of color and interest for a bride who wants to inject the white bridal look with some splashes of contrasting color.