What Should a Guest Wear to a Rustic Wedding? We'll answer that question and show you some great rustic wedding guest dresses to shop!
Shopping sources on this site use affiliate links, which means this site may earn a commission if you make a purchase after clicking our links. Your clicks and purchases help support this site!
What Should a Guest Wear to a Rustic Wedding?
Rustic weddings are have grown to be one of the most popular style of weddings. As we approach the fall season, even more couples opt for a rustic theme wedding, leaving many guests to wonder what to wear! Fortunately, finding dresses for a rustic wedding is relatively easy, since the floral dresses, lace dresses, and rustic-chic maxi dress styles that look great at these events, are in stock is no many stores this season!
Whether it's a barn wedding or an outdoor wedding in a countryside setting, rustic style may be the dress code. Here are my most recent picks for dresses to wear to rustic weddings as a guest! These dress picks have been updated for the 2020 wedding season!
Attire Guidelines for a Rustic Wedding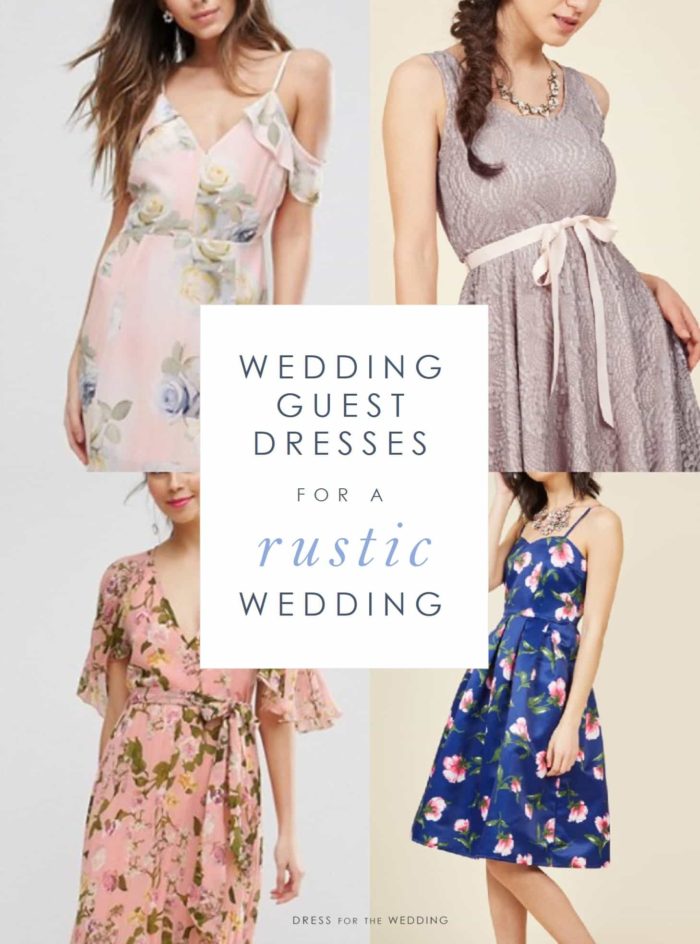 Sources: 1. Asos Cold Shoulder Maxi Dress 2. Impress Rehearsal Dress from ModCloth 3. Flutter Sleeve Maxi Dress from ASOS 4. Vogue and Vitality Fit and Flare Dress from ModCloth
Wedding Attire Ideas
Prints are perfect for rustic weddings! I love a printed or floral dress for a wedding, but they especially suit rustic weddings because they fit in with the country-style surroundings! Gingham prints, stripes, and lace dresses also work really well for rustic weddings! ou can also check out our picks for summer wedding guest dresses.
You'll want to also pay a little attention to whether it's a rustic casual wedding, a western or country themed wedding - where more casual attire like skirts, sundresses, and perhaps khakis for men would be permitted -- or more of an upscale rustic wedding where semi-formal attire with a long maxi dress or unstructured suit for men might be more suitable. Also see our thoughts on what the Mother-of-the-Bride should wear for a Rustic Wedding.
Wedding Guest Dresses for Rustic Weddings
Here are a few dresses in lace, floral prints, or that echo a dressy rustic style that we love for this season!

Attire Guidance
Attending a rustic wedding is certainly less formal than a black-tie or semi-formal evening wedding, but it doesn't mean you don't need to dress up at all. Pretty dressy casual dresses like this floral fit and flare dress and a few of the ones I've shown below are perfectly in place at a rustic wedding. Footwear is important for an outdoor wedding, too. Wearing pretty shoes that won't stick in the grass or in a barn floor is a good idea. Try to find some wedges, block heels, or use these brilliant inventions - Solemates High Heelers so your heels don't sink into the grass! You also may want to include a sweater or wrap since rustic wedding venues like barns or pretty meadows might have variable temperatures.
Attire for a Semi-Formal Wedding at Barn or Country Venue
If the wedding reception is indoors either at a barn, country estate, or winery and sort and more of a "rustic chic" formal style or you might want to opt for more semi-formal attire like a maxi dress, which can look as casual or as formal as needed - they are such versatile dresses that can go from day to night, casual to formal with just a chance of accessories. Cocktail length or below-the- length lace dresses are also great for this sort of look!
Rustic Wedding Guest Attire for Men
Of course, it's not just women wondering what to wear to a wedding! Men's attire for a rustic wedding can range from the casual hats, vests, jeans and cowboy boots ( but only if so instructed, or you know this is the dress code!) to suits and jackets. Just like what you'd wear to any other outdoor or partially outdoor wedding event! Cotton, linen or tweed jackets or suits in medium colors (tans, browns, grays, blues) are a good choice.
A nice matching vest and pants worn in suiting material worn with a nice shirt can be a good choice too. Bow ties and even suspenders, if you wear them, also add a nice 'rustic' style.
If you have the feeling ties are not needed at the event you are attending, just a blazer in cotton, wool or a pattern with good pants is also an option. Here are some ideas for getting that rustic wedding guest style for guys!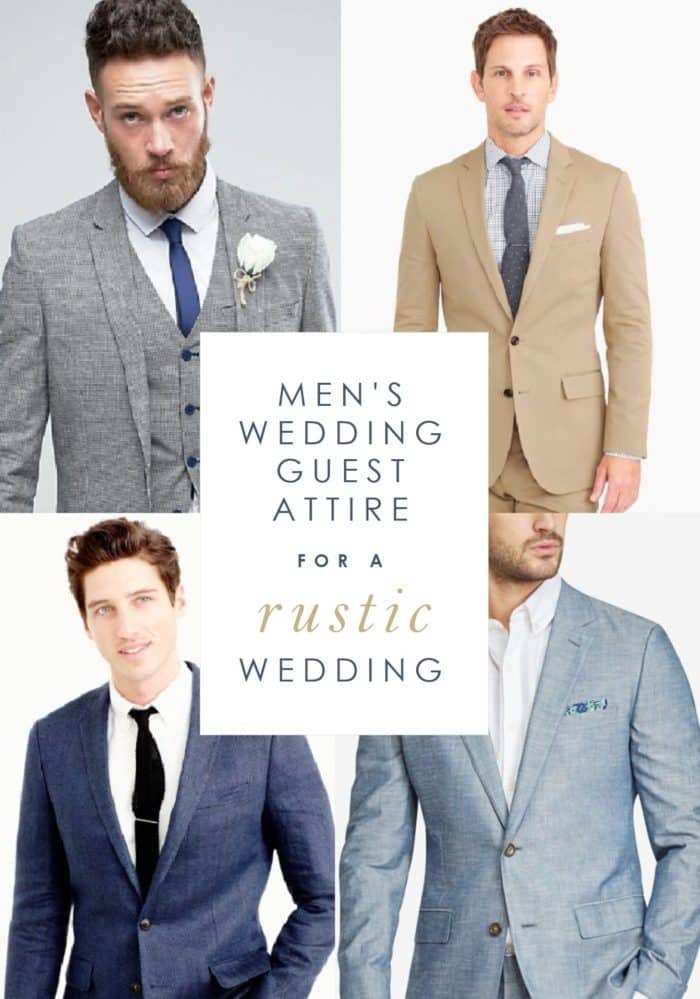 Sources: Only & Sons Gray Skinny Suit from ASOS 2. J.Crew Ludlow Tan Chino Suit 3. Ludlow Linen Blazer from J.Crew 4. Bonobos Foundation Chambray Suit
Guest Attire for Men

Here's the older post that was the original post about rustic wedding attire!
Happy Sunday, everyone! I just wanted to recap a few things this week and show you the second look I created for my guest post earlier this week on Rustic Folk Weddings.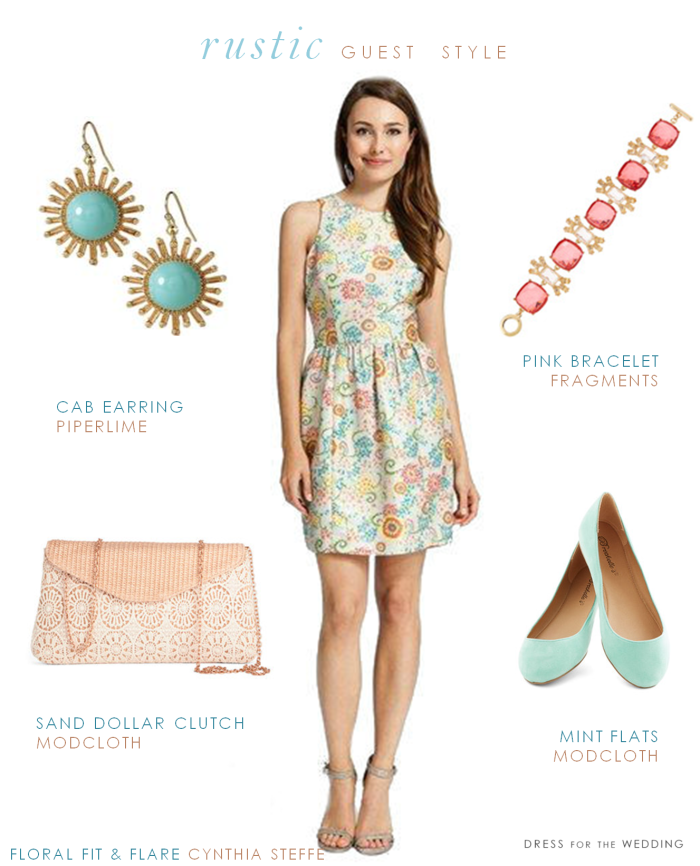 Sources: Floral Printed Fit & Flare Dress (sold out, but this Floral Dress is in stock and very similar)| Flower Earring | Mint Flats | Ombre Marquise Bracelet | Sand Dollar Clutch
When Charmaine of Rustic Folk Weddings kindly asked me to guest post, it leads me to think more about appropriate attire for outdoor or other country-style weddings, which could include a backyard wedding in a rural setting, or a barn wedding.