An exclusive look at newest dresses for the mothers of the bride and mothers of the groom from BHLDN for 2016.
Get ready for your exclusive first peek at the spring and summer Mother-of-the-Bride dresses from our sponsor BHLDN! We're also sharing our tips for how to coordinate these pretty colors with the rest of your wedding party! BHLDN has generously sponsored this exclusive look at their latest collection of dresses for mothers of the wedding.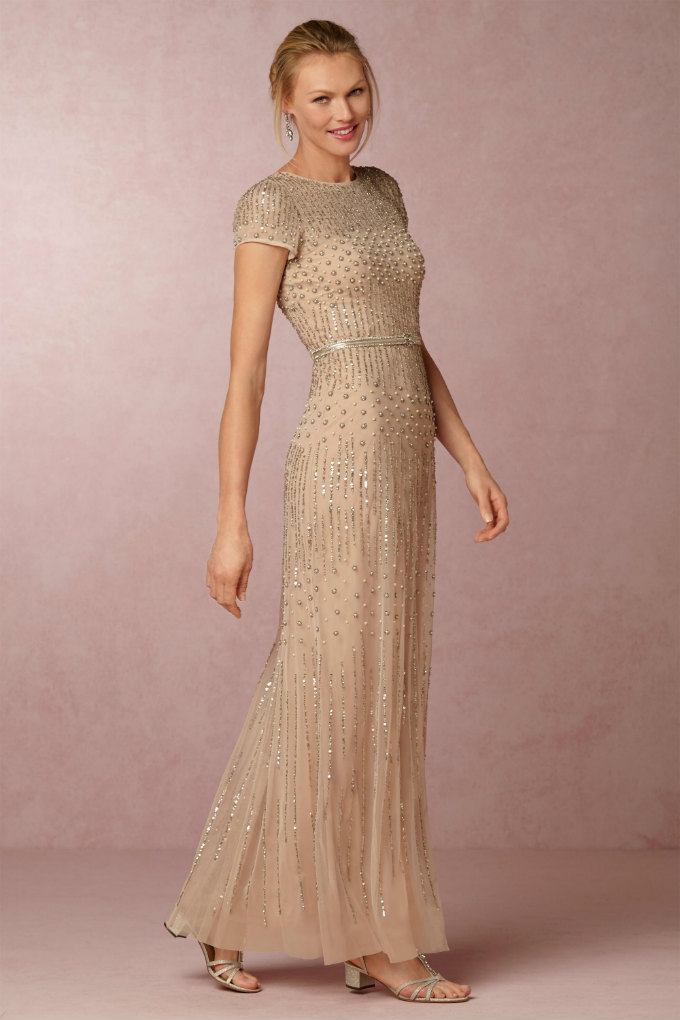 The release of a new collection of Mother-of-the-Bride or Groom dresses from BHLDN is always an event to celebrate, because without fail, they always present one of the most refined selections of chic styles for mothers to wear to upcoming weddings.
The search for the perfect Mother-of-the-Occasion dress can be overwhelming, but BHLDN can be counted on to present a selective group of modern, elegant gowns and classic cocktail dresses for mothers of the wedding, making it easy to find the ideal gown or dress.
We're especially excited to present this collection, because Dress for the Wedding is the only site to present this exclusive first look tonight -- several hours before these dresses and gowns will be available on BHLDN! As we've seen in years past, these sought-after styles sell out quickly, so you'll want to be ready to purchase yours! Without further ado, here is the latest collection.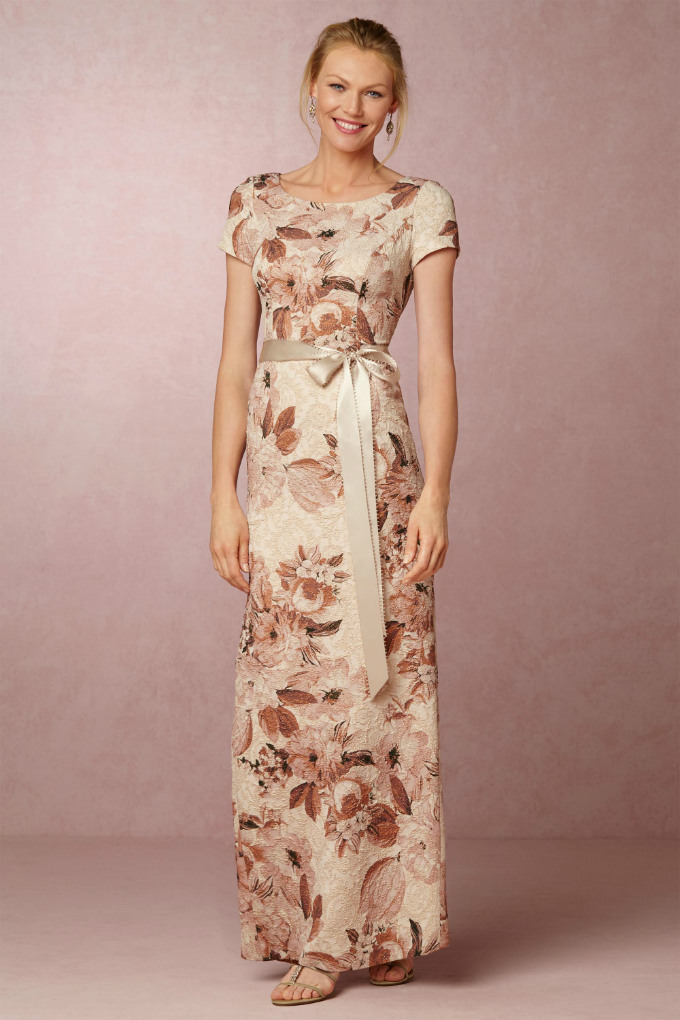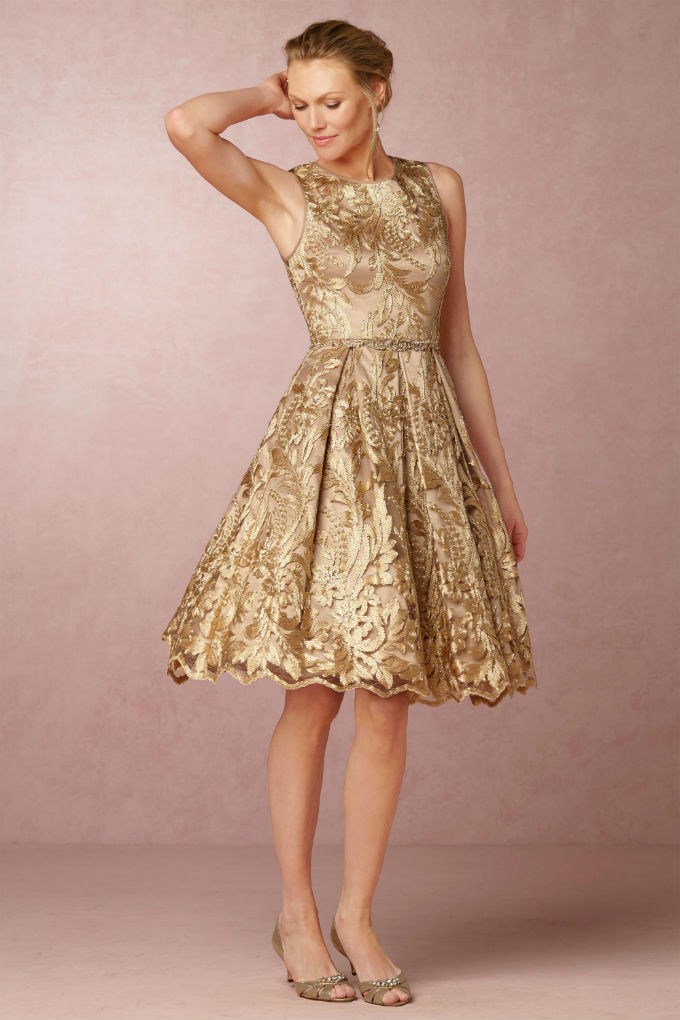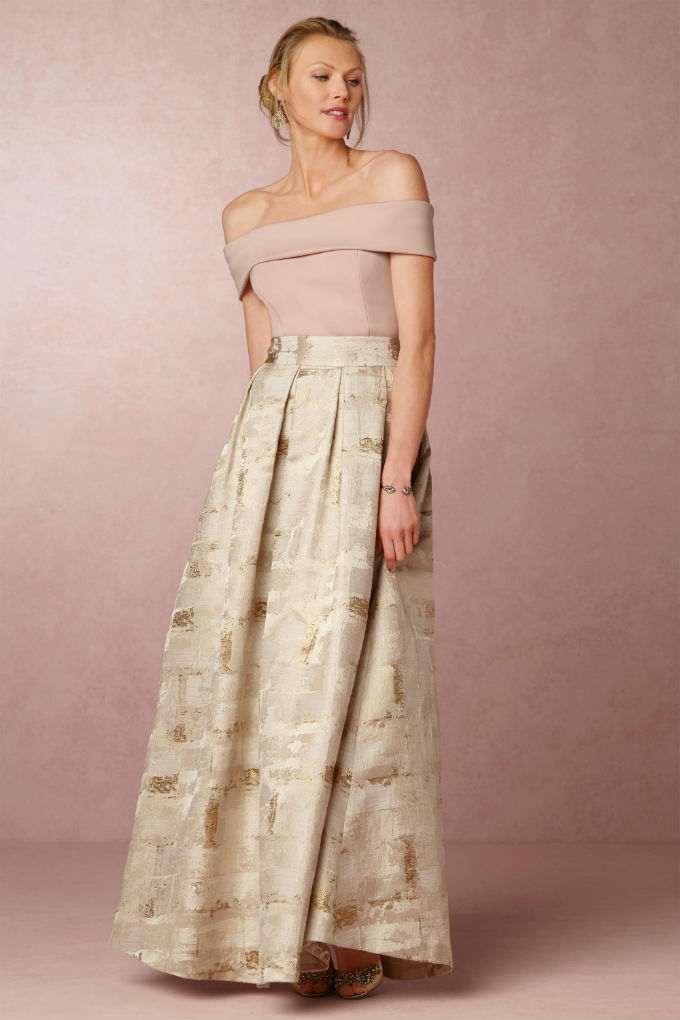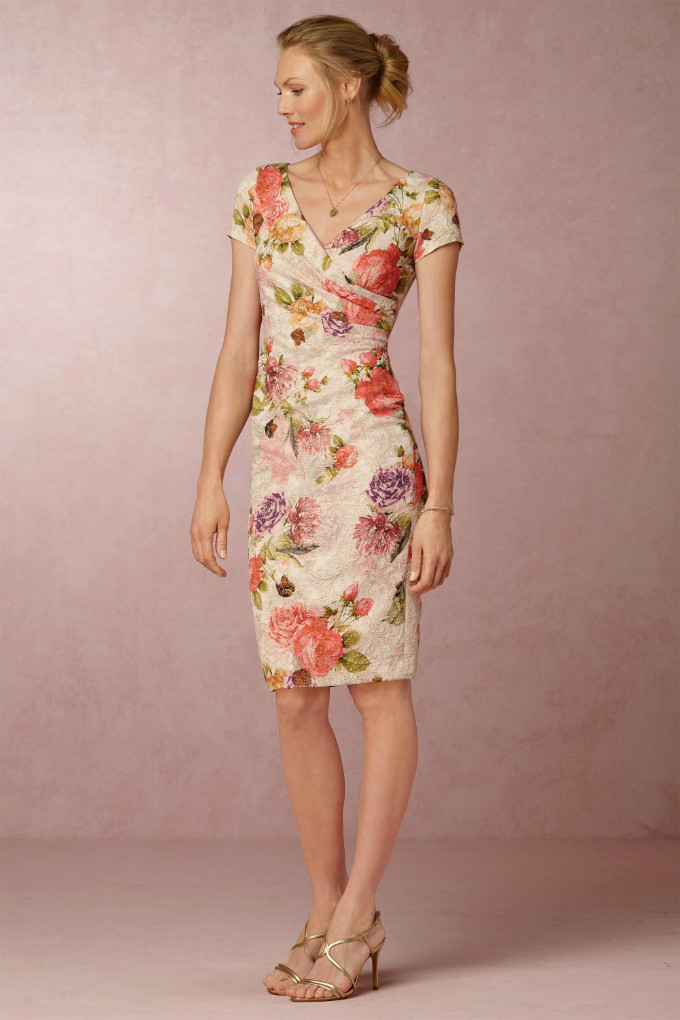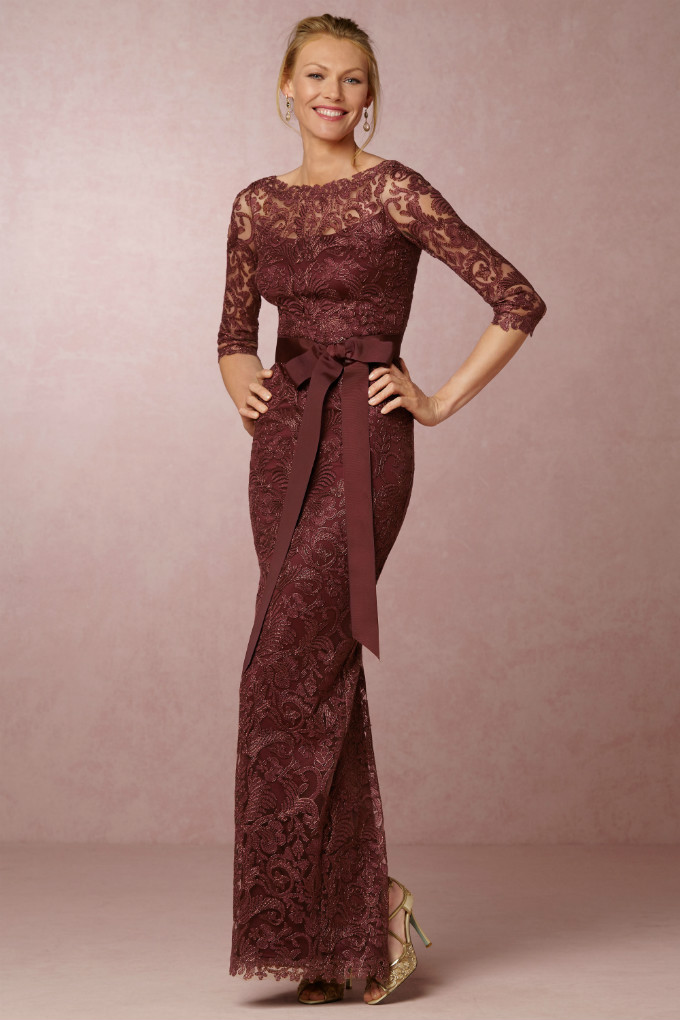 The highlights of this collection bring together some of our favorite style elements for this season. The Coraline Dress and Medina Dress show beautiful floral patterning. The Darby Dress and Rosa Dress are made with rich laces in elegant hues, and the Sofie Top and Skirt offers a modern option of separates, with a beautiful metallic ballgown skirt and off-the-shoulder top.
Wondering which one is right for you? If the wedding is an informal or daytime wedding, we love the look of the floral Coraline Dress. For a garden wedding, try the Medina Dress or the Sofie Skirt and Top.  And if you're seeking sparkle or formal flair, Darby Dress, Berkley, and Rosa Dress are standouts.

 Medina Dress / Sofie Top and Skirt / Darby Dress / Berkley Dress  all pair perfectly with BHLDN bridesmaid dresses
The other absolutely brilliant aspect of this collection, is how beautifully these dresses for mothers coordinate with current collection of BHLDN bridesmaid dresses. BHLDN has simplified the approach to coordinating colors, by providing a color guide that delineates the Mother-of-the-Bride dresses that pair perfectly with dresses that the bridal party may wear.
To bring the BHLDN guide to life, I've created some collages that show exactly how well these Mother-of-the-Bride and bridesmaid dresses work together:
If your bridal party is wearing blush, berry, pinks, or rose, try the Medina Dress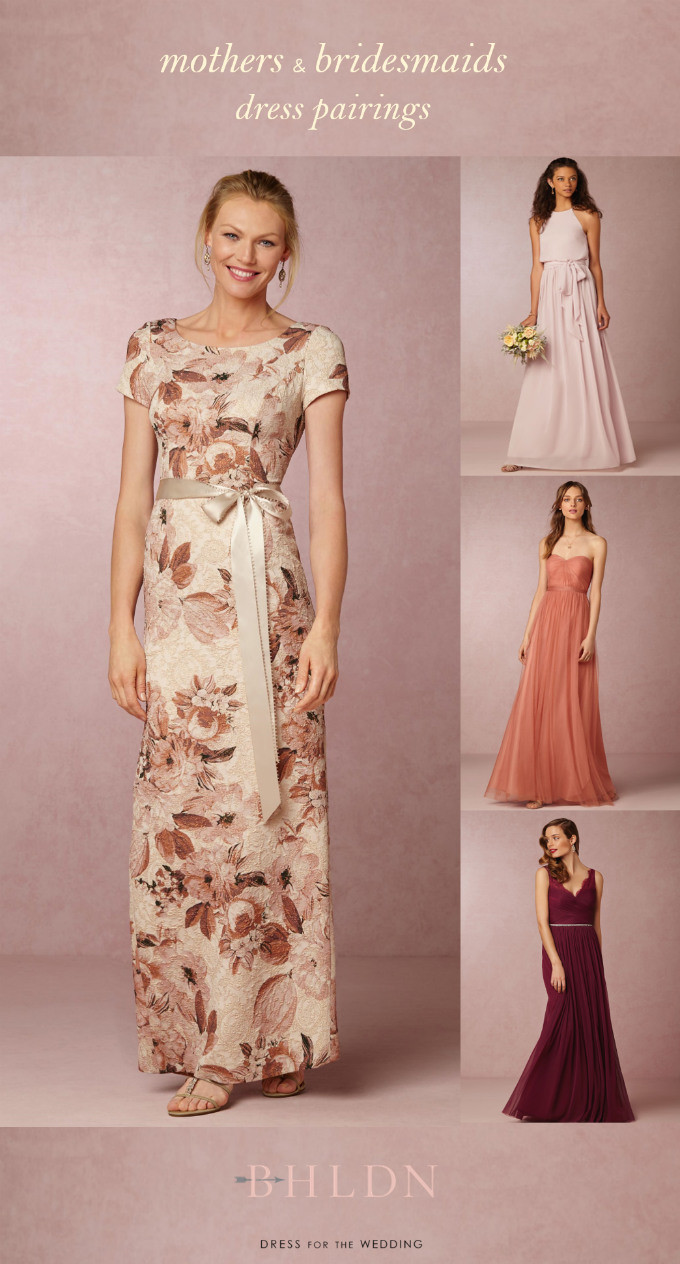 Medina Dress shown with: 1. Alana Dress  2. Annabelle Dress 3. Fleur Dress
If the bridal party is wearing blush, pink, taupe, neutrals, or gold, the Sophie Top and Skirt would be lovely!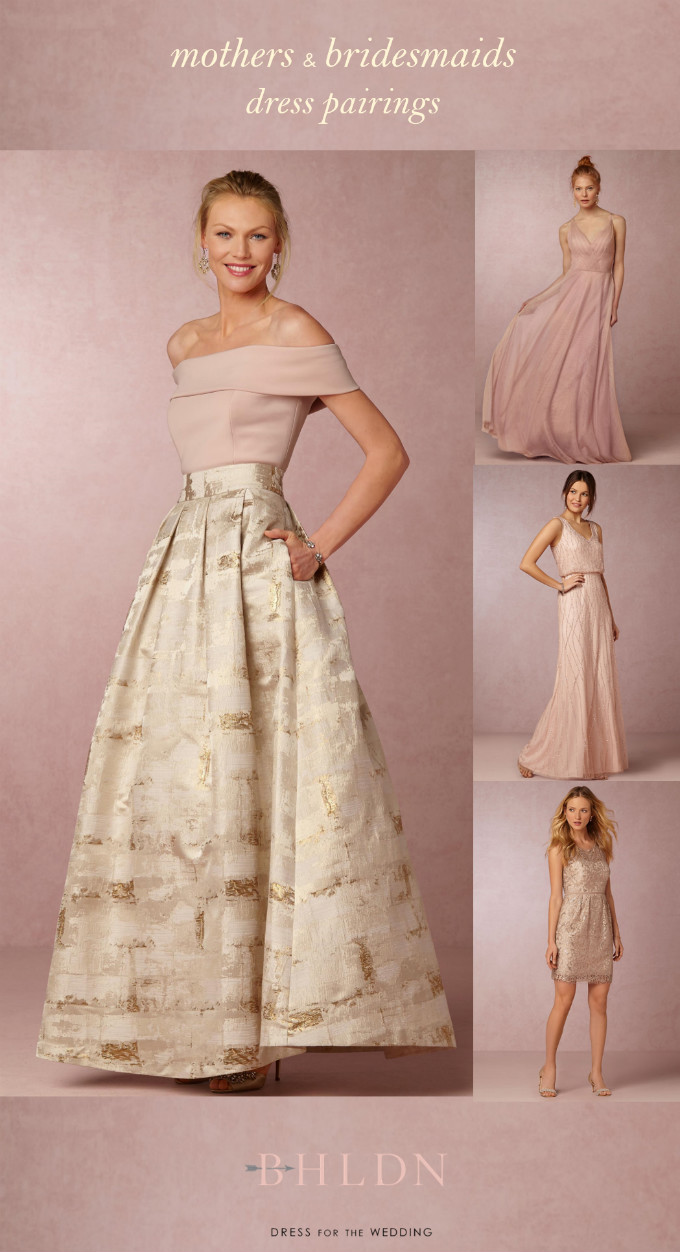 Sofie Top and Skirt with 1. Zaria Dress 2. Brooklyn Dress 3. Harlow Dress
The pretty neutral beading of the Berkley Dress is a lovely accent to soft blues, greens, grays, and taupes.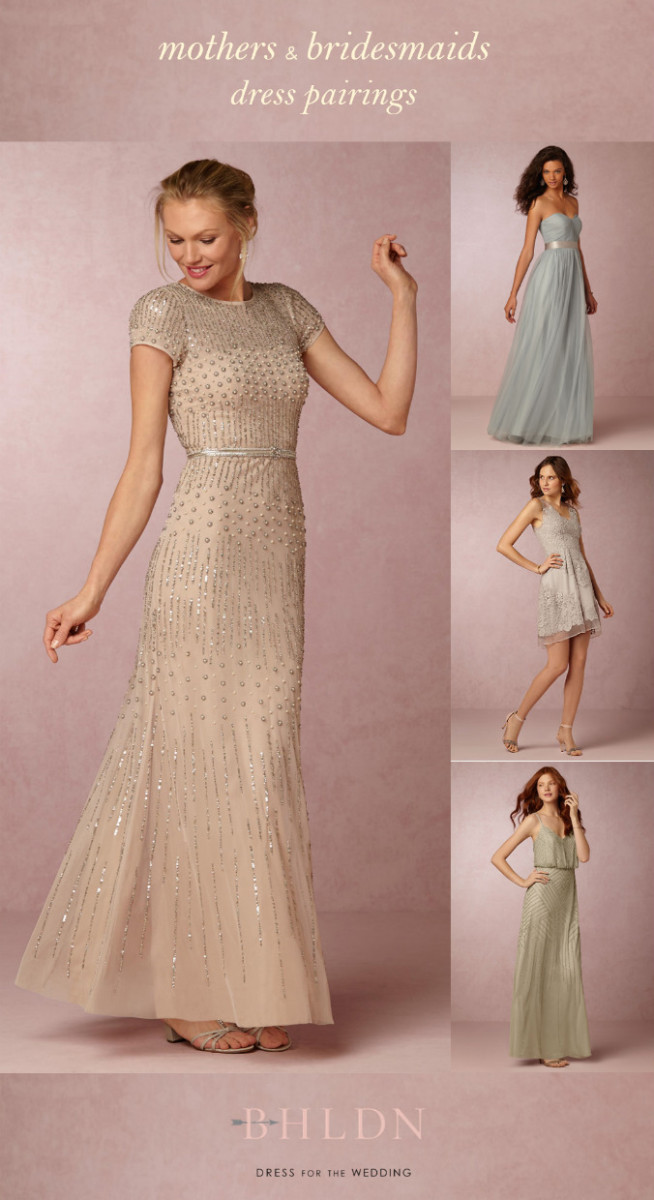 Berkley Dress shown with 1. Annabelle Dress 2. Celestina Dress 3. Sophia Dress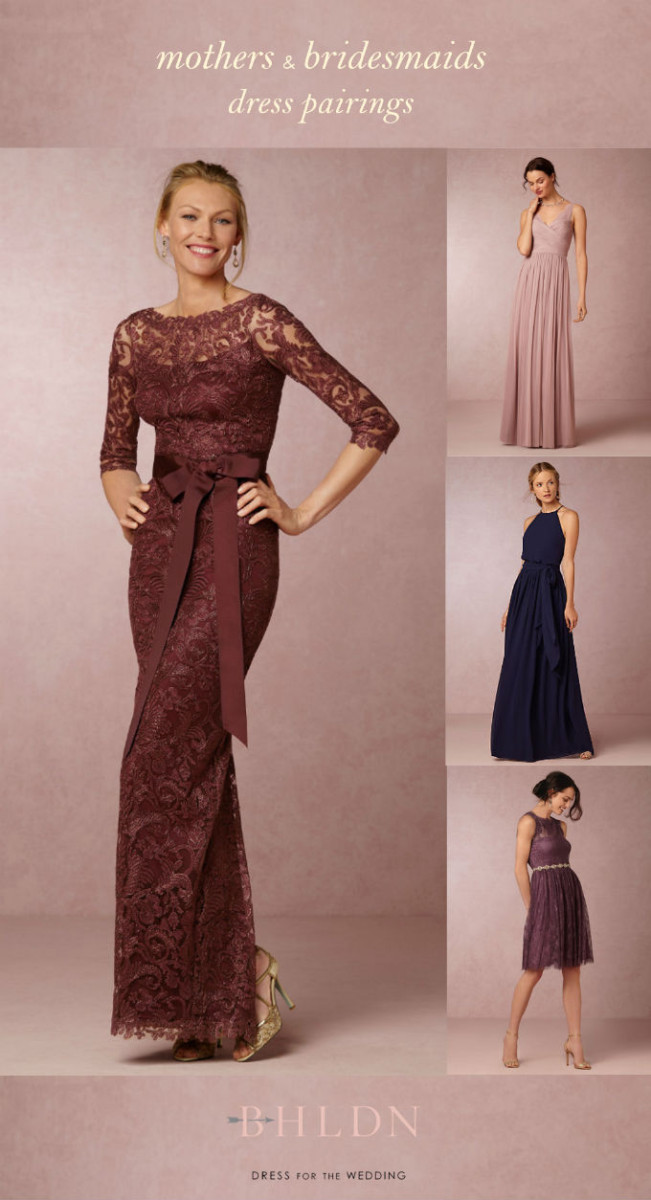 Darby Dress with 1. Fleur Dress 2. Alana Dress  3.Celia Dress 
The other way we suggest using these color guides, is to help coordinate between mothers on both sides of the family in the wedding party.  For instance, a Mother-of-the-Bride may choose the Medina Dress, and so the Darby Gown would be the beautiful Mother-of-the-Groom pairing that coordinates and complements without competing.  Here are a few dresses from BHLDN that we love together for mothers on either side of the aisle!

From top (l to r). 1. Darby Dress 2. Medina Dress 3. Tonya Dress 4. Rosa Dress 5. Berkley Dress 6.Brooklyn Dress
We hope these collages will spark all sorts of ideas for how to coordinate these looks between mothers in the wedding and the wedding party.  Please visit bhldn.com for more details and to purchase the new collection!
BHLDN has graciously sponsored this feature of their gorgeous offerings for mothers in a wedding. Dress for the Wedding is grateful for their support! Affiliate links are also used in this post.