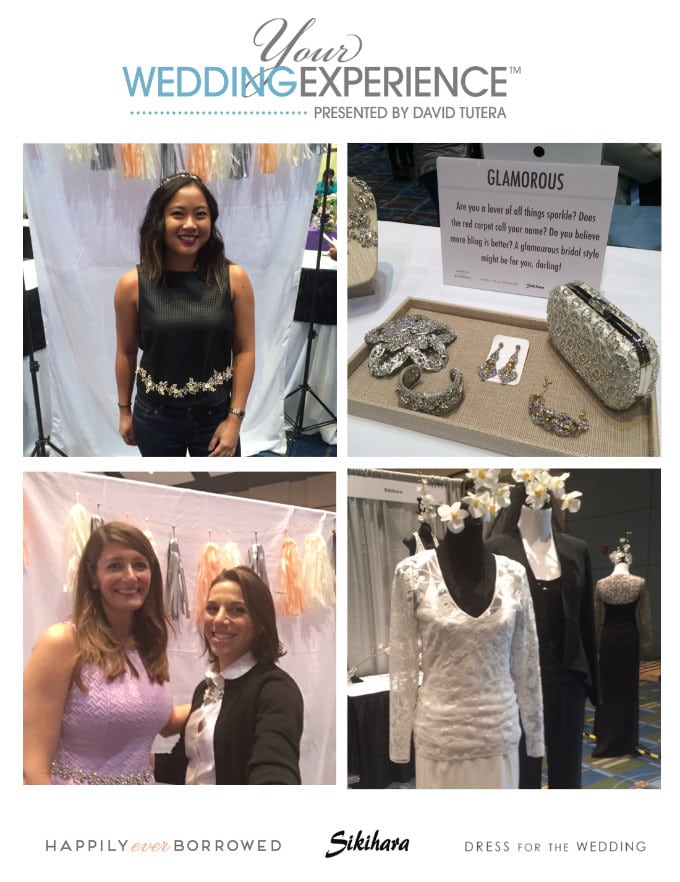 Hi Everyone, I'm back from Your Wedding Experience Presented by David Tutera in Philadelphia, and it was another incredible event! Thank you to all who stopped by our Style for the Aisle area with Happily Ever Borrowed and Sikihara.  Brittany Haas, the founder of Happily Ever Borrowed was right there to meet with all the brides and their wedding party members. It was wonderful for everyone to be able to interact with the pieces, to get advice from Brittany, and to get to see themselves wearing a beautiful headpiece, sash, veil, or earrings! The best part was seeing everyone's delight at the fact that these gorgeous high-end bridal accessories from Happily Ever Borrowed are available for rent, at a fraction of the cost it would be to buy! I really can't say enough about it. I wish it had been an option when I was a bride longing after a sash I couldn't afford. I know the Happily Ever Borrowed information cards had run out early on (That's how many of you we had the chance to meet with!) so if you're looking for more information, head over to happilyeverborrowed.com, you can also check out more of her pieces in this bridal accessories feature I did earlier!
To help you all find your perfect bridal style, we had accessories grouped by Glamorous, Bohemian, Retro, Classic, and Vintage styles. One of the most popular pieces was this Twigs & Honey headpiece, and Brittany let me borrow the Sophie Petite by Enchanted Atelier for the day, which is one of my favorites because it can be a sash, a necklace, or a head piece. Amazing!  Check out my Instagram and the hashtag #GetYWEStyled to see more looks from the show! And congrats are in order to Hillary French who won the gift certificate to Happily Ever Borrowed!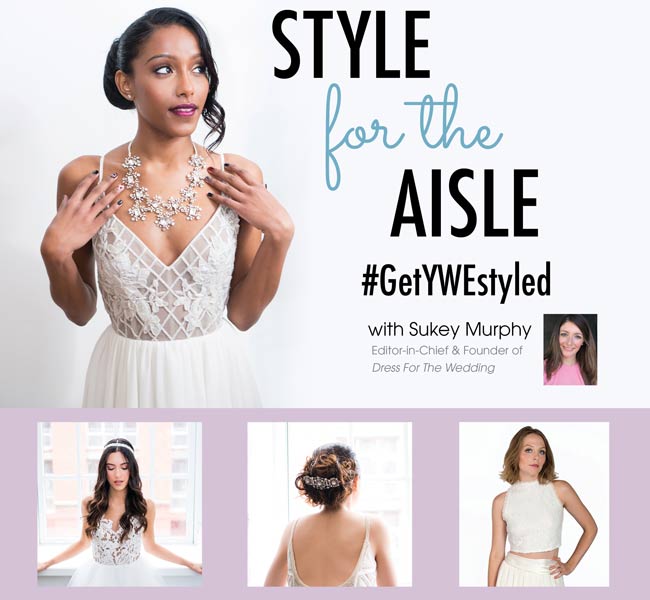 The other fabulous aspect of our Style for the Aisle section was having bridal separates from Sikihara by designer Denise Brownlee. The pieces by Sikihara made a splash in the Wedding Catwalk fashion show, and they were also a hit with our visitors who loved having the ability to be able to customize their look by individual pieces. Sikihara specializes in beautifully-constructed bridal separates which are the perfect choice for the non-traditional bride, destination weddings, brides who prefer a suited style, or anyone who wants to create their own look. Denise shares that "Sikihara is for the woman who defines life on her own terms." See all of her bridal separates and her latest collections at sikihara.com
Finally no mention of our time at the show would be complete without thanking Lystra Abdul, who just graduated from Lovegevity Wedding Planning Institute in January, and who is a talented cosmetologist, hair stylist, and an expert cake decorator and food stylist. Isn't that a great combination of skills to have in the wedding world? Lystra helped us tremendously by helping our brides and guests try on the pieces; she even gave little impromptu hairstyling, and helped visitors take a selfie!  She also helped me set up flowers and signage the day before. She is a gem!
I'd also like to thank Let's Do Linens who took great care with our table set up. They won an award that day from David Tutera, so you know we were looking good! Huge thanks also to Julie Albaugh from Wedding Market who was sharing the show highlights on Periscope. She stopped by to interview me, and put this normally-camera shy blogger at ease!

Mid-show, I also had a fun visit with Sue Phillips from Scenterprises. As you may remember, I hosted a DIY perfume bar last September, so Sue invited me over to mix a new personal fragrance. Sue is an expert at the process; she helped me make a lovely fragrance of floral and herbal notes, which we called "Going to the Garden". It makes a great group activity for a bridal shower or bachelorette party, and a great way to make a custom fragrance for your wedding day!
Again thanks to Happily Ever Borrowed and Sikihara, and to Your Wedding Experience for having me back. Check out the upcoming shows to see if you can catch one of these fantastic events in your area!