Non Toxic Solutions for Skin Care, Sunscreen, and Makeup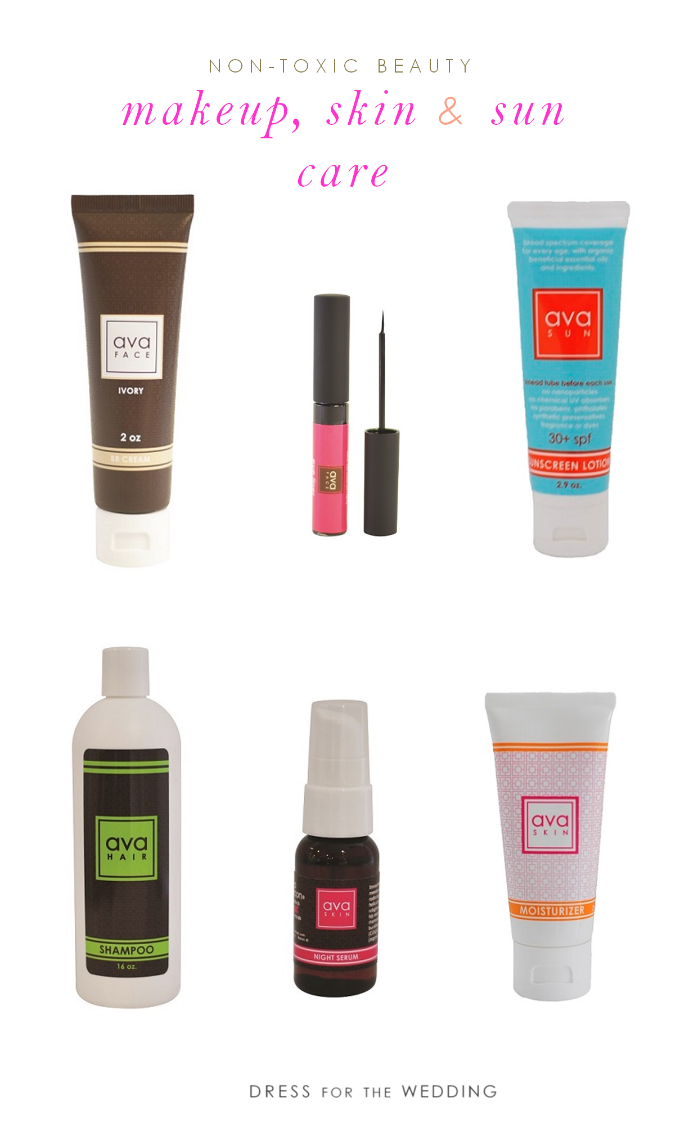 Today's post is somewhat personal and a bit different from my normal post, but you'll see how it is related to weddings if you bear with me. It is also related to your health and non-toxic beauty products, which is a topic I'm personally very passionate about.  I'm sensitive to nearly everything: detergent, soap, dyes, and so many cosmetics and perfumes -- so the simplest things like styling my hair, doing laundry, going out the in the sun, or using lotion, are fraught with some sort of sensitivity-related consequence. If you can relate to that, this information might help you.
Even if you love the products you use currently,  I urge you check your makeup and care products on the Skin Deep Database on EWG.org  and against the list on Ava Anderson  to see what they might contain, and the impact those ingredients can have on your health and the environment.
Here's why my natural skin care search is even related to weddings in my mind. Essentially, the special routine of chemical-based peels and other products I used when getting ready for my own wedding, resulted in several unwanted trips to the dermatologist for allergic reactions and later visit to an ENT to have an inflamed lymph node checked out, which was thankfully just my body reacting those ingredients and not something worse. After that, I started to seek out more natural products in every area of my life and it has been an ongoing process for the past 7 years. I found a few products that worked for my face and for my home, but I had a hard time finding other products like shampoo, body wash, and -- above all -- sunscreen, that worked and that didn't cause any issues.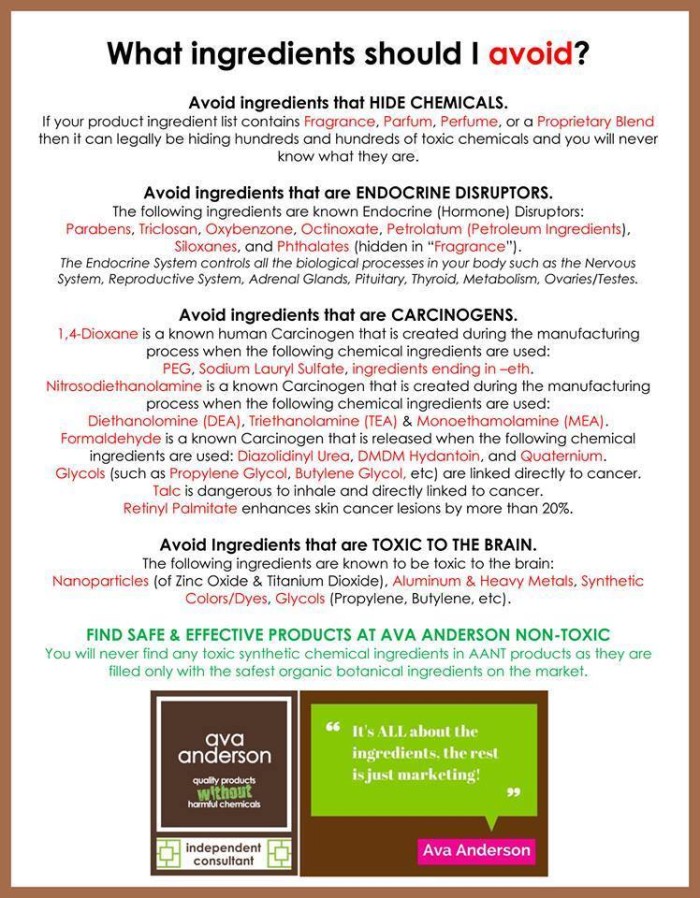 Graphic courtesy of Ava Anderson Non-Toxic
Now that I have this blog, I often get requests from various companies to write makeup and bridal skin care posts. I say no to almost all of them, because if I won't use those products myself, I don't want to post about them. However, this past summer I found a whole product line that has skin care and a myriad of other products, Ava Anderson Non-Toxic, that I can't praise enough.  Ava Anderson did not ask me to write this post or pay me to do this post. I asked them if I could write this because have been blown away by how wonderful, effective, and safe their products are, and I want to see this company grow, especially because they can impact the choices we have as consumers.  While this isn't a sponsored post, I may receive some product credits if anyone purchases through the reference code for this post, but that's truly not why I'm sharing this story. I'm sharing it because I think the products we use daily have a profound impact on our health and well-being, and I was glad someone told me about this company. In the past I have included other conventional cosmetics on the blog that I do own and do use myself, but as I learn more, I am really trying to share safer and more non-toxic solutions here for everyone's benefit.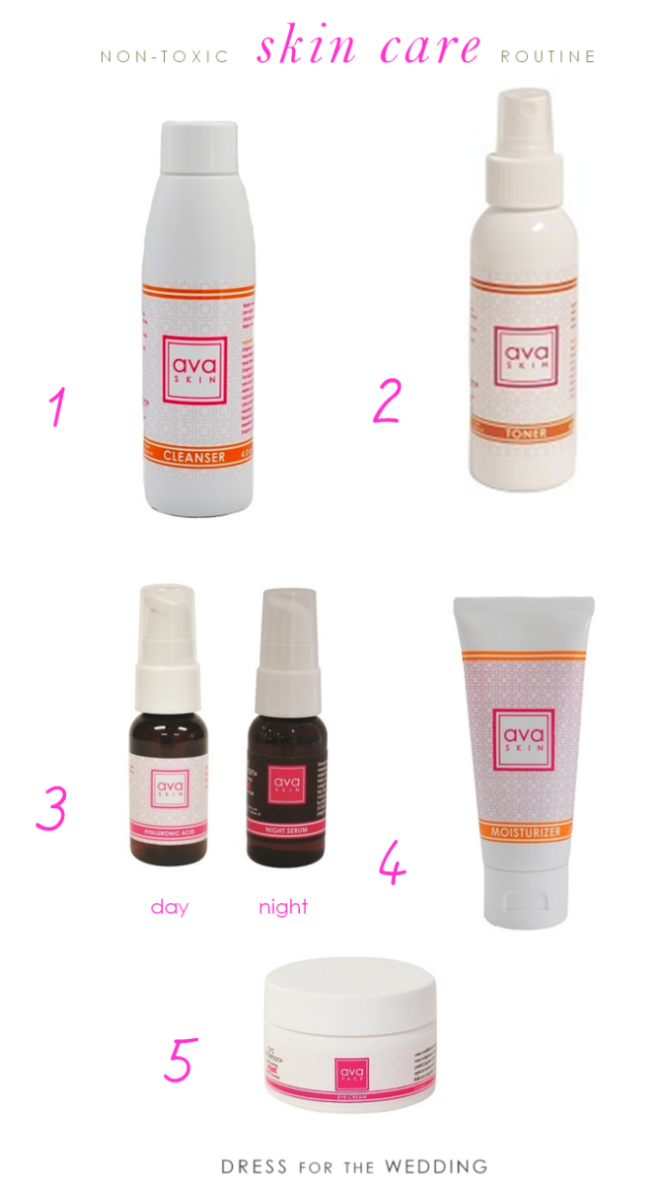 All from the AvaSKIN line. Non-toxic skin care routine: 1. Cleanser  2 .Toner  - I love this so much, see more below! 3. Hyaluronic Acid for Day, Night Serum with CQ10 for Night (I learned to moisten both with toner for best results) 4. Moisturizer 5. Eye Cream 
Despite trying many natural products, I just couldn't find a shampoo, conditioner, deodorant, lotion, and sunscreen that really worked well and didn't cause any issues. Some were ineffective, or caused me to still break out because of the oils or drying soaps, some had horrible textures and smells, and few provided the pretty basic results I had hoped for. I was especially sensitive to the sunscreens and deodorants – even the natural brands. They all had quirks, but I was able to find some that caused fewer reactions for me, so I muddled through for years using those products. Even then, because of the potential reaction, I often avoided sunscreens unless I was in the sun for prolonged periods of time. Clearly, that is not a recommended approach.
Things changed because of a friend I made here on Dress for the Wedding: Kearsley of Tipsy Skipper and Kearsley Lloyd Designs, who designed the clutches and accessories I've shared in many posts, and who now creates the most amazing wedding logos , custom maps, and monograms. A few years ago, Kearsley posted a piece on her blog about her experience with melanoma that everyone should read. It was powerful and it was the push I needed to get more serious about finding a good sunscreen. I also learned when I shared her post with my friends and family, that melanoma was more common in my family than I had thought. So I searched out some options, and found one sunscreen I could sort of tolerate if I used it sparingly.  Then, last winter, my husband and I lost a good friend to melanoma, so Kearsley's experience was again on my mind. Right around then, Kearsley posted an update on her personal Facebook page where she mentioned how she was doing well, and again mentioned how important sunscreen use was but that she also held my same belief and experience that the ingredients in some conventional sunscreens can have irritants and adverse health effects.   She ended that update by saying that she recommended a safe and effective sunscreen made by Ava Anderson.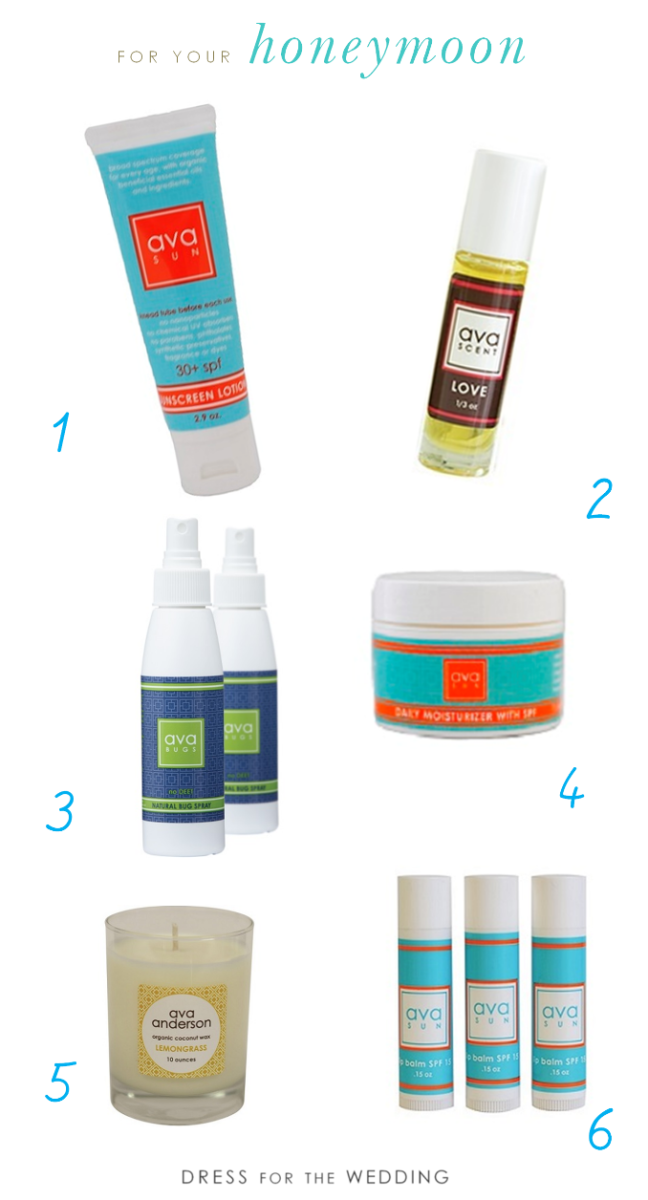 I decided to try this sunscreen and in my first order I also added the BB cream (which is a moisturizer, sunscreen, primer, blemish minimizer, bit of foundation coverage in one). I used the BB Cream first when I went to an all-day outside event. I hadn't packed sunscreen for my face, but I did have the BB cream, and I remembered that it had sun protection. It was a very hot day followed by lots of rain, the kind of day that invites lots of sweat and your makeup runs all over. But by the end of the day -- thanks to the primer aspect of the cream -- my makeup was fully intact, to the point where two other women commented that my face was still fresh and makeup in place for all the weather we had tolerated that day. That night, when I took off my makeup, I noticed not only had the BB Cream sunscreen worked, my skin hadn't reacted at all. I looked very refreshed as if I had worn a moisturizing mask all day. I used it for the rest of the weekend, and not only did I not have a reaction (usually the breakouts would appear the next day),  I actually noticed an improvement in my skin.
Since the BB cream impressed me so much, I tried the body sunscreen. Not only did it work, I never had a breakout or an irritated reaction, just soothed and sunburn-free skin. The difference, as I learned, was that my skin had been reacting to the octinoxate which is a known hormone disruptor found in so many sunscreens and foundations products with SPF. Ava Anderson uses non-nanoparticle zinc, a safe sunscreen solution, along with beneficial, soothing oils.
After these products won me over, I ordered the much-celebrated Dream Cream, along with the deodorant. The Dream Cream smells so good in a completely non-irritating way. I was using it like a hand cream, but then I noticed the next day where I had wiped the excess on my arms, some little imperfections were minimized. I started to put it on old scars and other little scratches and they improved noticeably. I haven't used it yet in the winter, but I can already see it's going to be the first winter where I won't suffer from chapped skin!
Now, the product that made me totally fall for this company was the deodorant. A few years ago I started to get reactions to conventional deodorants, ( I know, retelling all of this it seems like I was a mess with all my reactions to products, and I was!) I tried about 5 recommended brands of "natural" deodorant, but they all made me smell within hours as if I hadn't showered in days. So when I bought the Ava Anderson deodorant, I had some reservations. I put it on one hot summer day with other deodorant on standby, anticipating an issue. Hours later I still had NO smell, except for the coconut oil, cocoa butter with a bit of peppermint and tea tree scent of the ingredients, which I quite enjoy. I was impressed, but the truest test was this; the next day I wore my new deodorant on a boat in sun all day for 8 hours. I always stink in this scenario. Always. On this day, there was no smell. I kid you not, 8 hours later my armpits smelled like cocoa butter and not a trace of other odor. I was amazed!
That was a huge trust-builder for me so I started trying all the other products and, to my delight, they all work and do exactly what they say they will do and surpass my now high expectations.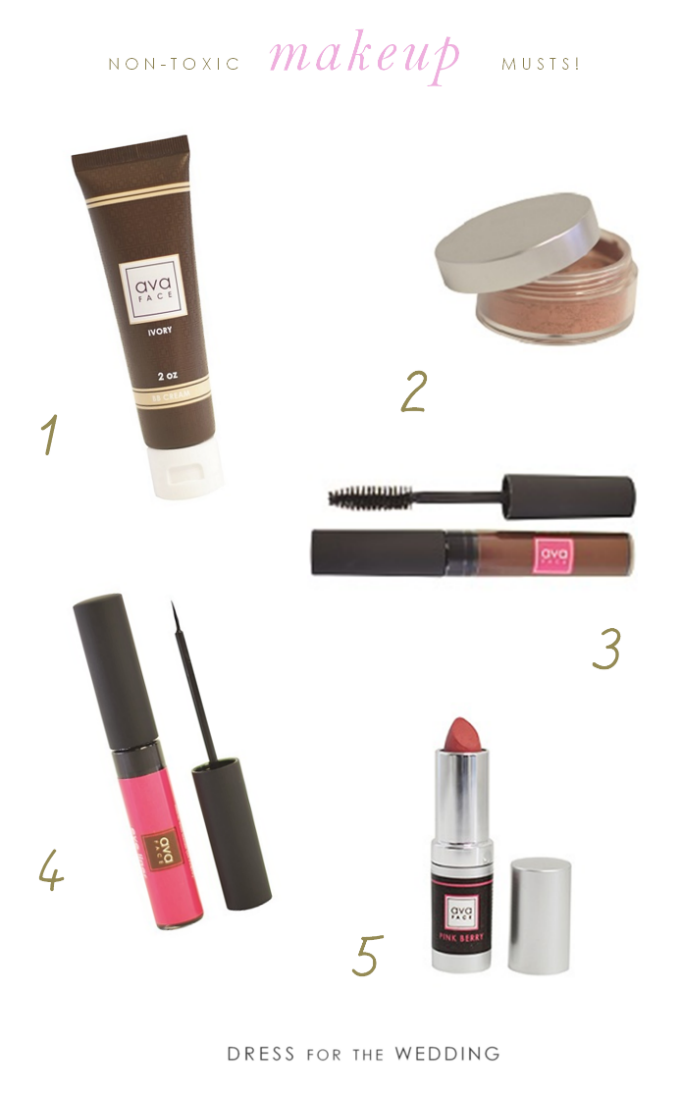 All products from AvaFace, Reference party ID 95833 if you wish to credit this blog.
I could go on and on and indeed I already have, but I'll hurry up and tell you the rest. I now use and love over 20 products from the line from skin care, to house cleaners, to makeup, and I've been so impressed with each product! In addition to the sunscreen, shampoo, conditioner, deodorant and body wash, which I use daily, and nearly all of the products in the collages, here's a brief list of the products I've tried recently -- all of them without exception have yielded great results! So, if I were to change one thing about my own wedding skin care routine, it would be to have these products in my repertoire instead! And if this post saves someone from the experience I went through, or helps you be more mindful or products and helps you healthfully protect yourself against skin cancer, it will be worth it!
If would like to  make a purchase, the site is www.non-toxiclife.com and if you would like to use a code that will indicate that it came from this blog post, reference party ID 95833.  This is host code which means I may receive product credits if a certain number of sales are generated from this post. Orders using this party ID and placed before midnight September 30th will also be entered in a drawing to win a free Dream Cream.
Other products I love:
Ava Bug Spray. This came as a free trial with an order, just in time for a boat trip where we were inundated with mosquitoes. I hate using chemical brands, especially on my skin or in a confined space, so I was so glad to have this! This not only deterred the bugs, it made the boat smell like citrus and lemongrass.
Ava Toner. Conventional toners always dried my skin, and I've never felt anything but a stinging sensation and dry, tight skin  so I've avoided them, but I had to try it after hearing other say how well it worked. Ava Anderson Toner is  amazing and it is absolutely not drying. It is cooling, moisturizing, and soothing and makes my face feel refreshed, and it has cleared up breakouts overnight. It also soothes any red spots, and works wonderfully for any skin irritation from shaving, and has healed spots I've had for years from old breakouts.
Ava Styling Cream. Again, I used to struggle with any kind of gel, mousse, or hair serum– they always instantly clogged pores and breakouts. I just ordered this and it smoothes and adds shine, without grease. It also acts as a leave-in conditioner. I used to have to be aware that if I used a hair styling product, any skin that the product touched would likely breakout later, but with the styling cream I don't have to worry. It's aloe vera, so it actually soothes my skin!
Ava Boo Boo Stick. I wasn't sure what this was but I bought it. Is it for bug bites? Cuts? I had no idea, but I saw some people on the Ava Anderson Facebook page saying how well it works. Now I see that it works for everything kind of little bump or cut. If you have a cut, and apply the Boo Boo stick it starts to heal that day!
Ava Pet Deodorizer. This was a big one. Our dog left a stain on our carpet when he was a puppy, and 5 years later, it was still there. Everything I put on it seemed to very temporarily make the stain go away, only to then attract more dirt make the spot even more of an eyesore. I read rave reviews of the Pet Deodorizer, which apparently not only lifts scent but dissolves the stain. I wasn't sure if it would work on a 5 year old stain, but it did! The spot is gone, and the carpet looks new in that spot! This works on laundry stains too!
I'm also really amazed by the work Ava Anderson herself who is under 25. She started the company at 14, and she has been working since then toward changing policies and sourcing ingredients are not damaging to our skin or to our environment.  If you read her product labels, you will understand every ingredient. And, quite simply, everything works and does what it says it will do. Check out their blog for the before and after stories and more information about why these products are so important!
Ava Anderson products are available through www.non-toxiclife.com and if you wish to credit this blog, you may reference party ID  95833.
Every order placed using the Dress for the Wedding party ID 95833 through September 30th at midnight will be entered to win a free Dream Cream!